Mauritius holidays are not all about honeymooning and romancing. The glorious land of immaculate beaches and archipelago waters also offers travellers an opportunity to indulge in exhilarating water sports. If you haven't tried your hand at snorkelling and scuba diving yet, Mauritius is the right place to kick off the fun of exploring vibrant marine life and magical corals. Water sports in Mauritius attract a lot of thrill seekers from around the world. If this sparks your wanderlust, here is what you need to do in Mauritius.
Cave sea Kayaking
Yes, kayaking is an easy and leisure water sport, but the fun of exploring mysterious islands and caves is something that makes it thrilling. And the best part is that you don't have to be a swimmer to try your hand at kayaking. The adventure level may vary from moderate to difficult.
Where to try: The Cliffs of Albion in the Mauritius West Coast; starting point is Pointe Aux Sable.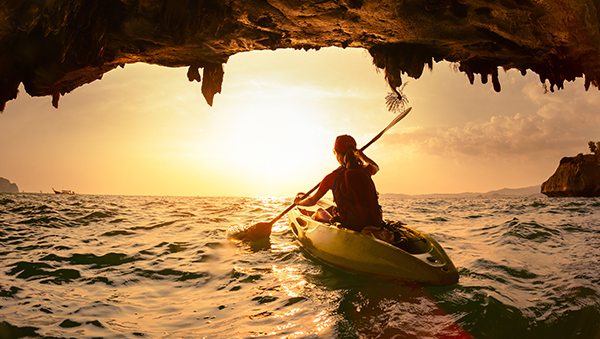 Water Skiing
Now this requires a set of skills. But if you learn it well, you will love the experience of sliding up and down over the layers of waves. Water skiing is one of the best water sports in Mauritius. The difficulty level is slightly higher than the other water sports on the list.
Where to try: Trou d'eau Douce and Grand Baie
Big Game Fishing
No, it's not the usual fishing. Big Game Fishing or deep sea fishing is an interesting recreational activity for adventure lovers. It is usually done on an exclusive-private basis on fishing charters. The adventure level is easy, and your fish can make for a great dish for dinner.
Where to try: Grand Bay and Black River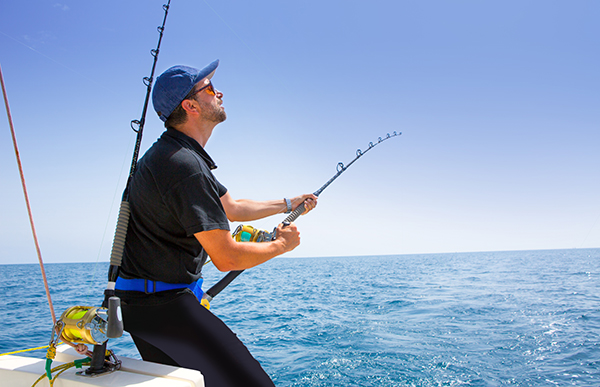 Windsurfing
Like challenging yourself? Windsurfing is a must try water sport in Mauritius. The excitement and challenge that it brings is unparalleled. The adventure level is difficult, but to begin with you go for a crash course. If you are a bit on the heavy side, you would love to know that windsurfing can burn up to 1000 calories per hour.
Where to try: Le Morne peninsula, Small Reef, Manawa and One Eye
Seakart Speed boat Adventure
Whether you are travelling solo, with your other half, with a group of friends or with your family, strap on a life vest,  blast off on a Seakart tour and get yourself ready for the extreme fun. The adventure level is moderate and swimming is not required for this water sport.
Where to try: Benitier's Island, Le Morne, La Balise Marina and the coast of Flic en Flac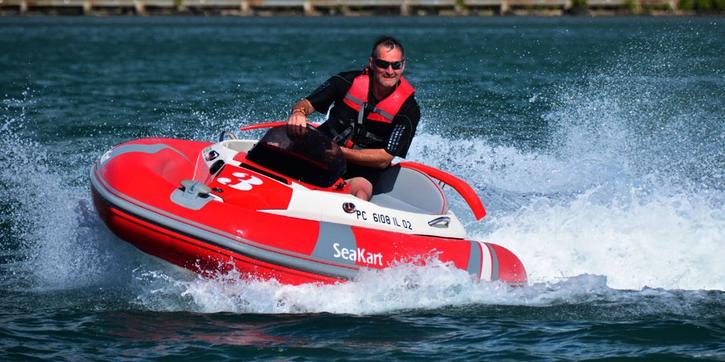 Underwater Sea Walking
It's not every day you get a chance to take a walk under the sea. On your Mauritius holiday packages make sure you try your hand at underwater sea walking.experience.
Snorkelling
You cannot miss out on the spectacular reefs, magical corals and marine life of Mauritian sea. And one of the best ways to experience that is snorkelling. Adventure level is easy and swimming is not required.
Where to try: Blue Bay Marine Park, Pointe aux Piments, Trou aux Biches, Ile aux Cerfs or Flic en Flac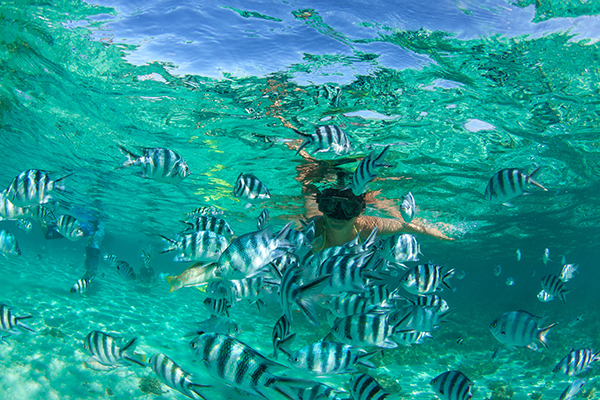 Blue Safari Submarine
If you want to see the magnificent marine life of Mauritius without getting wet, get on a Blue Safari Submarine and witness the exotic corals and vibrant aquatic creatures. Adventure level is moderate, but you may find this great ocean ride a little on the expensive side.
Where to try: Coastal Road, Trou aux Biches
Underwater Scooter
Underwater scooter is one of the newest and most interesting water sports in Mauritius. If you are a couple, do not miss out on this great chance of riding together under the sea on a scooter. Mauritius honeymoon packages will give you a chance to enjoy this unique water sport, which is quite similar to scuba diving. The adventure level is easy and swimming is required.
Where to try: Grand Bay and Trou aux Biches
Scuba Diving
Dive into the blue waters and enjoy the colourful marine life of the peaceful Mauritian sea. You don't need to be a swimmer to scuba dive, but it is an exhilarating experience if you how to swim. Adventure level is moderate.
Where to try: Colorado and Roche Zozo located off Blue Bay on the southern coast of Mauritius.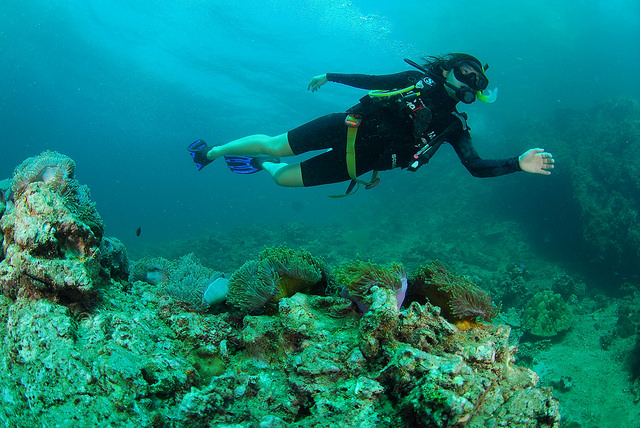 Mauritius has a lot to offer to its visitors. Book one of our amazing Mauritius tour packages and make the most of these amazing water sports in Mauritius. Let us know in the comments below which of these water sports would you like to try on your trip to Mauritius.