10 bridges in the world that will make your heart skip a beat
"Anything that gets your blood racing is probably worth doing" – Hunter S. Thompson
We are all out there, chasing adrenaline rushes and things that make us feel alive! Thrilling experiences like bungee jumping and zip lining will set your heart racing, provided you're not afraid of heights. If you are someone who's not bogged down by Acrophobia (fear of heights) or Gephyrophobia (fear of bridges), then you should check out these scary bridges that are featured below:
Bridges Around the World
Canopy Walk, Ghana

Does the thought of being high up among the treetops give you the chills? The Canopy Walk in Ghana's Kakum National Park lets you experience just that. Spanning over 1000 feet, the Canopy Walk comprises of seven rope-style suspension bridges that appear to hang precariously over the thick tropical jungle. These bridges form a trail through the higher reaches of the jungle, an area which is otherwise accessible only to birds and monkeys. You will be over 130 feet above the ground while traversing the narrow trail, with just safety netting to hold on to. Conquer fear and derive beauty; two birds with one stone!

Langkawi Sky Bridge, Malaysia

Featured in the climax of the movie Don: The Chase Begins Again, the Langkawi Sky Bridge takes you 100 meters above lush rain forests. Having a width of 1.8 meters, this 125meter long bridge is suspended by just 8 cables that originate from an 81.5m high pylon. Even though it may appear unsafe, it is a treat for eyes with the minimal design that enables the gorgeous views of the mountains and the rainforests below. Also, unlike other bridges, the Langkawi Sky Bridge has 3 curved sections that swing out over the jungle. Two steel railings and a steel wire mesh is all that prevents you from falling off! This is probably the exact definition of a bone-chilling challenge!

Your nerves need to be as strong as steel cables if you wish to stand atop the Mount Titlis Bridge in Switzerland. Suspended at 3,041 meters above sea-level and 500 meters off the ground, this 100-meter long bridge is just 1 meter wide. Even though you can traverse the entire bridge in about 150 steps, each is guaranteed to be heart-pounding due to the vibrations caused by the wind. A meshed floor and a fence together ensure that surroundings views are absolutely stunning.

Aiguille du Midi Bridge, France


Walking across the footbridge that has been drilled into the Aiguille du Midi in France will jangle the nerves of even the bravest! This short, steel bridge that is about 12,500 feet above the sea level overlooks a precipice that is hundreds of feet deep. Brave the thin air, cold, and the sheer drop, and you will be treated to an incredible view of the French, Italian, and the Swiss Alps as well as the famed Mont Blanc.

Millau Viaduct, France


If the thought of driving fast excites you, then the Millau Viaduct should be on your bucket list. The cable-stayed bridge that is constructed over the Massif Central has a total span of over 2 kms, over which you can push your vehicle to speeds of up to 110 km/h. At its highest point, the bridge is almost 270 meters above the ground. On a clear day, you will be treated to a spectacular view of the French countryside. If it's overcast, you will see the clouds pass below the bridge, making your drive unforgettable. In order to drive on the Millau Viaduct, you will have to pay a toll charge of 8.90 euros in July and August. For the rest of the year, the same charge is 7 euros. Don't miss out on this one-of-a-kind drive over the clouds. It's worth every penny.

Zhangjiajie Grand Canyon Glass Bridge (China)


Would you dare to walk across a bridge that has a clear glass for its floor? If the answer is yes, then you should visit the Zhangjiajie Grand Canyon Glass Bridge in China. It holds the record of being the tallest and longest glass-bottomed bridge in the world. Clear glass panels on the floor enable you to see the lush forest that is a whopping 360 meters below your feet. Sadly, this 1,410 foot long suspended bridge has been closed indefinitely after around 80,000 visitors swarmed to see the bridge each day.

Royal Gorge Bridge, USA


If you don't slight while standing several hundred feet above the ground, then the Royal Gorge Bridge in Colorado, USA is where you should head to. It was the highest bridge in the world till 2001. This iconic suspension bridge spans a gorge that is over 1,200 feet long and is perched 955 feet above the Arkansas River. Atop this bridge, you can take in Colorado's amazing natural beauty. This $25 million wonder is sure to offer an unforgettable experience, should you choose to venture across it.

Puente de Ojuela, Mexico


Will you be able to walk to a ghost town in the desert on a narrow squeaky bridge? The Puente de Ojuela Bridge in Mexico lets you encounter mind-boggling views of a town that used to exist! Wooden handrails and widely-spaced planks are all that prevent you from falling off! The bridge sways a bit, making the experience even more thrilling. What's more? You will also be intimidated by passing tourists from the opposite side as you will have to make way for this scary structure for the other to pass. Stepping onto the bridge, you will be treated to spectacular views of the canyon that lie 360 feet under.

Vitim River Bridge, Russia


The Vitim River Bridge in Siberia is different from the bridges mentioned above, as it is really close to the surface. What makes this bridge perilous is the fact that it is an old metal structure, which is covered with rotting wooden planks. The bridge is often slippery due to the accumulation of snow and ice on it. And did we mention it has no railing? Slip off this bridge and you will find yourself in the Vitim River, which is freezing cold. Traverse this structure and you can proudly say that you have taken on one of the toughest bridges on the planet.

Quepos Bridge, Costa Rica (CtG)


We must warn you – the Quepos Bridge in Costa Rica is also known as the Bridge of Death or Oh My God Bridge. Like the Vitim River Bridge, this structure is close to surface. However, it is extremely narrow and looks like it can crumble with the slightest bit of pressure. Each time a vehicle passes over this battered, one-way bridge, the loose slats in it clank and the structure shakes. Travelers having trouble navigating across this really old bridge might have to end up playing a muddy splash in the river below! Negotiating this structure rightfully entitles you to boast about your strong nerves and steely concentration.
If you love the feeling of excitement, terror, and fascination every time you are high off the ground, then you must take on these bridges head-on.
Summary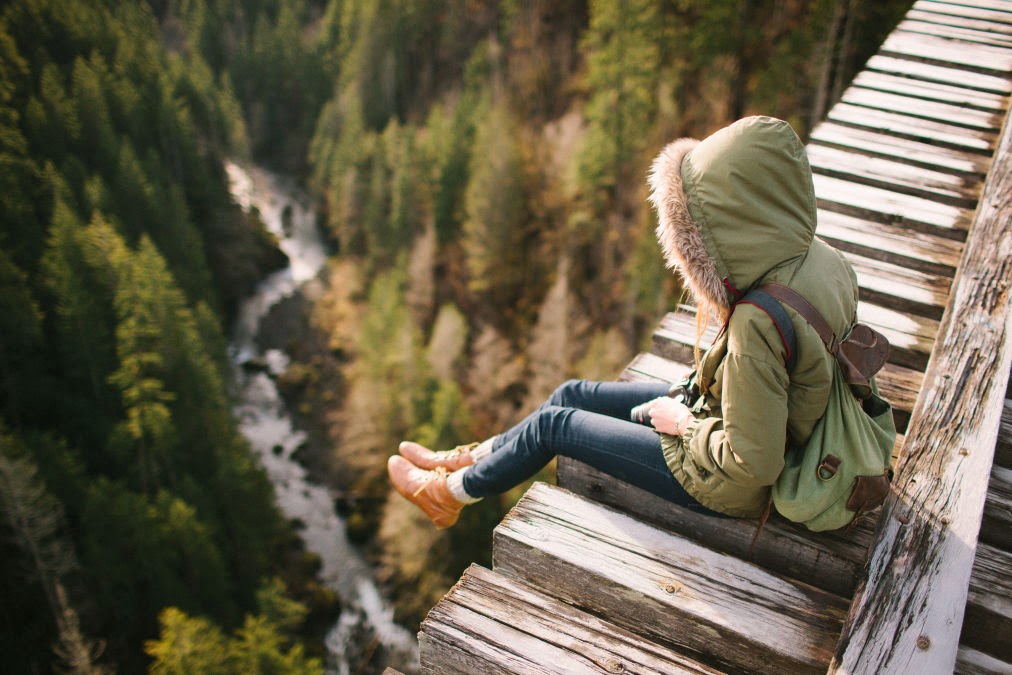 Article Name
10 Bridges in The World That Will Make Your Heart Skip A Beat
Description
Check out these scary bridges around the world to understand if you're afraid of heights or not. Plan your adventure trip now!
Author Name