10 Reasons to Plan a Vaishno Devi Yatra with Your Family this Holiday Season
A family vacation is a time for bonding, sharing and spending quality time with each other. While a holy trip to Vaishno Devi is the ideal vacation for a family comprising all of that it also makes for a beautiful spiritual journey that is hard to replicate elsewhere. Vaishno Devi Tour Package is one of the most popular and adored tours opted by families as well as individuals as means to connect with the almighty, Vaishno Mata, and at the same time bag in hordes of beautiful moments that inadvertently fall in your path while making the great Vaishno Devi Yatra.
Let's find out what all there is to know about Mata Vaishno Devi and why the Vaishno Devi Trip is so popular.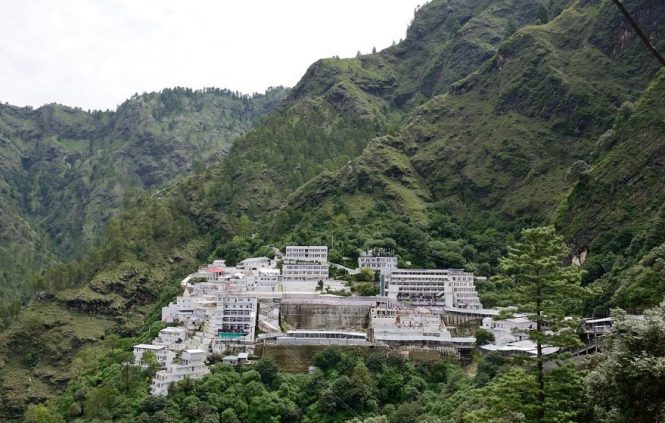 1. Grand Vaishno Devi Temple
Perched peacefully in the Trikuta ranges of Jammu, Vaishno Devi is one of the most revered Hindu Pilgrimage sites in the country. The famous cave temple of Vaishno Devi is believed to be the home of Goddess Parvati or Goddess Shakti along with 33 other Hindu deities. The renowned sanctum of Vaishno Devi Mandir lies at the height of 5200 feet and is one of the most visited sites in India that's located in the mountains. The significant Places to Visit in Vaishno Devi include Darshan Deodhi, Charan Paduka, Hathi Mata, Banganga, Sher Ka Panja, Himkoti, Ardh Kuwari, Bhairon Mandir, Indraprastha, Sanjhi Chhat Bhawan and Garbhajun.
Banganga is located at the foothills of Trikuta from where the trekking begins and Ardh Kuwari is the mid-point between this trekking path where another critical Vaishno Devi Attraction is situated, called Garbhajun. It is the place where Goddess Vaishnavi is said to have hidden from the sage Bhairo Nath for nine months. It is believed that she placed herself in the same position as a foetus does in the womb, hence the name Garbhajun. The devotees believe that a visit to this holy sanctum rids you of the pains of childbirth as well as grants you Moksha by freeing you from the repeated cycles of birth.
Vaishno Devi Mandir is different than most of the other Hindu temples since it does not hold any idols or pictures of deities in its sanctum. Instead, the cave houses naturally formed pindies or rock formations which are immersed in water and regarded as the manifestation of Mata Vaishno Devi. The unique cave temple is one of the 108 Shakti Peethas which are the much adored holy sites of Hindus.
2. DeviA considerable number of pilgrims visit Vaishno Devi every year
The journey to the shrine is quite arduous, given it is a 12 km long trek uphill, but this does not seem to discourage Vaishno Devi Tourism by any means. In fact, it is estimated that Vaishno Devi Temple is visited by a humongous (approximately) one crore devotees each year. The number of pilgrims allowed to attend the shrine is limited to 30,000- 35,000 people per day! Once you reach the shrine, you need to wait for your turn as it can get very crowded, especially during the peak seasons. The registration slip that you have to obtain beforehand from Yatra Registration Centers in Katra is the deciding factor. You can also do your registration on the official website of Mata Vaishno Devi Shrine Board.
Devotees from all across the country, as well as abroad, come to this place pulled by the sheer grandeur of the temple and primarily, seeking Mata Vaishno Devi's blessings. It is a wonder to behold the unflinching faith that people show in the Goddess overcoming all hurdles of a tough climb and harsh weather.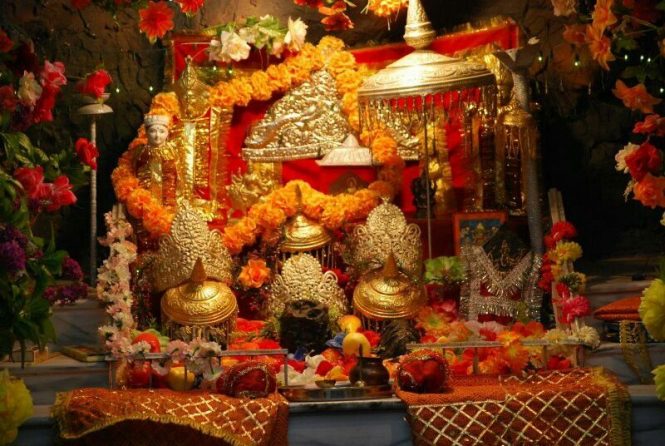 3. The exciting Vaishno Devi Story
As it is with most temples and shrines, it is hard to ascertain when the worship of Vaishno Devi began or when was this place lionised as an important Hindu pilgrimage site. Although Trikuta hills find their mention as back as in the Rig Veda, Mata Vaishno Devi only begins appearing from Mahabharata. However, the famous legend of Vaishno Devi argues otherwise. As per the story, Ma Vaishno Devi or Vaishnavi had an ashram in Trikuta.  She observed the 'Navratri' fasts to pray for the victory of Lord Rama over the demon king Ravana. As a result, Lord Rama adulated her and blessed her as being much revered and worshipped in the future as Mata Vaishno Devi by the whole world.
Also, it is said that the guru of Bhairo Nath, Mahayogi Gorakh Nath sent him to the Vaishnavi to collect more information about this Goddess who was fast gaining popularity among the masses. As a consequence, Bhairo Nath pestered her for marriage, and to escape him she entered the cave where the temple of today stands. After killing him by severing his head from his body, Mata Vaishnavi forgave him and formed a shrine of the ascetic at the foothills where the devotees need to visit and worship Bhairo Nath before climbing up to seek her blessings. After that, she shed her mortal body and adopted the form of rock inside the cave to peacefully meditate till eternity. The cave is where the sanctum sanctorum of Vaishno Devi temple is situated, and rock or Pindi with three heads is the physical manifestation of the Goddess.
Book your Vaishno Devi Helicopter here.
4. Another intriguing Vaishno Devi Story
There are many stories associated with Vaishno Devi, but the one related to Pandit Sridhar is most remarkable. As per the legend, Pandit Sridhar was a poor Brahmin who barely made his ends meet. Once he had a vision where Goddess Vaishno Devi encouraged him to make the journey to Vaishno Devi Temple, so he set out to pay his homage to the Goddess but the trip was arduous, and he lost his way in the process. So, Devi appeared in his dream and showed him the correct way. She guided him to reach the shrine and thereby eliminated all of his life's problems.
5. Vaishno Devi is an archaeologically, geographically and mythologically important site
The geological studies conducted in the area indicate that the cave where the temple is situated today is nearly a million years old. The route to the beautiful cave temple is not the original one. As the path that led to the cave was quite narrow, another road was cut into the mountain at Ardh Kuwari, to accommodate the huge crowds of visitors. Only a few lucky pilgrims can witness the original cave which is usually the case when there are 10000 or fewer pilgrims, leading to the opening of the main cave gate by the authorities. This is typically possible in the winter months of December and January. The original cave is the place where the body of Bhairo Nath lies after Mata Vaishno Devi beheaded him. Holy river Ganga is said to flow from the region of the cave. Moreover, it is also notable that while the reference of Trikuta Mountains makes its appearance in the Hindu Holy Scripture of Rig Veda, there is no evidence of worshipping of female deities until Puranic era.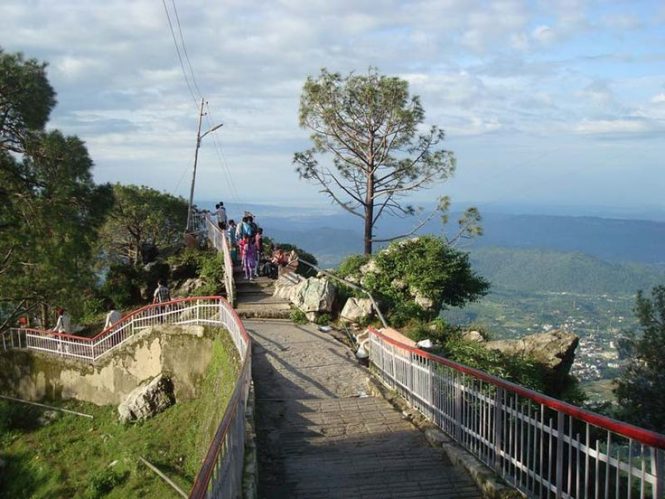 6. Vaishno Devi Yatra also gives way to a beautiful opportunity of trekking in the mountains
As already mentioned, the journey to reach the shrine of Vaishno Mata is that of 12 km from the base camp situated in Katra near Jammu. The climb to the main Vaishno Devi Temple is quite steep but is flanked by gently curving slopes paved paths which lessens the difficulty. There is an alternate route to the temple as well which is marked by stairs which though cuts your trek to the temple of Vaishno Devi shorter, makes it more difficult due to its sharp gradient.
However, the midpoint of Vaishno Devi Yatra which is called as Ardh Kuwari takes you further to Sanjhi Chhat, another Tourist Place in Vaishno Devi, which is mostly a flat and notably beautiful plateau region. It acts as a resting point, as well as a helipad. It is only a comfortable 2.5 km trek to the main temple of Mata Vaishno Devi.
You can also take advantage of this provision through Vaishno Devi Helicopter Booking which lets you bypass the long and strenuous journey to the Vaishno Devi Temple. A Vaishno Devi Helicopter tour packages are especially beneficial in the case where you have a decrepit family member on the Vaishno Devi Tour with you.
You can buy a convenient Vaishno Devi Helicopter Package here.
Related Reads: 10 reasons to plan a rejuvenating family trip to Char Dham Yatra
7. The region around Vaishno Devi Mandir offers resplendent natural beauty
Although a physically straining journey, it is thoroughly enjoyable, especially given the fantastic landscape and the relaxing company of calm and pleasant weather. The lush greenery spread all around you, and the scintillating views of the mountains fill your heart with a cheerfulness. Add to this the constant hymns and bhajans sung by the fellow pilgrims or played all along the path by the shopkeepers, and you will have the most memorable time of your life.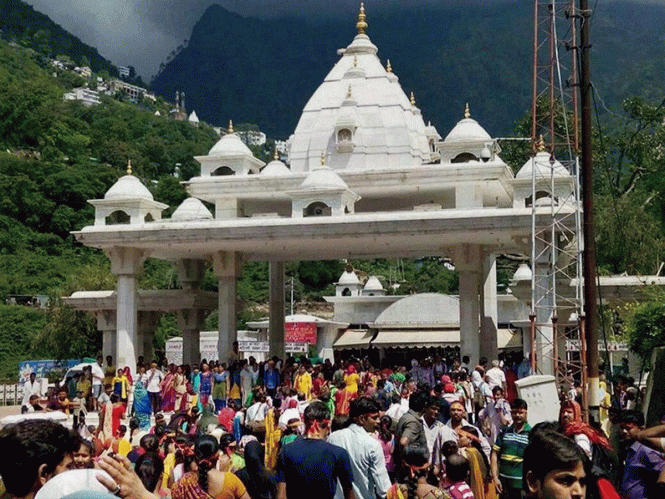 8. Vaishno Devi Tour is most profound and satisfying during the Navratri
Being a predominantly a shrine of the Goddess Shakti, reincarnated as Mata Vaishno Devi, the temple gets packed with visitors during Navratri. Although it becomes a bit difficult to get Darshan of Mata in such a situation, it is also one of the best times to do so give the extremely contagious devotion, widely spread festivity and grand adornments.
9. It is much more than a pilgrimage site
Vaishno Devi maybe one of the most popular pilgrimage sites, but it also offers much more than temples. While the journey to the shrine makes for a fantastic trekking experience, it also lets you indulge in other enjoyable activities that are quite pleasurable. All along the way up to the temple, you will find hordes of beautiful cafes and eateries where you can enjoy a range of delectable North Indian delights, coffee, hot chocolate, tea and so on. There are even many Café Coffee Day outlets if you fancy an excellent cup of cappuccino with your family. Moreover, the path remains abuzz with other vendors selling the paraphernalia for worship and also a range of lovely trinkets worth buying as souvenirs. You can also engage in gratifying episode of shopping in Katra where you can get a lot of goodies such as walnuts and other dry fruits, cherries, bakery goods, shawls, handicraft items etc.
10. A Vaishno Devi Trip promises a great time for your family
Unlike any other hill destination where couples engaged in PDA inundate the place, Vaishno Devi provides a clean and intimidation-free zone for families to enjoy the pleasant climate and atmosphere. A great place to visit with your old parents or your young kids and even extended family, Vaishno Devi lets you enjoy a unique blend of pilgrimage, picnic and trekking trip all in one. An exciting ride on ponies add to that pleasure, which is also one of the must Things to Do in Vaishno Devi.
How to Reach Vaishno Devi
The tiny town of Katra located only 50 km away from Jammu, serves as the base camp for Vaishno Devi Yatra. Jammu is the nearest airport and railhead for Vaishno Devi Tour. You can take a bus, which costs around Rs. 50, from Jammu Bus Stand or a taxi which can be hailed for approximately Rs. 1500, to reach Katra.
From here, it is a 12 km long uphill journey on a well-paved path, to the Vaishno Devi Temple. However, if you or any of your family members are ill or is not able to hike that long, you can opt for a Vaishno Devi Helicopter Package. There are regular Vaishno Devi Helicopter rides available from Katra to Sanjhi Chhat, from where it is just a comfortable 2 and a half km long walk up to the shrine. You can book one of the regular Vaishno Devi Helicopter rides offered on the official website of Mata Vaishno Devi Shrine Board or can opt for a convenient Vaishno Devi Tour Package which also provides this useful service.
There are also many ponies, palanquins and porters available on the way for hiring which you can opt for to make your climb even more agreeable.
Make your Vaishno Devi Helicopter Booking here.
Best Time to Visit Vaishno Devi
While Vaishno Devi Yatra is a trip that you can take any time of the year, the peak season usually ranges from May to June (Summers) and during the New Year and Navratri which mostly fall between March to April and September to October.
Monsoons (July to September) are best avoided for the trek as the heavy rainfall tends to make the roads slippery. Also, it gets quite cold in December and January, so it is advisable to begin your day of trekking at dawn.
Where to Stay in Vaishno Devi
There are many Hotels in Vaishno Devi located in the Katra region. But while there are no Resorts in Vaishno Devi, the Mata Vaishno Devi Shrine Board offers free rented accommodation facility at the main Bhawan Complex, as well as along the whole route to the temple. There are also many cloakrooms or lockers, blanket stores, infirmaries and medical units and many vegetarian restaurants. There are also bhandaras at checkpoints that offer fresh and free food to the pilgrims.
So, this holiday season gets ready to take your family on the most revered and peaceful vacation in the lap of mountains, or rather the lap of Mata Vaishno Devi and experience the best holidays with your loved ones. Book your Vaishno Devi Packages and experience a pleasant pilgrimage cum vacation with your family that's going to etch in your mind for a lifetime.