17 Best Bhutan Food Delicacies that you definitely must try
Bhutan is one of the most extraordinary places to visit. In Bhutan, you can find a unique blend of tradition and modernity. While modernity has been rushing into Bhutan, the country has made sure that it doesn't lose its traditional charm. It has cautiously preserved its culture and tradition in the form of its top Bhutan attractions. It also promotes its traditional values. Bhutan has carefully protected its environment, and it is a top priority of the government. All the decisions taken are carefully implanted for the benefits of the local people and the tourists too.  The Bhutan tourism policy is a prime example of how the government has kept its traditional value intact while keeping the foreign-influenced under control. coming to the many places to visit in Bhutan,  the Tigers nest which is considered one of the most sacred places to see in Bhutan to the list of authentic Bhutan food, you will get a taste of the real Bhutan.
During your visit to Bhutan, you can expect an adventurous experience. Due to its traditional rich culture, Bhutan will give you an experience that you never had before. But while your trip to Bhutan, you need to taste the Bhutan food which is a delicacy. There are plenty of Bhutanese foods that are available in Bhutan. But for you, we have shortlisted some of the best foods that you should taste.
Authentic Bhutan food Delicacies you Simply must try
1. Shakam Ema Datshi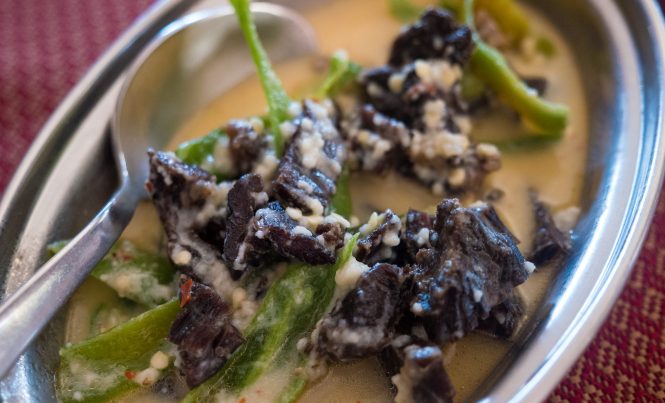 While you are in Bhutan, you will eat a whole lot of cheese and spice. But if you want to cut up cheese from your diet, then this is probably the best food for you. Datshi is a Bhutan food that is made without cheese. Moreover, Datshi is also the first that you will learn in Dzongkha. Shakam is dried beef in Bhutanese recipe. Beef is one of the most consumed meats in Bhutan for its high protein value. The beef is dried and preserved which gives it similar tastes like beef jerky. But, it is thicker than beef jerky and is a traditional dish among Bhutan food.
2. Shamu Datshi
Among the staple diets of Bhutan, Shamu Datshi is a personal favourite for its incredible taste. This Bhutan food item is made with cheese and mushroom which gives it a taste that you can't afford to miss. In Shamu Datshi, you can find cheese and a whole lot of it, veggies and Himalayan mushrooms. They all are cooked in a cheesy stew with butter and gives it a heavenly taste. If you love spicy, then this is a perfect choice for Bhutan food for you.
3. Kewa datshi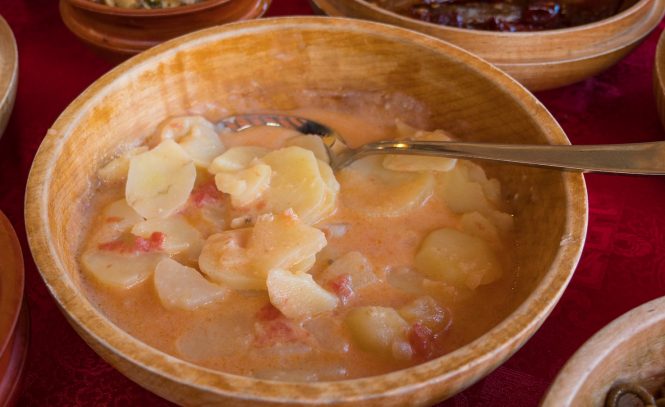 Kewa Datshi is a traditional Bhutan food that is made from potatoes and cheese. In Bhutan, potatoes are known as kewa, and so thus the name serves its purpose. This Bhutan food delicacy is made with potatoes and Bhutanese cheese. In this dish, the potatoes are sliced into small pieces and then it is sautéed with lots of Butter and cheese. In a rare occasion, a few pieces of chillies are tossed in the pan if it's meant to be tasted a little chilly. Usually, this is a traditional Bhutan food that tastes mild and mainly focuses on cheese and potatoes.
4. Ema Datshi
One of the most famous Bhutanese foods is Ema Datshi. It is considered a top among the traditional Bhutanese dishes. Ema Datshi is made out of Cheese and chillies and is common dish among the many items that make up Bhutan food. The dish is made with perpendicularly sliced chilly which can be either red chilly or green chilly. These chillies are then cooked with authentic Bhutanese cheese that is Datshi. A measured amount of butter is then added to the dish which gives it a delicious smell and a delicious taste. You will find this Bhutan food all through Bhutan, but you will find a different taste in every Ema Datshi as each cook makes it in their style. Trying this delicacy is one of the non-missable things to do in Bhutan.
5. Shakam Shukam Datshi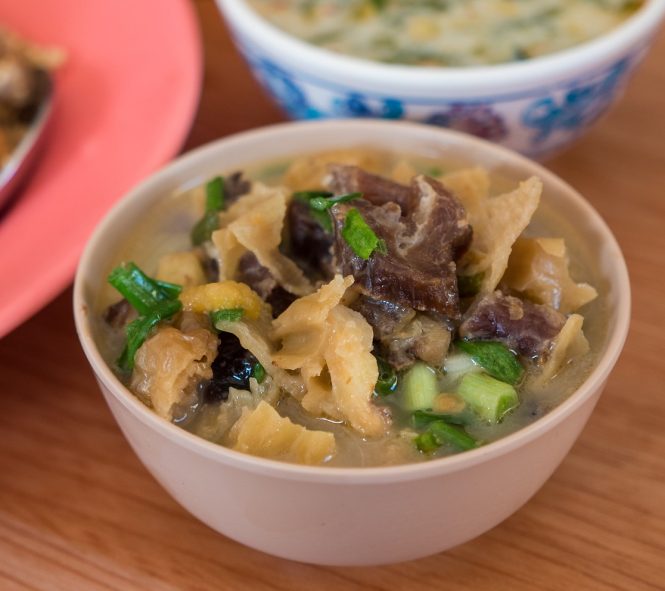 It is one of the rarest dishes that will be hard to find in Bhutan. But if you find it, make sure that you try it. It is a rare dish that only a handful of restaurants sell them all through Bhutan. If you have already figure out what Datshi and Shakam, then you probably know what this Bhutan food is. This dish is made up of white dried chilies, which is a rare thing to find and also has a different taste. The dried white chili that is Shukam is mixed with authentic Bhutanae3se cheese which is cooked with dried beef, white chilies and cheese. Due to the sour taste of the white chilies, you will get a unique taste that you will relish for sure.
6. Gondo Datshi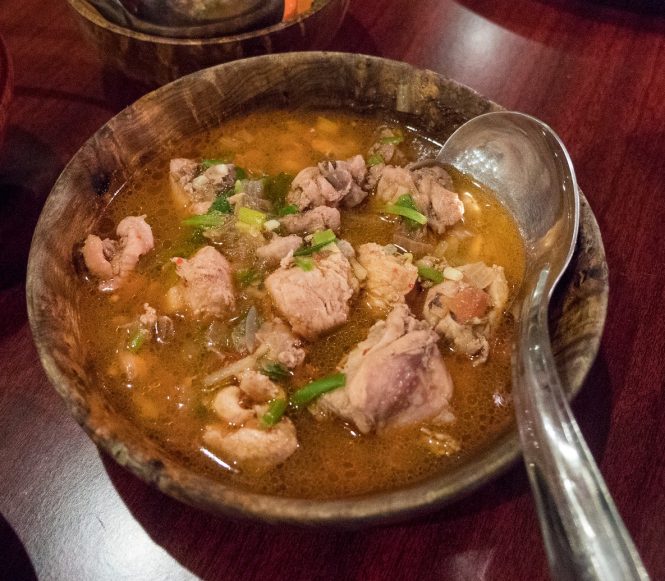 Authentic Bhutan food is what this dish is. It is one of the most delicious scrambled eggs that you will ever taste. It is a delicacy that is must have while being on your tour to Bhutan. In this recipe, the eggs are scrambled and mixed along with that is authentic Bhutanese cheese and also a huge amount of butter. A little bit of dried chilly is thus also added to give it a spicy taste. The fragrance and the taste of these scrambled eggs is a taste that feels like straight from heaven. To feel the taste better, have this Bhutan food with Himalayan red rice and some chili sauce. You will taste a dish that is worth remembering.
7. Shakam Paa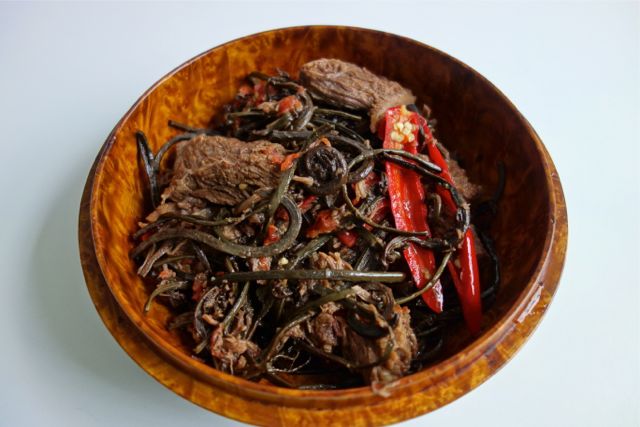 It is a delicious Bhutan food that is made out of dried beef which is cooked with dried chilly and occasionally with Radish slice. It is food that is packed with protein and gives you an energy boost. Despite the meat is a little chewy, since it's dried and preserved, you can have an incredible taste which is going to blow your mind away. This food is prepared with dried beef tossed with whole chillies and slices of radish which gives it a unique blend of taste that you must have.
8. Phaksha Paa
Pork is another delicacy meat that is enjoyed throughout Bhutan. This Bhutan food is made up of sliced pork, whole red chillies, and some mountain vegetables. It is another stable Bhutanese dish that is one of the favourites among the Bhutanese kitchens. The dish is prepared with sliced pork stirred with red chillies and mountain vegetables. It is a delicious Bhutanese pork recipe that you should try if you are a pork lover. Just like most of the other traditional Bhutanese cuisine, this dish tastes best with rice and some other datshi dishes.
9. Sikam Paa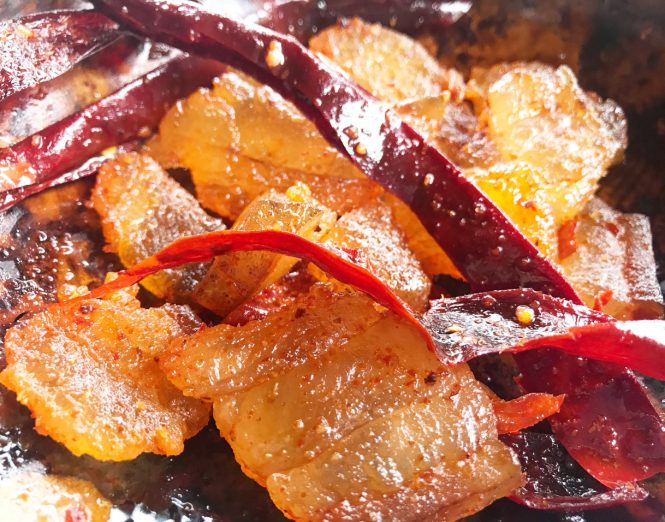 If you love bacon, then you will cherish this Bhutanese recipe. It is the god level of bacon that you must try. It is one of the tastiest recipes of Bacon that you will ever have. Bhutanese hang pork bellies out in the sun to dry, and that's what sikam is. Later, those dried pork bellies are then fried up with dried chillies that give it a mouthwatering taste. It is an oily recipe which is not for the health conscious, but if you can keep aside your consciousness for a day, you will have a great experience tasting this mouthwatering Bhutanese dried pork recipe.
10. Yaksha Shakam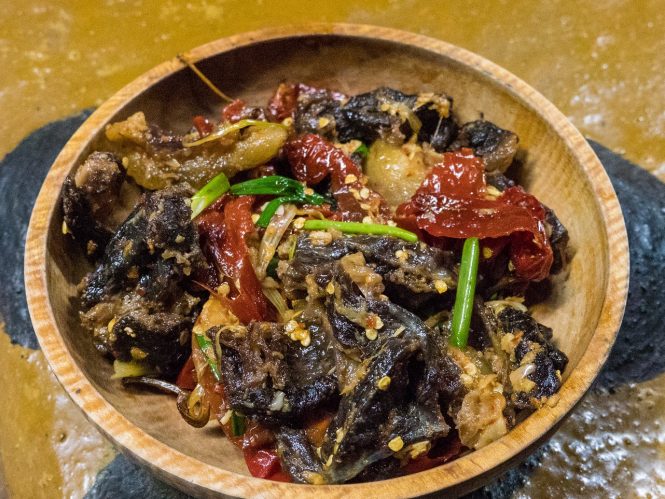 Looking for an alternative to dried beef, then this is the perfect choice of food for you. This dish is made up of dried Yak meat which gives it a similar taste of beef but with a different smell. It is also high in nutrition which gives it the perfect blend of taste. The yak meat is dried to jerky and can be cooked in multiple ways. One of the best Bhutanese yak recipes is dried yak meat cooked with fermented yak cheese. It is one of the tastiest yak recipes you will ever have and is a must-have during your trip to Bhutan.
11. Juma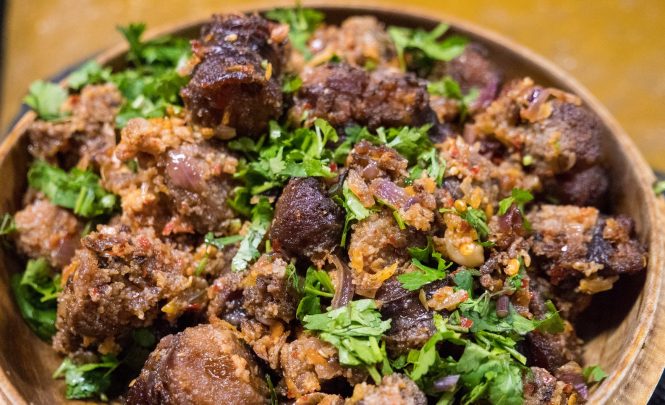 Juma is an ordinary Bhutanese sausage that is made with minced meat, some light amount of spices and rice which is filled and wrapped into the intestine. It is one of the favourite delicacies am among the Bhutanese recipes. On your first bite, you can feel the taste of the Sichuan pepper which will send a zing sensation all through your body. But not all the Juma's around Bhutan have the similar taste. You will find Juma's that tastes plain and are very meaty. While being in Bhutan, this is a must try dish.
 12. Jasha maru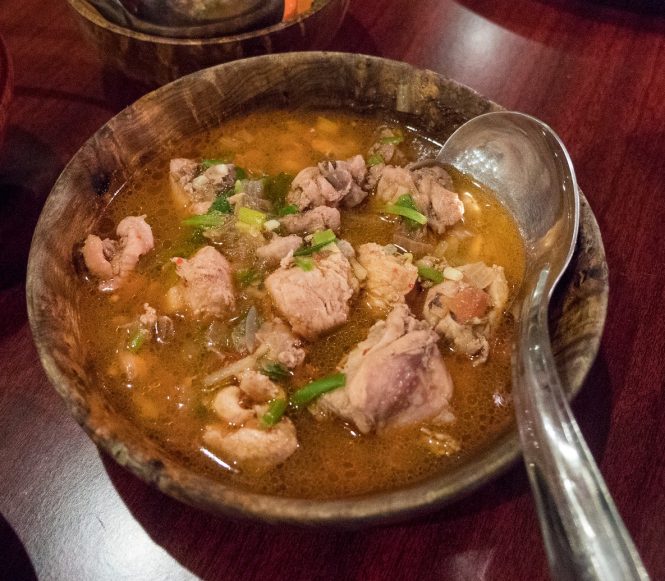 It is a traditional chicken stew or sometimes called chicken curry and is a healthy diet across Bhutan. The most noticeable thing about the dish is its ginger taste which you can find in almost all the Jasha maru's that you will find all through Bhutan. The dry spices that are added to the dish have a mild taste, but the strongest essence of all of it is the ginger essence. It is one of the favourites and the healthiest Bhutan food preparations that you can have.
13. Hoentay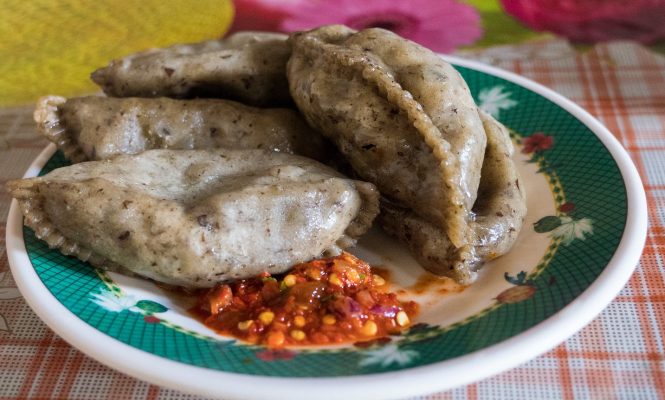 Image Source
It is a Bhutanese dish that originates from the Haa valley. Though this dish looks somewhat similar to Momo or dumplings, the ingredients are different. The wrapper of Hoentay is made with buckwheat dough which is filled with local spinach, cheese, and turnip leaves. They can be found either steamed or fried, and both of it has a delicious taste. It is a healthy option for the diet conscious people. You can have many plates of Hoentay as much as you want to without feeling uneasy. The taste becomes much more prominent and delicious when it is dipped in the Bhutanese chilli sauce.
14. Lom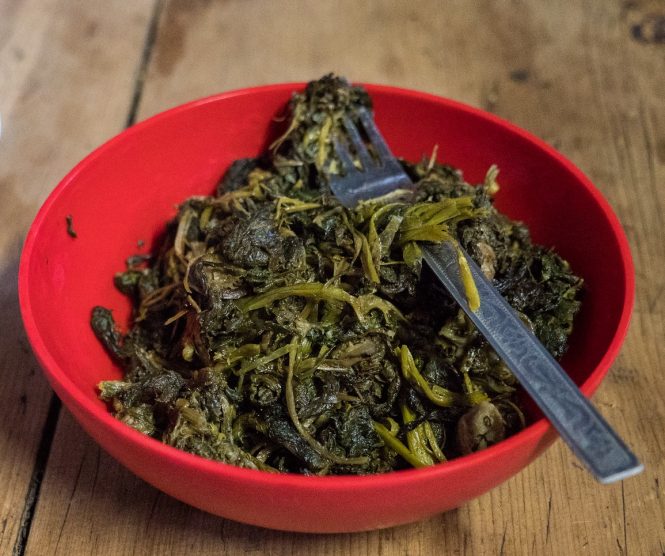 Bhutan has a harsh weather condition, and during winters, it becomes tough to harvest vegetables. That is when this Lom comes to rescues. Lom is turnip leaves which are dried and preserved so that they can be eaten throughout the year. To enhance the taste of this low, these loms are cooked with dried pork, or Sikam in Bhutanese language, which gives it a really tempting flavour. And if you are looking for a healthy process, you can have it sauté alone. It is a healthy and different food that you find much anywhere else. So, while being in Bhutan, this is food that you must have.
15. Khatem
Khatem, which is basically a bitter gourd, is widely eaten all throughout Bhutan. The bitter taste of this dish is going to rejuvenate your taste bud. It is another healthy dish that is common in the Bhutanese kitchens. They bare eaten sliced and fried in butter. The butter gives it a delicious flavour, and it is commonly eaten along with breakfast. If you are looking for a change in your taste that tastes good and is healthy too, this is a must-have dish for you during your food exploration session at Bhutan.
 16.  Jaju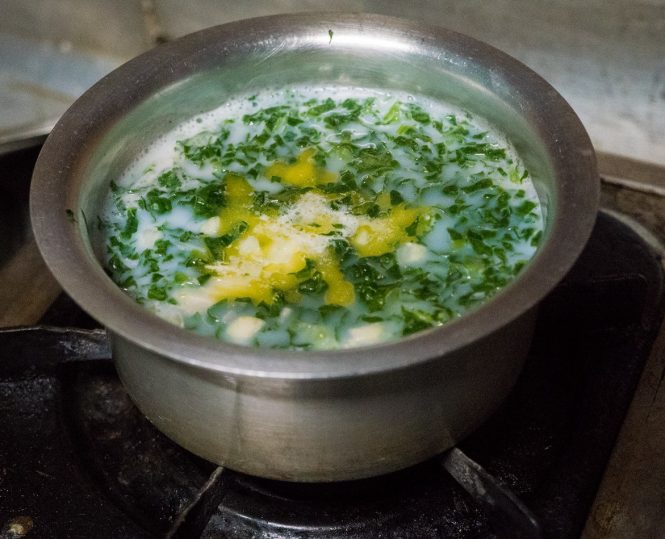 Looking for a healthy Bhutanese food? Then this is the end of your search. It is a Bhutanese milk and vegetable soup and is often cooked with turnip leaves and light leafy vegetables. The broth contains milk and butter which gives it a good taste. This food is eaten along with other Bhutanese foods because the taste of Jaju is often plain. Though, some of them make it tastier by mixing it with cheese to give it a rich and heartier taste.
 17. Goen Hogay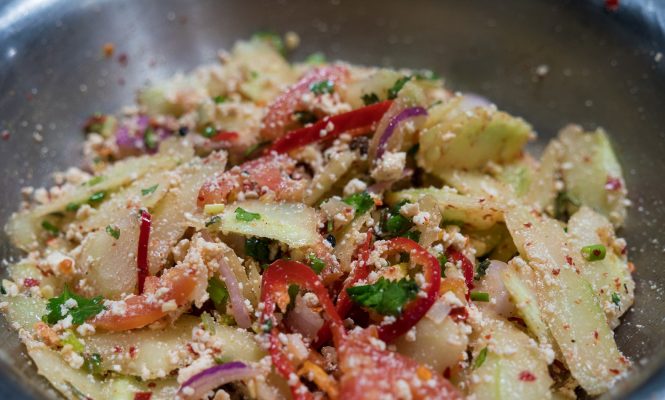 Although most Bhutanese dish can be pretty heavy as they are stuffed with meat. But this Bhutanese dish is basically cucumber salad which is healthy and tasty. The cucumbers are sliced and mixed with tomatoes, chilli flakes, cilantro, Sichuan pepper, onions and a scoop of datshi cheese for added flavour. This is one of the most widely eaten salads and tastes good too. It is a good companion to other traditional Bhutanese dishes.
Tempted to enjoy these dishes? Check out our Bhutan Tour Packages right away.