20 Places To Visit In Malaysia – The Land Of Beautiful Islands
If you ever try to do an image search of Malaysia, you would be immediately hit by wanderlust. You would be greeted with a skyline filled with twinkling lights, surreal beaches, tea plantations, delicious looking food among many things. While for years, Thailand has been the place to be for a vacation, but Malaysia has turned the tides. This is one of the few places in the world where you will get everything you want. If we have convinced you to plan your Malaysia holiday, we present you some of the best places to visit in Malaysia.
1. Melaka
The charming town of Melaka has great historic significance. Being one of the best places to visit in Malaysia, the remains of the old churches and forts of the Portuguese colonial rulers bear the best memories of colonial days.
Enjoy shopping at Jalan Hang Jebat or Jonker Street. You can see lots of small shops selling tiny Chinese shoes, antique art galleries, craft stores coffee shops, and some splendid restaurants here. Make a trip to the Sky Tower and walk on glass! If you are in a mood for something romantic with your partner, plan a boat ride on the Melaka night cruise.
2. Kuala Lumpur, Among the best places to visit in Malaysia
It is one of the best cities not only in Malaysia but also in the entire South East Asia. It offers a complete urban experience to its enthusiastic travellers. Explore the beautiful Petronas and KL Tower in the main city. Take a walk post-sunset to get surrounded by the lights! Enjoy shopping at the staggering malls like KLCC and other malls located around Petronas Towers or Berjaya Times Square. If you want to get a taste of nature, head to the Kuala Lumpur Bird Park that is home to about 3000 species of the feathery friends.
3. Penang
Penang is a highlight of Malaysian tourism. It is a vibrant destination with a lot to offer to the discerning travelers.
Penang is known for its botanical gardens, exceptional restaurants, beautiful beaches, a fun Snake Museum, and its British heritage. Take a hot sip of the local 'Kopi' in some of the excellent cafes. One of the exciting things to do in Penang is to make a trip to the Penang Ghost Museum. Yup! There is a museum dedicated to supernatural here that will definitely give you the chills.
4. Cameron Highlands
One of the best places to visit in Malaysia is the Cameron Highlands as they are famous for its scenic beauty. The stunning place is one of the highlights of the Malaysia holiday packages. The highland comprises of elegant tea plantations, strawberry farms, numerous walking trails, and a charming butterfly farm. Head to the Lavender gardens for some breathtaking sights. You can stay over at the many beautiful guest houses there for a great experience. If you are a history buff, one of the best places to visit is the Time Tunnel Museum. The museum is open from 9 am to 6 pm.
5. Taman Negara
If you have a thirst for adventure, one of the best places in Malaysia is Taman Negara. One of the oldest tropical rainforests in the world, a visit here definitely tops the list of things to do in Malaysia. It is the home to many stunning waterfalls, jungle treks, dense forests, and the world's longest canopy walkways. The rainforest houses endangered species like tigers, leopards, Asian elephant, and rhinos. For something offbeat, you should try cave exploration, which is filled with bats and snakes!
6. Perhentian Islands
Perhentian Kecil and Perhentian Besar jointly make up the Perhentian Islands. These stunning islands are popular highlights on the Malaysia tour packages. The islands see some of the best night parties in the town. The Perhentian Islands are known to be excellent diving and snorkelling sites. You must try the freshly caught and served barbecued seafood.
7. Ipoh, Perak
Ipoh is slightly more underrated, often slipping under the radar of even the most experienced of travellers. Ipoh is a place of good food, and wonderful natural scenery making it one of the best places to visit in Malaysia. Explore its grand water-themed park called Lost World of Tambun. Kek Long Tong Cave Temple Gardens and the Gunung Lang Recreational Park are scenic attractions that cannot be missed.
8. Kuching
Most visitors flock to destinations like Penang and Malacca on the peninsula and often ignore this place. However, Malaysian Borneo has a lot to offer and Kuching is a great example of that. It houses beautiful heritage locations like Sarawak Museum and Chinese Museum. Visit an authentic Bidayuh tribe village and take a relaxing cruise on the Santubong River for a complete experience. If you want to experience something catty, head to the special Kuching Cat Museum, which is dedicated only, you guessed it, cats!
9. Genting Highlands
Known as the City of Entertainment, Genting Highlands is a popular hotspot for travellers who consider it as one of the best places to visit in Malaysia. Famously known as the Las Vegas of Asia due to its casinos and exciting attractions like Snow World or the Ripley's Believe It Or Not Exhibit. Catch amazing performances and concerts at Arena of Stars. You should also make a trip to the Chin Swee Cave also known for its Chin Swee statute. This deity is said to drive away evil spirits.
10. Bukit Tinggi
Modelled after a French town, Bukit Tinggi is locally known as the Little France, replete with cobblestone pavements, street performances, cafes and European-style architecture. Learn the art of Japanese tea-making at a Zen-inspired Japanese village! Marvel at the wonderful architecture of the houses there.
11. Legoland
It is a theme park which celebrates the building block game, Lego. It is one of its kind in South Asia. If you are travelling to Malaysia with your kids, this is one of the best places to visit. Don't miss Mini-Land, which houses miniature Lego versions of iconic Asian monuments like the Angkor Wat and Taj Mahal. Head to Water Park and Lego City and have a blast! The park is open between 10 am to 6 pm and you will need to book your tickets beforehand.
12. Port Dickson
Port Dickson features pristine beaches and a tranquil ambience, making it one of the best beach resort places to visit in Malaysia. The Upside Down Art Gallery, Army Museum and Cape Rachado Lighthouse are must-visits along with its pristine and beautiful beaches. Do visit the Turtle Hatchery Centre which works on conservation and protection of endangered sea turtles. You'll be able to witness turtle hatchlings and incubation process of turtle eggs.
13. Sipadan
As enchanting as a visit to a grand aquarium may be, nothing beats swimming alongside schools of fish in person. Sipadan Island is one of the best places to visit in Malaysia for this ethereal experience. Go scuba-diving and snorkelling for a great experience. Relax and catch a sunset on its pristine beaches. You can also book yourself a yacht and explore the island if you are looking for a more relaxed holiday in Malaysia.
14. Tioman Island
Located on Malaysia's east coast and not too far from Singapore, Tioman Island is a tiny world in itself. For a holiday of seclusion and peace, it is one of the best places to visit in Malaysia. Both accommodation and diving are really cheap here. There are some great hike routes which attracts adventure lovers. For a relaxing day, try your luck at fishing. Who knows you may have the biggest catch of the day.
15. Langkawi
Bustling and charming, Langkawi could be called Malaysia's version of Phuket, the busiest island in Thailand.
Plan a trip to the largest aquarium in Asia, Underwater World. Try to book your tickets before you head there and you will find it open from 10 am to 6 pm. Head to the serene Pregnant Maiden Lake, it's a beautiful formation that is purported to help make women more fertile. Langkawi is known for its night street markets, they are famous for their lip-smacking food.
16. Selangor
This place actually describes Malaysia's most developed and populated state that leads up to Kuala Lumpur's massive urban sprawl. Selangor is busy and booming; shopping malls sprawl as far as the eye can see. Don't miss the Formula One racetrack, the National Zoo of Malaysia, and enormous theme parks including an indoor snow park.
Head to the renowned Batu Caves, a beautiful sight to visit.
17. Sarawak Cultural Village
Marketed as a "living museum", the Sarawak Cultural Village is one of the best places to visit in Malaysia for anyone who wishes to immerse himself in the local cultural heritage of Sarawak. Featuring seven different aboriginal tribes, visitors will be able to experience first-hand the local customs and traditions of Sarawak's rich native history.
Interact with the locals; learn their dances, their music and their lifestyles. Hike through the Penan Trail towards the Santubong River for scenic views.
18. Semenggoh Nature Reserve
The Reserve can best be described as orangutan haven. Rescued orangutans are reintroduced into the wild and given a chance to thrive and breed. One of the best places to visit in Malaysia to observe the red mammals in their natural habitat. Spot exotic species of birds at the reserve. Entry fee for an adult visitor is RM5 which is about INR 76.
19. Bako National Park
With a variety of jungle trekking trails that range from scenic walks to serious hikes, Bako National Park is a haven for wildlife lovers. With swamp and mangrove forests and lovely coves and beaches, the park contains arguably every type of vegetation found in Borneo. This is where you will get a chance to spot a rare probosci monkey which one can find only in Borneo. You will need to pay RM 20 to gain entry into the park.
20. Niah National Park
The greatest draw of Niah National Park is the stunning Niah Caves with beautiful limestone formations that date back 16-20 million years! Gunung Mulu National Park with caves and karst formations are located nearby and worth a visit. A UNESCO World Heritage Site, the caves are stunningly beautiful and one of the best places to visit in Malaysia. The park is open from 8 am to 5 pm and the entry fee is RM 10.
Summary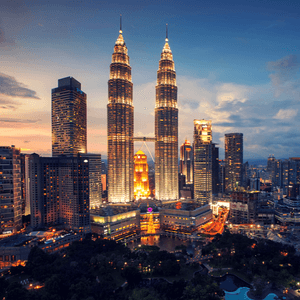 Article Name
20 Places To Visit in Malaysia - The Land Of Beautiful Islands
Description
Malaysia has been one of the few places where you'll get everything you want, so we bring out to you the best places to visit in Malaysia.
Author Name
Publisher Name
Publisher Logo