30 Best Honeymoon Destinations In The World
A newly married couple needs to unwind after going through months and months of wedding stress and prep process. The initial few days are also needed to know each other better. Nothing can help a couple get over the wedding stress than a honeymoon vacation. This is the best chance to see exotic destinations, savour good food and fall in love with each other a little bit more. With the wedding season around the corner, the honeymoon planning process is more than due. Are you looking for some ideal honeymoon destinations?
Here is a list of 30 best honeymoon destinations in the world
1. Venice, Italy
Venice is counted among the best honeymoon destinations in the world. Now, that's because of the enchanting, romantic and mesmerizing appeal made ideally for a tranquil honeymoon. The Grand Canal of Venice is filled with water taxis to commute from a place to another as romantic violins play in the beautiful boats. Seems like a scene popped out of a Hollywood romance movie, right? But this is actually how you get to spend your honeymoon when you are in this floating city.
There are smitten couples gliding on romantic gondolas over the city's many waterways, and gondola drivers love to sing when the moment feels right. It is one of the best honeymoon destinations in the world.
2. Santorini, Greece
Covered in the colours of blue and white, Santorini is a lovely honeymoon gateway blended in the charms of luxury and culture. A honeymoon experience in this tranquil region of Greece is a fusion of history as well as a vibrant contemporary culture. It makes this small beautiful island one of the best honeymoon destinations in the world. Most visitors prefer spending their honeymoon on Thira which is the archipelago's largest island. This island houses two of the most beautiful towns of Santorini, Fira and Oia.
3. Istanbul, Turkey
Istanbul is an artistic blend of old and modern. Remains of the bygone era from Byzantine and Ottoman era exist in its every corner. Istanbul has a sensuous charm that makes it the best place to visit on a honeymoon. Feast your soul on Baklava, a rich, sweet dessert pastry filled with chopped nuts as it is sweetened and held together with syrup or honey.
Or enjoy a platter of Doner Kebabs from the many street side corners of the city. One can either visit the city's many heritage structures like Hagia Sophia, Topkapı Palace, Sultanahmet or take a Bosphorus cruise for a romantic date with their beloved.
4. Morocco
When it comes to an exotic and bohemian honeymoon experience then Morocco is one of the best honeymoon destinations in the world. Morocco is a lovely North African country known for its classic and vintage vibe. A honeymoon in this country is like being part of an Indiana Jones movie with snake charmers, belly dancers, horse-drawn carriage rides thrown into the mix and the list goes on. Plan your trip to Morocco.
5. Lisbon, Portugal
The capital of Portugal is filled with historic landmarks, warm weather, and beautiful castles. The romantic atmosphere of Lisbon is created by the winding cobblestone streets, world-class wine, delectable seafood, and the passionate sounds of Fado music being played in every corner of the city. Couples love to spend their vacation at one of the many seaside beaches while enjoying the glorious pink sunset.
6. Kyoto, Japan
If Japan is a paradise for the vacation seekers then Kyoto is 'Piece de Resistance'. The relaxed and leisurely atmosphere of Japan's cultural capital has a romantic vibe attached to it. The many gardens of this city are tailor-made for the couples who want to come closer and feel loved.
The Cherry Blossom season is the most romantic thing this city has given to the world. The rich and vibrant atmosphere of Kyoto makes it one of the best honeymoon destinations in Asia.
7. Jaisalmer, India
Located in the heart of The Thar Desert, Jaisalmer presents a honeymoon experience like no other destination. The beautiful desert town is known for its mesmerizing sand dunes, desert camps, and pristine sunsets. Couples can spend their vacation at one of the luxury camps and go on a camel safari to enjoy the sunset. This place comes in the top list when it comes to the best honeymoon destinations in the world.
8. Victoria, Australia
Victoria's tropical climate and tranquil beaches bring the honeymoon lovers like a magnet. Yarra Valley located near Victoria is one of the hot favourite wine regions. From personalized winery tours to multiple wine tasting sessions, Yarra Valley and Victoria create the perfect honeymoon experience a couple is looking for.
Suggested Read: 10 Best Honeymoon Destinations To Visit In December
9. Cambodia
Cambodia is a prime honeymoon destination of South East Asia and preferred by those who want a romantic honeymoon experience on a budget. It offers beautiful scenic views of pristine lakes, the Bayon and the legendary Angkor Wat Complex.
This small but beautiful country is filled with immaculate beaches that range from public to many private ones kept especially for the lovelorn couples. Also, the couples can visit elephant valley project for an up and close personal experience with these gentle giants.
10. Bali, Indonesia
The lovely island is filled with tranquil beaches, jungle trails and hiking routes to dormant volcanoes. A honeymoon in Bali is an experience to remember. From private beach house bungalows to all cocktail and drinks parties, there is everything for a couple that they would call Bali an ideal honeymoon destination.
11. Koh Samui, Thailand
Koh Samui is one of the most beautiful islands of Thailand. With the bluest of sky and crystal clear ocean water, the beauty of this island is impeccable. When honeymooning in Koh Samui, you can visit the local beer bars and enjoy awesome homebrewed beer for dearth cheap prices. Couples can also go for snorkeling and scuba diving sessions.
12. Buenos Aires, Argentina
Buenos Aires carries the vibe of Paris and climate of the Mediterranean. It has the architecture, the food and the wine influenced by the Latin culture. The vibrant atmosphere of this city makes it one of the best honeymoon destinations.
Lovelorn couples can take long walks in the lanes of the capital city and explore the architectural heritage filled with neoclassical, Greco-Roman and Art Deco buildings. Those looking to ignite flames of romance can also take a private tango or salsa session.
13. Masai Mara National Park, Kenya
If the idea of the honeymoon for a couple is an adventurous getaway then nothing can be better than going on a trip through the wilderness of Kenya. The multiday routes created inside Masai Mara National Park are home to a unique population of flora, fauna, and birdlife. Apart from wildlife tours, couples can also spend their vacation in the luxury bush camps and enjoy skinny dipping in the nearby natural pools.
14. Galapagos Island
It is once in a lifetime visit for anyone who loves exploring the beaches and observing the unique wildlife. There are different resorts on different islands. The stay amenities range in luxury seven-star hotels, bungalows, and private beach houses. You can also take a romantic cruise to see blue-footed boobies, iguanas, giant tortoises and sea cucumbers up and close.
15. Abel Tasman, New Zealand
Abel Tasman is famous for its vineyard cottages creating a classic country experience. The tranquillity and the seclusion of Abel Tasman attracts the honeymooners who are looking for some privacy and alone time.
16. Darjeeling, India
Darjeeling is a gorgeous town hidden in the lap of Himalayas. Filled with acres of tea plantations with amazing weather, a winter vacation in this pristine town is the best way to experience the honeymoon here. You can treat yourself a luxurious affair with an afternoon high tea at Windemere Hotel. A morning hike to Tiger Hill to witness the gorgeous sunrise or rafting in Teesta River are not bad ideas either.
17. Seychelles
When it comes to romantic getaways, Seychelles needs no introduction. The archipelago of Seychelles is a great idea for a tranquil and private honeymoon experience. Mahe and Praslin Islands have several private bungalows. Couples can either take a relaxing spa or go for activities like scuba diving and rock climbing.
18. Madagascar
A honeymoon in Madagascar is all about crystal clear beaches, jungle trails, rich flora & fauna, hot springs, and a 5000 km long coastline. Madagascar is one of the charming honeymoon destinations as it is the 4th largest island in the world with 3rd largest coral reef formation. A cruise experience in Madagascar is the perfect idea of a romantic trip for the newlywed couples. They can also visit one of the many national parks in the region to observe the unique wildlife and plant life found here.
19. Whitsundays, Australia
Whitsundays is a group of 74 stunning islands famous for its luxury retreats and proximity to the Great Barrier Reef. It is filled with lovely experiences for honeymooning couples. You can take a romantic walk to lover's cove at Daydream Island or go for snorkelling session at Hamilton Island. The couples can also take a cruise between Whitehaven Beach and Airline Beach for some perfect Instagram worthy moments.
20. Rio de Janerio, Brazil
Rio De Janerio is called the grand dame of seduction and is aptly named so. Brazil's romance capital has everything that one needs for a wholesome romantic trip. The romantic vacation never ends in Rio when you have private rooftop apartments, couples-only samba session, and pristine beaches. Those who are looking for a place to party can head to Copacabana beach.
21. Sonoma, California
The place is famous for its world-class wine, scenery unmatched to any honeymoon destination and delectable cuisines. There are farmhouses where couples can get an experience of local life and indulge in fun session of grape crushing.
22. Savannah, Georgia
Savannah has a slow life with horse carriages running on the romantic vistas of the city. The classic atmosphere of Savannah is filled with its old school grid system road and elegant, vintage buildings of Colonial, Antebellum and Victorian periods present in every corner. Your honeymoon cannot get any better with the intoxicating aroma of the ocean and salt marsh air wafting on the breeze.
23. Kerala – One Of The Best Honeymoon Destinations In The World
Kerala Tourism boasts this state as God's own country and they aptly call it so. It has exotic tea gardens in Munnar and Palakkad, beautiful green mountains in Wayanad and Vagamon along with a tranquil coastline where beautiful cities offer you a paradise like experience. Honeymooners can spend their holiday at a colonial retreat in Cochin, stay at a treehouse in Wayanad or simply choose a seven-star luxury resort at Munnar. Kerala combines experiences of many honeymoon destinations at one place.
Also Read: Looking To Stay In A Tree House In Kerala? Here Are 15 Best Tree House Resorts
24. Panama City, Panama
Panama is the part of Central America and is filled with tropical forests, beautiful mountain ranges and a long coastal line with Caribbean vibe attached to it. There are so many exclusive couples-only island tours, lavish resorts and one of the best nightlives in the world that make the honeymoon tour never-ending. Many couples often keep returning to enjoy the charm of this lovely city.
25. Dubai, United Arab Emirates
Dubai gives you the best of both worlds. You get a luxurious honeymoon experience with complete pampered hospitality in some of the best hotels of the world. At the same time you get to experience a classic Middle Eastern country's charm while taking a walking tour in the old city with your better half.
26. Sri Lanka
If a couple is looking for a serene holiday filled with a blend of culture, wildlife, and exotic beaches then Sri Lanka is where they should be heading for their post-nuptial vacation. A romantic vacation in Sri Lanka's high altitude cloud forest reserve is an experience to remember and so is a morning trip to 'World's End' where mountains fall away dramatically to the coastal plains.
27. Cappadocia, Turkey
Cappadocia's landscapes take you on a journey to a fantastical realm where dragons and unicorns exist. Cappadocia has elegant stay homes as well as luxury villas filled with Middle Eastern charms. Want to put a dash of adventure in your post-wedding vacation? How about a hot air balloon ride over the city?
28. Maldives
This exotic archipelago in a corner of Indian Ocean is popular among honeymooners because of its secluded spa resorts and white sandy beaches. This is popular for being one of the best honeymoon destinations in the world as you can go on a culinary trail with delectable sea food. Sip cocktails in an underwater nightclub or book a relaxing couples-only private sauna. Maldives has everything that will bring two lovebirds closer.
29. Udaipur, India
Known as the Venice of the East, Udaipur is a complete package with delightful lakes and heritage villas. If you are the kind of couple that wants a luxurious affair during their honeymoon then Udaipur is ideal for you. Experience a royal delight with the boat ride in Lake Pichola or treat yourself with delectable cuisines like Laal Mans, Daal Bati and Gatta Curry. Must consider this place as it is one of the best honeymoon destinations in the world.
30. Iceland
Honeymoon in Iceland means witnessing a change in scenery every 5 minutes. You'll never know what will appear after driving for 15-20 km. Landscape wise, there are no honeymoon destinations on this planet like Iceland. You can end up near a volcano or beautiful blue lagoon or even take a dip at one of the many hot springs. Lovelorn couples can chase the northern lights and add a memorable experience to their post-nuptial vacation.
Make the best of your honeymoon with this list and you'll find the perfect way to build a lifetime bond with your beloved. This list of best honeymoon destinations in the world will help you finalize the perfect romantic experience, and if you are still not sure, then you can connect with us and we will help you out.
Summary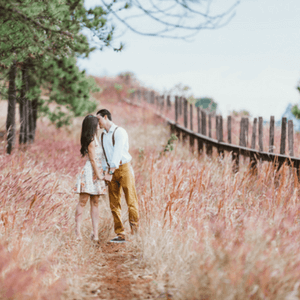 Article Name
30 Best Honeymoon Destinations in The World - Thomas Cook Travel Blog
Description
With the wedding season around the corner, here we get a list of best honeymoon destinations in the world to choose from.
Author Name
Publisher Name
Publisher Logo