40 Things to do in Iceland: The Complete List
It is just not justifying to call them things to do in Iceland. What you see and discover in this frozen paradise is utterly inexplicable and something that can only be called an experience of its own. You can explore the weird but simply stunning geography of Iceland- the lovely steaming hills, jetting hot geysers, vast lava plains and even the all-permeating smell of rotten egg; that and more just a short haul from the airport away. Or you can go about trekking and hiking in the dreamy natural landscapes of the country that will leave you speechless with delight and wonder. The many museums, beautiful cities, and plenty of dining, drinking, nightlife and shopping opportunities here give you even more splendid options for activities in Iceland. So, hop right in and join us to understand a great many things to do in Iceland you wish you could do this very moment.
1. Start with the incredibly breath-taking Maelifell Volcano
Maybe Joules Verne was right after all- this striking green volcano is one Place to Visit in Iceland that could veritably be the path to the centre of the Earth, though partially.
2. Get lost in the Beauty of Eldraun's Mossy Volcanic Terrain
You will be convinced there are some really mysterious little creatures lurking underneath that lumpy green land. Who knows, maybe you will even find one.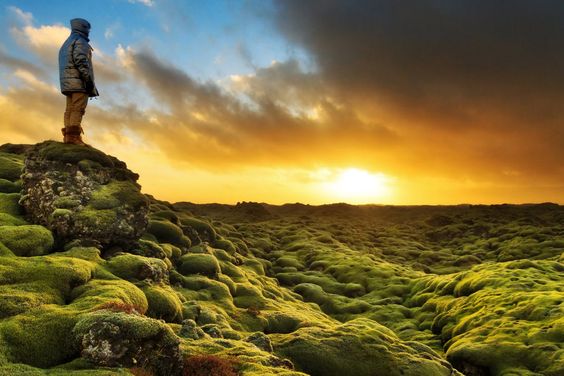 3. Drive through the Gorgeous Snaefellsnes Peninsula gaping wide in wonderment all the while.
Even the locals consider going on a long drive in this beautiful region as the Best Thing to Do in Iceland.
4. And visit its famous glacier Snæfellsjökull and the Snæfellsjökull National Park located here.
It is also the site fit for relishing lava tubes and the plethora of flora and fauna, especially many coastal birds.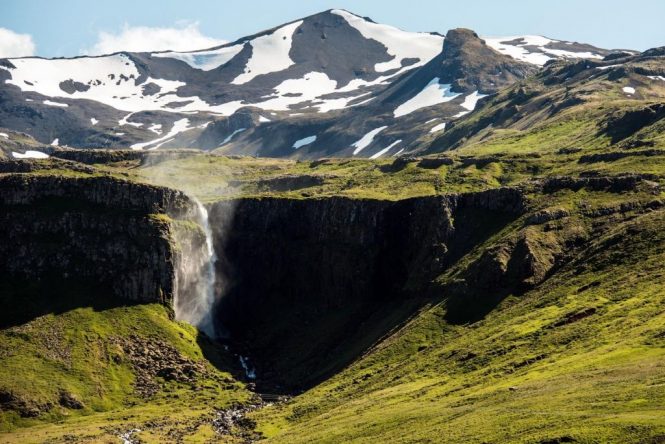 5. Visit Reynisdrangar rock formations located at the famous Reynisfjara Beach for an out of the world experience, almost literally
You won't believe you are still on the same planet you were born on. Don't forget to bring your camera.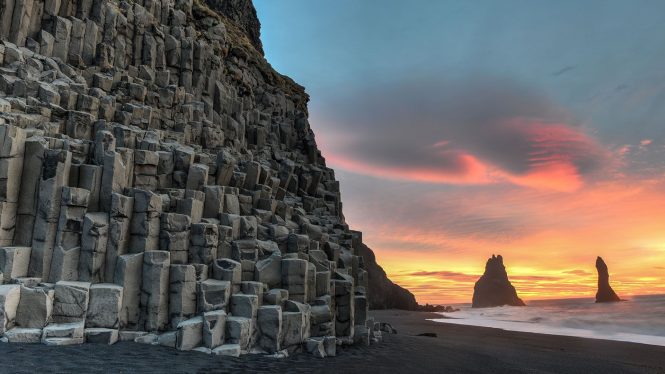 6. Forget everything and take a rejuvenating dip at the most visited Iceland Attraction of Blue Lagoon geothermal spa.
Perfect for any day of the trip, the first or the last, but certainly a must Thing to Do in Iceland.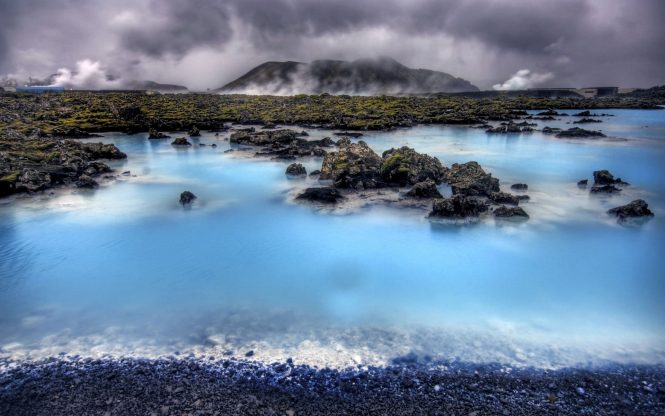 7. Or if you prefer something low profile, head the Secret Lagoon for the same experience, sans too much crowd.
Located near the Golden Circle, come to this off beat hot spring to take a break from touring midday and leaving all your stresses behind.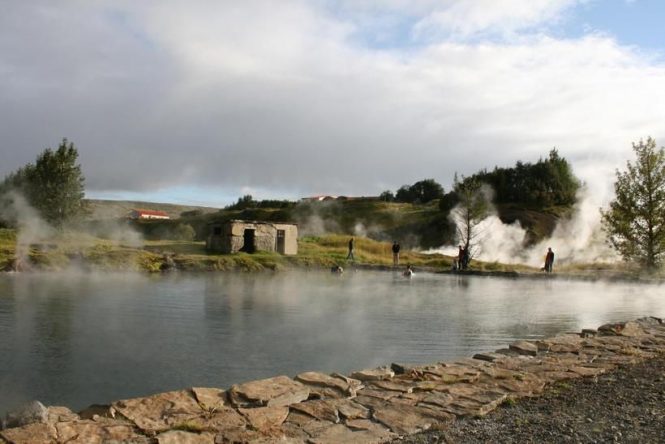 8. Get stunned by the uniqueness and sheer beauty of the Fly Lake aka Lake Mývatn
Perhaps the only Place to Visit in Iceland which will debunk all rumours of the country being insects-free, it has clouds of buzzing winged louts. Although, it is famous for other reasons too, the stunning volcanic rock formations of Dimmuborgir aka the Dark Fortress, pseudo craters of Skútustaðagígar and the active geothermal spot of Námaskarð Pass.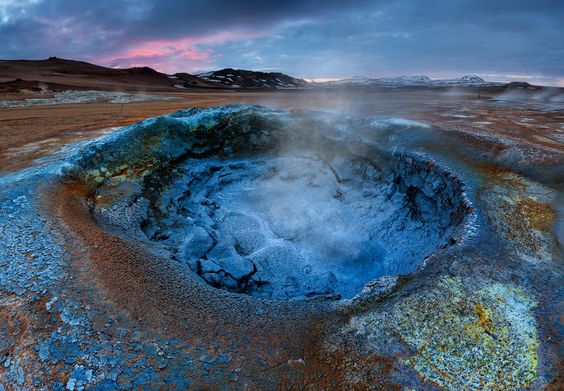 9. Gape in wonderment at the magical Northern Lights.
Northern Lights is one of the biggest attractions of Iceland Tourism. If you could accomplish just one Thing to Do in Iceland, watching it is definitely the one. BTW, you can also ask for a Northern Lights wake-up call at your hotel, so it's no way you miss it.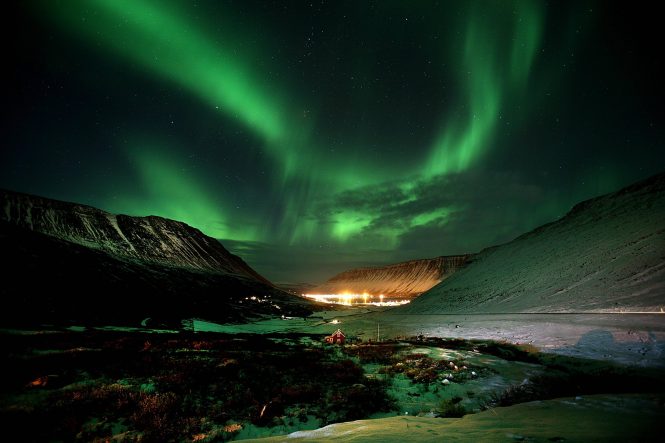 10. Witness the mightiness of Europe's most powerful waterfall- Dettifoss.
Taking form from the river, Jökulsá á Fjöllum and crashing 44 metres down with a thunder into the beautiful Jökulsárgljúfur canyon, the fall is something truly spectacular to behold.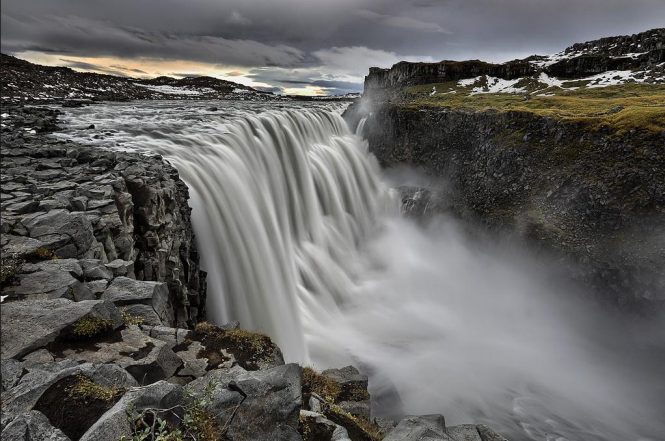 11. Take a walk on the enchanting black sands of Iceland's famous Diamond Beach.
The huge chunks of ice broken off from Vatnajökull glacier and lying on the unbelievably black sands of this beach results in such a beguiling, and surprisingly gothic, a sight that you won't forget in a lifetime.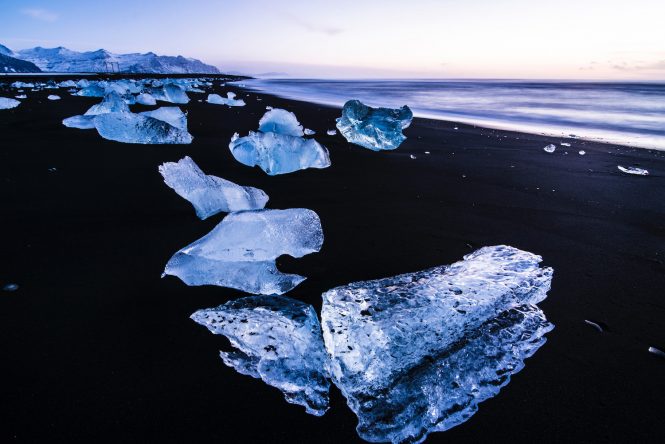 12. Find yourself dumbfounded at the sight of impossibly gigantic and glorious whales of every kind.
Of the absolutely must Things to Do in Iceland, watching a whale in person is certainly one. This is after all one of the best places to visit in Europe for spotting a variety of whales from bottlenose and humpbacks to blues and minkes.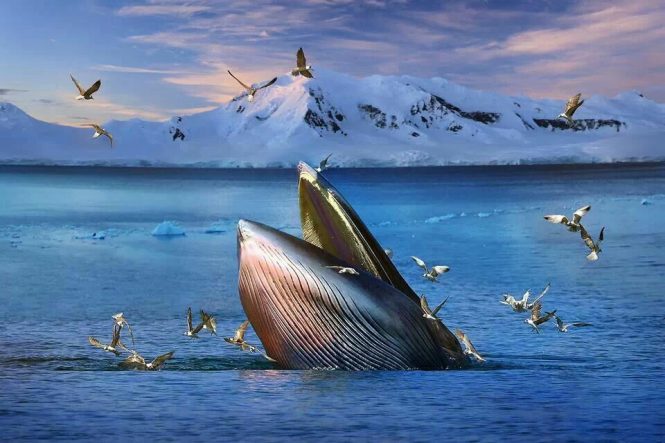 13. Head to the mystical Westfjords for the biggest of surprises.
Culturally and naturally prosperous, Westfjords is a lesser-known region of Iceland which has an aura about it drenched in folklore, magic, history and mysticism. The scenic Arnarfjörður bay, Dynjandi waterfalls and bird crags of Hornstrandir are the biggest Icelandic Attractions here.
14. And set out for hiking at the astonishingly beautiful Hornstrandir Nature Reserve in the area.
Encountering romantic escarpments, cascading waterfalls and intimidating sea bluffs, and with a chancing upon adorable Artic foxes, whales and seals, it's more of an experience than just a walk.
15. Marvel at the celestial beauty of Goðafoss, aka, the God's Waterfall.
Find this lovely Iceland Attraction ensconced off the popular Ring Road which encircles the whole of the country.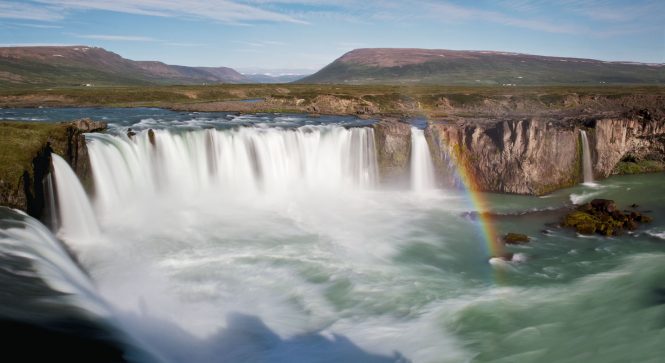 16. Try the scrumptious Arctic Char and feel it melt in your mouth instantly.
The fresh and delicious local fish is a heart-warming treat for all seafood lovers, you won't forget the taste of for a long time.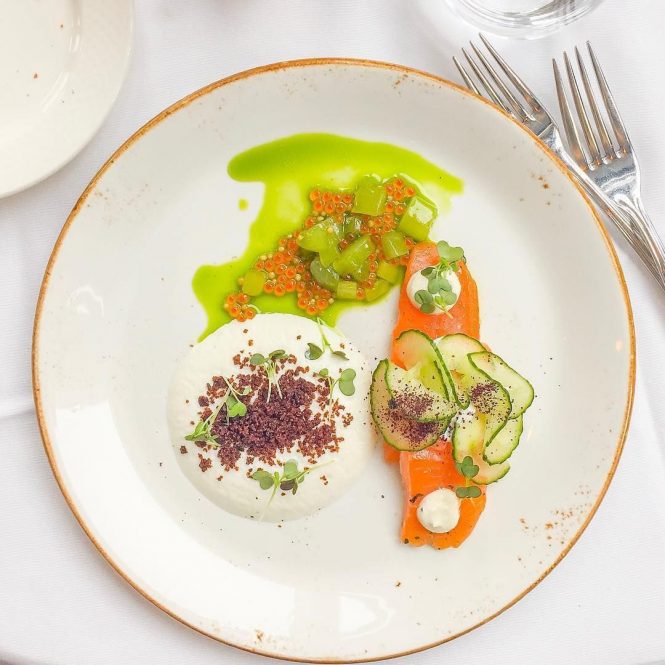 17. Feel a chill run down your spine, experiencing the earth's vigour at Rift Valley of Thingvellir National Park.
Walking between the tectonic plate precincts of Mid-Atlantic Ridge is one in a million chance you would not want to miss bagging.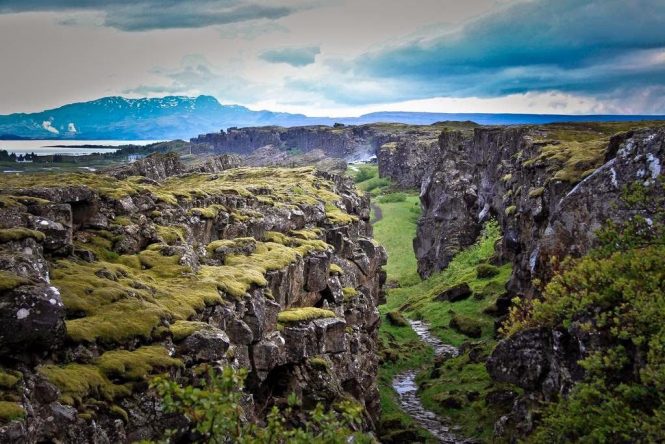 18. Wine, dine, shop and have a night of your life in Reykjavík.
The capital of the country is a must Place to Visit in Iceland for a lot of reasons. The city not just promises a stunning cityscape, but also the superior experience of shopping and dining. You can totally rely on Höfnin for a delicious meal of trout.
19. Have an out of body experience hiking at Fjadrargljufur Canyon.
You won't believe your eyes looking at this gorgeous creation of the last Ice Age which is located in South Iceland.
20. Make friends with the cute animals at Puffin Island.
An absolute must Thing to Do in Iceland if you are an animal lover (and even if not so much), is to pay a visit to the lovely Puffin Island to meet the adorable Puffins and other animals such as seagulls, cormorants, guillemots and ducks.
21. Utter 'wow' over and over again, trekking around the famous Kirkjufell Mountain and Kirkjufellsfoss Waterfall.
You will thank yourself for being here.
22. Dine at the exceptional greenhouse restaurant at Friðheimar.
You would have never had a fresher tomato soup as in this one of its kind restaurant located in a greenhouse, which grows its produce itself. And you can watch them grow tomatoes as you eat.
23. Or drink to your good health at the oldest brewery in Iceland, Olgerdin Brewery.
Try different beers, take a tour to know how it's brewed since ages and enjoy the favourite from the Viking Era, the honey wine.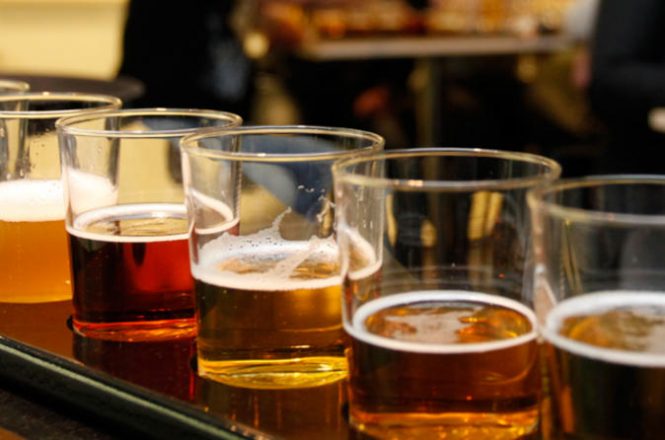 24. Thank your lucky stars for letting you witness the majestic existence of Vesturhorn Mountain and the impossible looking black sand dunes.
Be prepared to be shocked in amazement.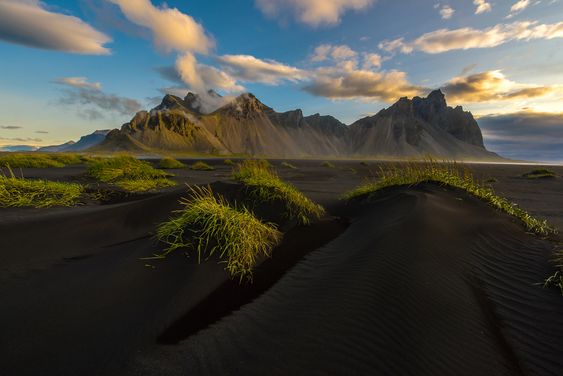 25. Drive to the Gates of Hell, aka Hekla Volcano
Used for generations as an impactful film location, Hekla is a famous site known for being a highly active volcano, which is rather unfortunate given its sheer magnificence.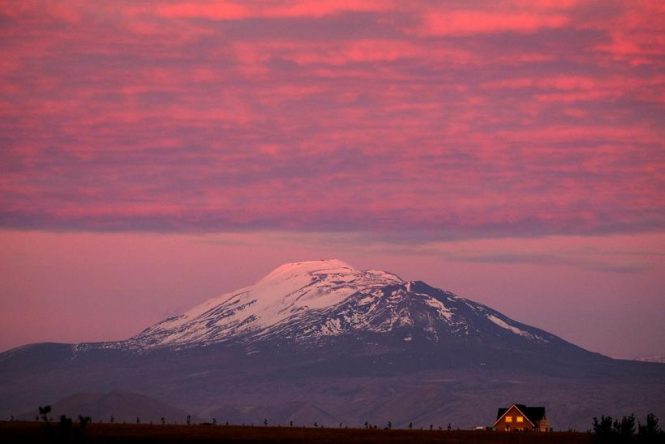 26. Walk BEHIND the exalting Seljalandsfoss Waterfall.
Of all the Things to Do in Iceland, this one is sure to be the most delightful of all, for one does not get many falls which you can actually admire from behind. And if you happen to visit it on a sunny day you may even catch a rainbow somewhere at its base!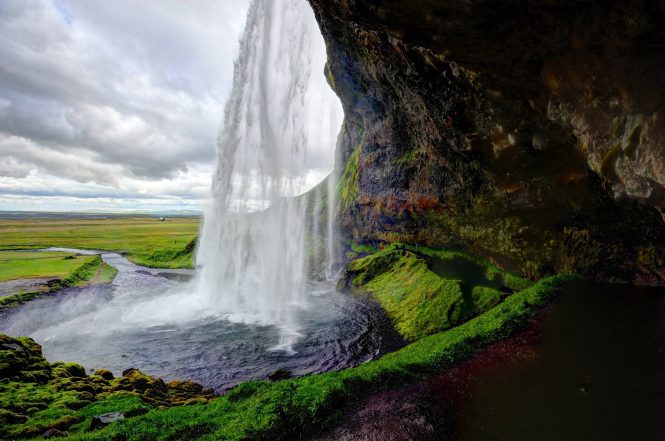 27. Spend some time seaside walking at Rauðasandur Beach.
Although beaches are seen as the gateway to some relaxing sunbathing, of course you know that's not going to happen here when you chose Iceland Tour Package. Visit this place instead for something better indeed- thrashing waves, tranquil seaside walk, turquoise lagoon, occasional spotting of seals and the bird watching at Látrabjarg Bird Cliffs.
28. Buy some warm, fuzzy and adorable knitted sweaters in Iceland.
You will be surprised to find just how comfortable and warm these hand-knitted Icelandic sweaters can be.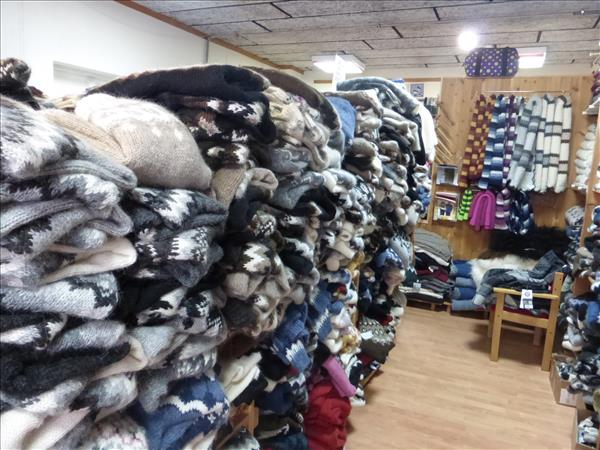 29. And if you need something fuzzier and more lovable, ride an Icelandic horse.
They may be the sweetest little, yes little, horses ever created.
30. Go on a hike to the serene and simply outstanding, Landmannalaugar.
If a humble hike could change your life, this would be it. Make sure to carry a camera to take as many proofs of the life-altering source, as possible.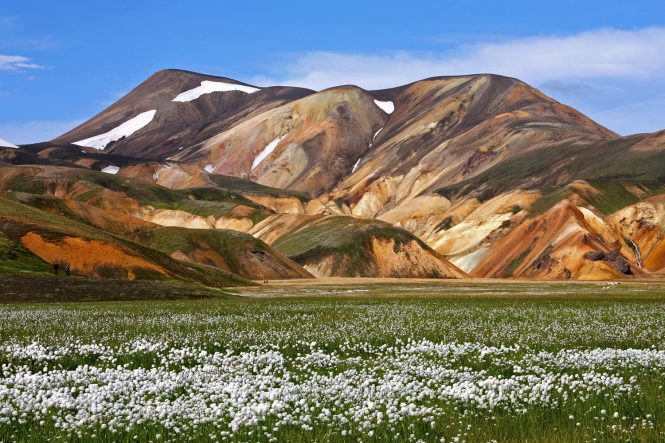 31. Watch the marvellous Strokkur Geyser erupt.
Located in the geothermal area adjacent to the Hvítá River located to the east of Reykjavik, you can witness this natural wonder perform every 6-10 minutes.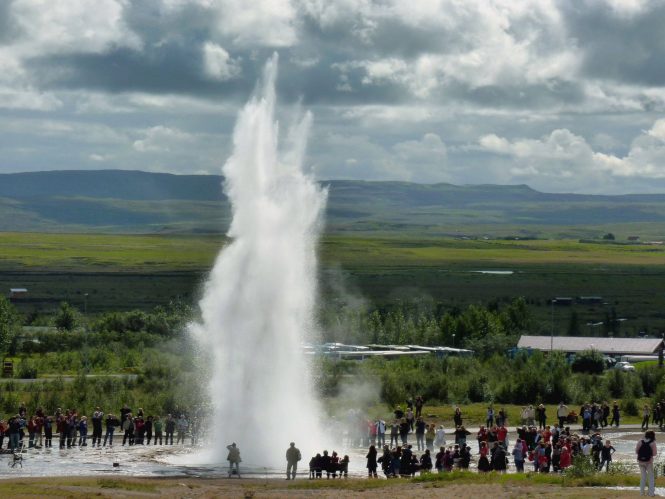 32. Turn back in time with Viking World Museum.
Experience the Viking Age at the popular Icelandic museum dedicated to the Vikings where you can see many artefacts from the era, such as a 9th Century Viking ship and more and also learn about the Norse mythology.
33. Behold, wide-eyed, the imperial beauty of Vatnajökull located at the Glacier Lagoon of Jökulsárlón.
You will not be able to tear your eyes away from this famous glacier in the country, that's a promise.
34. As long as you are there, why not take an unforgettable boat ride passing right through it.
As if seeing an iceberg in person was not enough to bring tears of joy in your eyes, you can also get up and close to them.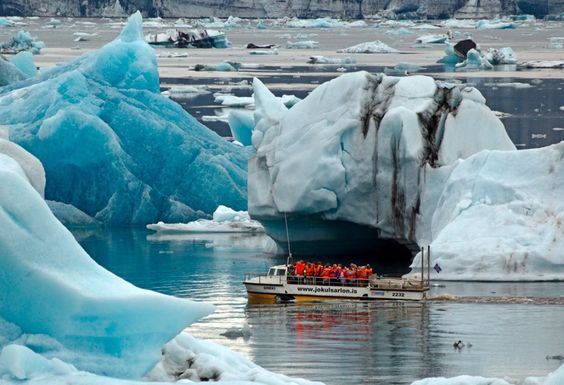 35. Not to make you weep with happiness, but seriously, you can even go inside the beautiful glacier and explore its icy beauty from within.
Being the largest Icelandic glacier, there are many walks around or walk-in tours of Vatnajökull that you can take, which needless to say, will be fiercely memorable. Still, want to miss the chance?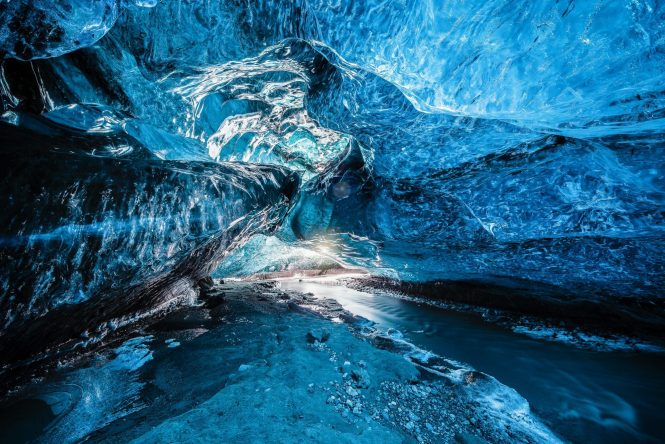 Most recommended: Europe tour packages to experience the phenomenal art culture and serene castles in the land of the Greeks!
36. Get spellbound witnessing the utter astral beauty of Svartifoss Waterfall.
Seeming something right out of a mythology or a science fiction plot, this region is the home to most unconceivable basalt rock formation, the echo of which can also be clearly seen in the architectural style of Iceland.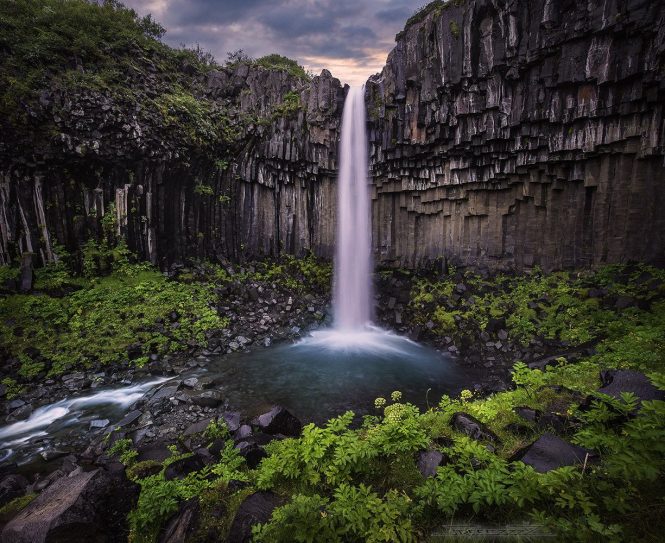 37. The famous Hallgrimskirkja Church located in the city of Reykjavik is the perfect example of this kind of incredible architecture.
You can even take an elevator to reach the top of the hill where the church is perched and admire its intricate design. Just don't forget to take ample of pictures.
38. Pay a visit to North Iceland's Ring Road and be ready to be totally transfixed by its amazing frozen moors.
Can it get any more surprising than this?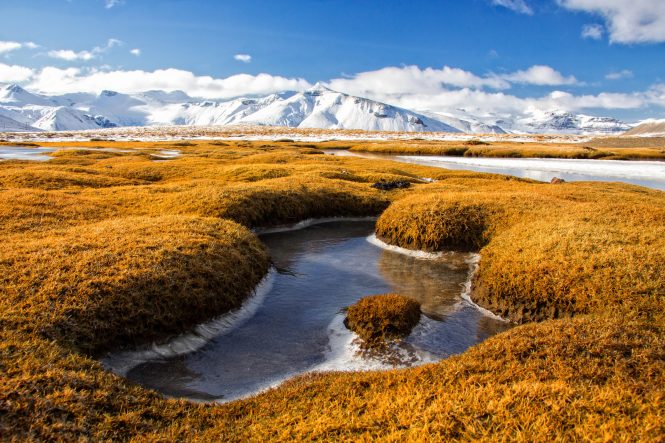 39. Enjoy an exciting ride of Skidoo.
One of the most fun Things to Do in Iceland, riding a Skidoo is simply a great way to explore the vast frozen lands of the country, sliding on the slippery ice and braving the crisp cold winds.
40. End your Iceland Tourism expedition journey of Iceland Tourism by exploring the eerie yet extremely beautiful Leidarendi Lava Caves.
Featuring a rippled and colourful interior, the lava caves form a yet another wonderful Iceland Attraction that seems too improbable to be true. Descend down the caves formed by lava deposited over thousands of years and make your way to 'The End of Journey' as its name literally means in the native language.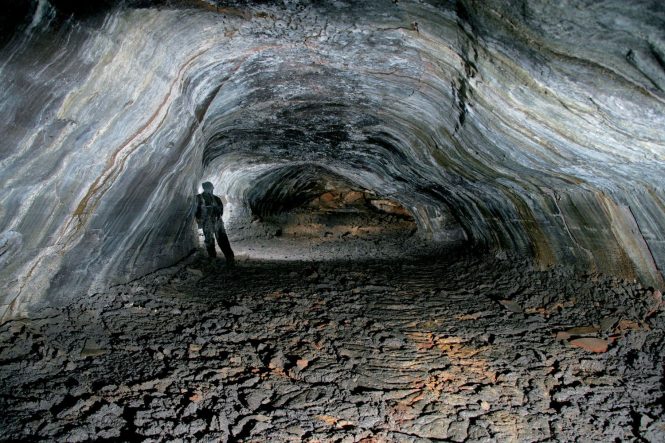 Simply an experience of a lifetime than just another travel destination checked off a bucket list, Iceland is a place out of the most potent and beautiful of imagination. The many things to do in Iceland listed here are a testimonial to the fact, don't you agree? So, why waste time when you could be preparing for a truly unforgettable vacation of your life with any of our amazing Iceland Tour Packages.
Don't forget to share your experience with us in the comments!