6 Romantic places in Singapore that will give you #CoupleGoals
One of the closest tourist destinations from India, Singapore has been a hotspot for tourists from all over the world. And with the advent of affordable air travel, it is one of the favourite destinations for Indians looking for a quick getaway. .Despite being a small country, there is no dearth of stunning places in Singapore. From busy markets and upscale avenues to happening clubs, malls and restaurants, the country offers you a completely different lifestyle from what we are used to generally. Also, the list stands out in the fact that it does not require you to shell out cash for the best of backdrops, settings or ambience but just make use of the beauty of the country as it is. Perfectly timed visits to some of the gems in Singapore are all that you need to make the evening romantic. So if you are looking for a honeymoon trip or maybe just a place to pop the question, our list of Romantic places in Singapore will not disappoint you!
Most Romantic places in Singapore
1. Esplanade Roof Garden – Serene and Romantic
Located at Singapore's one of the most happening places, the Raffles Avenue – the Esplanade is a laidback place that will allow you to spend quality time with your partner and offer you stunning views of the Singapore skyline. After a casual stroll along the Singapore River, you can visit the Esplanade and make your way to to the roof garden where you can sit back, relax and experience the Marina Bay Sands and the Fullerton coming alive as evening sets in.
The entry to the top is absolutely free and you can carry something to eat or drink and enjoy a relaxing time with your significant other. The rich green lawns at the rooftop are perfect for a romantic date and make for an evening you will remember. Spend quality time, whisper sweet nothings or just lie back and enjoy each other's company.
Distance from Airport: 20km
Location: 8 Raffles AvenueThey say the best things in the world are free and the Esplanade Roof Garden is certainly one such Romantic places in Singapore!
2. Singapore Flyer; For an Out of the World Dining Experience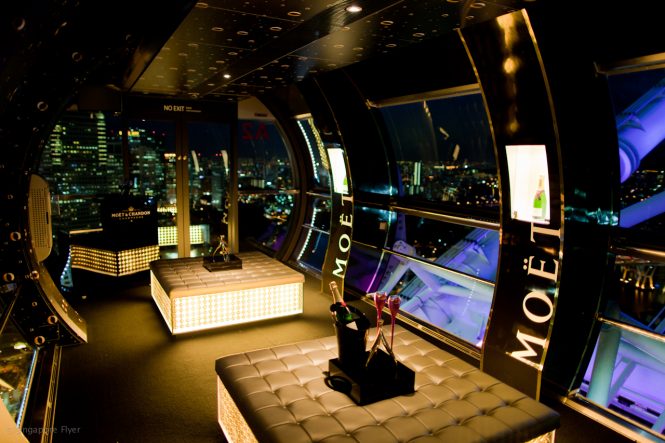 We all know that Singapore Flyer is a renowned tourist destination where on a busy day, you have to wait for your turn to board and experience the 360-degree view of the city. But did you know that there are dining options available at the Singapore Flyer and that it could be one of the most exquisite meals you would have in your entire life?
Yes, the Singapore Flyer offers you a chance to have dinner on the Flyer as the wheel goes round for an hour. You get a private cabin on the flyer and you will also get a dedicated host to serve you your meal. They have fixed menu cards that serve both vegetarian and non-vegetarian dishes and you can check out the meals on their official website. You will be served with a 4-course meal as the Flyer does its rounds and you will also receive a bouquet of flowers.
But you know what the best part is? The sound of the champagne popping and the effervescence coming out of the bottle gradually! You will be offered two glasses of champagne or your choice of wine. Dinner here starts at 7 PM and you need to check in by 6:30 PM to have everything set up. It's a sight to watch the entire country from top, sipping a glass of wine or champagne. Especially, at night, when the entire place is lit up, you will be in the air with your special person enjoying a view like nothing else in this world!
Distance from Airport: 20km
Location: 30 Raffles Avenue
How much time to spend: Approximately 90 to 120 minutes
Operating hours: 7:00 PM to 8:30 PM
Approximate cost for two: INR 15,000
The experience is equal to any Michelin-rated restaurants you had been planning for all these years. With the accompanying views and those on the other capsules looking at you, the feel takes you on top of the world.
3. Light and Water Show – Colorful and Vibrant, just like your Relationship!
Located on Fullerton road, you have an amazing experience awaiting you in the form of the Light and Water show. When you are at the Marina Bay Sands, outside the Shoppes, you will witness something phenomenal that is truly hard to explain. Known as the MBS light show, you can watch the entire place of Singapore River coming alive with water jets, fire geysers and lasers that last up to 15 minutes.
The entire set up that took 3 years for completion will enthral you with a finale that will light up the entire sky and make the already mesmerizing skyline of Singapore all the more beautiful. When you are here with your partner, you will have one of the most romantic evenings amidst the laser and light shows and share a time that belongs just to the two of you.
Distance from Airport: 20km
Location: 1 Fullerton Road, Singapore
How much time to spend: An entire evening
Operating hours: 8:00 PM and 9:30 PM on Sundays to Thursdays and 8:00 PM, 9:30 PM and 11:00 PM on Fridays and Saturdays
The show is phenomenal and free. Take time off your schedule to experience this man-made wonder! One of the must-see Romantic places in Singapore!
4. Gardens by the Bay – Grand and Magnificent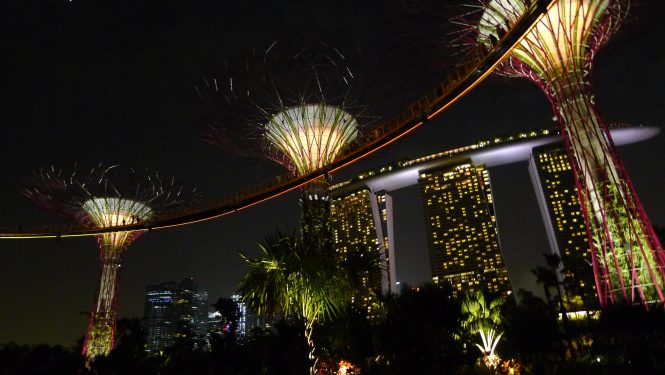 If you have been to the Gardens by the Bay, we believe you already know the magnificence and the grandeur of the tourist attraction. More than being a place of interest, it is one of the most romantic places in Singapore, especially at nights. As much as it seems informative and futuristic in the day, it turns to a haven for the romantic souls with bright lightings, illumination, and a completely transformed ambiance.
Just like the MBS light show, the Gardens by the Bay offers a stunning display of music and lights that is sure to liven up your evening. A casual stroll along the skyways of the OCBC will give you the feels when frequently you are caressed by the fragrances of the area.
Distance from Airport: 20km
Location: 18 Marina Gardens Drive, Singapore
How much time to spend: An entire evening
Operating hours: 7:45 PM to 8:00 PM and 8:45 PM to 9 PM
Approximate cost for two:  INR 500
No matter how futuristic or fancier it gets, it's a garden and a beautiful one and gardens are bound to be romantic.
5.  St. Johns Island – We bet Nobody Told you about this One of the most romantic places in Singapore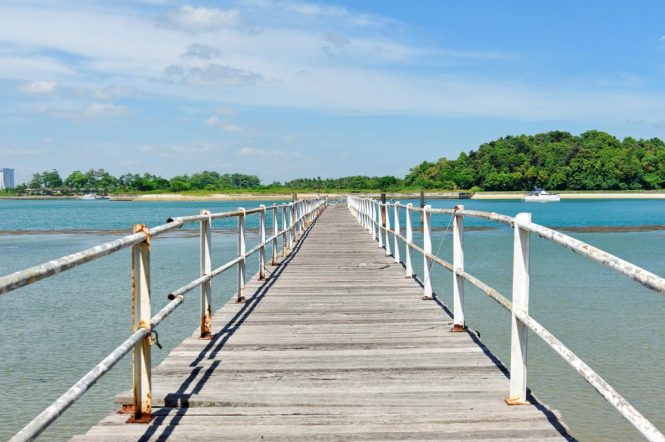 Any list on the most romantic places in Singapore will ask you to head to the Sentosa Island, which is good but a bit crowded. For those of you looking for a quality we-time, we are sure you would find the island to be clichéd and intrusive. That is why we have an alternate island for you that acts as the perfect host for the romantics out there. Home to one of the most remote islands in Singpore, you can still reach the place within half hour from the main region. The place is secluded yet safe and not many tourists know about the magnificent piece of landmass that is nothing short of a paradise.
You can come here with your packed picnic bags or go for short treks and hikes here. If the two of you are into sports and activities, you can play volleyball, soccer, or badminton. Need something more romantic? Spot some adorable dolphins together and enjoy an escapade like never before. If you fall in love with the place, you can also find an accommodation for a night or two and spend more time here in the serene island.
To reach the island, you need to head to the Marina South Pier and board a boat. In the next 15 minutes, you will be transported to this haven spread over an area of 39 hectares.
Distance from Domestic Airport: 30km
Location: 31, Marina Coastal Drive, Singapore
How much time to spend: An entire evening
Ferry Timing: 10:00 AM to 2:00 PM between Monday and Friday, up to 3:00 PM on Saturdays and 9:00 AM to 5:00 PM on Sundays and public holidays.
Approximate cost for two: INR 1170 for the two-way boat ride and entry to the island is free
Full of picture-perfect views and landscapes, the St. John's Island is something you will never share about with your friends and family because you want it to be personal and untouched.
6.  Botanical Gardens – For the Lovely Lady
If the woman of your life loves flowers, there can't be a more special place than the Botanical Gardens. With lush green landscapes, the place is a perfect retreat for the both of you to spend some quality time together amidst nature. One of the other specialities of the place is the Orchid garden, which is home to more than 2000 orchids that are sure to make her day and ultimately yours.
Walk in during the day to enjoy a casual afternoon and head out to the other happening places in Singapore for a day well spent. If you don't intend to go out, you can also make use of the amazing gourmet restaurants located inside the garden premises for one of the most special and sumptuous meals.
Distance from Domestic Airport: 25km
Location: 1 Fullerton Road, Singapore
Operating hours: 5:00 AM to 12:00 AM
More than a century old, your holiday in Singapore cannot get any better with your lover at the Botanical Gardens.
Frequently Asked Questions
1. What are the other Romantic Places or Romantic Things to do in Singapore?
If you want more options on romantic places in Singapore, you can go for the river cruise that will take you on a mesmerizing journey on the Singapore River under the star-lit sky for a breezy evening. You can enjoy the MBS light show from the cruise or you can go for a romantic stroll at the Fort Canning Hill for some tranquillity. For an offbeat experience, you can head to the Singapore Zoo and opt for a lunch with the orangutans. Completely secured, it is indeed a very different experience you will remember during your time of dating or being together.
2. Are there in Michelin-rated Restaurants in Singapore?
If being classy and suave is your style and a great food at some of the world's best restaurants is your style of a date, we recommend you book a table at one of Singapore's many Michelin-rated restaurants. Apart from world-class ambiences and settings, you will experience a culinary delight at these restaurants. Go on a gastronomic tour with your special someone and immerse yourself in the sense of taste.
3. What are the Best places for a Couple's Photoshoot in Singapore?
Singapore is all about photogenic places and some of the regions we would recommend is the Changi boardwalk, Koon Seng Road, Punggol Gallop Stables, Little Guilin, Botanical Gardens, Mount Faber Park, Hort Park and Raffles Marina.
So what do you think about our recommendations on the most romantic places in Singapore? If you are planning a trip to Singapore, make a note of our mentioning and enjoy a great time with that special someone in your life. Moments like these can never be replaced and make sure you plan in advance, set everything up and turn your moment into a permanent memory.