A stopover to God's Own Country: Kerala
Known as God's Own Country, Kerala is a well-known globally as a vacationer's heaven. With the breathtaking Arabian Sea on one side to the magical backwaters on the other, this state is a treasure full of natural beauty, lofty hills as well as greenery. With tourists coming in from across the world to soak in the beauty of the paradise, there are a number of attractions beckoning tourists.Some of the 'must 'do' things while visiting Kerala include:
1) Go on a Houseboat Cruise: Have you ever gone for a cruise in a houseboat on the backwaters of Kerala? One of the highlights of Kerala is staying in their houseboats. Also known as Kettuvallam, these types of boats are widely used for tourism. These luxury houseboats offer a cultural heritage and an innovative Kerala holidays idea. They are eco-friendly boats and are made using bamboo poles, ropes, coconut fibres, carpets etc. These boats have the facilities of a star categorised hotel. You can enjoy the mystical backwaters as you enjoy your stay on the boat.

2) Visit the tea estates in Munnar: A popular hill station, Munnar is well-known for its tea plantations. Also known as the Kashmir of the South, there are a number of tea estates where you can learn about the different manners by which tea is made. It is rejuvenating to take a walk in the plantations taking in the sweet aroma of fresh tea leaves. Find best deal on Munnar Holiday Packages.
3) Visit the Iringal Crafts Village: If you want a cultural experience, it might be a good idea to visit the Iringal Crafts Village. There are a number of artefacts that can be found here made of coconut shells, coir, banana fibre and other local materials.
4) Go for an Ayurvedic Massage: Indulging in an Ayurvedic treatment is a must if you visit Kerala. Ayurveda treatments are popular throughout Kerala and there are a number of resorts that can be found. You can opt for a number of forms of natural treatments as well as rejuvenation.
5) Visit Kuttanad: Located at a level (1 to 2 km below) below sea level, Kuttanad is a small town which is well-known for its rice paddy fields as well as quaint villages. You can go for a tour in this region and explore the different rivers flowing here.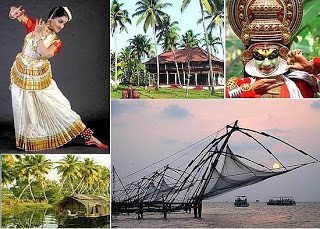 Besides this, there are plenty of other activities that a tourist should include if visiting Kerala. Some of the include taking a jungle safari in Periyar, visiting the Mattancherry Palace, riding a canoe to remote parts of Kerala, going for bamboo rafting in Periyar and watching a classical Kathakali dance performance.