Australian Beaches That Will Give You New Travel Goals
There are some places that excite you and there are some places that inspire you – for you to visit the place personally and experience every single word every documented by people who have been there. Australia is one such stunning destination. Be it the countless range of activities it offers to its visitors, the myriad of landscapes that alternate across frontiers, its gifted coastline and the coral reefs, its food or the amazing people there who make holidaying in Australia all the more special, it is indeed one destination that will fulfill your pursuit of happiness and answers to all your questions on life. For all those of you who have been planning to visit this island-country-continent, here we have a list of tempting Australian Beaches that will make you apply for a visa and get here for your next vacation.
Whether it's your Instagram feed you want to enrich with photos of Australian Beaches, come here for a honeymoon or simply to visit an amazing country and blindly take in all the experience it has to offer, Australia is the one destination for all your travel goals. Read on to find out the amazing beaches you have to set foot on when in Australia.
1. Whitehaven Beach – Among the best Australian beaches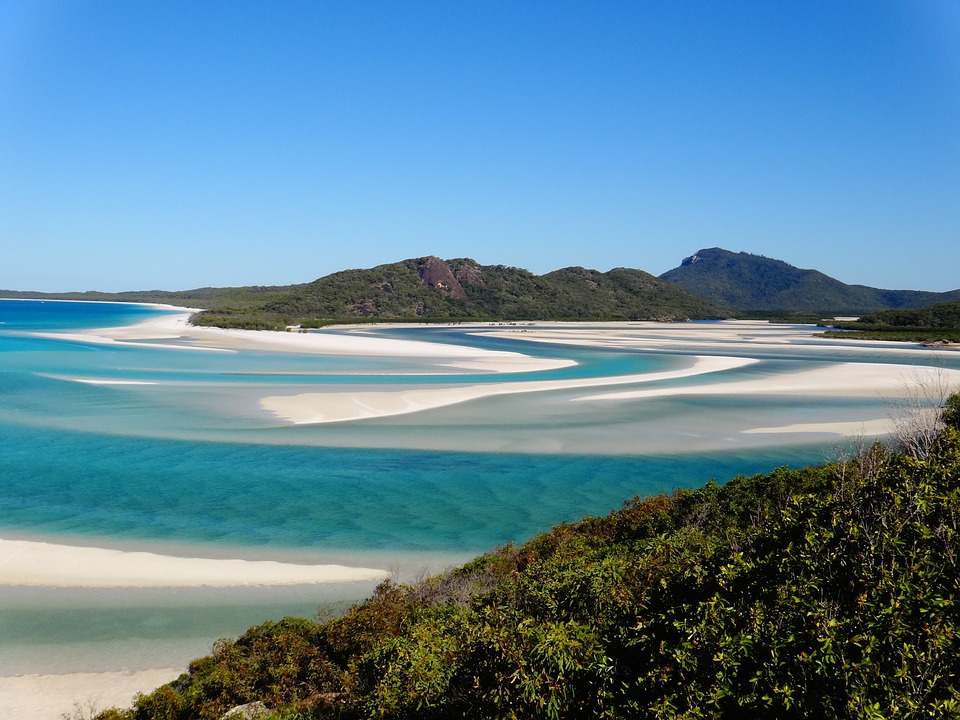 Of all the picturesque Australian beaches, there is a reason why Whitehaven ranks first. A reason you will find out when you actually reach the Whitehaven beach. Sprawling for over seven kilometers, the Whitehaven beach is indeed a haven for travellers and tourists, with its white-sand shore and an amazing coastline. The best part about the beach is that the sand here is made of silicon – the purest form of sand you will ever come across. Thanks to this, it feels great to walk over it and is never too hot even on the brightest days as silicon absorbs the heat and makes it perfect for a stroll. This is another reason why sand here is white and complements the contrasting hues of blue here.
With tons of islets, lagoons and coves at the Whitehaven beach, you can say you are in a cosy paradise tucked away from the city's madness. Moreover, the remote location also makes the beach less crowded even during the peak seasons. This means that the atmosphere of the beach is always has a calm and serene appeal, just what you would expect out of a beach.
Distance from Airport: 1 hour 35 minutes by flight
Best Time to Visit: Anytime of the year except for winter
Trip Advisor Rating: 5/5
If you are planning to beach-hop when in Australia, make sure you start your list with the Whitehaven beach.
2. Bondi Beach, Syndey – If you're not here, then where?
When in Sydney, you cannot afford to move to another city for exploration until you have visited the world-famous Bondi beach situated here. One of the most iconic Australian Beaches, Bondi beach has a history that will fascinate you. You would not believe us if we told you that Bondi beach was where the world's first surf life-saving club was established! Coming up with several techniques and safety practices, they are practiced even today. During the 1900s, Bondi beach was also the forerunner in protesting for appropriate bath suits to visit the beach. It is due to these protests that bikini came to be as an accepted dress code for beaches today.
One of the other fascinating aspects of Bondi beach is that despite the number of visitors who come here to soak under the sun and get tanned, the beach remains litter-free and clean throughout the year. Due to the increased influx of tourists, a number of public houses, cafes and restaurants have popped up along the coastline, serving you some of the best finger-food, Aussie delicacies and beverages. With a really liberal crowd, you will love this beach for what it is and for giving space for who you are.
Distance from Airport: 30 minutes approximately
Best Time to Visit: Anytime of the year except for winter
Trip Advisor rating: 4/5
If you want to visit a happening beach like the ones you see in movies, Bondi beach is where you need to go.
3. Lizard Island – Expensive, Exclusive and Worth Every Aussie Dollar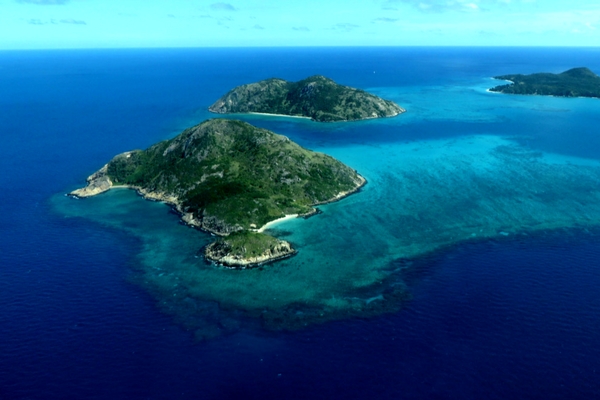 Well, who hasn't heard about the magnificence of the Great Barrier Reef? From being massive and one of the most picturesque destinations to offering the best views of coral reefs, the Great Barrier Reef is every traveller's dream destination. What you didn't know about the place is that it is home to some of the most exclusive beaches in the world. The Lizard island, for instance, is a stunning piece of the landmass that has over 23 islands nestled within its boundary of 1000 hectares. Located on the Great Barrier Reef's eastern front, the island rests like a boss, welcoming the gifted tourists from around the world.
The reason why it is for the gifted travellers is that there is only one exclusive resort here that is completely sophisticated in its operations. When you pay approximately $1400 per night here, what you get in exchange is a private villa overlooking one of the best beaches in the world and exclusive access to some of the most secluded Australian Beaches. With a landscape of white sand, green forests and turquoise blue water, an accommodation over here is a blessed feeling indeed. Are you game?
Distance from Airport: The Lizard Island has its own Airport, you can take a chartered flight from Cairns Airport in Queensland to come here.
Best Time to Visit: Anytime of the year except winter
An exclusive invite by nature, save up and realize your dreams here at the Lizard Island.
4. Byron Bay Main Beach – One of the Finest Pet-Friendly Australian Beaches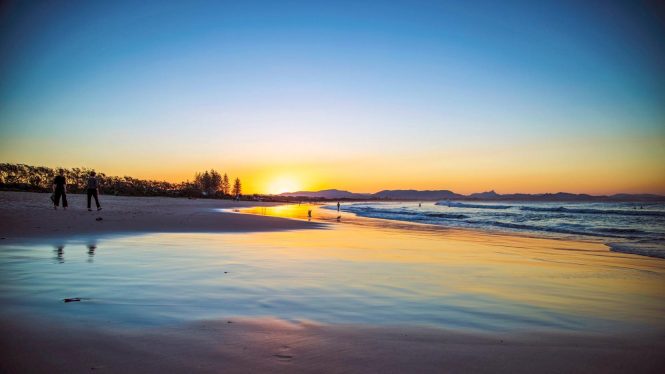 Once a hippy town, Byron has come a long way in terms of its beaches. Over the years, the quality of beaches that have sustained for decades has attracted tons of investors and restaurateurs to open up bars and cafes along the shores of the Main Beach. Very less crowded yet alive, you can reach this beach quickly from the Gold Coast region or any other city from the New South Wales. One of the important factors that make the Main Beach stand out from the rest is that it is the easternmost point of Australia and is one of the ideal spots to learn surfing. This is why aspiring surfers from around the world try their hands at surfing here.
Besides, this stretch also has an adorable factor attached to it. Here, you can bring your pets for a walk to this beach and the ones including Tallow beach and Belongil beach are pet-friendly. With some amazing views of the limitless expanse of the ocean and umpteen number of restaurants to try out, this beach is perfect for either a laidback vacation or an adventurous one.
Distance from Airport: 1 hour approximately from Gold Coast Airport
Best Time to Visit: Any time of the year except winter
Conclusion: Hire a surfboard and hit the water along with several other aspiring surfers and when tired, head to a café and grab a beverage. Life is complete that way!
5. Wineglass Beach  – The Eye Candy of Tasmania
If we are talking about Australia, can there be a list without Tasmania? Blessed with all good things, Tasmania is one Australian state you cannot miss on your big vacation. And inside Tasmania is one of the most picturesque Australian Beaches that is shaped like a clam. Talk about contrasting colours, the blue waters of from sprawling from infinity find their way to this idyllic location bordered by pink peaks made of granite.
Despite the beach being popular, you can find very less crowd over here and this, in a way, acts to its advantage. Still untouched and less explored, you can find the Wineglass beach to be almost virgin, giving you un-spoilt views and experiences special to it. Apart from being an eye-candy, the Wineglass beach is also happening in terms water-based activities you can indulge in. The location and the shape of the beach make it perfect for snorkelling, hiking, wildlife spotting and kayaking. Though you have to reach the beach after a two-hour trek, the view of the place once you get there is rewarding to the every second of effort you've put in.
Distance from Airport: 5 hours approximately
Best Time to Visit: All through the year
Trip Advisor rating: 4.5/5
Trek to a high point if you can and catch the perfect shape of the beach resembling a wine glass. Your vacation is made! Our Australia tour packages will allow you to enjoy a fun-filled vacation in Australia.
6. Burleigh Heads – The Golden Beach of Gold Coast
The Gold Coast region is one place that completely arrives as a beach destination. Thanks to the popularity of the place as a beach spot and the innumerable beaches it offers, it has become too touristy today to look for something special and exclusive. However, there is still one exception to this as the Burleigh Heads beach arrives as one of the less crowded and clichéd beaches in the Gold Coast.
The view at this beach blends the coastline with the skyline of the city, making it all the more beautiful. The sand here and the beach will remind of you being in a tropical island like that of the Maldives or Lakshadweep and this is also one of the ideal spots for surfing. Some of the largest surfing competitions are held here every year and the beach is family-friendly at the same time. Stretching to up to 4kms, you can sit down to spot dolphins, sea eagles, brush turkeys and other marine wildlife.
Distance from Airport: 15 minutes approximately
Best Time to Visit: All through the year
Trip Advisor rating: 5/5
Definitely a great beach to spend time with your family, especially if you have kids.
Frequently Asked Questions
1. How to Reach Australia?
Australia is one of the top tourist destinations in the world. Being a developed country, the connectivity from major countries around the world is phenomenal. From India, there are frequent and daily flights from Indian cities like Mumbai, Chennai, Kolkata, Bengaluru, New Delhi and others. Some of the biggest airlines fly from India, offering you the best of sophisticated flying experience. If you are on a budget, you can find several economical flights like that of AirAsia taking you to major Australian cities on a shoe-string budget.
2. How to get around in Australia?
There are diverse ways to get around Australia. You have options like flights, trains, public buses, backpacker buses and car rental services you can choose from. While flights and trains are the expensive options, they are also the convenient ones. The railway system covers most parts of the country and is something to experience. Comparatively, buses offer similar pricing but can be less convenient depending on your timing and schedule. If you can find travellers and friends there, the best option would be to carpool and explore the country by road.
3. Where do I find adventure sports operators in Australia?
The Aussie way of adventure is remarkable and you can find several operators online. Because of the fact that Australia is perennially visited by tourists from around the world, most operators are consistently packed. You can decide on your adventure, look for adventure operators online and make an advance online booking to reserve your spot when you are there. It makes it easier and you can also find deals frequently.
So, we believe we have given you new travel goals or beach goals to look forward to accomplishing this 2018. These were some of the best Australian Beaches we would recommend. Add them to your list, plan your trip in the best way possible and have a splendid holiday at the exotic destination called Australia!
Australian beaches are well-known worldwide, a trip to this exotic Island is a must for beach lovers. Check out the best Australia tour packages.