These Top 8 Beaches in Pondicherry are Every Beach Lover's Paradise
| SI.No. | Beaches in Pondicherry | Known for | Things to Do |
| --- | --- | --- | --- |
| 1 | Auroville Beach | Clear waters and lovely seashells | Swim or surf, collect seashells |
| 2 | Rock Beach | Peaceful environs and beautiful sunrise | Good spot for photography |
| 3 | Promenade Beach | Long walkway for walks | Try beach yoga or go for skating |
| 4 | Paradise Beach | Best Beach activities | Go for a swim, dolphin spotting |
| 5 | Reppo Beach | Beauty and peaceful ambiance | Simply relaxing |
| 6 | Serenity Beach | Romantic atmosphere | Surf the waves |
| 7 | Mahe Beach | Photogenic sunsets | Go for an energizing swim |
| 8 | Karaikal Beach | Adventure water sports | Swim in the clear shallow waters |
Pondicherry is among those popular destinations in India which are as versatile as it is beautiful. There are enough wonderful Places to Visit and Things to do in Pondicherry to make your visit to this delightful French Colonial Settlement in India, a truly memorable affair. While the historically enriched locales and sumptuous food of this Union Territory are as much famous, it is the immensely gorgeous and peaceful Beaches in Pondicherry that grab the limelight. The shimmering azure water coupled with immaculate golden sands along its long coastline set Pondicherry Beaches apart from any other beach destination in India.
While Goa is often considered the king of all beaches, Pondicherry could easily be better. Why? Well, for one it is far less crowded but certainly not short on partying culture. The throbbing Pondicherry Nightlife that's equally peppy if not more, a likewise easy access to booze, thanks to tax-less alcohol availability and similar or possibly more bewitching beaches gives Pondicherry Tourism an upper hand over Goa or any other Indian beach hub.
Moreover, the various superlative Beach Resorts in Pondicherry along with a range of exciting activities and adventure water sports greatly contribute in making the Beaches in Pondicherry some of the finest ones in the country, and in our opinion, also the world.
So, let's take a look at some of the best Beaches in Pondicherry and give your plans for the 'dreamy beach holidays', a jumpstart. Here we go.
Pondicherry Beaches
1. Auroville Beach
One of the best Pondicherry Beaches, Auroville Beach which is also known as Auro Beach is located near the famous Auroville. It is known for its shallow waters, as clear as a crystal, spread volcanic sands and beautiful seashells that you won't be able to resist yourself from collecting. Perfect for swimming and surfing, the sunlit shores of Auroville Beach are constantly abuzz with surfers, both amateurs and proficient, beginning early mornings. Certainly the Best Beaches in Pondicherry for Friends you can enjoy long hours of swimming in the cool ocean water.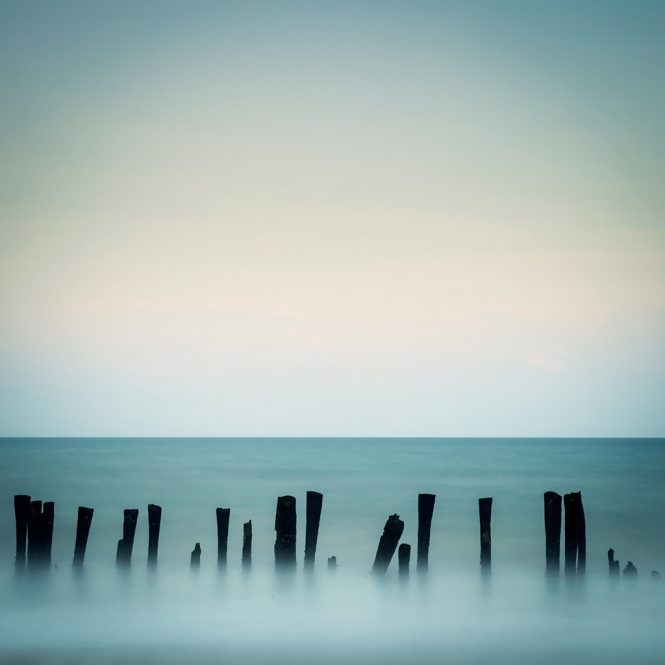 Known for: Clear waters and lovely seashells
Location: 12 km from the main town of Pondicherry
Things to Do: Swim or surf, collect seashells, walk on the beach and enjoy the vista of Pondicherry lighthouse at nightfall
Hotels in Pondicherry near Beach: Le Aham, Quiet Healing Center, White Pearl Residency etc.
TripAdvisor Rating: 3.5
2. Rock Beach
Located in the heart of the city, Rock Beach is a popular Places to Visit in Pondicherry. Enriched with natural splendour, it is the ideal spot to lose yourself in the beautiful scenery of ocean waves crashing against the rocks and creating a strangely melodious music. Offering a veritable spectacular treat for both your eyes and your soul, this is one of the Best Places in Pondicherry for Couples who want to spend quality time just in the company of each other and nature. Owing to its central location, you will also find many budgets, as well as high-end Best Hotels to stay in Pondicherry located in the region, apt for both honeymooners and families.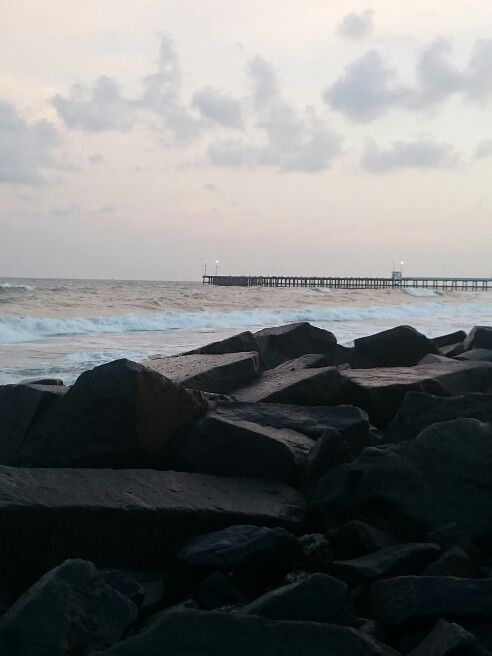 Known for: Peaceful environs and beautiful sunrise
Location: White Town, Pondicherry
Things to Do: Take a leisurely stroll along the beach and witness the mesmerising beauty of sunrises from here. It is also a good spot for photography.
Hotels in Pondicherry near Beach: Dune de L'Orient, Hotel Villa Krish, Le Chateau etc.
TripAdvisor Rating: 4.5
3. Promenade Beach
An unusually rocky beach, Promenade Beach is a famous Beach in Pondicherry is one of the most happening beaches in the region. A favourite among the locals as a site for peaceful morning walks and jogs along its long walkway, it is also a popular Tourist Place in Pondicherry. Come evenings, the entry of vehicles is banned in the beach area which lets you enjoy your time here in peace. Ideal to spend time with your loved ones, Promenade Beach is surely among the Best Beaches in Pondicherry for Family getaways. The many seaside cafes, beach shacks and restaurants add to the charm of the beach.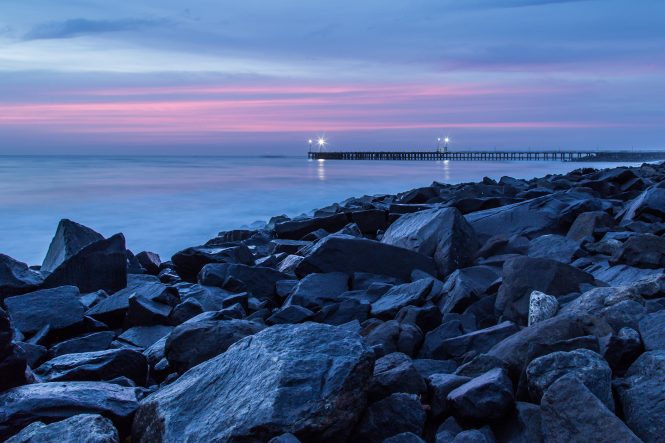 Known for: Long walkway for walks, sea-facing restaurants and fresh seafood
Location: Pondicherry
Things to Do: Try beach yoga or go for skating, visit War Memorial Museum and the nearby Dupleix Park. You must also taste the fresh seafood available here.
Hotels in Pondicherry near Beach: The Promenade, Le Dupleix, Hotel du Parc etc.
TripAdvisor Rating: 4.0
4. Paradise Beach
One of the best Beaches in Pondicherry, Paradise Beach is a must visit place in the region. Offering stunning views of the sea along with ample of exciting activities to enjoy, it is equally popular among locals and tourists. The beach has many showering stalls and changing rooms too which you can use if you want to go for a swim in the inviting waters by the shore. Maintained by Chunnambar Resorts in Pondicherry, it is the most spotless and spick and span beaches in the area. You can take a boat or a kayak from Chunnambar Boathouse which are available between 9:00 am and 5:00 pm, to reach this immaculate beach.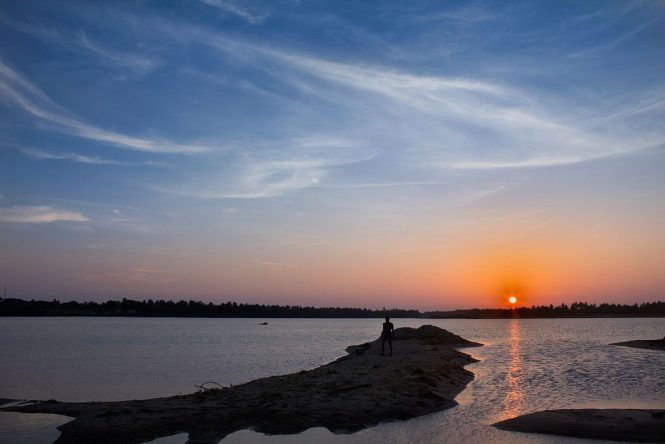 Known for: Being the cleanest Beach in Pondicherry and for numerous beach activities
Location: 2 km boat ride away from Chunnambar Boathouse
Things to Do: Go for a swim, dolphin spotting, or fishing, set out on a cruise, play beach volleyball, try backwater boating and indulge in good photography (chargeable)
Hotels in Pondicherry near Beach: Ungal Vasanta Bhavan Residency, Le Royal Park, Annamalai International Hotel etc.
TripAdvisor Rating: 4.0
5. Reppo Beach
One of the most reviving  Beaches in Pondicherry, Reppo Beach is nothing short of a paradise with its extraordinary seascape and completely laid back and relaxed atmosphere. Highly sought by foreigners, maybe for its less crowded ambience, this Pondicherry Attraction paints a delightful picture with its crashing waves, panoramic vista of boats far into the horizon and brilliantly hued sky at dusks. Filling you with a sense of utter respect and admiration for Mother Nature, the pristine shoreline of Reppo Beach is definitely a spot in Pondicherry that you would regret missing.  Making things extremely convenient for you, there are many great Beach Resorts in Pondicherry located in the vicinity for a comfortable stay and an equally fun vacation time at this lovely beach.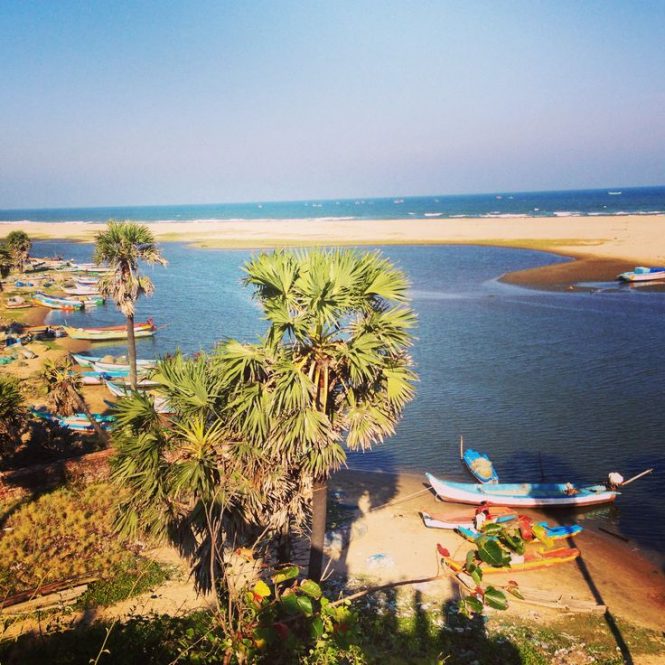 Known for: Its gripping beauty and peaceful ambience
Location: It is situated near Auroville
Things to Do: It is perfect for contemplation, or simply relaxing, making it the Best Place in Pondicherry for Solo Travellers on the quest of finding themselves
Hotels in Pondicherry near Beach: St. James Court Beach Resort, MGR Regency Comfort Hotel etc.
TripAdvisor Rating: 4.0
6. Serenity Beach
Living up to its name, Serenity Beach is a wonderful Beaches in Pondicherry, offering a welcoming break from the other beaches in the region bustling with tourists. With exceptional tranquillity spread all around, the beach has a riveting aura about it emanating from its azure waters, golden sands, and palm trees bordering the beach. One of the most Romantic Places in Pondicherry, it is 'the' place to be if you are planning your honeymoon here. There's a surfing school located in the region where you can learn to surf under the proper guidance from the professionals. The pretty cafes located at and near the beach area, as well as a sprawling flea market situated here are one of the biggest attractions of not only this beach but Pondicherry Tourism on the whole, that you should not miss at any cost.
Known for: Its serene and romantic atmosphere, adjoining flea market, and surf school
Location: Kottakuppam, Pondicherry
Things to Do: Surf the waves, stroll on the golden sands and enjoy boating, kayaking and canoeing
Hotels in Pondicherry near Beach: The Tea Road, Rivera Villa, Quiet Healing Center etc.
TripAdvisor Rating: 3.5
7. Mahe Beach
With an enveloping tranquillity and a view to die for, Mahe Beach is one of the most treasured possessions of Pondicherry. The brilliant vista of sunlight bouncing off the shimmering waves, fishermen going about their usual business in colourful boats and transfixing sight that evolves as the sun goes down, is enough to make this lovely beach your favourite one among the lot. In fact, offering the rare opportunity of a relaxing day at the beach to enjoy some quiet time, it is indeed a must place to add to your itinerary. One of the most gratifying Things to Do in Pondicherry would be to go for a lap of swimming in the open ocean here, but take care to bring your own beach umbrella and towel if you plan to do so. Also, since this place is secluded, you may want to bring your own snacks to munch on as there are no cafes or restaurants nearby.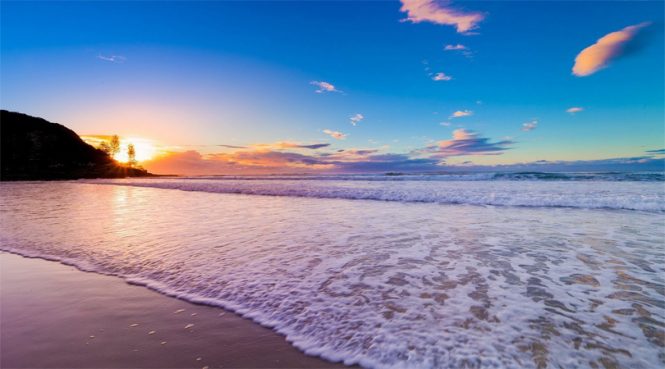 Known for: Photogenic sunsets, fishing boats etc.
Location: 22 km towards south of Kannur City
Things to Do: Go for an energizing swim, try fishing, collect the beautiful sea shells, watch sunrises and sunsets, take lots of pictures and visit the nearby fishing villages or tag along with a fisherman and go explore Dharmadan Island in a boat.
Hotels in Pondicherry near Beach: Palais de Mahe, Le Dupleix, Villa Shanti etc.
TripAdvisor Rating: 4.0
8. Karaikal Beach
Adding to the long list of virgin Beaches in Pondicherry, Karaikal offers you one of the cleanest and moist unspoiled shore with shallow blue waters to team with it that takes your heart away. Giving you ample of opportunities for a splendid vacation here, it is the right destination for you if swimming is what that can never get you tired. Apart from swimming too, there are a lot of beach activities and water sports that you can enjoy here. Needless to say, this beach is an indispensable part of Pondicherry Tourism that really deserves your attention if you are true beach lover. Furthermore, with so many luxurious Beach Resorts in Pondicherry at and around the dainty beaches, you can rest assured of having a splendid time at this great travel destination.
Known for: Various beach activities and adventure water sports, especially swimming
Location: Karaikal, Pondicherry
Things to Do: Swim in the clear shallow waters, enjoy going for kayaking or canoeing and play a game of Beach Volleyball
Hotels in Pondicherry near Beach: Holidays Farms & Resorts, Seagate Hotel, INDeco Swamimalai etc.
TripAdvisor Rating: 4.0
Best Time to Visit Pondicherry
The Best Time to Visit Pondicherry is from October to December when the temperature is cool enough to indulge in various activities at the beachside and go for sightseeing.
How to Reach Pondicherry
By Air
Pondicherry has an airport of its own but it is can only accommodate a small aircraft, which usually arrive from Bangalore or Hyderabad. You can take connecting flights from various major cities of the country to these cities, for reaching Pondicherry by flight.
By Train
The nearest railway station is at Villupuram, located 35 km away from Pondicherry. It is well connected with most major cities of India including New Delhi, Chennai, Kolkata, Mumbai etc.
By Road
Several buses run from different cities like Chennai, Thanjavur, Coimbatore, Bangalore etc. to reach Pondicherry. You can also take NH 45 to reach the town.
Things to Do at Beaches in Pondicherry
Whether you are looking to spend some alone time with your beloved or are in the mood to party hard with your friends, Beaches in Pondicherry are your best bet. There is a big list of Things to Do in Pondicherry, you will be spoiled for choice. Lay on its soft sand and relax, swathe yourself in the beauty of its sunsets, party on the moonlit shores, revisit childhood and make sandcastles, go for a refreshing swim in the clear seawater, get your heart pumping with the innumerable adventure water sports, or go for long romantic walks on the beach with your sweetheart. Phew! So much to do, to fit in just one round to the sandy paradise. No wonder, Pondicherry Tour Packages sell like hot cakes.
Adventurous Things to Do in Pondicherry
From bird watching at Ousteri Lake to bicycling across Pondicherry sightseeing, you can engage in a lot of satisfying activities here. Pondicherry also gives you many opportunities of adventure through its many water sports and other activities like scuba diving, overnight camping, jet-skiing, kayaking, and much more at beaches such as Paradise Beach or Karaikal Beach. Include tasting the local cuisine that has a tinge of French gastronomy in it and shopping for handicrafts, essential oils or cotton ensembles at various boutique shops and flea markets, and you would almost complete the long list of wonderful Things to Do in Pondicherry.
Places to Visit Near Pondicherry
If you thought you exhausted all of that is up and doable with Pondicherry. Think again. There are myriad places near Pondicherry as well, for example, Chennai, Tirupati, Bangalore, Thanjavur and more that are as exciting as Pondicherry itself. Tamil Nadu Tourism is has a big list of attractions for tourists visiting the town. Enough exciting things to do on your plate, isn't it?
Conclusion
No matter what's your reason for visiting this beach heaven; honeymoon, family vacation, or holidays with friends, you will find the perfect Beaches in Pondicherry perfectly tailored to make your vacations unforgettable.
So, just listen to your heart and get your hands on the best Pondicherry Tour Packages now. We bet you will love every moment of your time here. Don't forget to let us know of your experience.