Best travel quotes that will inspire you to pack your bags today
Does a mere thought of leaving the world without exploring your dream destinations haunts you? Do you think travelling is the ultimate form of happiness? Does travel quotes inspire you to see the world? If yes, then you are no different than the great travellers who have seen the world from a different perspective everytime they head out to start a new journey.
Most of us just keep adding places to our bucketlists, but scarcely get chance to strike off those dream destinations from the list. If you need a little motivation to make travel a priority in your life, here are some of the best travel quotes from famous travelers that will spark your wanderlust and help you push the boundaries.
List of Best Travel Quotes
1. "Like all great travellers, I have seen more than I remember, and remember more than I have seen." – Benjamin Disraeli
2. "Don't tell me how educated you are, tell me how much you traveled." – Mohammed
3. "Man cannot discover new oceans unless he has the courage to lose sight of the shore." – Andre Gide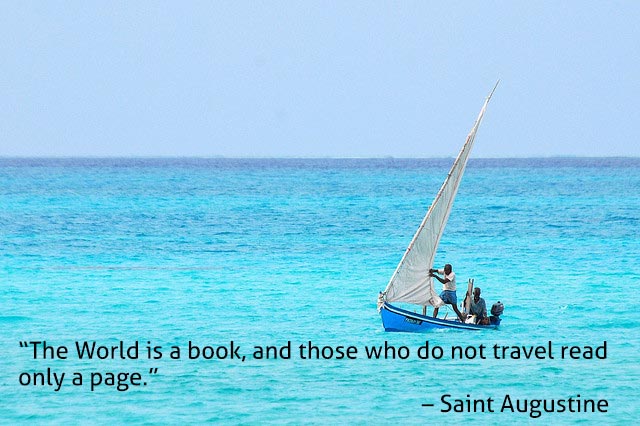 4. "The World is a book, and those who do not travel read only a page." – Saint Augustine
5. "Traveling – it leaves you speechless, then turns you into a storyteller." – Ibn Battuta
6. "You don't have to be rich to travel well." – Eugene Fodor
7. Travel brings power and love back into your life. | Rumi
8. "I haven't been everywhere, but it's on my list." – Susan Sontag
9. "It is not down in any map; true places never are." – Herman Melville
10. "Stuff your eyes with wonder, live as if you'd drop dead in ten seconds. See the world. It's more fantastic than any dream made or paid for in factories." – Ray Bradbury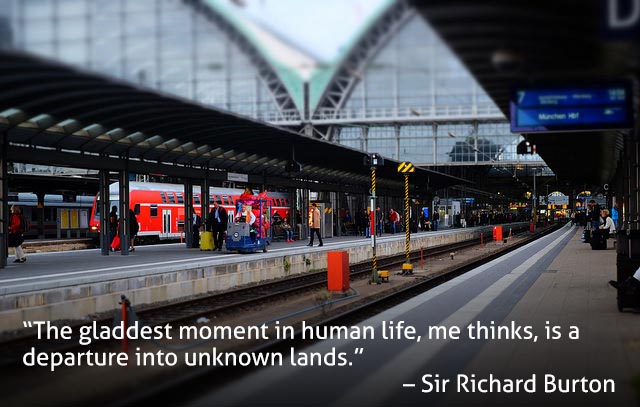 11. "The gladdest moment in human life, me thinks, is a departure into unknown lands." – Sir Richard Burton
12. "I am not the same, having seen the moon shine on the other side of the world." – Mary Anne Radmacher
13. "We travel not to escape life, but for life not to escape us." – Anonymous
14. "Broad, wholesome, charitable views of men and things cannot be acquired by vegetating in one little corner of the earth all of one's lifetime." – Mark Twain
15. "To travel is to discover that everyone is wrong about other countries." – Aldous Huxley
16. "Once a year, go someplace you've never been before." – Dalai Lama
17. "All travel has its advantages. If the passenger visits better countries, he may learn to improve his own. And if fortune carries him to worse, he may learn to enjoy it." – Samuel Johnson
18. "Once you have traveled, the voyage never ends… The mind can never break off from the journey." – Pat Conroy
19. "Take only memories, leave only footprints." – Chief Seattle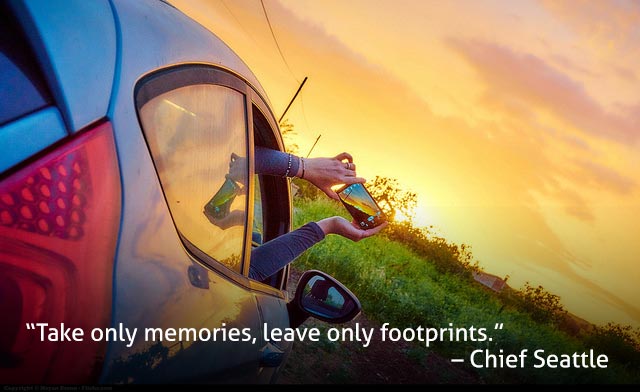 20. "Adventure is worthwhile." – Aristotle
21. "When you travel, remember that a foreign country is not designed to make you comfortable. It is designed to make its own people comfortable." – Clifton Fadiman
22. "People who don't travel cannot have a global view, all they see is what's in front of them. Those people cannot accept new things because all they know is where they live." – Martin Yan
23. "You do not travel if you are afraid of the unknown, you travel for the unknown, that reveals you with yourself." – Ella Maillart
24. "Our happiest moments as travelers always seem to come when we stumble upon one thing while in pursuit of something else." — Lawrence Block
25. "Travel makes one modest. You see what a tiny place you occupy in the world." – Scott Cameron
26. "Certainly, travel is more than the seeing of sights; it is a change that goes on, deep and permanent, in the ideas of living." – Miriam Beard
27. "Traveling tends to magnify all human emotions." — Peter Hoeg
28. "To awaken alone in a strange town is one of the pleasantest sensations in the world." —Freya Stark
29. "Hitler didn't travel. Stalin didn't travel. Saddam Hussein never traveled. They didn't want to have their orthodoxy challenged." — Howard Gardner
30. "Not all those who wander are lost." – J.R.R. Tolkien
31. "Travel is the frivolous part of serious lives, and the serious part of frivolous ones." – Anne Sophie Swetchine
32. "Life is either a daring adventure or nothing." – Helen Keller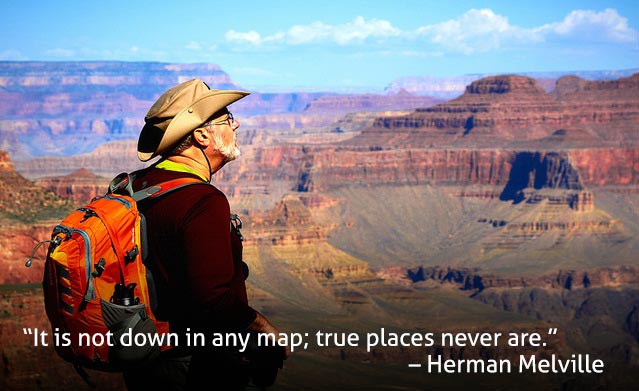 33. "Without travel "I would have wound up a little ignorant white Southern female, which was not my idea of a good life." – Lauren Hutton
34. "I have wandered all my life, and I have also traveled; the difference between the two being this, that we wander for distraction, but we travel for fulfillment." – Hilaire Belloc
35. "To travel is to take a journey into yourself." – Danny Kaye
36. "Half the fun of the travel is the esthetic of lostness." – Ray Bradbury
37. "I am a passionate traveler, and from the time I was a child, travel formed me as much as my formal education." – David Rockefeller
38. "Wandering re-establishes the original harmony which once existed between man and the universe. " – Anatole France
39. "I think that travel comes from some deep urge to see the world, like the urge that brings up a worm in an Irish bog to see the moon when it is full." – Lord Dunsany
40. "Voyage, travel, and change of place impart vigor" – Seneca
41. "You lose sight of things… and when you travel, everything balances out." – Daranna Gidel
42. "Experience, travel – these are as education in themselves" – Euripides
If these best travel quotes have inspired you enough, kindle your wanderlust by planning a trip in next two months to a place you have not visited before. All the best!
Looking for the best holiday packages in India? Thomas Cook India provides the best India tour packages for the best holiday destinations in India.
Comment your favourite travel quotes.
Summary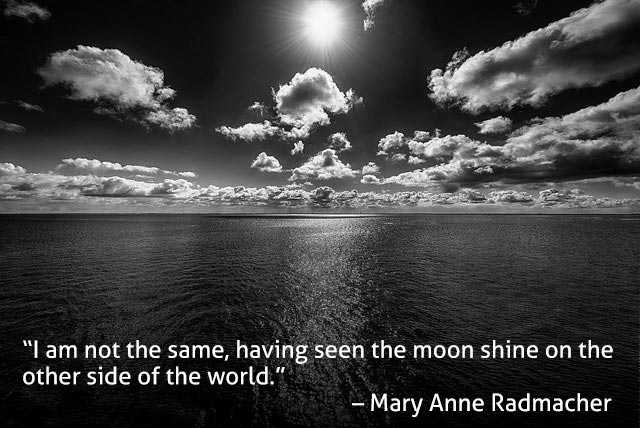 Article Name
Best Travel Quotes That Will Inspire You to Pack Your Bags Today
Description
Some of the best travel quotes from famous travelers that will spark your wanderlust and help you push the boudaries.
Author Name