Buddhism in Sri Lanka – Important Facts you must know
Every year, millions of pilgrims visit Kandy in Sri Lanka to pay their respect to a shrine that houses Buddha's remains. There are only 8 such shrines in the world and Kandy is counted among the most important ones. When Buddhism started spreading its roots and went beyond India, the first two countries that embraced the religion of peace and ahimsa were Gandhara and Ceylon. The ancient country of Ceylon is the modern Sri Lanka where the oldest Buddhist traditions are still kept alive. Today, the followers of Buddhism in Sri Lanka belong to the Theravada sect of Buddhists. The Buddhism has been through changes, reforms and has survived the impact of Christian Missionaries.
If you are traveling to Sri Lanka and want to experience the journey of this religion in its truest sense then you need to know some important facts.
1. Birthplace of Pali Literature
As the Buddhism spread in Sri Lanka, the monks started noting down the important events and historical facts and figures. The Buddhists started to preserve their work in Pali Canon and its evidence can still be found in the Aluvihare Rock Temple where the Pali scriptures date back to 1st century BCE.
2. The rise of Theravada sect
The Sri Lankan school of Buddhism gave birth to the Theravada sect of Buddhists who were divided into three subdivisions in the early days of its inception. With time these subdivisions merged into each other and started co-existing with Indian schools of Mahayana and Vajrayana. Today Theravadas form the largest group of Buddhists in Sri Lanka.
3. Beautiful Cave Temples
The Buddhists are popular to meditate away from the worldly desires and chaos. They choose caves in the mountains and forests. The evidence of their way of life can be found all around the world. Buddhism in Sri Lanka, The Dambulla Cave Temple is one such series where the Buddhists are known to be meditating during the ancient days.
Today Dambulla Cave Temples is popular as World Heritage Site by UNESCO. These cave temples are some of the most sacred sites in Sri Lanka. Spread in a region with 80 caves that have intricate carvings, scriptures, statues, and paintings depicting life and teachings of Buddha.
4. The High Temples of Bandagiriya Hambantota
Bandagiriya is a small village in Hambantota district. This village has some of the oldest temples from Buddhist religion and it is popular among the pilgrims. The rock on which these ancient stupas are located is considered the highest peak in the Hambantota district.
5. Pindurangala Royal Cave Temple, Impact of Buddhism in Sri Lanka
An Important highlight of the impact of Buddhism in Sri Lanka can be witness in the form of beautiful cave temples of Pindurangala. When the Buddhist Bikkhus (monks) requested the King Kashyapa of Ceylon to arrange for a different place for their meditation, he ordered for the construction of a temple over a massive rock named Pindurangala.
This cave temple is a majestic place to visit. Covered with picturesque surroundings, the serene atmosphere brings you closer to the tranquil state in which these caves are kept.
6. Mihintale Temple – The Evidence of Buddhism's Peak
When Buddhism began expanding its routes in Sri Lanka, the Buddhist Monk Mahinda and King Devanampiyatissa met for the inauguration of Buddhism on the island. Today, this place is popular as Mihintale and is one of the most spiritual sites in Sri Lanka. This ancient town is the home to several big and small temples spread in a vast area.
While a lot of temples today exist in ruins but the main temple of Mihintale still stands tall over a giant rock where one can reach by climbing a flight of 1800 stairs. Mihintale looks like a flourishing town from the past which had a hospital, a refectory, and several residential structures.
Kantaka Cetiya is another circular stupa found here and is 435 feet high.
Also Read: Everything You Need To Know About Sri Lanka
7. The home to Queen Sita
Rumassala Temple is home to the of Queen Sita during her exile. Today Rumssala is one of the most important places to visit in Sri Lanka. This place exists as a destination that is revered by Buddhists and Hindus at the same time. They say that Lord Hanuman dropped a chunk of 'Himalaya' near this place.
Today, this small hillock is famous for medicinal plants. The Buddhists come here to visit the world peace pagoda. This peace pagoda invites people of all religions and sects and spreads the message of co-existence.
8. The Temple of Tooth
When Buddha was cremated, his remains were divided among eight of his devotees. One of these remains is still in Kandy at Sri Dalada Maligawa. Sri Lanka Tourism provides every kind of facility to the pilgrims who visit this place for Lord Buddha's blessings. This place is revered by Buddhists all around the world and His Holiness Dalai Lama visits here to offer his respects.
Kandy used to be the capital of the Sri Lankan kings and is today surrounded by beautiful temples. The temples of this town are declared a World Heritage Site by The UNESCO. Kandy is probably among the most important and beautiful religious sites in Sri Lanka.
9. The Festival of Buddha's Birth and Enlightenment
Wesak is the most revered festival among the Buddhists of Sri Lanka. This festival celebrates the birth and enlightenment of Lord Buddha. Devotees from all around the world visit Sri Lanka to commemorate his life and teachings. Sri Lanka Tourism organizes interesting cultural activities at major Buddhist heritage sites.
The Buddhist temples in the country has beautiful decoration and Wesak paper lanterns are hung everywhere. Sri Lanka's capital Colombo is the best place to experience this festival. Enormous pandals and bamboo frameworks are depicting the life of Lord Buddha and entire streets are covered with a myriad of colourful bulbs.
One can see the impact of Buddhism in Sri Lanka in every corner of the country. Beautiful temples, devotees offering their respects and soothing chants can be experienced everywhere you go. Sri Lanka is a country of diverse culture where every traveller should visit once in their life.
Suggested Read : Travel To Sri Lanka – 'The Pearl Of The Indian Ocean'
Summary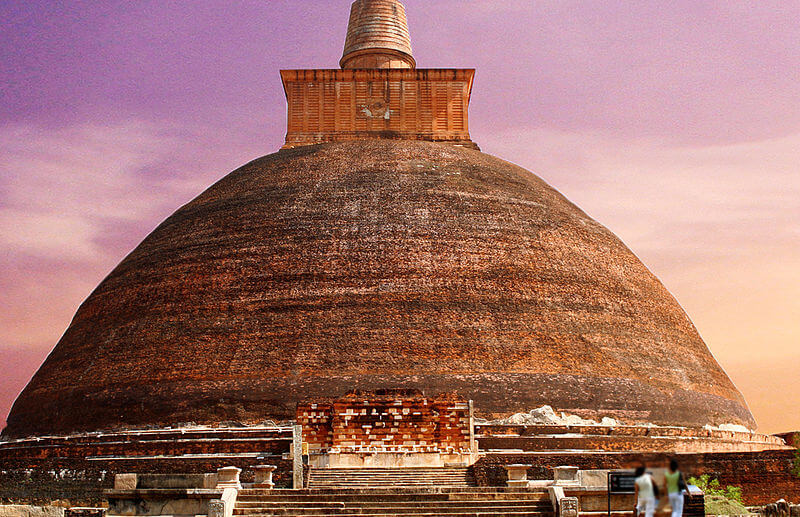 Article Name
Buddhism in Sri Lanka – Important Facts you must know
Description
Soak in the Buddhism in Sri Lanka for inner peace. Plan your next trip to Sri Lanka for a one of it's kind spiritual experience!
Author Name
Publisher Name
Publisher Logo