Here's Why You Should Go Camping in Rishikesh with Your Friends
The amazing city of Rishikesh is a beautiful place in Uttrakhand, nestled in the winsome Shivalik Ranges, at the foothills of Himalayas. Often mentioned in the ancient Hindu scriptures, this pious city is both a popular pilgrimage site as well an effervescent adventure spot offering myriad activities like Camping and Rafting in Rishikesh. Owing to its versatile nature, Rishikesh Tourism is a hit among all kinds of travellers; whether it is families looking for a vacation with loved ones, devotees on a pilgrimage tour, or solo travellers on an exploration journey. However, there are some of the Best Places in Rishikesh for Friends to enjoy adrenaline rushing sports. Hence it is foremost, the greatest destinations in India for taking a trip with your buddies, and what better way to have fun with your friends than with Camping in Rishikesh. Don't think so? Well, we bet these solid reasons for camping here.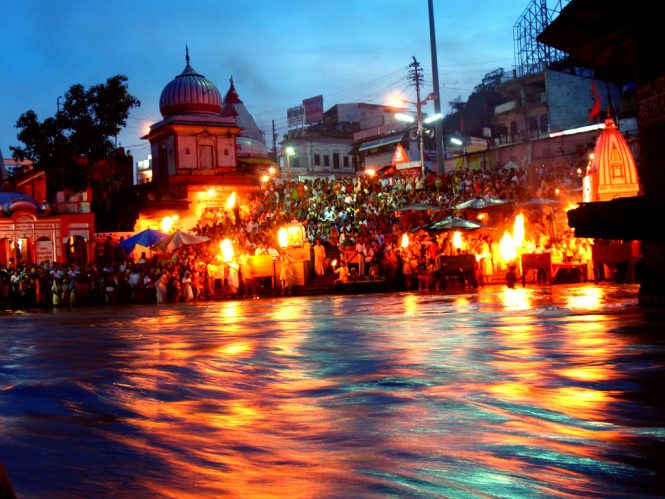 So, here are some of the most convincing reasons why you should go Camping in Rishikesh with your friends.
1. The spectacular scenery spread all around makes Camping in Rishikesh is simply outstanding.
The crystal clear water flowing in the river Ganges which is the most popular sites for most camps, gives you extraordinary goals for a memorable time, Camping and Rafting in Rishikesh. Surrounded by beautiful mountains of Himalayas, these places are perfect to spend some great time with your friends enjoying the stunning landscape that serenades your senses.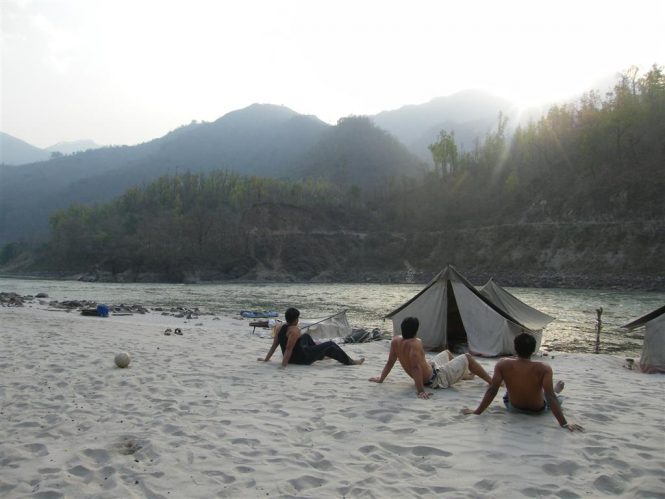 Where: Roller Coaster Camp
Why: The campsite offers about 16 kilometres of the river which is perfect for river rafting. It is also a  wonderful site for many Things to Do in Rishikesh like beach volleyball, badminton and many great adventure activities like river rafting, cliff jumping,  and body surfing. There are wide options for food to try out, giving you the options of both vegetarian and non-vegetarian food to choose. Roller Coaster Camp provides you with some of the best moments and place to spend time with your friends since the tents are usually triple occupancy type, letting you stay with your buddies easily.
Approx Cost: The entire Rishikesh Camping Price comes out to be approximately Rs. 1,600 to 1,800
2. It is a treat to go Camping in Rishikesh especially owing to the myriad adventure activities that make it even more fun and truly an unforgettable trip with friends.
Rishikesh offers excellent opportunities for those who are high on adrenaline rushing activities. It is the ideal place for those who love to experience their heart pumping indulged in exceptional adventure sports and water activities like rock climbing river rafting, river crossing, zip lining and much more.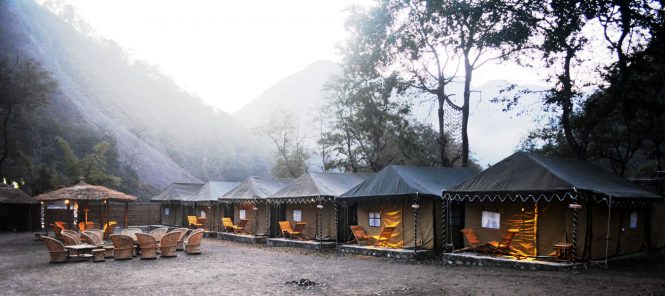 Where: Cradle of Life
Why: One of the Best Camps in Rishikesh, Cradle of Life offers innumerable adventure activities for you to enjoy with your friends.  You can opt for a range of thrilling adventure sports which range from an interesting session of beach volleyball to the blood rushing sport of cliff jumping right into the icy cold river water. You can also enjoy rappelling river rafting and many such adventure sports. The place is also great for those who do not like to get wet or step outside their comfort zone since the place also offers many wonderful options of indoor games like chess. Another great attribute of this Luxury Camp in Rishikesh is the Swiss tents which offer the most comfortable accommodation, letting you enjoy a luxurious vacation with your friends.
Approx Cost: The overall cost comes out to be approx. Rs. 3,000 to 4,000.
3. Camping in Rishikesh is so much more than just camping per se and is an all-encompassing experience in itself.
Offering various great Rishikesh Attractions for you to enjoy on your camping trip in the city, it is indeed one of the greatest Things to Do in Rishikesh with your friends. In addition to the camping adventure that you get to experience with it, you can also enjoy sightseeing in Rishikesh, visiting places like Jhula Pul and the beautiful waterfalls cascading down and creating a panoramic Vista you can't tear your eyes from.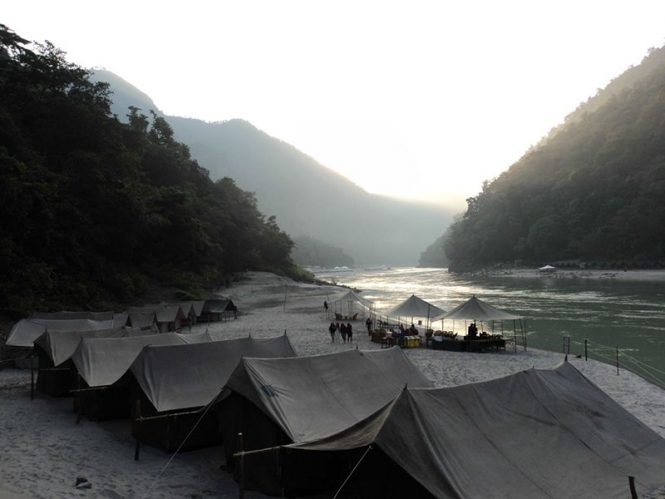 Where: Camp Ganga River
Why: Ideal for a vacation with your family or friends, the camp is located at a winsome location from where you can enjoy a short trip around to the city for satisfying sightseeing experience. Located near two simply ravishing places, a gorgeous cascading waterfall and an equally beautiful perennial green field, the camp is also among the Best Places in Rishikesh for Couples. The offering all three big meals of the day namely breakfast, lunch and dinner which can be chosen according to your preference of vegetarian or non-vegetarian options and comfortable Swiss cottage tents for spending the nights, Camp Ganga River is surely a splendid option for Camping in Rishikesh.  You can enjoy a variety of activities including cliff jumping, volleyball, rappelling rock climbing and much more, staying at this wonderful camp.
Approx Cost: The total Rishikesh Camping Price falls somewhere between Rs. 3,000 to 4,000
Check out these Rishikesh Tour Packages for the best deals.
4. Camping in Rishikesh is one of the most secure and safe adventure activities that you can enjoy with your friends without compromising on the fun factor.
If you like the idea of adventure activities but are not sure about safety or are too cautious to let yourself take risks, then nothing can be better than Camping in Rishikesh. Not just is it a truly adventurous affair that can be relished with friends but it is also one of the safest adventure activities there is. You will find some of the Best Camps in Rishikesh which take care of your safety as their foremost priority proving this reason as one of the top convincing reasons to go Camping in Rishikesh.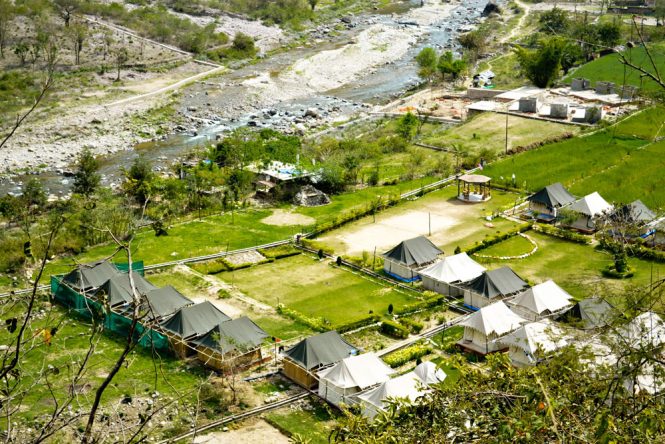 Where: Aspen Adventure Camp
Why: Located only a short distance away from the famous Lakshman Jhula, Aspen Adventure Camp is the perfect getaway for those looking for a great camping experience in the city. Spread in an area of over 6 acres, and offering comfortable Luxury Tents in Rishikesh which come with many great modern amenities and even an attached washroom, the camp also make one of the Best Places in Rishikesh for Family vacations. In addition to the dual option of vegetarian and nonvegetarian meals and double occupancy in spacious tents, you can enjoy an exhaustive range of activities here including nature walks, yoga, sightseeing and adventure activities like trekking, rafting, stream crossing etc. However, this is not the only real feature of this camp. It is most popularly known for perfectly maintaining safety around the premises and during the many adventure trips daddy can take you on. It was even been awarded Limca Book of Records for its exceptional safety measures undertaken during adventure activities.
Approx Cost: The total cost lies somewhere around Rs. 4,000 to 4,500
5. Camping in Rishikesh is the perfect way to get acquainted with the breath-taking wildlife and nature of the region.
If you are a nature lover, it can't get better than going for camping in this beautiful city. With a striking array of flora and fauna out to welcome you in the wilderness of these campsites, you can only imagine being closer to nature than this. There are enough Jungle Camp Rishikesh which offer you the best of both of these worlds when apart from enjoying a great time with your friends in a Luxury Tent in Rishikesh, you can also experience the bliss of sleeping in the lap of Mother Nature.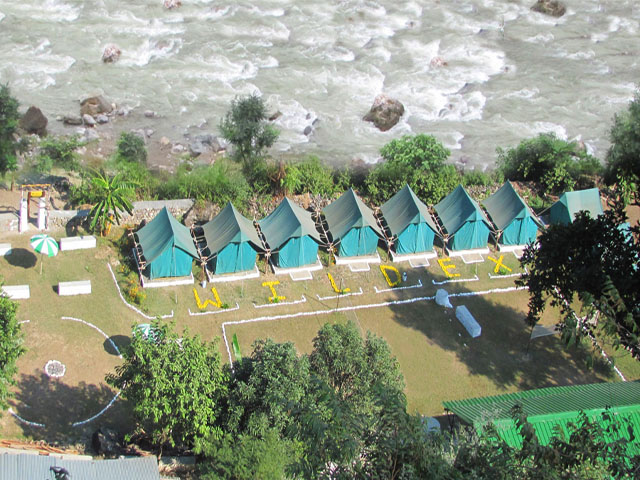 Where: Camp Wildex
Why: Resting within the popular Rajaji National Park, Camp Wildex is among the finest Luxury Camps in Rishikesh known for its proximity with the diverse wildlife of the region. Offering you the brilliant opportunity of being greeted by the extraordinary vista of rising sun and the waking up to the melodious songs of lovely birds of various species, this camp is also among the most Romantic Places in Rishikesh. Equipped with all the necessary modern amenities like hot water or wireless internet, it lets you enjoy an assortment of adventure activities like rappelling, surfing, jungle walks, valley crossing and so on.
Approx Cost: The approximate cost of the entire trip is Rs. 4,000 to 5,000
Best Time to Visit Rishikesh
Rishikesh usually enjoys a fairly good climate all through the year, hence you can visit the city any time of the year you prefer. However, summers (March to May) can get a bit hot for comfortably sightseeing various Tourist Places in Rishikesh, though the months of May and June are also the perfect time for enjoying river rafting. Monsoons (June to September) can be too messy for trying adventure sports making them more difficult than they need to be, though it is also the time for various festivals like Savan which attract maximum devotees to this area. Winters (October to February) while can get much chilly also let you enjoy the beauty of different Places to Visit in Rishikesh which is at its peak during this time. Winters are also great for many adventure sports like rock climbing or Camping in Rishikesh.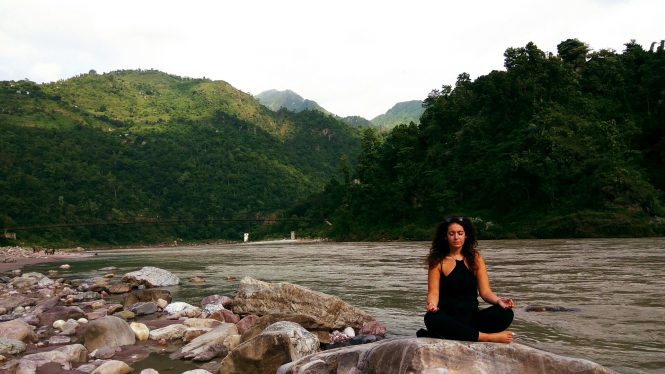 How to Reach Rishikesh
By Air
The nearest airport to Rishikesh is Jolly Grant Airport located in Dehradun, located 45.1 km (approx. 1.5 hours) away. You can fly to Dehradun boarding a plane from either Delhi or Lucknow. From here you can reach Rishikesh by taking a cab or a bus for the city.
By Rail
Located about 25 km away from Rishikesh, Haridwar is the nearest railhead from the city. The latter is well connected to most major cities of India from where you can take any of the numerous express and superfast trains available for Haridwar on a regular basis. From here you can take a bus or rent a car to reach Rishikesh.
By Road
Rishikesh has a good connectivity with cities like Dehradun, Lucknow and Delhi which offer regular bus services for the city. You can board a bus or even hire a cab to travel to Rishikesh from one of those cities.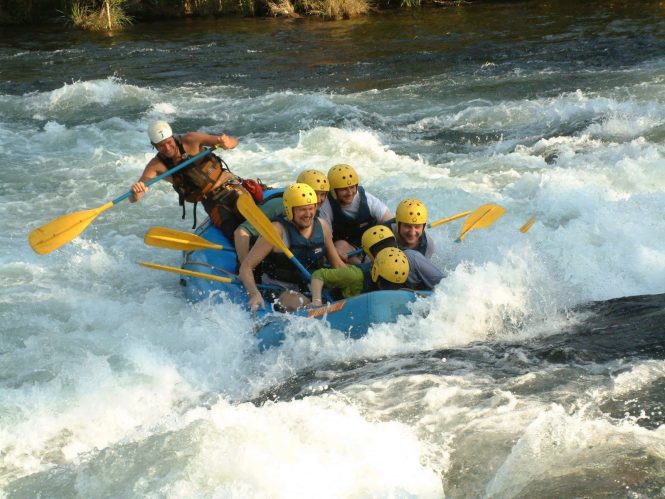 Here are some Rishikesh Tour Packages that offer the best deal for a trip to this holy cum adventurous city.
Where to Stay in Rishikesh
There are plenty of good Hotels in Rishikesh for a comfortable stay. The city while offers many budget-friendly homestays, there are also myriad luxurious Resorts in Rishikesh, to choose. You can also choose a hotel according to your specific need. From suitable options for family stays to some of the Best Places in Rishikesh for Couples to stay comfortably, the city offers enough accommodation options to suit every need and pocket.
Luxury Resorts in Rishikesh
Ananda in the Himalayas, Dewa Retreat, Aloha on the Ganges, Ganga Kinare
Mid-Range Hotels in Rishikesh
Sanskriti Vedic Retreat, Seventh Heaven Inn, Hotel Yoga Vashishtha, Rishikesh Resorts
Budget Hotels in Rishikesh
Green Hills Cottage, Zostel, Shiv Shakti, Nature Care Village, Ayukta Ayurveda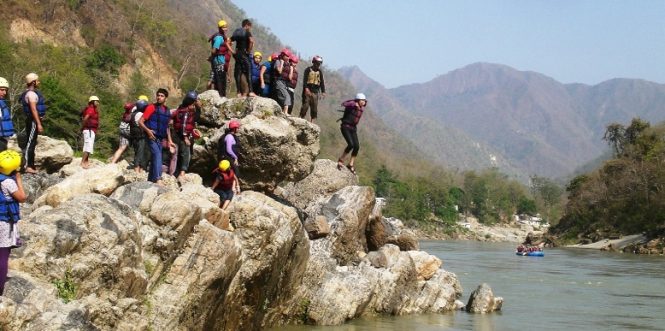 Whether it is you are planning a trip with your family, spouse or your friends, Camping in Rishikesh is the solution that fits every bill. In fact, the camps here are the idyllic spots forming the Best Places in Rishikesh for Solo Travellers as well. All in all, from luxury tents to scenic Jungle Camp Rishikesh, you have myriad options to choose from, for a guaranteed unforgettable camping experience with whoever it is you are holidaying with. Simply check out these exciting Rishikesh Camping Packages handpicked for you and set out on a journey that will remain close to your heart for a lifetime.