Chadar Trek: Trekking on the Frozen Zanskar Lake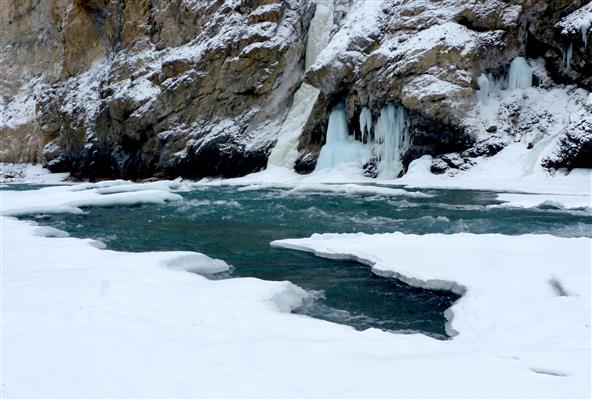 Sliding its way lazily through mountain peaks is a river like no other – the Zanskar. High mountain ridges rise up against its banks, protecting this ribbon of blue green waters, as it wends its way to the Indus river. In winter, however, time seems to stop, as the flow of the river freezes into thick sheets of ice, opening up a new pathway for adventure seekers and nature lovers. If you've ever wanted to walk on water – this is your chance. It's time for the Chadar Trek – an experience like no other.
What is the Chadar Trek?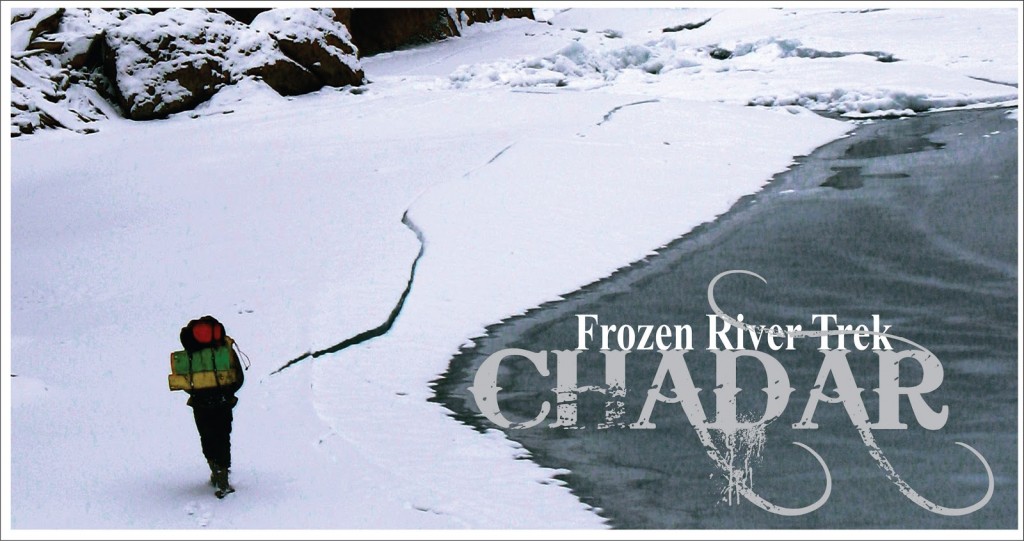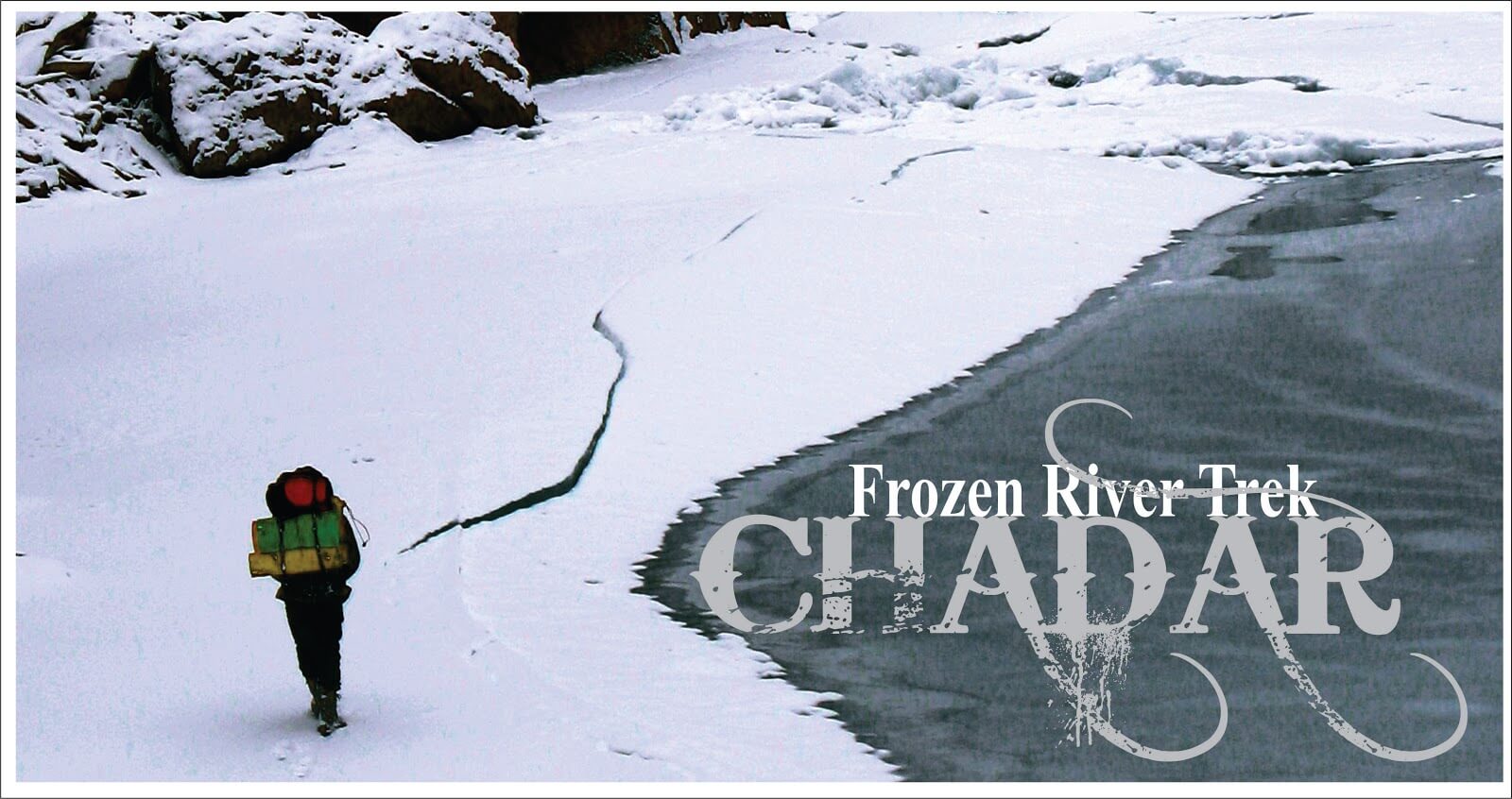 Every year, in winter, the rush of the Zanskar river is put on pause, as the water freezes, appearing as a thick blanket of ice (hence the name Chadar). This is where the trek takes place – on the river. The trek is an arduous one, requiring trekkers to cover 105 kilometres of ice, averaging 16 kilometres per day. Most of the trek is covered by walking, however, you'll encounter boulders to climb, while steep vertical cliffs of 600 metres watch your journey silently.
By day you'll be on the river, by night you'll be sheltered in the surrounding caves. Have we lit a fire of anticipation in your belly? You'll need it for temperatures that fall to -15 to -20 degrees (especially at night). This isn't called the toughest trek in India for no reason.
So, what is the payoff? First, imagine the vistas that surround you. High peaks, clear blue skies, crystalline spills of water, frozen in motion, as they fall from the mountains to the ground. You get to experience the world as the river sees it. Not many people can claim that.
Secondly, when you're on the ice taking a journey like never before, the hustle, bustle and noise of daily life will recede. It's just you with the river, the mountains and the sky as your companions.
Third, the adrenaline rush. This is a trek where you will be tested. Where you will need to be alert, where you will need to keep moving as you navigate the slick sheets of ice, clamber over rocks and skirt freezing waves of water. It's the kind of adrenaline pumping, nerve thrilling experience you've been waiting for, sitting behind your desk at the office.
Suggested Read : Amazing Trekking Routes of India
What will you see during Chadar Trek
The course of the trek is long, and over the 105 kilometres, you'll be able to see some spectacular sights, including the following:
Tilat Sumdo: One of campsites on the trek, Tilat Sumdo is where a stream and the Zanskar river meet, representing Sumdo (which means confluence). This is a chance to pause, catch your breath, warm yourself with food and the shelter of the tent, while the Himalayan range that surrounds you, stands guard.
Tibb Cave: The trek, as we've mentioned, is strenuous. A lot of this comes down to the weather, which drops to bone-chilling levels. However, nature is as fair as she is harsh. Protecting you from the fierce cold of the night are the caves at Tibb (which means cave in Ladakhi), where you'll stop for the night. En route to Tibb, you'll encounter a multitude of waterfalls – some frozen, waiting for the summer to release them, others that continue to flow despite the cold.
Nerak: Legend has it that Nerak once ran out of water. So, a holy man travelled to Kailash to pray for water. He was then instructed to carry a pot of water with two fish on his way back and not to put them down anywhere. At Nerak, he put the pot down and the two fish sprang out to create a thundering waterfall. This is where you'll encounter the might fall of the Nerak Waterfall, which is frozen solid at the time. You can also view the waterfall from Nerak bridge. Further on is the Nerak base camp. Do note that the time you'll spend at Nerak will be the coldest portion of your trip. Brace yourself, things are about the get chillier!
Gyalpo: Every journey comes with a few bends, you'll find yours at the Gyalpo camp, which is situated where the river curves. This spot is flanked by steep mountains and offers stunning views of the surrounding landscapes.
Lingshed: A visit to Lingshed, one of the oldest villages in Ladakh, seems appropriate for a trek where both time and a river rest in frozen silence. Lingshed is almost postcard perfect in its prettiness, and one of its greatest attractions is the Lingshed gompa (monastery), which was founded in 1440.
Must Read : Trekking In Ladakh – 10 Perfect Treks For Adventure Junkies
Best time to do Chadar Trek
The frozen river trek is a unique experience. That's why the conditions of the trek need to be perfect. Ice can be temperamental, and so its important that you visit at the right time. The winter months of January and February are ideal for the trek. This is when the might of the Zanskar is held captive by the ice, and you'll encounter the bulk of trekkers during this period.
Trekking the Icy Road: A Note of Caution
Thick slabs of ice, small monasteries, rugged mountains, icy nights and a sky crusted over with shining stars. Sounds magical right? However, its important to find the practical in the magic. To experience these wonders, you need to be fit to handle the freeze. Here, we're going to list some dos and don'ts, fitness tips, what to pack and how to keep your feet firm on the slick ice.
Taking on the ice: A few rules for Chadar Trek
Make sure that you and your guide are aware of the river's conditions – the ice needs to be firm enough to walk on.
Keep an eye out for cracks in the river and avoid them at all costs.
Find spots that are layered with drifts of snow, this will help if you slip and will cushion your landing.
If you are walking on slippery ice, move slowly and deliberately.
The river is a dynamic surface – even when its frozen solid. If you can feel the ice shifting underneath you, or cracking, move away immediately to more solid footing.
Respect the river and its ever-changing nature. Make sure you test the location of your camping site, before you settle in for the night.
How to prepare for Chadar Trek
If you're taking on an endurance run like the Chadar Frozen River Trek, its important to prepare your body. The environment, though beautiful, can be hostile. You'll be walking at dizzying altitudes of 11,000 metres, and so you'll need to be fit. To improve your stamina, start by jogging every day (increase the speed and distance as you go along). Partake in activities like swimming, cycling and climbing stairs – these will increase your stamina and strengthen your lungs for the high altitudes. Strengthen your legs by doing squats and lunges. Make sure you stretch and flex your legs after a workout, this will help your muscles loosen after a long climb on steep slopes.
Wrap yourself in warmth: What to Pack for Chadar Trek
Trekking shoes: This is not to be confused with sport shoes or sneakers. For this trip, you'll need to buy strong trekking shoes that provide good grip and great ankle support. Pack at least 3-5 pairs of warm socks (both cotton and woollen).
Backpack: Pick a backpack with strong straps and a good supportive frame. Make sure it is waterproof and rain covered. Remember, in good times and bad, this pack will literally have your back.
Along with these you'll need to carry a walking stick, head torch and water bottles. It is essential to pack some light snacks (in case you run out of food while trekking, or you need a pick-me-up). Carry a medical kit, for bruises and bumps that you might accumulate on a slippery trek like this.
For clothes, ensure that you pack enough thermals, fleece t-shirts and jackets, t-shirts to wear as an inner layer, wind and waterproof jacket and pants. For your face, carry sunscreen, moisturiser and lip balm. Protect your head with a woollen cap, Balaclava, sunglasses and a muffler.
Carry a toothbrush, toothpaste, wet wipes, hand sanitiser for hygiene. If you are carrying shampoo, make sure not to use it in the waterfalls, so that you keep the water uncontaminated and pure for the locals.
(Remember this list isn't exact. You can add to it if you'd like to err on the side of caution.)
Chadar Trek – Do's and Don'ts
Do not litter while you're on the trek. You've chosen this route for its scenic and pure beauty, make sure you leave it that way.
Be respectful of any religious shrine or monastery you encounter.
Stick to your guide's instructions, do not try to wander off on your own.
Do not skip a meal – you need all the energy you can get.
Keep an eye out for weather reports. This will keep you prepared, to a certain extent, for any changes.
The Zanskar Frozen Trek, or the Chadar Trek, is something you need to experience. It will satisfy ever criteria – be it thrills, chills, scenic beauty, the call of the wild and more. Experience the best of what the region has to offer by booking a holiday package with Thomas Cook. With over 100 years of experience, we understand your travel needs. We'll take care of the trip essentials; all you need to do is soak in the trip experience.
Happy trekking!