Choose Char Dham for a 'Mystical journey to Moksha.'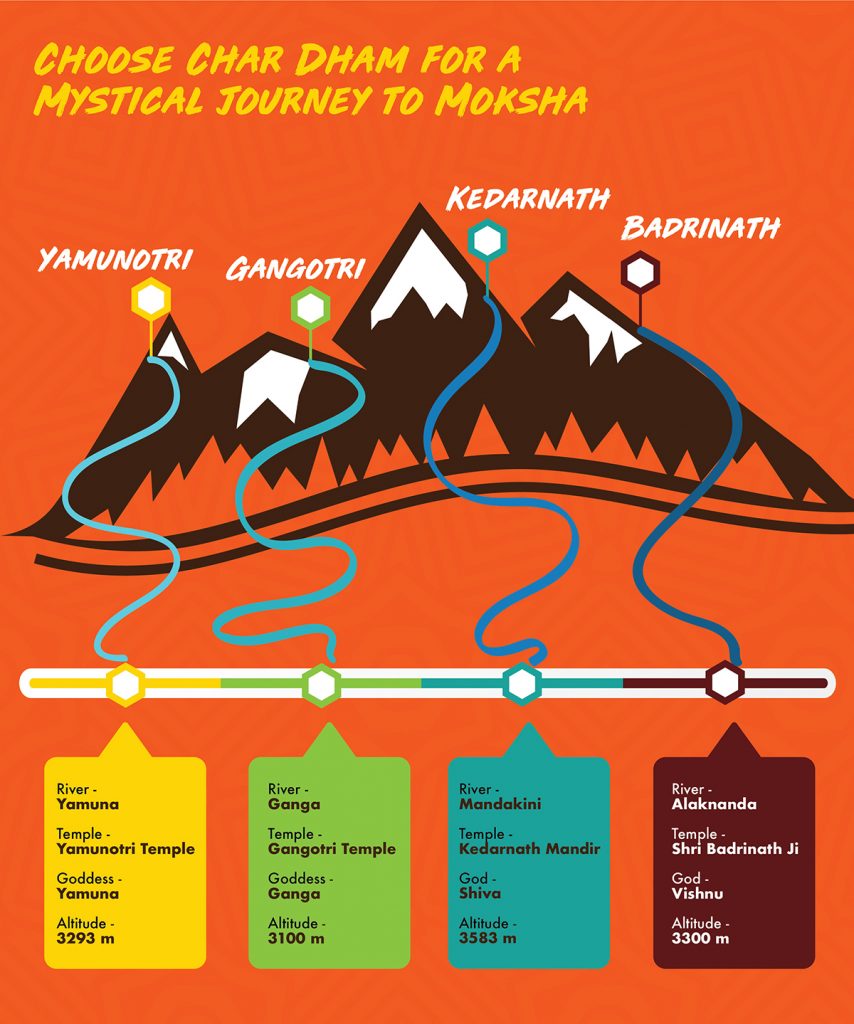 Whether you are seeking forgiveness for your sins, liberation from your struggles or you simply want to embark on a soul-searching adventure of a life time, Char Dham Yatra might just be what you're looking for!
So, pack your essentials and take a leap of faith. This spiritual quest is sure to give you complete serenity of the mind.
And who knows? You may discover pieces of yourself that you didn't know existed.
A glimpse into the world's most visited pilgrimage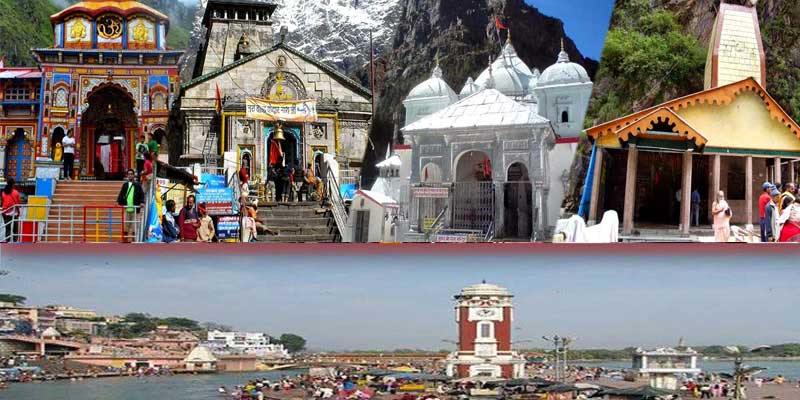 Every step of the Char Dam Yatra is powered by faith and spirituality. The Yatra opens the gates to salvation, cleansing pilgrims of their past sins and freeing them from the cycle of reincarnation. And though almost 2 lakh pilgrims undertake this path towards the goal of moksha, the journey is as important as the destination.
The Char Dham Yatra is a pilgrimage consisting of four sacred temples; Puri, Rameswara, Dwarka and Badrinath, that Vaishnavite Hindu's believe they must visit once in their lifetime to achieve salvation. The Chota Char Dham Yatra represents four holy abodes of well-known Hindu Gods; Yamunotri, Gangotri, Kedarnath and Badrinath that are located in different districts in Uttarakhand. These abodes are located in a region famous for its snow-capped mountains and unparalleled beauty.
The four dwellings of God
According to Hindu mythology, 8th century philosopher Shri Adi Shankaracharya discovered the sacred 'Char Dham' that represents the four dwellings of God. It is believed that he attained freedom from the cycle of birth and death at Shri Badrinath Dham. Each Dham marks a distinct point in a pilgrim's path towards liberation.
A pilgrim's journey begins at Yamunotri Dham, which is the source of the sacred Yamuna river. Known as the doorway to the Yatra, travellers seek blessings from Goddess Yamuna as she bids them a safe spiritual quest ahead. The next Dham is the Gangotri, which is the birthplace of the mighty Ganges river. Travellers cleanse themselves of their sins, by taking a dip in the holy waters. Kedarnath Dham is the most remote site in the pilgrim's quest to attain moksha, that celebrates the greatness of Lord Shiva. Finally, Badrinath is the most important pilgrimage site in the Chota Char Dham Yatra, that is dedicated to Lord Vishnu and marks the end of a pilgrim's journey.
Legends of Char Dham
Yamunotri – 'The doorway to the yatra'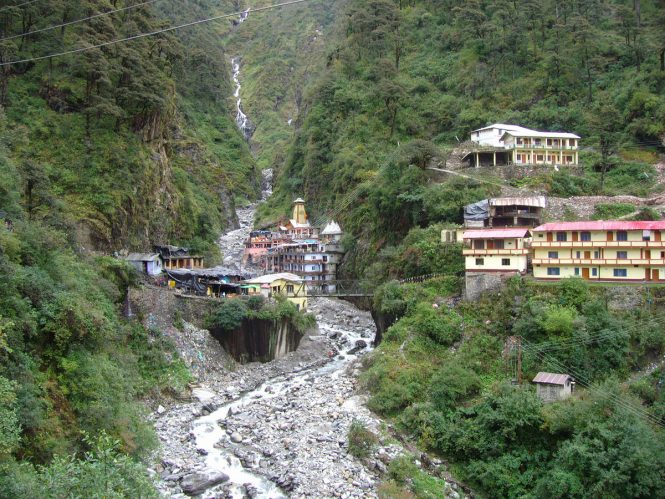 Legend has it that Yamraj, brother of Yamuna made a promise to his sister that every year on the auspicious day of Bhai Dooj, whoever takes a dip in the holy river will attain salvation and not be exiled to Yamlok. Another legend talks about Yamuna being the daughter of the sun and twin sister of Yama (The God of death), who cleanses all sins and protects travellers from untimely or painful deaths.
Gangotri – 'The might of the Ganges'
Gangotri Dham is believed to have magical properties that can absolve people's sins. Legend has it that the Ganges poured down from the heavens itself, as Lord Shiva released the gushing waves through the locks of his entangled hair. It is also believed that Lord Shiva agreed to this ordeal after Bhagiratha pleaded with him, in fear that the immense power of Ganga would cause destruction to the earth.
Kedarnath – 'The plight of the Bull.'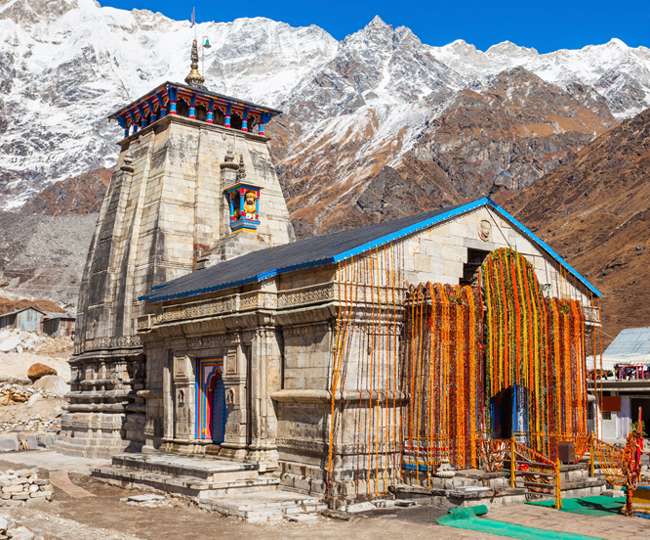 Kedarnath Dham is associated with one of the most epic tales of Hinduism; The Mahabharata. Legend has it that the Pandavas approached Lord Shiva to atone for their wrongdoings. But he wasn't so forgiving, so he took the form of a bull and kept watch over the Garhwal district of the Himalayas. In fear of being caught by them, he plunged into the earth. Bhim tried to stop him, but only managed to grab his hump. Five parts of his body were scattered around Panch Kedar; Kedarnath, Kalpeshwar, Tungnath, Madmaheshwar and Rudranath.
Badrinath – 'The journey's end'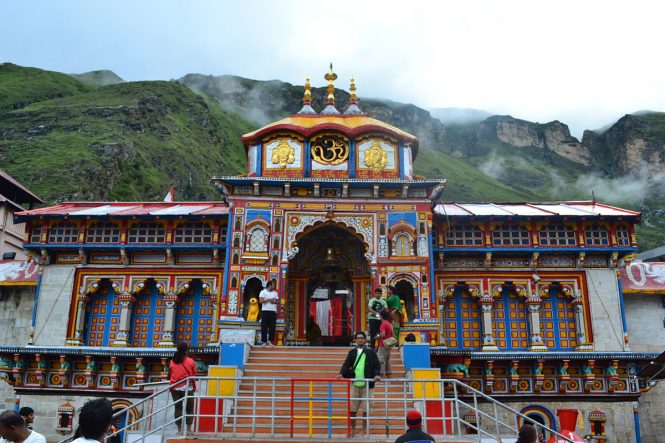 Badrinath is a spiritual town in the Chamoli District, which is home to the most important pilgrimage site in the Chota Char Dham Yatra. Legend has it that Shankaracharya discovered a Black Saligram stone carving of Lord Vishnu in the Alaknanda river. He kept it safe in a nearby cave in Tapt Kund hot springs, creating a shrine of sorts. After meditating for a long period of time, he ultimately achieved a state of Moksha.
These are the stories that will accompany you on your pilgrimage. You will see them in the mountains, the temples, the rivers and in fellow pilgrims. And while you do so, we'll handle the rest. Take a look at the packages below, to see what suits your spiritual appetite.
Also Read : The lights of holistic India: most sought after pilgrimage places
Thomas Cook Tour Packages
Thomas Cook has carefully designed each package to ensure you are well looked after right from the get go! A hassle free, rejuvenating experience just for you. So, don't fret over the little things, because you're in great hands.
Your accommodation will be comfortable in two/three-star hotels, with attached baths, toilets and running hot and cold water. You will be provided with complementary breakfasts on day one and buffet style dinners every night. Sightseeing will be in airconditioned vehicles, to ensure your utmost pleasure.
When you're not trekking mountains or meditating in valleys, you will be sightseeing and exploring little villages.
Also Read : 10 reasons to plan a rejuvenating family trip to Char Dham Yatra
Best times to visit Char Dham
The opening dates of the temples are released every year, by the priests, on the festival of Basant Panchmi. April to mid-June and October to mid-November are the best times to visit, because of conducive weather conditions.
Char Dham Yatra – 5 nights, 6 days
We know it must be hard for you to take the time out of your busy schedule, but now you can prioritise both work and spiritual fulfilment. We've made sure that you experience all the highlights of the four pilgrimages, along with some time for contemplation as well.
Char Dham Yatra By Helicopter – Land only
Once you've arrived in Dehradun, you can unwind at the hotel and prepare yourself for the exciting journey ahead.
The next morning, get ready for a scenic helicopter ride to Kharsali, after which you will proceed to Yamunotri Dham. Later in the day you will visit the beautiful Shani Temple.
After arriving in Harsil, you will begin your journey to the auspicious Gangotri Dham. Take in the view of Goddess Ganga's shrine that is alleviated at 3000m and glistens with white granite.
By mid-afternoon you can rest at the hotel or visit little souvenir stores to find that perfect memento. The evening will present you with a warm campfire and some sweet folk music, lulling you into a perfect night's rest.
On day three you will proceed to Kedarnath to enjoy the Shri Kedarnath Ji Dham Darshan at Kedarnath temple. Located in the Himalayan mountain range, it is approximately 3583 m above sea level and obscured by snow from all sides.
Later that evening you will visit Triyuginarayan Temple for some evening prayers.
Spend the next day in the beautiful Badrinath district. Participate in the peaceful morning darshan, before you head back to the hotel for some quiet contemplation. The evening is for local sightseeing.
You may choose to pray one last time, before flying back to Dehradun!
Do Dham Yatra – 6 nights and 7 days
For a slightly more intimate viewing of Kedarnath Dham and Badrinath Dham you can opt for Do Dham Yatra -Kedarnath and Badrinath – Darshan special which begins from Haridwar.
In this package, you will not be visiting Yamunotri and Gangotri Dham, but you will be given the opportunity to immerse yourself in the sacred Kedarnath and Badrinath districts. Here, you can seek blessings from both Lord Shiva and Vishnu, respectively, and will be acquainted with architectural wonders such as the Kedarnath Mandir and Shri Badrinath Ji temple. You will also visit Guptkashi via Rishikesh, Devprayag and Rudraprayag. So, enjoy this scenic drive that is filled with rich landscapes and earthy hues. On your way to Kedarnath, you will stop over at Gaurikund.
Char Dham Yatra – 10 nights, 11 days
For a truly holistic experience of the pilgrimages, we would urge you to opt for one of these customised packages. After journeying far and wide, we want you to experience rather than just visit. It is more than just a religious expedition or a picturesque route, it is a magical journey filled with legends and mysteries.
We have put together five packages, to ensure you have the most exciting experience of your life!
Take a look at the itineraries for:
After the drive from Delhi to Haridwar, you can relax at the hotel before leaving for the enchanting Ganga Arti.
The next morning you will be transported to Barkot, a winter wonderland. There, you can marvel at the majestic snow peaks of Bandar punch.
Day three will begin with Hanumanchatti, followed by a scenic trek to Yamunotri where you will visit the beautiful temple of the Goddess Yamuna, which is perched up at a height of 3293m and runs along the majestic Yamuna river. You can dip in the holy spring waters or even cook rice like one of the devotees, before heading back to Barkot.
The next day will include a visit to the picturesque Harsil valley, followed by Uttarkashi where you will visit Vishwanath Temple, dedicated to Lord Shiva.
On day five you will proceed to Gangotri, stopping at Gagnani hot water spring and the sacred Ganges where you can take a dip and rejuvenate your mind, body and soul. You can relax in the tranquillity of your surroundings and silently pray, before heading back to Uttarkashi.
Spend the next day catching your bearings as you explore the quaint town of Guptkashi.
The next morning you're off to Gaurikund, where you will embark on an exhilarating helicopter journey to Kedarnath before returning to Guptkashi.
On day Eight you will proceed to Badrinath where you will have a few moments to recoup at the hotel. After cleansing yourself at Tapt Kund hot springs, you will be ready to visit the temple of Shri Badrinath Ji that is dedicated to Lord Vishnu. This architectural wonder is at a height of 50ft and entrenched deep within the valley. It is also made with stone and consists of arched windows, a cupola at the top and a gold gilt roof.
After morning prayers at the temple, you will be introduced to the local sights such as Mana Village, Vyas Gufa, Ganesh Gufa, and Mata Murti temple before driving to Rudraprayag.
Your last day is meant for introspection, as you take a few moments to acknowledge the intense spiritual journey you have just undertaken.
We understand that this trip is important to you, but that doesn't mean it is an easy journey. If you're traveling with the elderly or children, you can opt for Char Dham Yatra , where on day three you can hire a doli or a horse for your trek.
For individuals who would like to begin from Rishikesh instead of Haridwar, they can opt for Char Dham Yatra with Kedarnath By Helicopter.
The end of this pilgrimage marks the beginning of the rest of your life. It only takes a step.
Head onto the Thomas Cook's website for everything you need, to make your trip a memorable one.