Why Every Adventure Junkie Needs to Experience Thailand Adventures
| SI.No. | Thailand Adventure | Best Time to Visit |
| --- | --- | --- |
| 1 | Rock Climbing in Railay | You can visit anytime except monsoon |
| 2 | Elephant Trek in Khao Sok | Perceptibility is best July through September |
| 3 | Meditation Course in Chang Mai | Between October and April |
| 4 | Cave Kayaking in Krabi | January toMarch |
| 5 | Walking via Bridge on the River Kwai | January to March |
| 6 | Sailing Andaman Sea from Phuket | November to April |
| 7 | Jungle trekking across Pai | March |
| 8 | Chatuchak Weekend Market | Through Out the year |
Thailand is enormous and diverse along with the large selection of travel as well as holiday options. Thailand has held a very special place in tourist's heart. Resorts in coast provide adventure games like bungee jumping, paragliding, and jet skiing. Thailand Adventures can give you a gala time of excitement over there.
A huge number of people out there confine themselves to the south of Thailand and then make a huge mistake of not travelling the north. But Northern Thailand is actually full of adventure along with some high mountains and terrains along with the challenging forest areas and waterfalls. If you are in Thailand, you cannot skip the Thailand Adventures where you will be a witness of bungee jumping, jet skiing and more.
There are numerous services in the countryside of Chiang Rai, Chiang Mai, Mae Hong Son and Pai that provide the trekking tours. If you are a travel buff and want to really explore the place, then experiencing all the Thailand Adventures would be a great choice for you. If you visit this place in between November to February, then trekking would be the prime option to experience.
Here are 8 popular Thailand Adventures to experience, which you cannot say "NO" to.
1. Rock Climbing in Railay Bay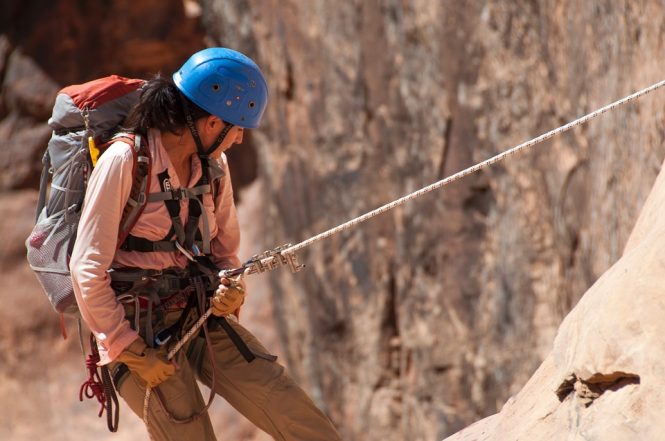 When it comes to choose your favorite travel destination for the adventure sports, there should be the name of Thailand that you cannot skip. The place is full of culture and heritage. But apart from that, experiencing the amazing Thailand Adventures will be the cherry on the cake while visiting this place. So, amongst all of the adventure sports, Rock Climbing in Railay is one of the sought after stuff to do. Railay in Krabi Provence is the foremost sport climbing terminuses across the world. There are some routes to fit each and every individual from the beginner climber to experienced professional.
You can easily take beginner courses, multi-day lead climbing progressions, rent gear or even go off on the own and discover that numerous bolted routes. Railay Bay is really stunning along with the cliffs jutting out of the water as well as surrounding its horseshoe beaches.
Time to Visit: You can visit anytime except monsoon
Features: Bolted-Sport climbing, Overhanging routes and bouldering opportunities in shorelines, On sea stacks only reachable by boat
2. Elephant Trek in Khao Sok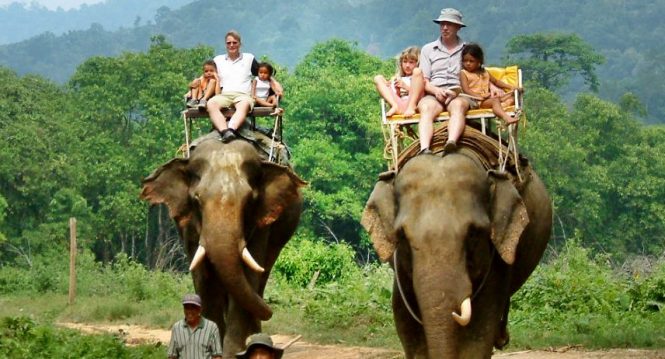 When you are opting for the Thailand Adventures, you can easily include this stunning place in your list. A lovely National Park in Southern Thailand, this is less of the circus rather than the elephant treks in Chang Mai. The huge elephants seem being treated fairly and look quite healthy in Khao Sok and then to sit upon the gentle giant is a thrill. They also manage to move down the steep hills and right over rough terrain along with ease as you just hang on hoping not to take the tumble off your high perch. You can stay in one of the beautiful many bungalows or lodges in that park and spend few days by exploring the wildlife, trails, and waterfalls as well.
Time to visit: Perceptibility is best July through September.
Features: Wrecks, tropical fish, corals, killer visibility, warm water, and ample of post-dive entertainment.
3. Meditation Course in Chang Mai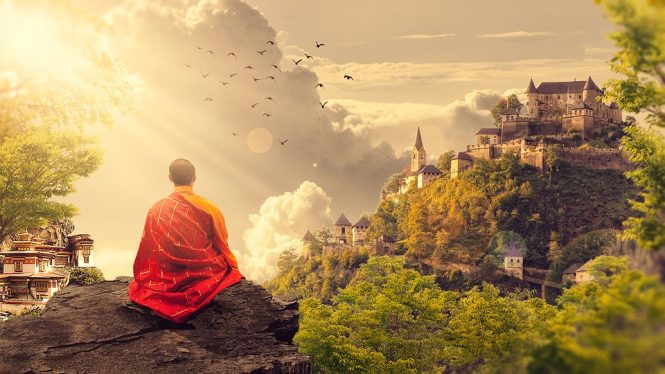 If you are opting for the finest Thailand Adventures, you can go for this particular adventure sports that will make you come back again and again over the place. If you manage to make this to Chang Mai, why not try something dissimilar than the trekking to see Hill Tribes or even taking any cooking course. Numerous multi-day meditation courses are presented in the area. Slow down and then relax centring yourself for rest of the journey. Learn tai chi, various kinds of the meditation and cleanse the entire body as you eat vegan dishes.
Time to visit: The perfect time to visit this Chiang Mai is between October and April.
How to reach: You can reach this place through the air service. Or else, taking a cab from the Bangkok, you can reach there.
4. Cave Kayaking in Krabi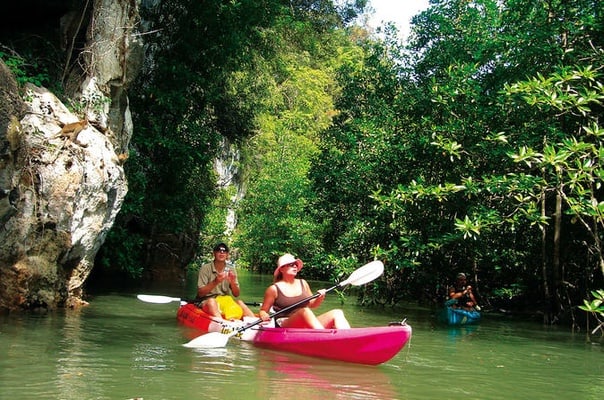 Sea kayaking is extremely well-known and popular, but to go inland to the finest place kayak on the river system via a mangrove forest.  The comforting and absolutely relaxing day of the paddling provides a beautiful backdrop and entering caves is adrenaline-charged. When you are on the lookout to acquire the Thailand Adventures, you have to make sure that you choose this particular adventure sports as well.
Approaching the limestone cliff the dark sliver usually shows between rocks water and you would definitely ask yourself "Are we going in there?" Eventually, lying down to create it through at several points, you just enter the cave splashing under pillars' and this is a thrill. Check out some of the hieroglyphics and then to come out in the lagoon encircled by the massive cliff. For travellers absolute heaven.
Time to visit: January through March, while quite busy with tourists, provides the best weather.
Highlights: islands, sea caves, white-sand beaches, grottoes, waterline view of Thailand
5.  Walking via Bridge on the River Kwai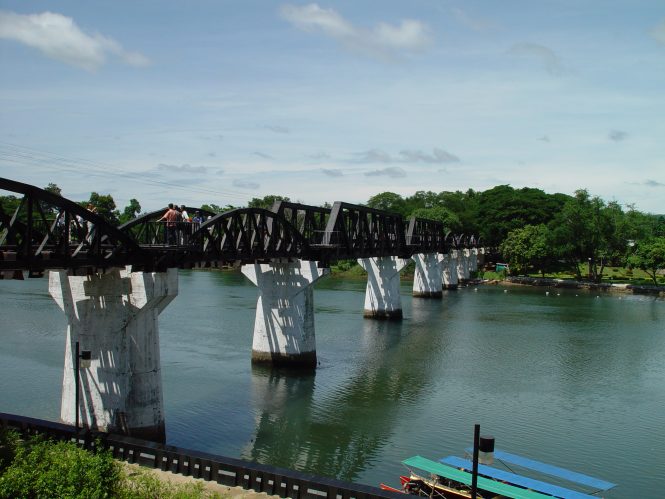 When you are opting for the right kind of Thailand Adventures, you can easily pick up this one. This particular adventurous option will help you to come back again in this stunning place. As you know that adventure sports like climbing or river rafting provides you the excellent interest but walking over the bridge is also a fun as well. You surely would not think of this as being the thrill, but feel the ultimate rush as you just walk between railroad ties. One wrong move and you can just fall into the river. There are no wires or even cages to keep you safe and secure you only walk along the planks and create room for the others as they pass. So, this is not less courageous to take as adventure sports.
 How to reach: From Bangkok, you can avail train or even any cab. Or else, you can book the private car too.
Time to visit: January through March is one of the ideal seasons to reach.
6. Sailing Andaman Sea from Phuket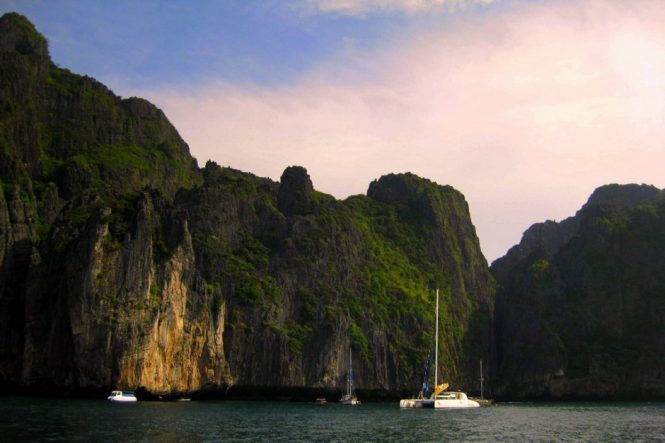 Amongst all of the Thailand Adventures, the sailing or cruising is also adventurous. And when you are in Thailand, you cannot miss the cruising of Andaman from Phuket. The offshore of popular Phuket lies on the finest cruising in the world. A plethora of boats-for-hire actually sits waiting in marinas, and they are absolutely ready to whisk you off on a trip of the lifetime. Are you excited enough to sail from Phuket to Andaman? Then make sure that you choose the right kind of yacht. If the cruising bug gets you worthy, consider signing up for the lesson from Royal Yachting Association-certified captains who will actually show you rope over the multi-day or afternoon lesson as well.
Time to visit: You can visit this place in between November to April
Features: The place is absolutely shallow and calm with numerous reliable and also safe outfitters that finds the easy and reputable boat.
7. Jungle trekking across Pai
Amongst all the Thailand Adventures, this can be the exciting one. Northern Thailand is the home to the best jungle trekking in Southeast Asia. This particular area has some waterfalls, trails, and hot springs as well as tasty local foods. It is one of the laid back substitutes and it is quite well-known with the backpackers and also nature lovers for the decades as well. Basically, this is the paradise for the nature lovers as well. Floras and faunas are the best things to look at over there.
Time to visit: March is Pai's most relaxed month as it changes from winter (October to February) to summer (April to May). But apart from that the monsoon-like May to July is also an amazing time to visit the place.
8. Discovering Bangkok's Chatuchak Weekend Market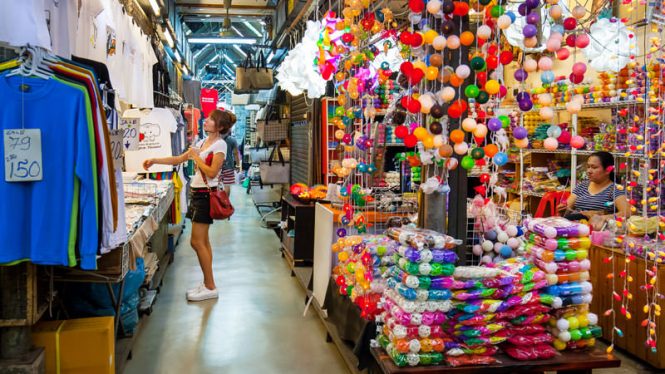 When you are in Thailand and exploring the Thailand Adventures, you cannot skip visiting the sightseeing of the market. The area has been covered almost 35 acres and it contains 15,000 stalls approx. The subterranean you discover, the cavernous you will go to the attractive menagerie of exotic birds, fresh-cooked rice dishes, hand-carved teak furniture, pet squirrels, live prawns, bolts of brightly colored fabric, candles, leather sandals, massage oils and more.
Features:
Great food,
Bargain prices,
Authentic goods,
And sensory overload.
Time to visit: Each and every stall is open on Saturdays and Sundays (get there early — 9am or so) but the few stay open all week long. Most of the vendors close shop about 6pm.
Frequently Asked Questions about Thailand Adventures
1. What should I bring on the trek?
Shoes, socks, Mosquito Repellent cream, camera, small flash lights, hat, sunglasses and more.
2. What are the best times to visit for enjoying Thailand Adventures?
December to January is the best month to visit. But if you are an adventurist, you can also hop into the time to monsoon as well.
3. What are the accommodations and the food options like?
Ample if resorts are there that you can book for yourself to stay in comfort but apart from that, to relish the ultimate adventure, you can also book a hut in the tribal village. The villagers provide the small huts with entirely aesthetic decorations and comfort too. Snacks, foods and drinking water are also available in the hotels and markets are nearby so you can avail any food.
4. How to reach Thailand?
By air, you can reach to Bangkok Airport and then taking the bus, train or cabs you can reach to your destination.
5. Is the sightseeing economical?
The pre-booking sightseeing tour will give a generous discount but you can also hire a tour guide who will show you the entire sightseeing at an affordable cost as well.