Exploring Thailand as a Young Traveler; The Contiki Way!
Youth, just like life, happens only once. It's the time our energies and spirits are at their highest states and our ambitions soar sky high. The electrifying feeling that hits like a lightning bolt at our teens sustains for quite some time until wrinkles slowly make their way onto our skin. A time of life where every moment seems exciting; carpe diem as they call it, the explorer in us comes alive and we tend to look out for newer things to do, farther places to explore, and jump into things we wanted to experience. It's the age where we have to travel to the farthest of distances in quest of knowledge, experience and ourselves and live a life like no other. From riding across the country and trying the most bizarre of food delicacies to plunging from cliffs relying on a single rope of hope, youth is when we should all be the most alive. If you share this thought and intend to venture out in a pursuit of a myriad of things – including yourself – Here's the Contiki Guide to discovering yourself!
What is a Contiki Tour?
It's a tour that you go on at the prime time of your youth when your body is capable of taking in anything and your mind is more accepting as well. From testing conditions in the Himalayas to explore the underwater ecosystem, it's the time when the Megallan in you gives you a call. People aged between 18 and 35 go on Contiki tours and is a portmanteau continent (Con) and Tiki – a Maori term that translates to a good luck charm. This type of travel is famous for its mix of itineraries, ranging from sightseeing, activities, free time, exploration and socializing.
One of the major advantages of heading out on Contiki tours is that they are highly affordable and offbeat as well. Away from the luxurious escapades and hotels, Contiki tours rely on backpacker hostels and minimalistic facilities, allowing you to explore a place in its true, raw form.
What do Contiki Tours Include?
A Horde of new Friends
Accommodation
Transportation
Authentic Food Experiences
#NoRegrets Inclusions
Free Time Add-Ons; you choose what to do with your free time!
Wi-Fi Coaches
The Coolest Crew Around!
Bags of Free time for Solo Exploring
An Instagram Feed that will make you a legit Travel Blogger!
Exploring Thailand, the Contiki Way!
Bangkok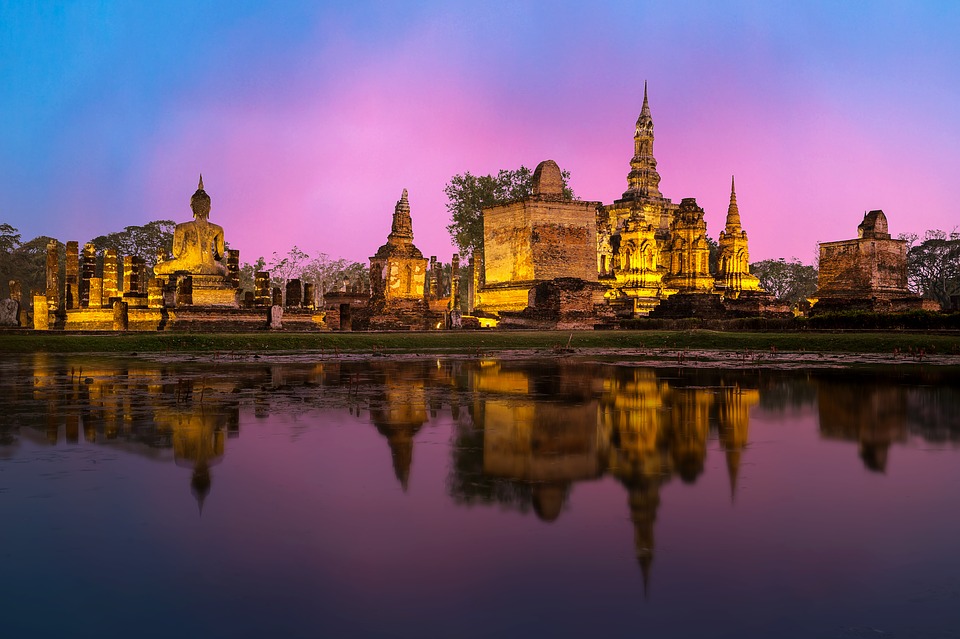 If there's one city that's part of every young boy or girl's travel bucket list, it has to be Bangkok. The capital of Thailand and one of the world's biggest party hubs, Bangkok is one place that features on every bucket list created by youngsters and the millennials. But there's more to the city than what meets the eye. If you have never experienced culture shock, Bangkok will make sure you do and introduce you to new cultures as well! From cooking techniques to everyday lifestyle, you will see a stark difference in the way things function here. Apart from unwinding here, you can explore the local market and still have time to enjoy in a pub or a discotheque with your new group of friends. If you love to try out bizarre food, you can try fried cockroaches or the grasshoppers sold here by street vendors. Did we hear anybody say Carpe Diem!
NoRegrets Activities
Explore the City on your own
Get some much-needed rejuvenation with Thai Massages
Get Mesmerized by the amazing Thai Nightlife Experiences
Sample Lip-Smacking Street-Food
Shop till you drop in the Night Market
Kanchanaburi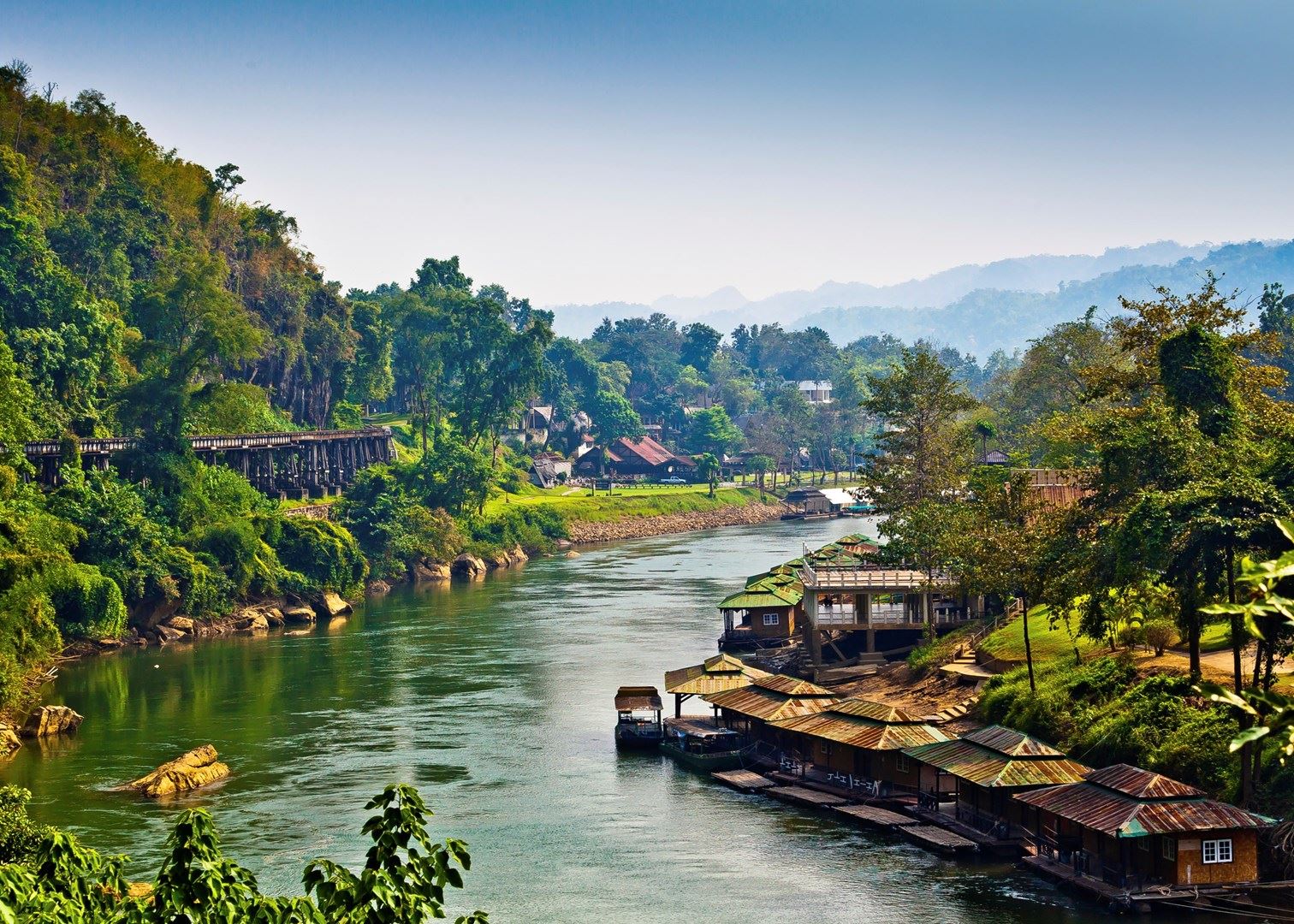 If Bangkok was all about an urban and happening lifestyle with buzzing clubs, restaurants and skyscrapers, welcome to Kanchanaburi – the calmer side of life in Thailand. This place will get you oriented to the wilderness and the woods and let you have an idea of an off-grid life, one that is sans social media and smartphones. On the banks of the River Kwai, you will find serenity and tranquillity that you thought was extinct. You can find floating hotels and be nestled in a place that talks the language of nature. Surrounded by lush green trees and plants, you will be in a paradise of sorts. And if you are in the mood for some history, visit the famous Bridge over the River Kwai which connects Thailand to Rangoon.
You can also witness an elephant sanctuary here and spend some time with rescued elephants and play with them. They might look huge but at heart, there are some of the kindest animals. A few moments here will give you new perspectives on life beyond that of humans.
NoRegrets Inclusions
Learn about the history and the culture of the place with a local guide in Kanchanaburi
Enjoy a Boat Ride along the River Kwai
Know more about the glorious Thai History and the country's role in World War II
Visit the World War II Cemetery and the famed Bridge over the River Kwai
Stay in a Floating Hotel for 2 Nights
Enjoy Local Specialties for DinnerLend a hand to the caretakers at the Elephant Sanctuary and experience what being close to the gentle giants feels like.
Get overwhelmed as you take in the stunning sight of the Erawan Falls, one of the few seven level waterfalls of the world.
Sample what living completely Off-Grid feels like!
Check out the full itinerary here.
Ayutthaya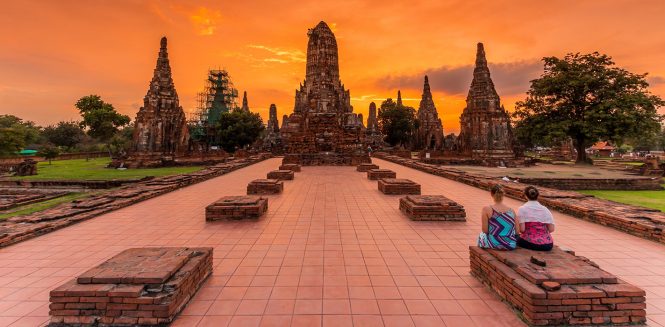 From Kanchanaburi, you need to go next to the tranquil place called Ayutthaya, where you can see the magnificent Erawan falls. After a dip in the water here, you prepare your mind and body to explore the city of Ayutthaya on a bicycle. Pick up cabs and public transportations are for tourists and the aged. The real fun is in exploring cities and places on foot and on bikes. And as they say, you don't choose a bike, the bike chooses you. Once chosen, hop on to it and cycle pass the sprawling paddy fields and remote villages through temples and monasteries. Take halts once in a while to take in as many moments as possible because there you are cycling in a place you had never visualized in your life before standing in the midst of nowhere, riding pass fields with fellow strangers.
NoRegrets Activities
Take a cycling tour of the UNESCO World Heritage Site. Stop from time to time to take in the sights of the Paddy Fields, the remote villages, temples, monasteries and more.
Next, ditch conventional mode of transport in favour of an overnight train to Chiang Mai.
Chiang Mai
As we said earlier, private transportation is for tourists; Travelers take the rail! Take an overnight train journey to travel from Ayutthaya to Chiang Mai, a popular city in Thailand, famous for its range of temples and tourist attractions. If you have tasted the fried grasshoppers already, you can taste the flavours and spices of Thai food rich in chilli and lemongrass. Challenge yourself by taking up a culinary class for a day and get introduced to the unique Thai cooking techniques and know how to prepare some of the finest delicacies without conventional ingredients. With this, you would have learnt a life skill as well; cooking!
NoRegrets Activities
Roam the famous Old Quarter and other parts of the city on foot and take in the delights that Ayutthaya has to offer.
Come back and experience what real relaxation feels like with a Thai Massage
Explore the legendary Night Markets of Chiang Mai that are famous all over the world.
Take a cooking class to learn how to make lip-smacking Thai delicacies.
Experience the Flight of the Gibbon Zip-Line and feel the Adrenalin rush through your veins!
Check out the full itinerary here.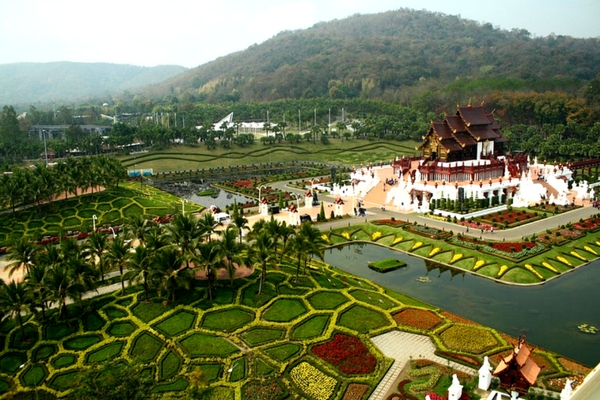 From Chiang Mai airport, you can look back at your trip and yourself before the start of the trip and draw a quick comparison on your attitude and perspective on life. From exploring a new culture and cycling past paddy fields in remote villages to learning how to cook Thai food, you are not the same, my friend! Life has just started and you are yet to be bound by more conventions but before that live your life according to what your heart says and you will not have a single slice of regret. Go back home and plan out for another Contiki tour to a country far away from your home and live like a traveller and seek like an explorer.
Check out our youth special Thailand tour package here.