Find Your Perfect Next Holiday in Queensland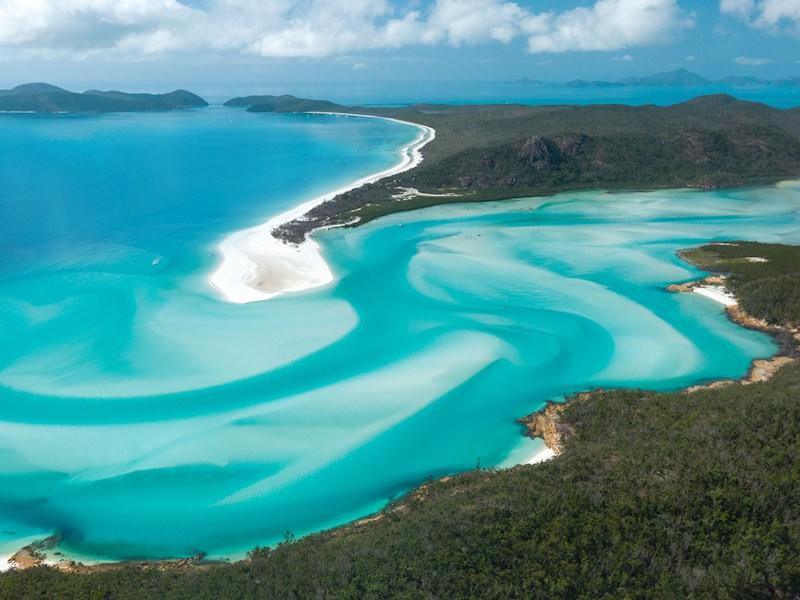 The second largest state of Australia, Queensland is also known as the 'Sunshine State' and rightly so. Basking in the glorious sunshine 300 days a year, it is a perfect year-round holiday destination that beckons tourists from all over the world. Blessed with a fascinating landscape, Queensland offers diverse experiences catering to every tourists' idea of a perfect holiday.
Queensland is famously known for its impressive cityscape, glittering beaches, spectacular coral reefs, rich wildlife, majestic mountains, tropical islands and rainforests, world heritage sites, delectable seafood and most importantly the beautiful rays of beaming sun. Embark on an adventurous journey with us to experience the best of Queensland.
Brisbane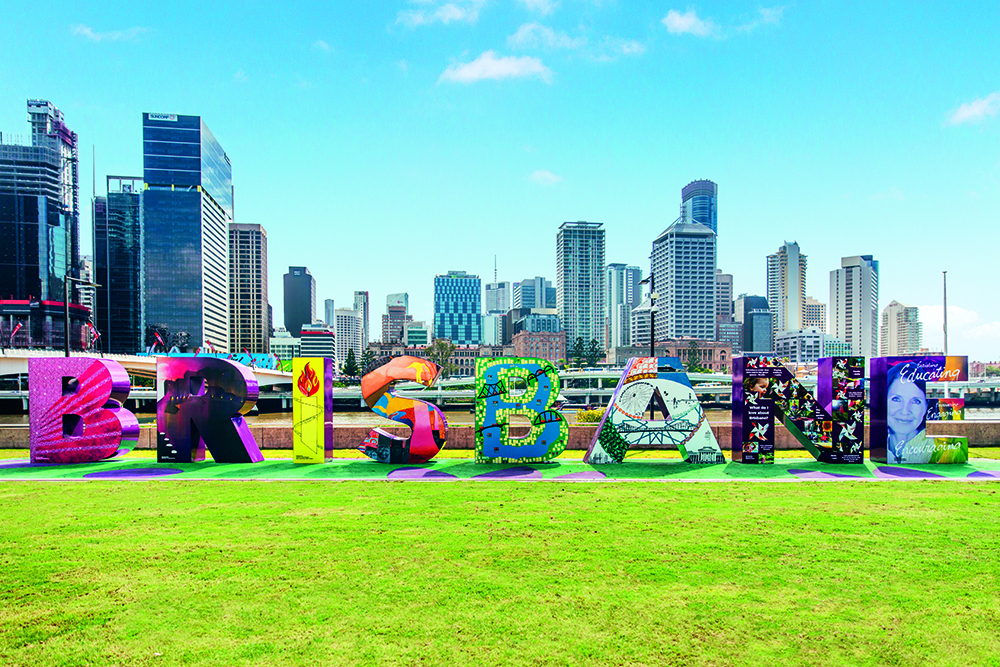 The capital city of Queensland and the gateway to Gold Coast, Brisbane can be best described as vibrant yet friendly city with outdoor lifestyle, lush greenery, refined culture and architecture. Emerging as one of the major hotspots for tourists recently, Brisbane has seen a sudden surge of some of the finest hotels opening up to offer great comfort and experience to tourists. Some of the best names in the industry such as The Westin, The Calile, Emporium, and W Brisbane (the only one in Australia) have started operations offering luxury, great views and the choicest of rooftop bars.
This charming city offers a plethora of activities for a fun-filled holiday. You can start by taking a tour of Lone Pine Koala Sanctuary, the world's first and largest koala sanctuary with 150 koalas. Cuddle-a-koala experience, hand feed the kangaroos and meet a large variety of Australian wildlife in beautiful, natural settings. Shop till you drop at Queen Street Mall, the premier shopping destination of Brisbane with over 700 retailers offering an unrivalled mix of local, national and international labels and flagship stores. For the ultimate dining and entertainment experience, visit the Howard Smith Wharves. Situated by the glittering riverfront, this sprawling historic heritage precinct has been transformed into a lifestyle and recreation destination which offers you a mesmerising backdrop to chill out with friends and family. Comprising of local breweries, myriad dining options, live entertainment, play areas, gardens and Art Series- a boutique Hotel, it definitely warrants a visit.
A highlight of Brisbane is to explore South Bank which is lined with chic cafes, beach, a riverside boardwalk, parklands and plazas. It is a perfect place to sip on a piping hot cappuccino and take a breezy walk on the promenade while watching the sunset, cruising on a segway, and enjoying the panoramic bird's eye view of the city on the giant ferris wheel – Wheel of Brisbane. What is really refreshing about Brisbane is the thriving rich culture and heritage, a glimpse of which can be seen at Performing Arts Centre and Queensland Museum.
A foodaholic's paradise, satiate the inner foodie in you by visiting the Eat Streets Northshore in Hamilton which is an exceptional experience offering fabulous river views, entertainment shows, amazing live performances and 70 delicious dining options featuring every cuisine from South East Asian to European, African and American.
If you want to soak in the beauty of this picturesque city, undertake a trek at Mt Coot-Tha, go skydiving and climb the iconic Story Bridge which offers the exhilarating opportunity to abseil while descending. After an adventurous day, relax and enjoy a drink, good music, dazzling skyline views and ambience at some of the best eclectic rooftop bars in the city. Famous for its rooftop bar culture and vivacious nightlife, there are abundant options to choose from such as Eleven, Elixir, Eagles Nest, limes, The Terrace and many more, each as fascinating as the other in terms of décor, view and of course cocktails. If you are seeking for fun, hip, funky and cool bars, coffee shops, cafes, restaurants and unique boutiques then the hidden gems of the city, the Brisbane Laneways are the perfect solution. Explore the laneways such as Burnett Lane, Eagle Lane, Winn Lane, Bakery Lane, Fish Lane and many more that are dotted with various gourmet delights and surrounded by street art, immersing you in the true Australian experience.
Suggested Read : 10 days of Australian Extravaganza with family
Cairns, One of the most beautiful holiday destinations in Queensland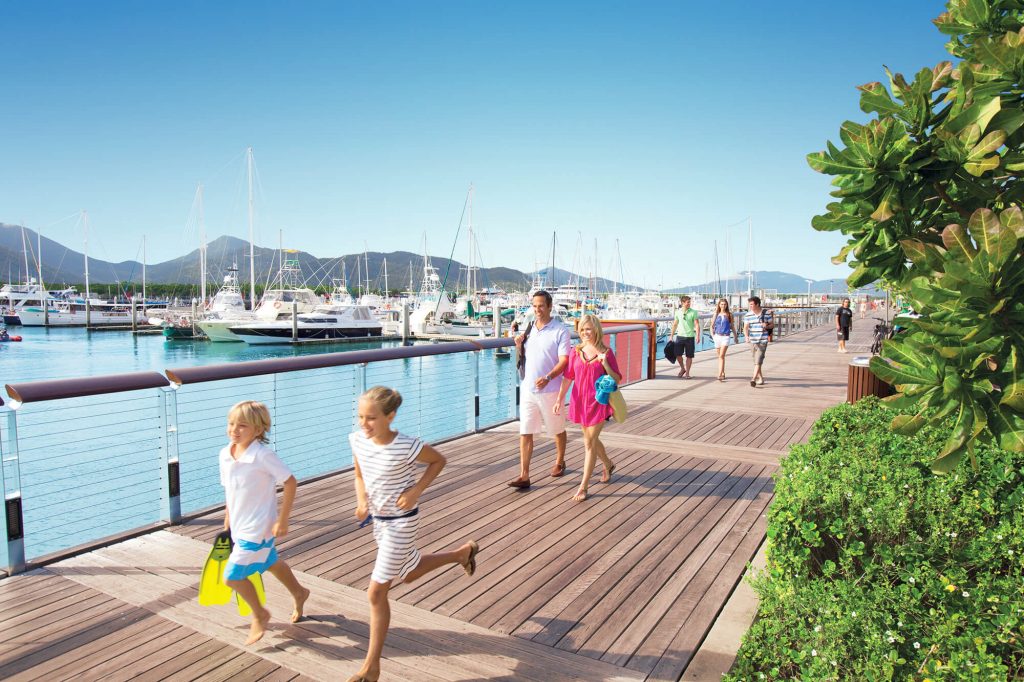 An absolute delight for adventure seekers, Cairns offers abundant outdoor activities set against the backdrop of breath-taking scenery. Indulge in adrenaline pumping activities such as hiking, skydiving, ziplining, scuba diving, snorkelling, white water rafting, hot air ballooning, Bungy jumping and many more.
Rich in flora and fauna, immerse in the beauty of Cairns by visiting the Cairns aquarium, Botanic Garden, Kuranda Village, Hartley's Crocodile Adventures and taking a ride on the Skyrail Rainforest Cableway.
Also, a must visit for a fun outing experience is the Cairns Esplanade which is a magnificent swimming lagoon surrounded by picnic and playground areas. If you love getting drenched under waterfalls, then Josephine Falls and Crystal Cascades are a must visit. The glorious cascading waterfalls offer an idyllic opportunity for swimming, lounging, hiking and picnicking.
Cairns is also the gateway to the magnificent Great Barrier reef. A natural wonder of the world, the Great Barrier Reef is speckled with hundreds of scenic tropical islands, beaches, the marvellously stunning coral cays and diverse species of exotic marine life.
The best way to end the perfect Cairns holiday is with a trip to the UNESCO World Heritage Site, the Daintree Rainforest. A spectacular beauty of nature, it encompasses a lush green jungle, gorgeous waterfalls, beautiful walking trails, spa resorts and a tranquil beach.
Gold Coast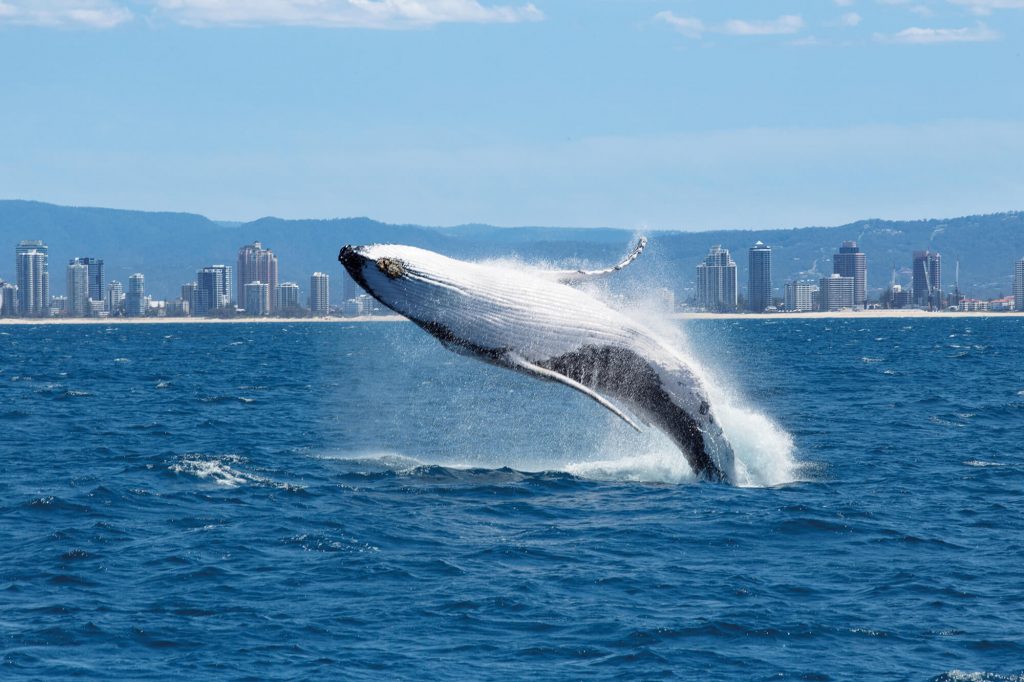 Sun soaked beaches with pristine white sand and shimmering blue waters defines the riveting Gold Coast. Boasting of some of the best beaches in the world, it is popular for its rolling waves that are ideal for surfing. The best beaches that you should definitely visit for surfing, relaxing or sunbathing are the Snapper Rocks, Main Beach, Rainbow Bay, Mermaid Beach, Nobby Beach and many others. If lucky, you may also encounter dolphins while surfing. Apart from beaches, Gold Coast also has fun attractions such as Warner Bros., Sea World and Movie World that can be enjoyed by adults and kids alike.
If entertainment is on your mind, then you should head to Surfers Paradise which is an iconic premium entertainment centre buzzing with liveliness and includes cinema, sports and recreation, gaming arcades, shopping and dining. A popular hotspot in Surfers Paradise, Cavill Avenue is perfect for a stroll and engaging in fun retail therapy. It is also a great place to pick up some souvenirs for friends and family. Are you a party person who loves to dance the night away? Surfers Paradise comes alive at night with tourists crowding the amazing restaurants, bars and trendy clubs. It is the perfect place for you to let your hair down and enjoy the vibrant nightlife.
For an exceptional street food experience, a visit to the Miami Marketta is a must. A food haven which comes alive every Wednesday, Friday and Saturday. Dive into international cuisine from all over the world accompanied by live music and events.
Can't choose a cuisine to eat today? Boasting of five kitchens serving Italian, American, Mexican, Asian and contemporary Australian cuisine, The Collective Palm is a beautiful dining space and rooftop bar exuding a cozy vibe with mesmerising views. For a taste of Asia, venture to Rickshores, a pan-Asian restaurant and Kokum, an Indian restaurant for an authentic experience.
Gold Coast does not only boast of spectacular beaches and delectable cuisine but also offers fabulous adventures amidst magnificent views that will leave you spellbound.
For a magical adventure, take a mesmerising trip through the lush greenery of the Tamborine Rainforest Skywalk. At 560m above sea level, it offers a spectacular view of the Pacific Ocean and the glittering skyline of the city.
Indulge your adventurous side by embarking on the fun Southern Cross 4 WD tours. Explore the glorious hinterland by undertaking guided tour of the Mt Tamborine, Lamington National Park, Canungra and O'Reilly's. The walk through the awe-inspiring rainforests and cascading waterfalls along with morning tea and a tour of the vineyard is a once in a lifetime experience.
An indescribable experience, enjoy the charm of romance as you soar up and float gently in a hot air balloon soaking in the breath-taking panorama of the stunning sunrise, lush Gold Coast hinterland, sweeping views of the city and the shimmering sea.
To make the trip even more memorable, visit Gold Coast during the whale watching season ranging from June-November. This annual migration of whales is a delightful sight to behold and a lifetime opportunity not to be missed. Hop aboard the cruise tours to catch the majestic view of the humpback, orca and minke whales swimming and playing. You may also spot sea turtles, bottlenose dolphins, sharks and dugongs.
Suggested Read : Five most beautiful island countries you should visit
The Whitsundays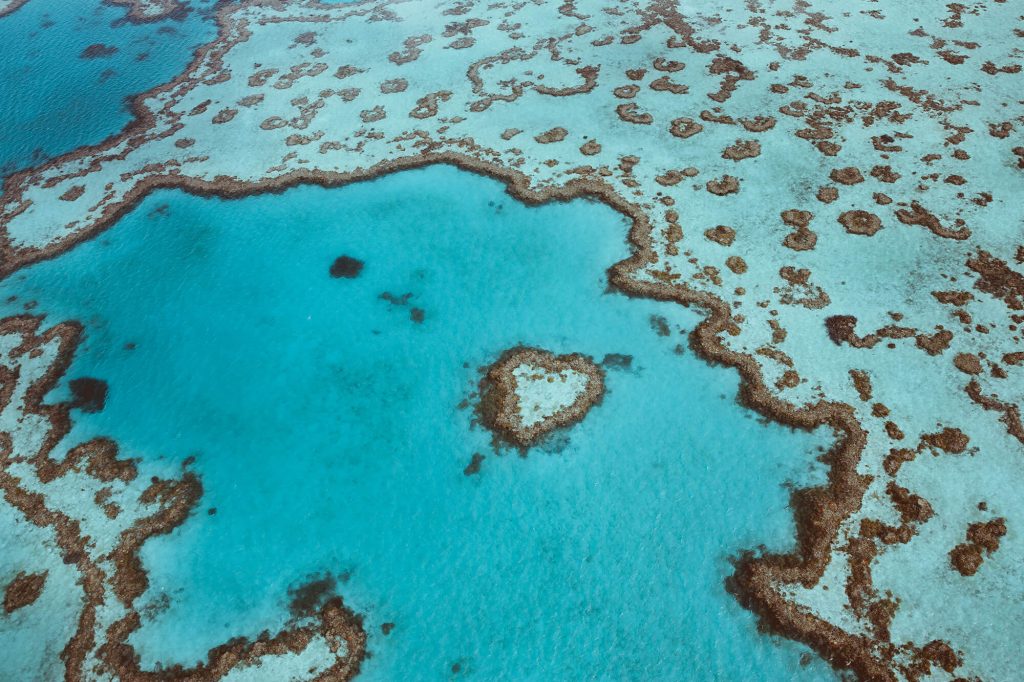 An archipelago of 74 tropical islands at the heart of the Great Barrier Reef, Whitsunday Island exudes luxury. An incredible way to see the islands is by skydiving. Skydive from a height of 15,000 feet for an exhilarating 60 seconds as you soak in the stunning views of the island and the sparkling clear waters.
Ensure you have a few days to spend on Hamilton Island to experience the lavishness of Qualia, one of the best hotels in the world. Hamilton offers plethora of water activities such as snorkelling, sailing, jet skiing and kayaking which you can enjoy with your loved ones. What sets it apart is the presence of a yacht club and golf club, unlike anything else in Australia.
You should also visit the serene and pristine Whitehaven beach which is considered the best beach in the world due to its pearl white sand and shimmering azure waters. This beach is extremely secluded and only accessible via seaplane, helicopter or boat. Another must do is taking flight over the romantic Heart Reef on a sea plane to witness the natural phenomenon of a coral formed in the shape of a heart. Swim, snorkel or bareboat around the islands and make memories that will last you a lifetime.
For more information, visit www.queensland.com