How Thomas Cook will Help Your Child's Plan to Study Abroad
Studying abroad is an opportunity for a young mind to experience the joys and responsibilities of independence. Along with quality education, your child will also learn the checks and balances of life that will help them in the long run. It is a big step that demands your complete attention to take it to fruition.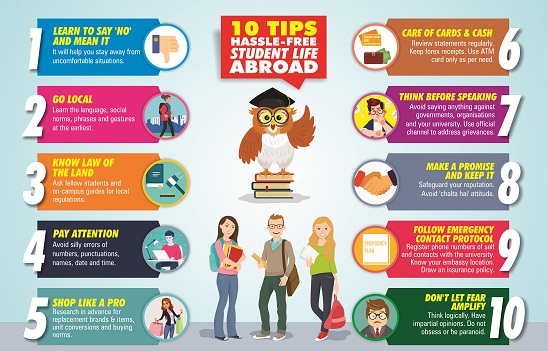 There are scores of details that need to be sorted and many-a-concern that need to be addressed. But the first step towards studying abroad is taken much before the actual admission happens. It starts with research. The search for the right college and the right course is the crux of this exercise. As a parent you should be involved in the process, providing guidance. Be a sounding board for your child but leave the ultimate decision to them.
Start with the Applications
Once the colleges are chosen and shortlisted, it is the time to start the application process. Most colleges in US and Canada have a major intake season in September. Your child must start preparing for that at least six months in advance. These preparations include
Collecting and collating the necessary documents
Taking English proficiency tests like IELTS or TOEFL
Applying to colleges
Writing essays, Statement of Purpose and getting Letters of Reference
Applying for visa for students
Please note that colleges in US need you to pay an application fee at the time of applying. The amount may vary from college to college. You can make these payments online through Thomas Cook's forex and remittance services. Thomas Cook is the only non-banking organisation in India authorised to remit money abroad. Alternatively, you could visit the nearest Thomas Cook branch to get the proceedings started. Thomas Cook will also help you in getting student travel insurance for your child. We'll see how, later.
Get your Child's Student Visa
Once your child receives their acceptance letter from the college, the next step is applying for the visa. Thomas Cook also does visa for students travelling abroad for studies. When you apply for your child's visa through Thomas Cook, you get,
End-to-end visa facilitation
Facilitation in booking an appointment with the embassy
Real-time status tracking and timely updates
Here too you have the option of paying for the visa online. The experts at Thomas Cook will guide you at every step of the way through the entire process. You are assured of complete transparency, security and confidentiality. They will ensure that your child follows the step-by-step procedure correctly and leave nothing to chance. Once the online visa form is submitted, you must pay the visa fees online before the interview is scheduled. Please note that these fees are non-refundable. Make sure your child carries a printout of the completed visa form to the interview, along with other documents. Thomas Cook will set up the biometrics and interview appointments with the embassy. Once your child makes it through the interview successfully, their passport will be stamped with the visa.
Begin Further Preparations in Earnest
Congratulations! Now that you child has their college acceptance letter and their visa, it is now time for the next preparations. There's your child's accommodation and other daily expenses to consider. But even before that make sure that you buy student travel insurance for your child. The student insurance from Thomas Cook will cover your child in following cases.
Cover medical expenses for treatment or hospitalisation due to illnesses
Cover your child in case of disability due to accident
It will take care of your child's tuition fees sin case of the Sponsor's death
It will reimburse any costs incurred due to loss of passport, including getting a duplicate passport made
Cover medical expenses for sports-related injuries sustained while playing for college
That covers your child's insurance. As far as taking care of your child's day-to-day expenses, you should give your child a prepaid forex card. Yes, they can have some cash handy for smaller expenses, but a prepaid forex card is the best way to carry forex safely.
The 'Smart' Prepaid Forex Cards
Your child can take care of their daily expenses and you can have some semblance of control over them. Thomas Cook has not one, but two prepaid forex cards
One Currency Card
Borderless Multi-Currency Prepaid Card
The Thomas Cook One Currency Card will be a useful companion to your child abroad. This particular card is valid and is accepted in 200 countries around the world. But the benefits don't just stop there.
The card and all the transactions are protected by a chip and PIN
Your child can use the card to pay directly for any purchases they make as it is accepted at more that 35 million shops, restaurants and hotels worldwide
There are no additional currency conversion costs
Since it is not connected to your or your child's bank account directly, it is a smarter option
If your child manages to lose the card, they can get a replacement card free of cost
If the card runs out of money, you can reload the card from right here in India
The other card from Thomas Cook, the Borderless Prepaid Card will also guarantee the peace of mind for you and your child. It has all the convenience and similar safety features like the One Currency Card with one additional feature. It can take up to 9 different world currencies in one card. A very useful feature if your child has to travel to different countries as a part of their course.
This way you will be ensured that your child concentrates fully on their studies without having to worry about money.
With all these preparations in place, you can finally be assured that your child is ready to take their first steps towards a better education and independence. Thomas Cook will be there at every twist and turn to guide you and your child along on this journey that will lead to that penultimate bittersweet moment when your child departs to begin a new journey. One where they are in the driver's seat.