Jim Corbett National Park – A comprehensive Guide
Indian forest land comprises of many beautiful and hidden secrets waiting to be revealed in front of those who venture deep inside. One of the precious gems of Indian forests is the Jim Corbett National Park. Located in Uttarakhand, Jim Corbett National Park has the honour of being the first national park in Asia.
The sheer greenery, flourishing plant, animal and bird life and presence of two rivers, Kosi and Ramganga make Jim Corbett a gem of a place to explore. Corbett National Park is an exquisite piece of beauty that invites everyone to experience the amazing landscapes and the surprises hidden inside.
Corbett Tiger Reserve offers a plethora of activities to the visitors. One can choose from jungle safaris, elephant rides, bridge slithering, fishing, angling and river rafting during their visit here. Both summers and winters are the best time to visit Jim Corbett National Park because of ample amount of diversity.
Here is a small guide to Jim Corbett National Park and what you should expect while traveling here –
Experience the thrills of one of the best jungle safaris in India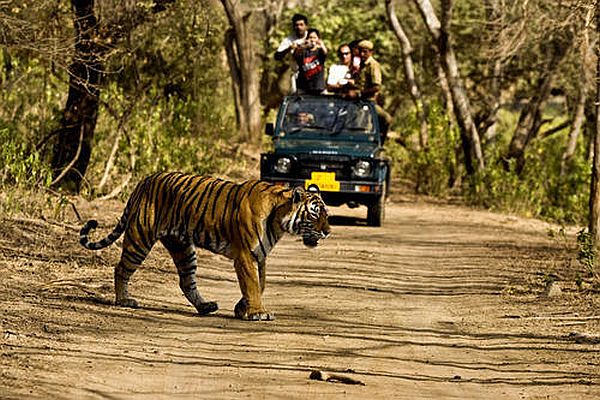 Jim Corbett is a prime destination for Jungle Safari. Whoever comes here wants to see the exotic animal and bird population which has made this place their home. But more importantly, the visitors come to meet the majestic tigers who have made Jim Corbett National Park their home.
A visit to the national park is incomplete without Jim Corbett Safari. A jeep ride or even an elephant takes you inside the dense green forests where the lucky ones get to see Tigers.
Even if you end up missing out on the beasts, Jim Corbett Safari experience will not disappoint you. You can see many animals including –
Jungle Cat
Fishing Cat
Leopards
Barking Deer
Elephants
Hog Deer
Sambar
Cheetal
Himalayan Black Bears
Langurs
Indian Pangolins
Apart from animals, Jim Corbett safari also showcases different types of birds in the park. Some of them include –
Tawny fish owl
Pallas' fish eagle
Green Bee-Eaters
Crested Serpent Eagles
Red Junglefowl
Vultures, Storks
Eagles
Kingfishers
Sandpipers
Lapwings
Martins
Apart from this, Jim Corbett safari booking includes a visit to the home of crocodiles and ghariyals.
Go on well-marked bird watching trails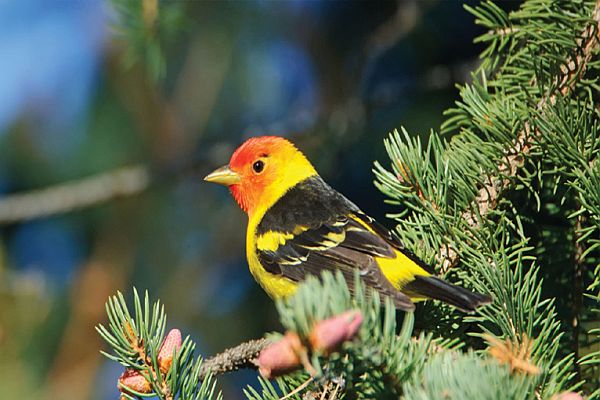 Along with the designated Safari trips inside Jim Corbett National Park, several bird watching trails offer an insight into the thriving population of avifauna living in the park. Bird watching enthusiasts often ditch the traditional Jim Corbett Safari and explore the jungles to observe and click pictures of the bird population.
Corbett National Park has some perfectly marked trails for bird watching. Some of the most popular ones are –
HaatiDangar
Kosi Barrage and Sitabani
Kyari to Powalgarh
Garjiya Temple
Mohaan to Kumariya
Bhakrakot
Each bird watching trail is unique and is famous for the nesting grounds of some specific birds. While Haati Danger is more famous for the sightings of vultures and sandpipers, it is also considered the best location for tiger sightings. The bird watching trail of Kosi and Sitabani is more famous for Red Starts, Lesser and Greater Cormorants, Ruddy Shell duck, Herons, Eagles, Kingfishers etc.
Lovely picnic experience at Corbett National Park
Many Jim Corbett hotels provide a lovely picnic experience as a part of their Jim Corbett Packages. This picnic is inside the Corbett Tiger Reserve and takes you all the way to the beautiful Corbett Falls. This spectacular waterfall is a favourite of the visitors. The ample amount of greenery surrounding the waterfall and the tranquil views make the picnic experience worth it.
When you are visiting Jim Corbett National Park, you should keep some time slot open for the picnic. It is the best family-friendly activity for bonding. A picnic here is the best way to unwind after a tiresome morning safari.
Since the resorts and hotels provide packed lunch to their guests who go on Safari, this waterfall makes for an ideal location to enjoy the meal.
Enjoy an adrenaline-pumping river rafting session in Kosi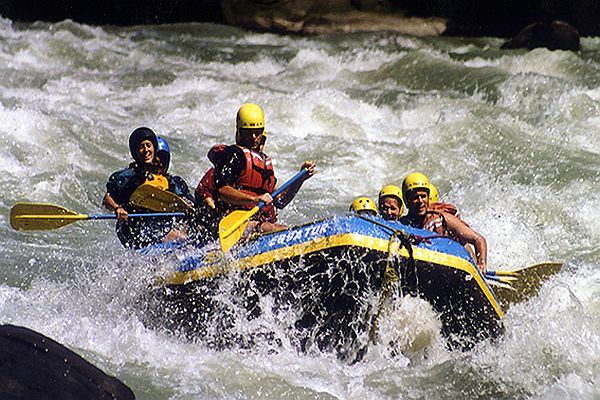 Corbett National Park doesn't only provide activities concentrated around wildlife of the area. One can also spend some time boosting their adrenaline with the high-speed Rafting session. The Kosi River in Corbett Tiger reserve is known for its rapids, which makes it a perfect spot for a rafting adventure.
Most of the hotels and Jim Corbett resorts, arrange for rafting on request. Some of the Jim Corbett hotels also include this experience as a part of their package.
Enjoy an elephant safari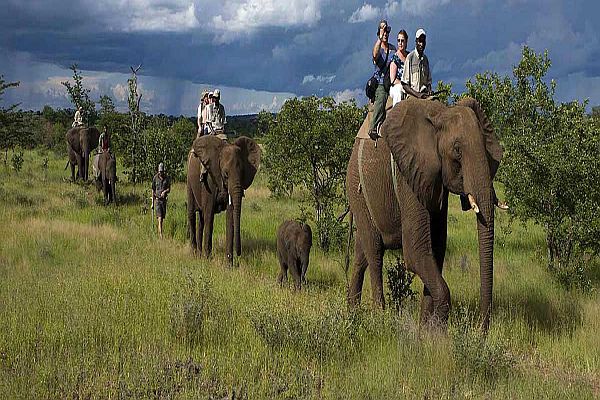 A visit to this National Park also provides you with an opportunity of taking Elephant Rides and then exploring the Jungle from a different perspective. You can make your Jim Corbett National Park Bookings specifically with Elephant Safari. The entire park looks like a different place from the top of these gentle giants.
Many Jim Corbett Resorts prefer elephant safari over the jeep ones as it is a more natural way to explore the park without disturbing the animals by the sound of the vehicle. Since most of the Jim Corbett national park packages have provisions to choose jeep or elephants, booking one becomes really easy.
Go Camping in Jungle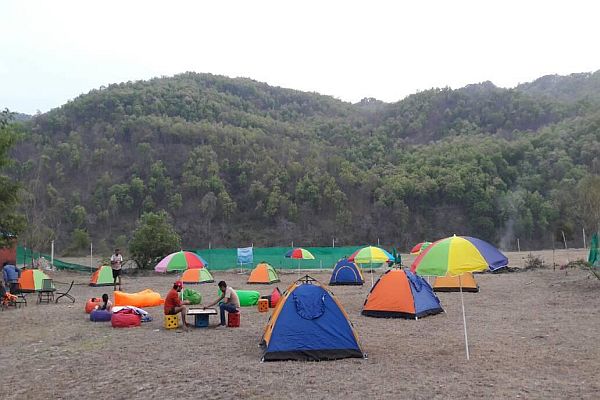 With the presence of some of the premium Jim Corbett Resorts and hotels, the experience of camping in the middle of nature's lap is not a dream. These luxury camps are located amidst the lovely and tranquil sceneries and provide all the amenities inside your air-conditioned tent.
Camping or hotel stay can be booked with the  Corbett tour packages. Depending on your preferences, the team managing your bookings will make necessary arrangements for a memorable stay. Since there are many Jim Corbett resorts located near the river, the camping experience becomes way more amazing during your trip.
Visit the holy Garija Temple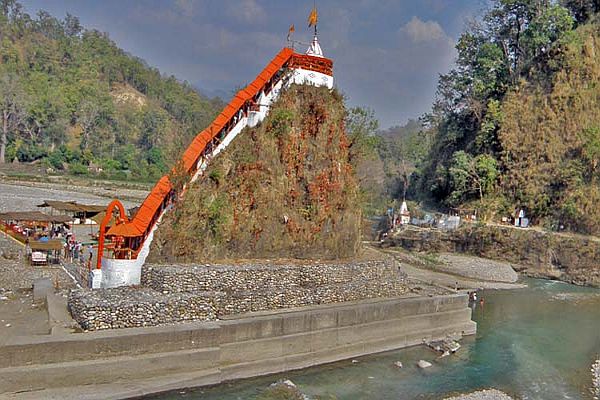 Uttarakhand is the land of temples. The beautifully constructed holy spots of worship adorn every beautiful destination of the state. The Holy Garija temple is one of the highly revered spots inside the park and is very popular between the photographers and religious people.
Apart from being highly revered around the villages of Corbett, it is one of the most important temples in Nainital District. Located on the banks of Kosi River, this temple creates beautiful sceneries with the river, the hills and the green jungles in the backdrop.
Most of the tours for Jim Corbett Safari Booking provide an option to explore this temple post the jungle safari. Managers of Jim Corbett resorts can also arrange for a trip to Garija Temple on special request.
A visit to Corbett National Park is incomplete without a trip to this temple and basking in the heavenly views surrounding around it.
Where is Jim Corbett National Park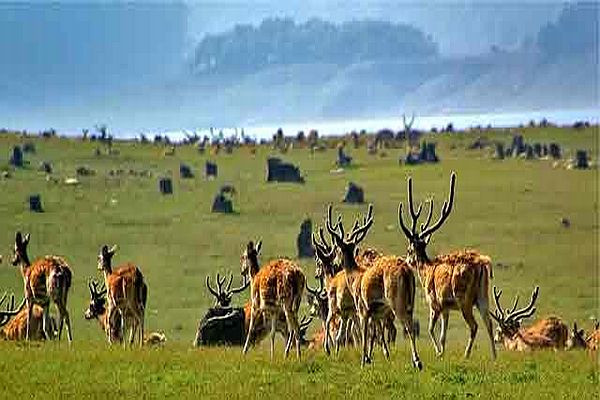 The question about where is Jim Corbett National Park is not very complicated.Jim Corbett is located in the Ramnagar district of Uttarakhand state and is accessible by road, train, bus and personal/private cars.
Distance from major important cities
Delhi – 260 kms
Lucknow – 145 kms
Nanital – 105 kms
Ranikhet – 112 kms
Air – The nearest airports from Corbett National Park are in Dehradun and Pantnagar. While Pantnagar being closer to Corbett, it is Dehradun which has frequent flights from all parts of India. Indira Gandhi International Airport is the closest International Airport located in Delhi.
Rail – Ramnagar is the nearest railway station and Jim Corbett National Park's location is just 12 kms from here. A few trains ply between Delhi and Ramnagar. You can catch the Ranikhet Express which departs Delhi at 10.50 pm and arrives at 4.35 am the next day.
You can also take a train uptoKathgodam and then take a jeep, car or a bus till Ramnagar.
Road – Jim Corbett National Park is connected through Rishikesh, Delhi and Dehradun. Most people prefer driving to the national Park as the journey is exciting and pleasant. It takes 6 to 8 hours to reach Jim Corbett National Park depending on the speed and weather.
Stay options in Jim Corbett National Park
Jim Corbett National Park's location is close to Delhi, so a majority of tourists come here for a luxurious vacation. As a weekend getaway, this park's popularity is very high. Some of the most luxurious Jim Corbett Resorts are located here. One can enjoy heritage stay or camping near the river.
The prices of the Corbett Resorts vary according to the location of the park. Jim Corbett Resorts near the river are more luxurious and have higher tariffs compared to the ones a little away.
Best time to visit Jim Corbett National Park
While many national parks in India only open during winters or summers, there is no such thing with Jim Corbett. Jim Corbett national park booking is open all year. In the winters, you can see the migratory birds while summers offer more open tiger sightings.
Thomas Cook brings you an excellent chance to experience the wilderness of Corbett National Park with the best amenities you can imagine. Jim Corbett National Park packages from Thomas Cook include luxurious stay, spa, and a complete wildlife safari to make the best out of your trip. For more details, contact our experts today.