Ladakh: A Place For Women To Rediscover Their Free-Spirited Side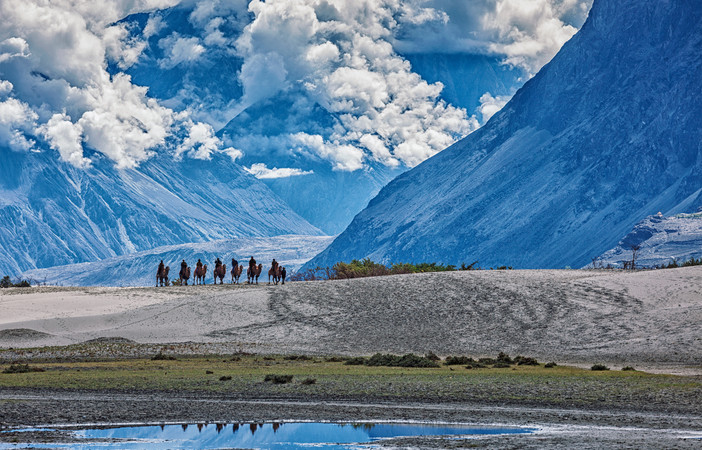 Women have found a new lease of life thanks to travel. It is a fun way to lose inhibitions, find their strengths, and step away from the responsibilities of life. One of the top Indian destinations for women is Ladakh.
When we say Ladakh, it is followed by Leh and vice versa. So, what is the difference? Leh is a city in Ladakh, which is the largest province in Jammu and Kashmir. Ladakh is a region with tall, ice-covered mountains and dangerous passes, but it is also a vast expanse of arid, rugged land. It is a haven that is cut off from the world for most months of the year.
Nonetheless, women travellers feel safe here. We need to thank the local women for it. They contribute immensely to the household income anzd are actively involved in the community and in daily life. This has created a safe ecosystem.
The Land of High Passes has a distinct side, unlike other places in India. Discovering the nuances of Ladakh as a woman – solo or with a group – is a whole different experience. You feel the surge of excitement running through your nerves as you scale the altitude. So, gather your friends to plan a trip of a lifetime.
Must Read : An Ultimate Beginners Guide For Solo Women Travellers
The planning stage:
You get starry-eyed thinking about Ladakh. But you will see stars if you do not take the Altitude Mountain Sickness (AMS) tablets, a day or two earlier. Mountain sickness can hit you like a ton of bricks.
The journey to Ladakh is an experience of its own. If you choose to fly, you know you will reach quickly. The nearest airport is a military terminal – Kushok Bakula Rimpochee Airport, but the journey continues in a taxi to Ladakh.
If you love travelling by train, then you are in for an expedition even before you reach Ladakh. The nearest railway station (Jammu Tawi) is 700 km away from Ladakh. After sitting in a train for hours, you are then cooped up in a taxi or bus for two to three days. Not sure if this is the experience you were looking for, but you will have stories to tell.
Travelling on Indian roads is a sweet and sour experience, but heading to Ladakh by road is a spine-chilling experience filled with tough terrains and rocky roads. One vehicle that can survive on these roads is a bus. It is economical too. Hop on a bus from Srinagar or Manali for a ride that takes you through the scenic Zoji La Pass and Rohtang Pass respectively. This service is available from June to September.
If you love the energy that passes from the bike to every cell in your body, then form a brigade of women bikers to rev to new heights. The steep, bumpy roads, winding paths, and icy walls are what make the climb and descend exciting.
A trip to Ladakh guarantees the adventure starts and ends with the journey. And it is this thrill that attracts you to this desert.
But Ladakh is like the forbidden fruit. It is accessible for only few months in a year. Hence it is covered in mystery and you desire it more. Satisfy this temptation with an all girl's trip in summer (June to August). This is when the roads are open, and passes are ice free. The weather is at a pleasant temperature in the day, 21-25°C, but the mercury drops to 7-10°C at night.
Suggested Read : Enjoy an adventure trip to Ladakh
Ladakh : Dos and don'ts for women
Women's safety in Ladakh, check. But what about the etiquettes and bodily changes? Not the teenage kind, but effects of mountain sickness. Following are a few guidelines to stay healthy and not offend the locals.
Clothing: On those hot summer days in Ladakh, you are tempted to wear tank tops. But it is considered inappropriate, especially, at monasteries. Same calls for tight, revealing, and sheer outfits. If monasteries are on your itinerary, then dress modestly and ensure that your elbows and knees are not exposed.
Skincare: Women take care of their hair and skin like a biker attends to his bike. But Ladakh's harsh climate saps the moisture from skin, hair, and nails. Pack a sunscreen, moisturiser, and shampoo with moisturiser. Your hair and skin will need it. Nails too bear the brunt and break. Just for this trip, trim your nails and keep them moisturised.
First-aid: AMS is fickle and throws you out of whack. Pack a kit of medicines to treat fever, headache, and vomiting. Also, sanitary items and a travelling urinal cup, come in handy as toilets are far apart.
Alcohol: It is tempting to sip on a glass of whiskey, especially with your gal pals, but alcohol dehydrates. However, the most important liquid you need high up here is water. Hydration is the key to a healthy time.
Water: You have come to delve in nature, so do a small bit for it. Reduce plastic waste. Carry a water bottle and refill it.
Electronics: Go on a gadget detox for fewer distractions – Ladakh is a visual delight and you'd rather immerse yourself in its natural beauty. Electricity is not freely available so remember to keep your devices charged and the cold drains out the battery.
Recommended Read : Best Time To Visit Ladakh – A Complete Guide
Things to see and do in Ladakh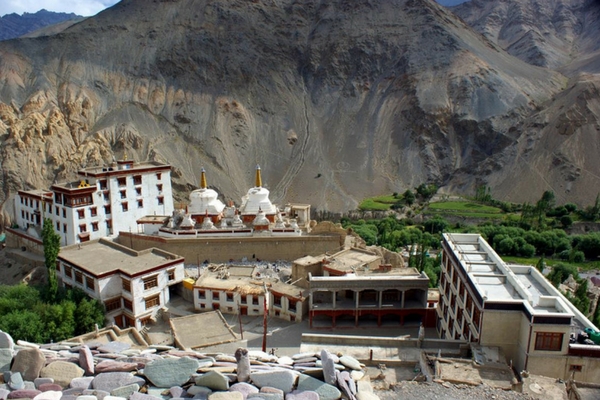 There are three major ways to experience Ladakh: the adventurous way, the spiritual way, or exploring nature. It has something for every woman – the fun- loving, bold, and devotional.
Spiritual Experience: Perched on mountains, monasteries offer a stunning view of Ladakh. They vary in beauty and they are the epitome of serenity. Shey, Thiksey and Hemis are the main monasteries that is rich in grandeur and have a distinct architecture.
Experience Nature: The magnitude of the mountains in Nubra Valley, make you feel insignificant. The sheer scale of the valley is impossible to capture on your camera. The only way to get to Nubra Valley is to pass through the highest motorable pass in the world – Khardung La. An ideal way to explore the valley is on a double-humped Bactrian camel. A trip to Ladakh always includes a visit to Pangong Tso – the biggest lake in the Himalayas and Tso Moriri – mountain lake. They have a calming effect as you lay on the shore and watch the clouds pass over the magnificent mountains.
Adventurous Experience: Trekking with your friends is interesting. Motivating each other and conquering limitations with women has its own charm. So, why not tour Ladakh with the local women, who know every stone in the land. There are several female guides who cater to women travellers. Everything is taken care of – homestays at authentic Ladakhi homes, traditional food is served, and a detailed itinerary is planned that meets your interests.
These female guides plan out trips by connecting with other women from different villages. It is a great way for women to earn income and support their families. So, if you are planning a trip to Ladakh then do consider these guides for touring or trekking.
What are the other ways to experience Ladakh?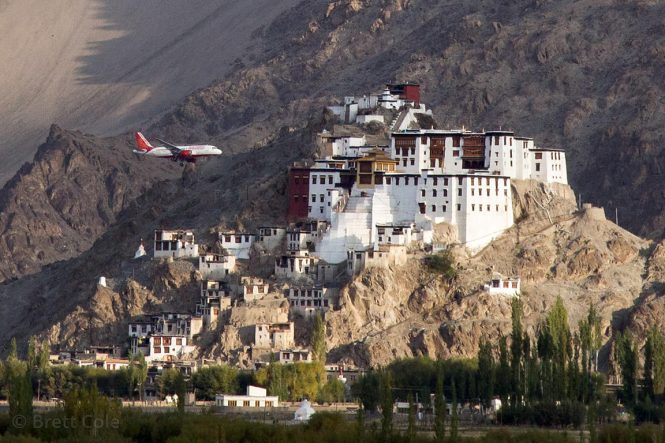 Who doesn't love a good celebration? When you are travelling with women, plan a trip so that you can participate in one of the numbers of festivals. In summer, you can join the locals in Hemis Festival, Sindhu Darshan, Phyang Tsedup Festival, Saka Dawa Festival, Ladakh Festival, and Ladakh Harvest Festival (add link here to other festival blogs). You will be blown away by the traditional outfits, which adds a rich hue to the festivities. The elaborate masks and dance really lift your spirits. This is the time you feel the quiet passes reverberate with energy and excitement.
These festivals are celebrated at monasteries, which are a treasure trove of Buddhist art. If any one of you women have a steady hand for art, then visit the Matho Monastery. Join the local women in restoring the frescos and ancient artefacts to its earlier glory.
If you are glazed with the intricacies of the art and detailing of the masks and jewellery, then pick up thanka, masks, and silver jewellery from Main Bazaar Road, in Ladakh. Another prized item is Pashmina shawls. They make great gifts from the Land of High Passes.
Ladakh is home to an elusive furry animal. Yes, you have heard tales of the yeti, but we are talking about the snow leopard. The female guides also organise treks to spot the animal in the Hemis National Park. Ladakh is one of the few places in the world that is home to the snow leopard.
Ladakh is a place that makes you realise your potential. It is a place that strengthens the bond of friendship among women. It is an unfamiliar region to discover with familiar faces. If a women's life is dramatic, then a trip to Ladakh is surprising at every step of the way.
Uncertain how to plan for Ladakh? Then tap into our on-ground experts to organise a hassle-free trip. ThomasCook.in also offers packages and customised tours for you and your entire group of friends.