Amarnath Yatra: A Journey Embellished with Mythology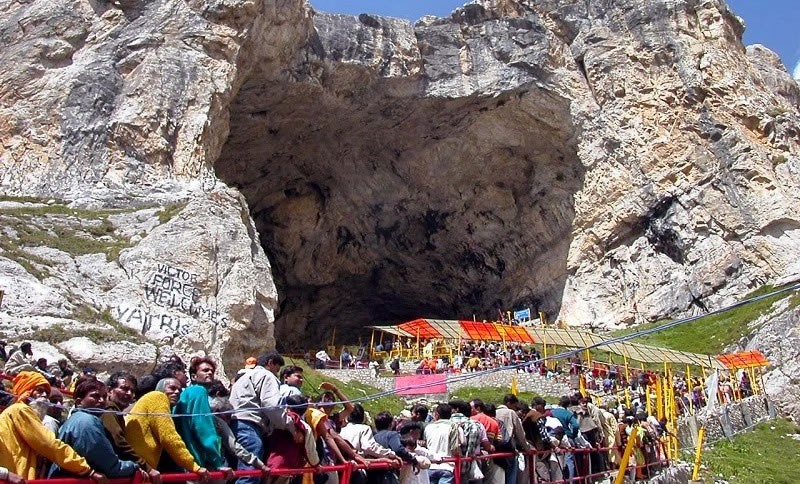 Pilgrimages have been an intrinsic part of Indian culture for a very long time. The notion is that life is a journey, and a pilgrimage is an external projection of this inward journey. One embarks on this spiritual quest not only to be cleansed of sins but to be reinvigorated in mind and body. To start afresh. To reflect on the essence of existence itself.
Amarnath Yatra is an ancient holy pilgrimage undertaken by approximately 600,000 individuals annually. It entails trekking to the sacred Amarnath Cave, in Jammu and Kashmir, which is one of the most revered Hindu shrines in the world. Dedicated to Lord Shiva, it marks one of 18 Shakti Peethas scattered across South Asia.
Ensconced by sugar coated mountains, entwining gold valleys, shimmering waterfalls and lakes – it is a voyage worth taking. If not for its spiritualism, for its unadulterated natural beauty.
A journey embellished with mythology
Amarnath Yatra is associated with many a legend. But there is one that stands out. There is one such story that binds the entire pilgrimage with a silver thread. A story that sheds mythical light on a deeply spiritual path.
Drenched in magic and folklore, it will fascinate, intrigue and pique your religious curiosity.
The story of Amarnath goes a little something like this;
Lord Shiva made the decision to narrate to his beloved wife, Parvati, the ultimate secret of the universe. The source of his mortality. The elixir of life. The magical truth. But in doing so, he needed to find a quiet place. A place far away from prying eyes. As such, he took off for the sacred Amarnath Cave. During his journey, he stopped at several sites. Painting each one with blissful and breath-taking beauty.
Let us take you through Lord Shiva's route, and highlight the wonderful places you can see on your way up to the cave.
Embark on this ethereal adventure with us!
Pahalgam

On his journey to Amarnath, Lord Shiva first stopped at Pahalgam – an exquisite little hill station laden with lakes, valleys and meadows. Over here, he left his Nandi – the guardian deity of Mount Kailasa, represented in the form of a bull. While traversing this stunning landscape, you have the opportunity to visit Chandanwari, Betaab Valley, and Sheshnag Lake. A charming tourist town, it is flanked with snowy peaks from all sides.
Also Read : 10 Reasons to Plan a Rejuvenating Family Trip to Char Dham Yatra
Chandanbadi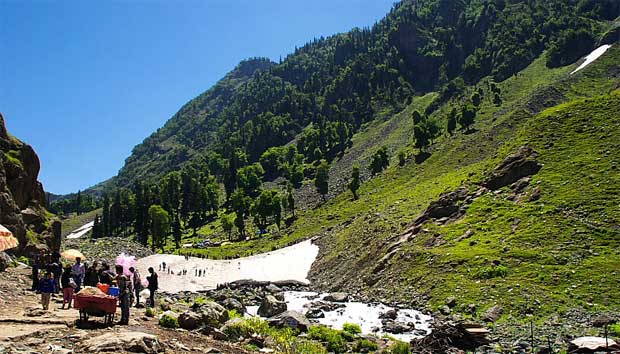 A mere 16 km away from Pahalgam, Chandanbadi is the next stop in Lord Shiva's quest. A place of great religious significance, it was here that Lord Shiva sacrificed the crescent moon from his forehead. The moon symbolises the cycle of time through which creation evolves from the beginning to the end. A famous base point of the Amarnath Yatra, Chandanbadi is a winter wonderland. Here, you can engage in snow sledging, build snowmen, and make snow angels!
Pissu Top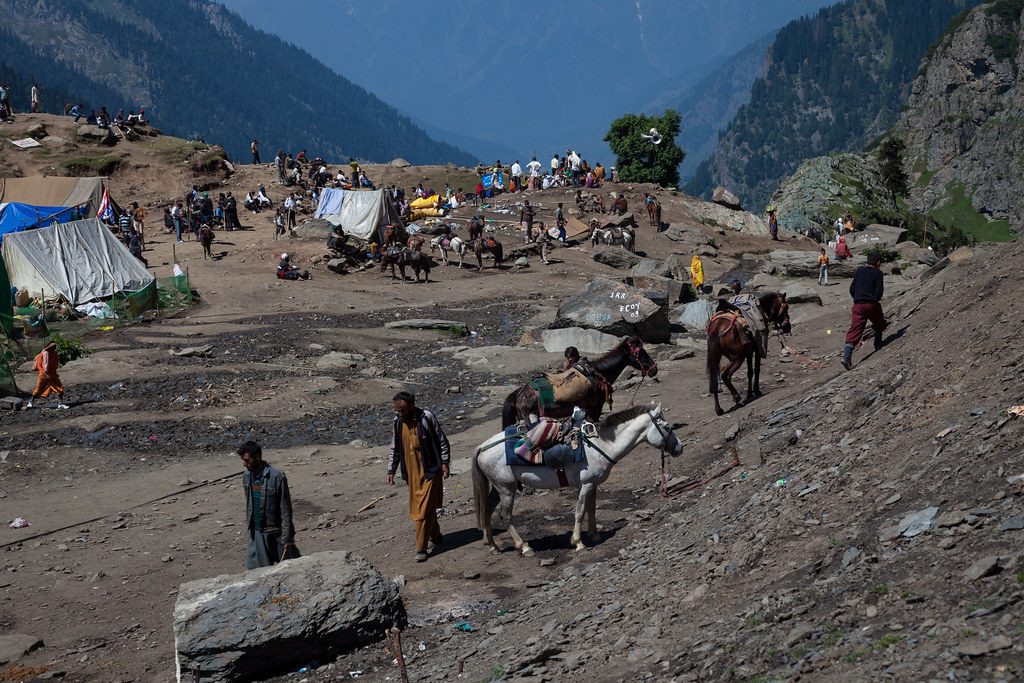 Not far from Chandanbadi, is yet another auspicious and enthralling sight. It is believed that Lord Shiva stopped a war between the Gods and Demons over here. The dead bodies of the demons were carved into a mountain top – Pissu Top. Trekking to this point is worth the hassle because you can enjoy mesmerising views of rocks, rivers and rapids. Jammu and Kashmir at its best!
Sheshnag Lake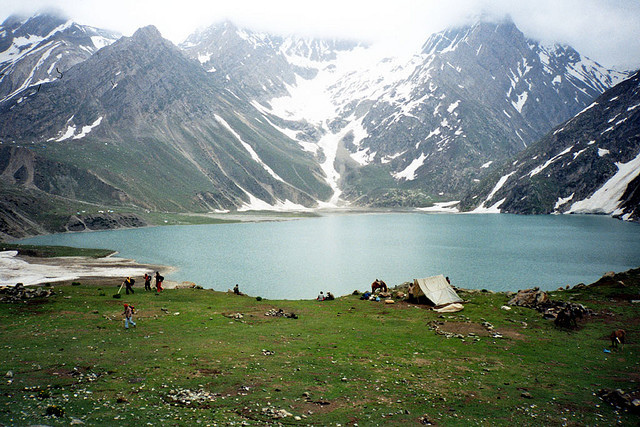 12 km from Pissu Top is picturesque Sheshnag Lake, the 4th destination in this spiritual route. Over here, Lord Shiva released the legendary cobra from his neck. As a result, Sheshnag is also known as 'King of Snakes'. One of Kashmir valley's most renowned and famous lakes, it is nurtured by melting snow and streams – originating from the magnificent mountains. Home to a beautiful array of fish, if you're lucky you'll spot the Brown Trout.
Mahagunas Mountain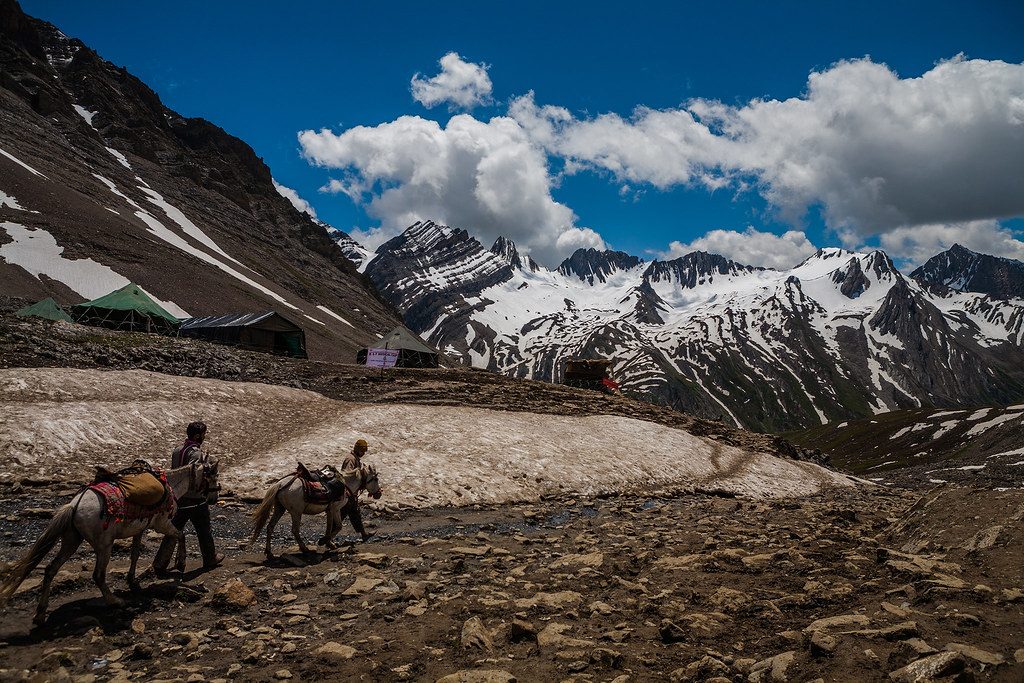 Deemed as the highest point of Amarnath Yatra, Mahagunas Mountain has profound importance attached to it. It was here, 14,000 ft high, that Lord Shiva left his precious son – Ganesha. Embraced by rugged, jagged and sturdy browns of varying shades, with a dollop of vanilla snow on top. This is one of the most intense experiences of the whole trek, as you are in complete isolation. The only remnants of human civilisation being the Indian army.
Panchatrani, Last Rest Camp of Amarnath Yatra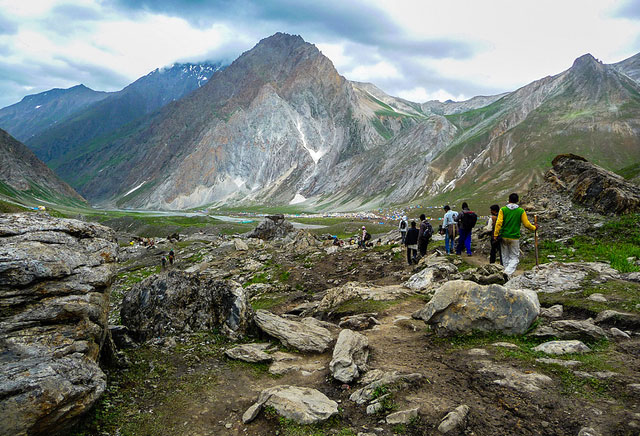 6 km away from Mahagunas Mountain is Panchatrani. A place of mighty significance and sacred aura, it was here that Lord Shiva sacrificed the Pancha Bhoota – 5 physical elements of cosmic creation ( earth, water, air, space, fire). Deemed as the last rest camp of Amarnath Yatra, it is the perfect spot for camping and picnicking. Situated at the confluence of 5 streams, it is an enchanting spot.
Amarnath Cave, Final Destination of Amarnath Yatra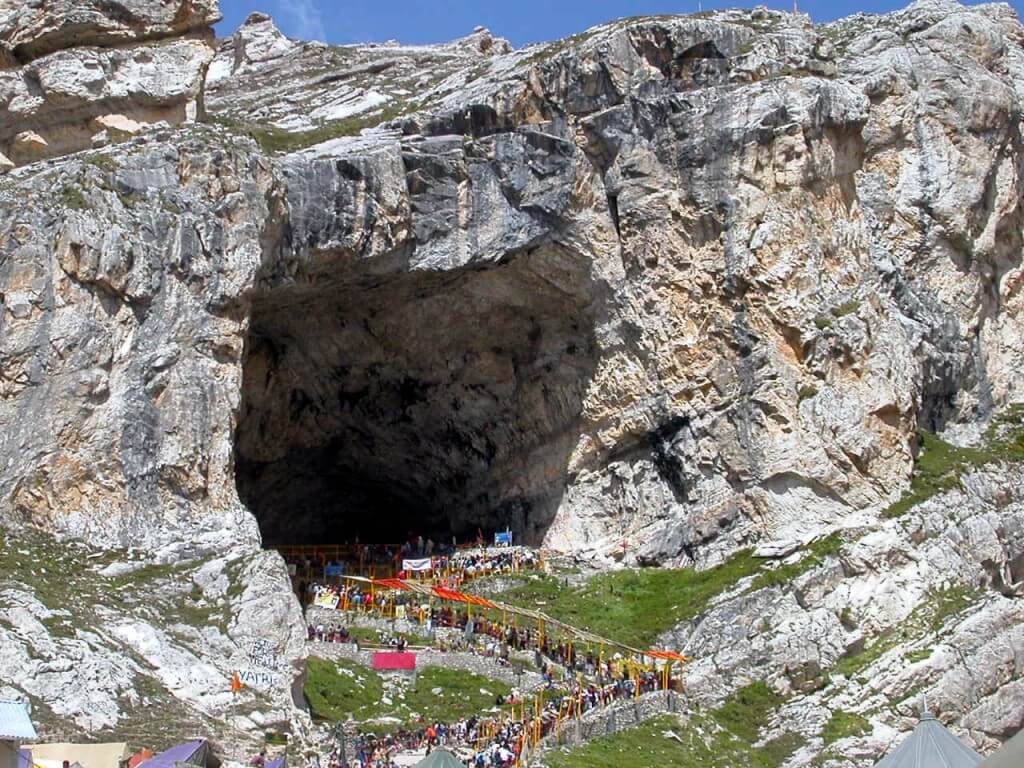 The final destination of an intense spiritual journey. When Lord Shiva reached this sacred cave shrine, he whispered the secret of his immortality to Parvathi. The knowledge of life itself.
The holy cave, perched up at an altitude of 3,888 metres, is a place of mystical, spiritual and religious energies. It breathes of an ancient time, untouched and uncorrupted by materialism. Your arrival at the cave, will be a momentous occasion. You can meditate amid a Shiv lingam, which is an abstract representation of Lord Shiva, carved out of rock formations that arise from the floor of the cave.
As you can see, Amarnath Yatra traces the path of the Gods. It is a route that has been made possible by the grace of the higher powers. Every destination embalmed with a holy touch.
Want the chance to follow in the footsteps of the almighty?
Here's your opportunity to do so.
Thomas Cook Tour Packages
We understand how challenging a trek in the mountains can be, given the terrain and extreme weather conditions. But, do not fret. Thomas Cook has taken all of this into consideration while planning your trip.
We strive to create the most comfortable and memorable holidays for our customers. With a wealth of experience and knowledge, each package is designed keeping your very specific needs in mind.
Select from these Amarnath packages from Thomas Cook.
A life-changing experience is awaiting you. All you have to do is have faith.