Best Places To Visit in India Before College Begins
It's almost time for the colleges around the country to start yet another strenuous year, filled with assignments, deadlines, stress, and of course, insomnia. It only makes sense for college students to relax and unwind completely before all of those things come crashing down upon them. Hence, we have drafted a list of places to visit in India where you can plan a trip to before you start the next academic year!
Must Visit Best Places to Visit in India
River rafting in Rishikesh

Very few rivers around the world have the raw charisma of the Ganges. River rafting along the river is a surreal experience in itself. The white rapids will ensure that you have the best adrenaline rush. It's an addiction waiting to take over! Rishikesh is adorned with the Ganga river and its plenty tributaries. It would be a shame if you didn't take advantage of this and ride out the rugged and unruly waters. This activity is best enjoyed in the monsoons when the river is gushing through the scenery!

Go scuba diving in Andaman

This one is for the water babies! If the idea of swimming with the fish, visiting colourful corals, and experiencing quiet and peace like never before excited you, you cannot miss out on a scuba diving trip to Andaman. The scuba diving in Andaman is one of the best in the country. While the shores and shallow waters are amazing in themselves, deep-diving is an enthralling experience, as you come face-to-face with oceans, possibly the biggest and most mystifying phenomena mankind has ever encountered. Make sure to try this out at Havelock Island, known to be one of the most popular choices for the same. The island is at a distance of about 50km from Port Blair and has a plethora of unexplored diving sites. If the daring spirit in you calls, book a session for night diving. There are a lot many places to visit in India but, Andaman is to die for!

Take the toy train in Darjeeling

This trip would be perfect for the history and train enthusiasts! The Toy Train in Darjeeling has been operating since the 1800s and has provided itself as the transport link to various regions of the Darjeeling hills and lower plains. Having been felicitated with the UNESCO World Heritage status, the train provides you with views that are magic to your eyes. Although we have diesel engines these days that are much faster, nothing can beat the charm of the little engine pulling the coaches up the slopes at speeds so mesmerizingly slow that you have the time to take in each and everything about the landscape of Darjeeling!

Explore the eastern countryside in Alleppey

If the 'Venice of the East' is not on your list of places to visit before college begins, you're not doing your research right! Alleppey, or Alappuzha, with its hypnotic backwaters beauty, is peppered with canals, paddy fields, coconut farms, and lagoons, all naturally designed to make sure you have one of the most peaceful travel stories ever. Do not miss out on the Nehru Trophy boat race that takes place at the Alappuzha Punnamada Lake each year. Apart from the enchanting Alappuzha beach, you can also visit the Krishnapuram Palace Museum and the Thakazhi Museum, both replete and stocked with antiques and artifacts about Hindu mythology and ancient literature.

Relax by the sea in Goa

Trips to Goa have become synonymous with college trips. A group of friends chilling by the beach with wine coolers in hand and the taste of amazing seafood lingering in the air make for an ideal day at Goa. While at the picturesque beaches, you can also opt for adventure sports such as parasailing and banana boat rides if they are available. The most popular beach options are Vagator Beach, Anjuna Beach, Baga Beach, Calangute Beach, Bogmalo Beach, etc. Pack your swimming trunks and rock it out! Out of so many places to visit in India, this is our favorite one!

Explore your adventurous side in Manali

It's the Ye Jawaani Hai Deewani Adventure is in our veins, and a thirst to travel is our appetite! A trip to Manali to test out our adventurous side is just the excuse to commit to the dream. With an array of adventures you can embark upon, you can rest assured that you and the adrenaline junkie in you will be kept satisfied for your entire trip to Manali. Bonus is that your group of friends will channel their inner filmi side, and you guys will be the closest you have ever been! Indulge in activities such as white water rafting, snow trekking, camping atop gloriously white hills and mountains, ten minutes of pure bliss as you paraglide and cut the cold air, zorbing down green hillocks, river crossing, rock climbing, rappelling, and kayaking.

Explore Pondicherry on a cycle

Pondicherry, in itself, is a beautiful experience to behold and tops our list of places to visit in India. The fact that the Union Territory aspires to be sustainable and provide for a way of transport that is environment-friendly is admirable in itself. Pondicherry provides tours with quirky and customized cycles for people to explore the beautiful French-infused architecture that adorns the city.

Feel closer to nature in Meghalaya

Meghalaya has the perfect blend of Scottish sceneries and the Indian charm. The state's name translates to 'Abode of the Clouds', making it one of the wettest places in the world. It is surrounded by tranquil landscapes, waterfalls that just don't quit, serpentine rivers, and green slopes are sure to delight the aura around you. The state is also replete with wildlife, including elephants, tigers, golden cats, binturongs, monkeys, and a wide array of birdlife. Apart from the natural splendour, Meghalaya also has one of the best golf courses in the country. One of the gems of Meghalaya tourism are the Living Root Bridges. These bridges take up to 15 years to form, making them a popular destination for nature lovers and adventure seekers. It has something for everyone, making it one of the most versatile and beloved destinations for trips before colleges begin.
Make sure to check for the popular tourist options for each of these destinations, and if the spirit of adventure breaks through its shackles, go forth and explore the unnoticed spots at these places, and please the traveller within you!
Summary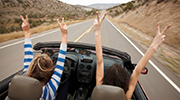 Article Name
Places to Visit in India Before College Begins - Thomas Cook India Blog
Description
For all the hard working students, we have drafted a list of places to visit in India where you can plan a trip before college begins.
Author Name