Shopping in North East India: The Best Items to Buy
| Sl.No. | Places for Shopping in Northeast India | Best Time to Visit | What to Buy | Operating Hours | Trip Advisor Rating |
| --- | --- | --- | --- | --- | --- |
| 1 | Police Bazaar, Shillong | Throughout the Year | Bamboo Handicrafts, Shawls, Clothing, Food and Khasi Scrubs | Throughout the day | 5/5 |
| 2 | Bara Bazaar, Dawrpui | Throughout the Year | Cane Handicraft, Wrap-around Skirts. | Throughout the day | 5/5 |
| 3 | MG Marg, Gangtok | Throughout the Year | Handlooms and Handicrafts. | 8 AM- 7 PM (Closed on Tuesdays) | 4/5 |
| 4 | Fancy Bazar, Guwahati | Throughout the Year | Assam Silk, Jewels, Clothing, Gadgets and Gizmos | Throughout the day | 4/5 |
| 5 | Hong Kong Street, Dimapur | Throughout the Year | Foreign Goods and Products | Throughout the day | 4/5 |
Travelling Northeastern India and are looking forward to carrying memories with you? Shopping in North East Indian regions is a must. Take a camera with you, visit these places, buy the crafts and take a truckload of happiness along with you apart from the happy and adventurous times. These places have local craftwork, art and what not; with most of the works done by the tribals who are filled with nothing but passion and purity. You can find various little items which will you remind you of your trip to buy in these regions and therefore, spend some pennies to get happiness out of them. What are you waiting for?
If you're travelling in Northeastern India, you will come across just so many things that will definitely enthral you. Getting to the root, Northeastern India has various traditions and cultures spread over the states when compared to rest of the country. The culture in this part is exclusively distinct and the main reason is that it has been under one ruler at one time which is why there is a lot of contrast between this part and the rest of India in terms of culture and well, fashion as well. However, the Northeastern Indian especially few parts of Brahmaputra valley have never been a part of any dynasty and therefore, you can see them a bit more hippie-like with a bohemian lifestyle. These regions are not influenced by the mainland of India and it is only under the British rule, they got united with rest of the country.
Our North East tour packages will allow you to indulge in the shopping spree.
Recommended Places for Shopping in Northeast India:
 1. Police Bazaar, Shillong
Shillong is a shopper's paradise if you're in search of something new and something different, especially the handicrafts.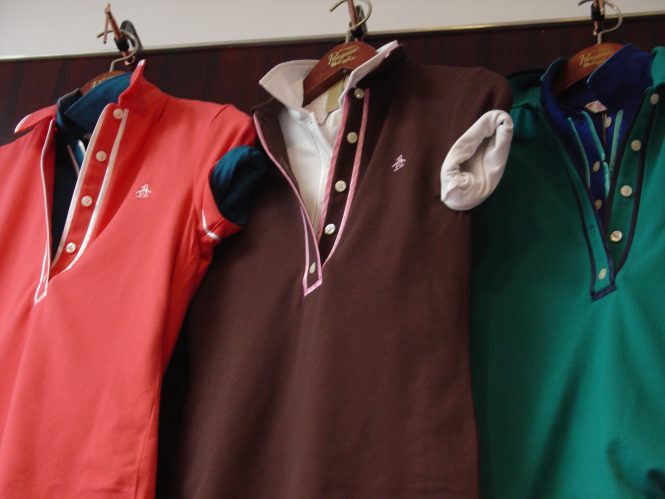 Distance from Airport:2 KM from Shillong International Airport.
Best Time to Visit: Throughout the Year
Ideal for: Family, Friends, Couples.
What to Buy: Bamboo Handicrafts, Shawls, Clothing, Food and Khasi Scrubs
Operating Hours: Throughout the day.
Trip Advisor Rating:5/5
This place is filled with street shops and emporiums that sell a lot of products that are usually hard to find in the commercial areas of India. These products are mainly made of bamboo and are handmade textile works including a lot of Chinese productions like vases, baskets, and curtains as well. If you look properly, you will be able to get some chic things as well which you will want to preserve for a lifetime. You can bargain as much as you want instead of going with the obnoxious price they quote and get the items at a cheaper price.
Another thing to buy from this market is the warm clothing. In case if you have made the trip without pre-planning and are now suffering in the winters, you can buy the warm clothes from the tribally made Manipuri and Naga shawls which you love. Known as the Scotland of northern India, shopping in North East here will give you Scottish cloth turned into gowns, sarees, shawls, shirts and whatnot.
2. Bara Bazaar, Dawrpui
This colourful and plentiful street will give you several souvenir items that you want to take home.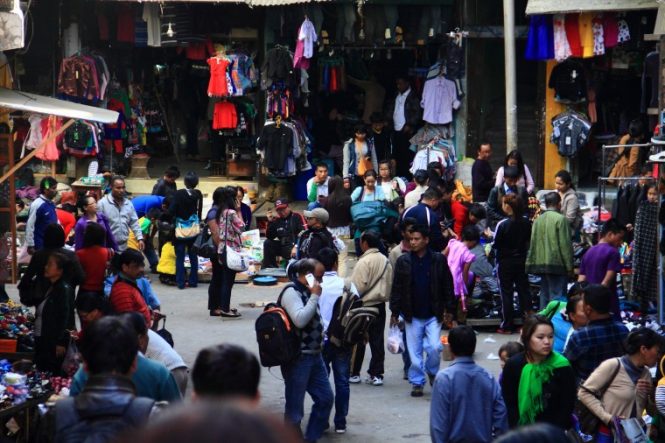 Distance from Airport:2 KM from Lengpui Airport, Aizawl.
Best Time to Visit: Throughout the Year
Ideal for: Family, Friends, Couples.
What to Buy: Cane Handicraft, Wrap-around Skirts.
Operating Hours: Throughout the day.
Trip Advisor Rating:5/5
If you're near Aizawl and are wanting to take something home, the best place for shopping in North East is Bara Bazar. This place is filled with cane and bamboo handicrafts, the Pauns (wrap-around clothes) that are designed to match the Mizoram style. These are the beautiful products that you can find and are entirely authentic that a single Paun will cost you around INR 2000. You can also find many big local brands setting their shops here and the bazaar does have a huge market where vegetables are available along roadsides. You can find all kinds of clothes, accessories ranging from modern to traditional wear and exploring this market will only enrich your experience.
3. MG Marg, Gangtok
MG Marg is the main hub in the Gangtok and is very ideal for chilling out.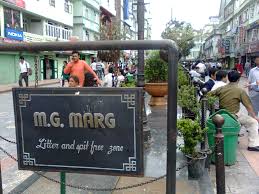 Distance from Airport:0 KM from Bagdogra Airport.
Best Time to Visit: Throughout the Year
Ideal for: Family, Friends, Couples.
What to Buy: Handlooms and Handicrafts.
Operating Hours: 8 AM- 7 PM (Closed on Tuesdays).
Trip Advisor Rating: 4/5
MG Marg is the main marketing area you can find in the Gangtok, especially for the tourists. This road is filled with various shops on both sides of the road. A part of the MG Marg area, which is known as the New Market where you can find a lot of things. There are so many shops you can find clothes for both women and men including the dresses, shoes, gifts, souvenirs, and trinkets. One of the must things that you can buy while shopping in North East here are the Sikkimese cups. They are not only unique but are also attractive with many traditional designs printed on them and they come in several natural colour combinations.
The cups have lids which are made of china porcelain and usually, they cost around INR 65-75 per piece but the ones with golden stripes are quite costlier. The cups can be packed nicely so that you can include them in the check-in luggage as well. There are many shops like Kandoika in the area where you can find books on Buddhism along with the artefacts. You can find a nice collection of Buddhism and other philosophical books including the ones on culture, North East tourism, and several jewellery items as well as dragons available on earrings, rings, and golden pendants.
4. Fancy Bazar, Guwahati
If you're a shopping fanatic, this place gives you food, jewels, handicrafts and everything under the sky.
Distance from Airport:2 KM from Lokpriya Gopinath Bordoloi International Airport.
Best Time to Visit: Throughout the Year
Ideal for: Family, Friends, Couples.
What to Buy: Assam Silk, Jewels, Clothing, Gadgets and Gizmos
Operating Hours: Throughout the day.
Trip Advisor Rating: 4/5
Fancy Bazaar, known as the cosmopolitan stretch of the Guwahati is a shopping paradise for the outsiders as well as the dwellers. Connected efficiently by a transportation system, this is the best you can find while shopping in North East India. This market is accessible by people from all the classes in the society. Widely known as the 'Phaasi Bazaar', pronounced by the locals; this market is filled with wholesale products. From garments to food, jewels to artefacts, furniture to decors; the place has everything under its arm. If you look at the place, it will be clearly evident to you that the place has mall nature and is a blend between the shopping mall culture and the street shop culture which is why it has not lost the sheen for decades now can cater the needs of zillions without making a hole in the pocket.
If you're exclusively hunting for silk sarees to take home, you need to visit the Kamarpatty of Fancy Bazaar where you will find just a wide range of fabrics in different colours, textures including the regional like the Eri, Pat, and Muga as well. Babu Bazaar is another placed owned by Sahrawis if you're shopping in North East India as these shops are full of essentials like flowers, good, accessories, trinkets, and clothes within the budget. Make sure you have accurate bargaining skills so that you can do awesome shopping while you're here. Also, make sure that you visit the A.C Market during the evenings for food to be left in awe of all the available items there.
5. Hong Kong Street, Dimapur
Known for the smuggled goods, this place is best suited for your shopping Northeast frenzy.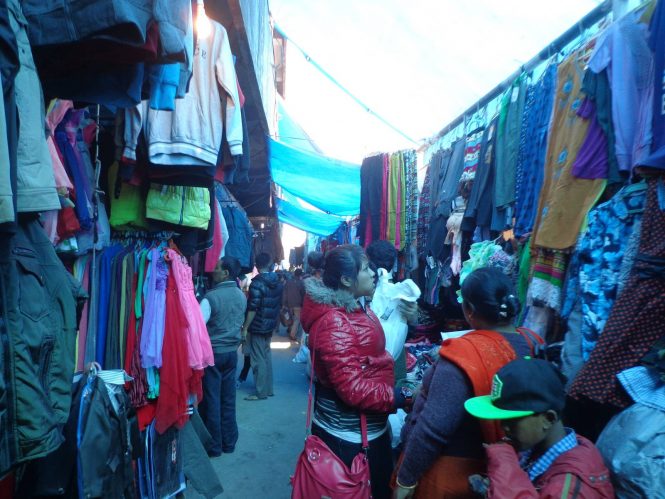 Distance from Airport:2 KM from Dimapur Airport.
Best Time to Visit: Throughout the Year
Ideal for: Family, Friends, Couples.
What to Buy: Foreign Goods and Products
Operating Hours: Throughout the day.
Trip Advisor Rating: 4/5
Back in the 1980s, few women and men who had the taste for fashion and who have felt the business potential in the industry have travelled to Southeast Asia bringing clothes from abroad to be sold in Nagaland. Sometimes they would bring one suitcase at a time and later in larger quantities. During that period, few shops have been opened in the name of clothes trade and now it has turned into the biggest clothing market, the Hong Kong Street in Dimapur. Today, a wide range of garments are sold here which are appealing to the stylists and fashionists which are imported from China and as well as Southeast Asia. This is the best place while you're shopping in North East India. In fact, any shop in the Hong Kong Street will have imported clothes which are brought through specialized dealers that work in Siliguri, West Bengal.
 Shopping in North East – What to Buy:
That being said, if you're shopping in North East India, there are few things that you should buy including the Naga Shawls and the Naga Jewelry belonging to the Naga tribes of the Nagaland. Most of them appear in red and wool, but these days you can also see them in vibrant colours. Each tribe has their own patterns including stripes, bands, squares, clean lines depending on the motifs of their design elements and all of them are waved by the tribal females at home using wool. One common element among all the shawls is that they come in three pieces are stitched as one, later.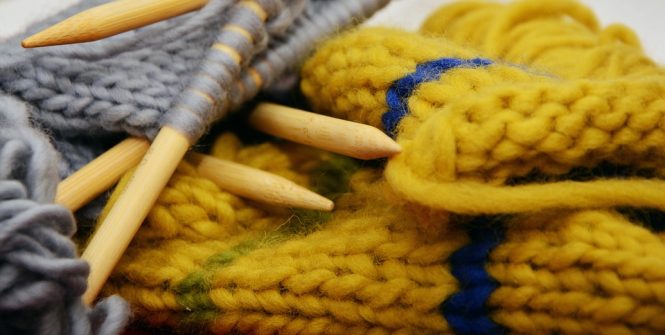 Just like any other tribes in the world, these tribes are also known for making the beaded jewellery out of horns, nails and tails of the animals and you can find them appearing as embellishments as well. These jewels are worn by the tribal women and men during various events and especially the Hornbill event where both men and women are dressed in beaded belts, animal fur, big junk beads, crowns and as well as rhine jewellery.
One should actually know that Northeast India is culturally and artistically rich and therefore you can find many exclusive handicrafts at a very lower price because the markets are underrated and people are not exposed to the marketing techniques. Therefore, be careful and honest while you're buying. Make sure you get some of the wooden carvings and sculpting works that come in the shape of different animals like deer, elephant, rhino, and birds like hornbill, eagles, and storks which can be purchased as symbols that stand out for India. Also, you can find the masks of the local tribals which imitates the characters from both Mahabharata and Ramayana using clay and bamboo. By sticking them as wall decors, you can take the legends of India home as well.
FAQ'S
1. What kind of clothes can a woman buy while shopping in North East India?
You can find authentic clothing in various states including the Arunachali garments filled with the bright colours They usually vary in shape and structure for unmarried and married women.
2. Where can I get the Best Wollen Clothes?
Usually, woollen garments from Sikkim are said to be the best and they should be on your wish list because of the softness and the quality they hold.
3. What Bamboo items are available while shopping North East India?
You can find several bamboo products say the furniture, decorative vases, lamps, wall hangings and baskets as well.
4. Where can I find the best metal craft in India?
The bell art is the best metal craft you can find in Sarthebari, Assam and it is usually costly if you want to buy it from anywhere else. The production contains many items like urns, plates, basins and pots.
5. Is Shopping in North East expensive
Well, usually it depends on how much you want to buy and things you want to buy. Make sure that you bargain enough in order to get the best products for the best prices.