This is where you can get the Craziest South African Nightlife Experiences
| SI.No. | Places to enjoy South African Nightlife | Known for | Operating Hours | TripAdvisor Rating |
| --- | --- | --- | --- | --- |
| 1 | Wild About Whisky | Whisky tasting, and a huge stash of foreign and local spirits | Sun 9:00 am - 4:00 pm, Mon – Thu 9:00 am - 5:00 pm, Fri – Sat 9:00 am - 7:00 pm | 4.5/5 |
| 2 | Mad Giant | Locally brewed beer | Noon-10pm Mon-Sat, to 6pm Sun | 4.5/5 |
| 3 | Orphanage | Top class cocktails | 4pm-2am Mon-Thu & Sat, to 3am Fri | 4/5 |
| 4 | Capital Craft | Delicious Craft beer and pulled-pork sandwiches | Noon-midnight Tue, 10.30am-midnight Wed-Sat, 10.30am-8pm Sun | 4/5 |
| 5 | The Dog and Fig | Top notch locally brewed beer and being a family friendly place | 10am-6pm Mon-Fri, to 10pm Sat, 9am-6pm Sun | 4/5 |
| 6 | Bascule | Some of the finest Whisky at Green point and Waterfront | 9am – 1am Mon- Sun | 4.5/5 |
| 7 | Great Dane | Great music and dancing | noon-2am Thu-Sat | 4.5/5 |
| 8 | Espressolab Microroasters | Exquisite Coffee | 8am-4pm Mon-Fri, to 2pm Sat | 5/5 |
| 9 | Tiger's Milk | Beach View | 11am- 2am Mon- Sun | 4/5 |
| 10 | Grind | Mobile Coffee tuk-tuk with lovely coffee and food | 7-11am & 3-7pm Mon-Fri | 4/5 |
| 11 | Brewers Co-op | Select craft brewers by the finest craft brewers in the business | 1-10pm Mon-Fri | 5/5 |
There are two kinds of people in the world; ones who are certain that humankind was meant to enjoy functioning during daytime and the others who are smart enough to question and defy old wives' tales. The concept of nightlife is reminiscent of the young ones, the rebellious and the hyper-social bunch of people whose day begin when others' end. These are the ones who enjoy after hours of alcohol soaked madness, letting themselves go in deep trance of electronic music, and the company of their equally hormonally charged fellow mates. If you belong to this cadre of nightcrawlers and are travelling to this beautiful country, the South African Nightlife that's perfect for you.
Here is a summary of the Places to visit to experience the nightlife in South Africa. Latch onto high spirits, drowned in the crazy South African Nightlife!
10 Top-Rated Places where you can enjoy South African Nightlife:
1. Wild About Whisky
Whisky enthusiasts! That's your cue. Enjoy tutored whisky tasting in a set of 30 of 6 different whiskies of your choice. Wild about Whisky is a critically acclaimed bar in Dullstroom that has a selection of over 1400 whiskies from 20 different countries including handpicked delights from Scotland, Ireland, USA, Japan and even South African local whisky.

Known for: Whisky tasting, and a huge stash of foreign and local spirits.
Address: 506 Naledi Drive| Auldstone House, Dullstroom 1110
Operating Hours:  Sun 9:00 am – 4:00 pm, Mon – Thu 9:00 am – 5:00 pm, Fri – Sat 9:00 am – 7:00 pm
TripAdvisor Rating: 4.5
2. Mad Giant
If you don't like whisky, you would definitely like beer! And anyone who likes beer absolutely loves local breweries, where the beers are crafted right there on the site. Mad Giant is an award-winning brewery in Johannesburg that sports a steam-punk style space where one can enjoy soaring South African Nightlife. And all this whilst chowing down on delicious Asia inspired tapas delicacies in their restaurant, Urbanologi. For tourists, it's an even better place to go, since they provide on-demand 30 minute tours of the brewery where you can ask for samples starting from R50! There's also a beer garden for you to enjoy that also hosts a food market on weekends.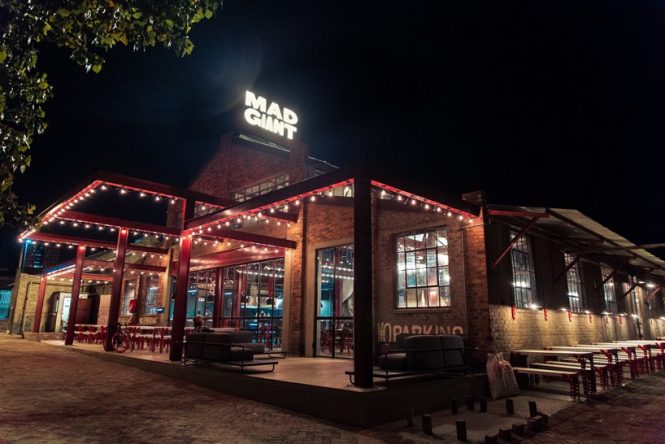 Known for: Locally brewed beer
Address:  1 Fox St| Johannesburg, Gauteng
Operating Hours: Noon-10pm Mon-Sat, to 6pm Sun
TripAdvisor Rating: 4.5
3. Orphanage
Now hang on! Don't let the name put you off. Orphanage is a place where you can get some of the most creatively mixed cocktails in all of South Africa. The best aspect of the pub, which totally relates them to their name, is that they donate a significant amount of their profits to an orphanage in Athlone. So whilst enjoying your South African Nightlife you can have a clean conscience! They are also quite famous for mixing unorthodox ingredients like peanut butter, kumquat compote and goldfish in their drinks.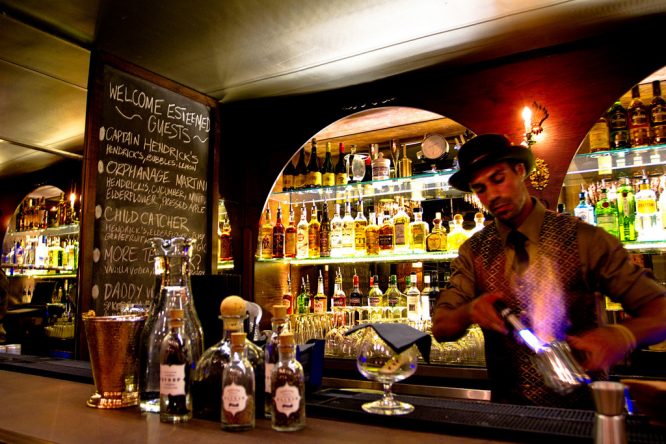 Known for: Top class cocktails
Address: CNR Orphan streets, 227 Bee Sts, Cape Town
Operating Hours: 4pm-2am Mon-Thu & Sat, to 3am Fri
TripAdvisor Rating: 4.0
4. Capital Craft
Like you figured out by now, South African Nightlife is best enjoyed with some alcohol in your bellies. If you find yourself in the administrative capital of the country; Pretoria you should definitely go say hi to the bartender at Capital Craft. Another brewery in our list, Capital Craft is Pretoria's premier beer hangout spot with long tables and bar dressed like a barn in the garden. You have the option of trying out testers before ordering your drinks. The food at Capital Craft is also lip-smacking.
Known for: Delicious Craft beer and pulled-pork sandwiches
Address: Greenlyn Village Centre, SHOP NO. 20 Cnr Thomas Edison & 12TH Street East, Menlo Park, Pretoria, 0102
Operating Hours: Noon-midnight Tue, 10.30am-midnight Wed-Sat, 10.30am-8pm Sun
TripAdvisor Rating: 4.0
5. The Dog and Fig
Here comes another brewery in our list; this time a smaller and a more secluded one. A craft brewery in Parys with a beautiful setting and delicious food. The beer is just wonderful, made from hops and malts from Germany that goes well with cheese and chocolate platters. The place provides informal tours of the brewery, and also serves meals three times in the day. What sets this place apart from any other on the list is that this is a really well suited place for families too. They have a special sub-menu just for children, and they also have kids play area complete with a trampoline amongst other things.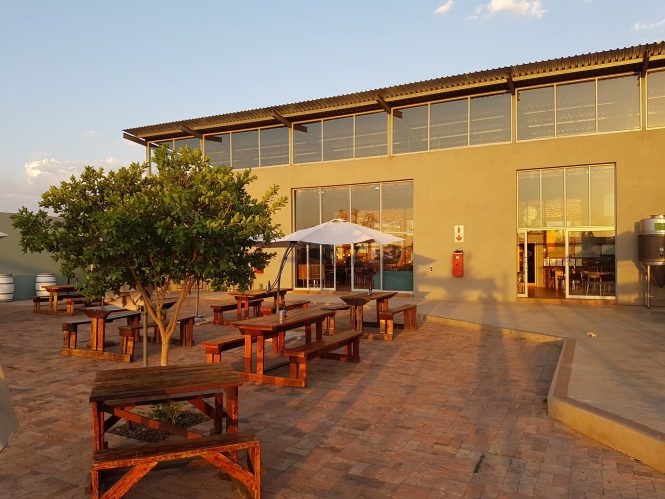 Known for: Top notch locally brewed beer and being a family friendly place
Address: 2 9th St, Randburg, 1700, South Africa
Operating Hours: 10am-6pm Mon-Fri, to 10pm Sat, 9am-6pm Sun
TripAdvisor Rating: 4.0
6. Bascule
After going through a couple of breweries, let's get back to the hard liquor business. Bascule serves over 480 varieties of whisky including the very rare 50-year-old Glenn Fidditch. Best way to enjoy a visit to Bascule is by pre-booking a whisky tasting which will give you a round of the best of what they have to offer, coupled with suitable food. Best of all is the ambience! Located conveniently next to Cape Town's waterfront, you can enjoy your whisky with a good view and a breeze of fresh air.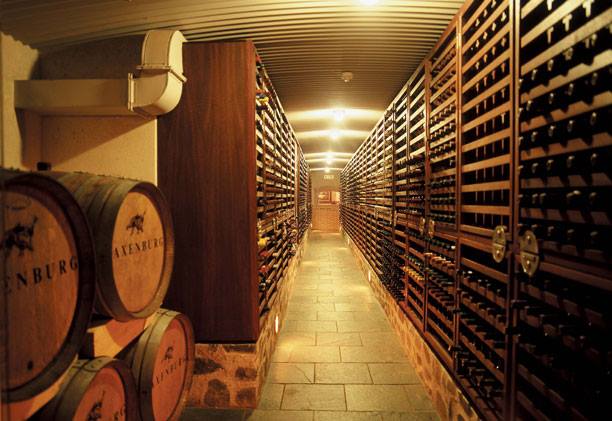 Known for: Some of the finest Whisky at Green point and Waterfront
Address: Cape Grace Hotel, W Quay Rd, V & A Waterfront, Cape Town, 8002
Operating Hours: 9am – 1am
TripAdvisor Rating: 4.5
7. Great Dane
Perfect music to enjoy the perfect South African Nightlife experience can be found right here at Great Dane. Great staff, great DJs and stunning ambience ensure that when it comes to nightlife, you get your money's worth. You could go in early to get a few warm up drinks, nod your head to the music, but you know things are about to get real, when the clock strikes 12 and all the tables are cleared for you to break a leg.
Known for: Great music and dancing
Address:  6 de Beer Street, Braamfontein, Johannesburg
Operating Hours: noon-2am Thu-Sat
TripAdvisor Rating: 4.5
8. Espressolab Microroasters
If alcohol really isn't your thing, you can still enjoy South African Nightlife with some coffee! If you're a coffee nerd like millions of other people, a visit to Espressolab would be heavily beneficial for you. They serve innovative new drinks such as a Vitamin C shot of espresso mixed with a concoction of ginger, honey and lemon. They import their beans from all around the world requiring tasting notes no less than a delicate wine.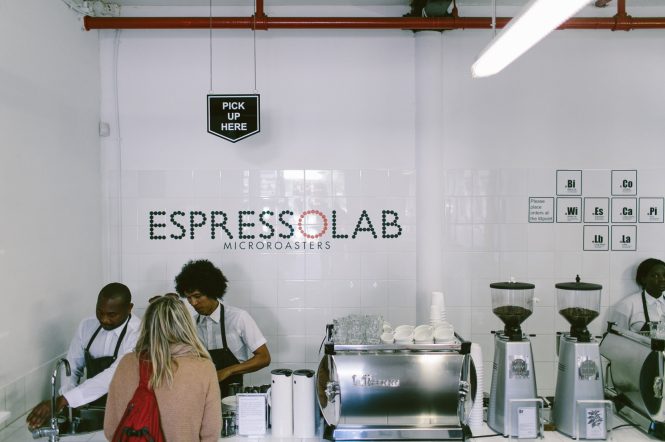 Known for: Exquisite Coffee
Address: 375 Albert Rd, Woodstock, Cape Town, 7925
Operating Hours: 8am-4pm Mon-Fri, to 2pm Sat
TripAdvisor Rating: 5
9. Tiger's Milk
Enjoy the South African Nightlife with a panoramic view of the Muizenberg beach at Tiger's Milk, a prime location for good food, alcohol and ambience. This bar, built like a hangar can be the perfect romantic getaway during your time in South Africa. You should definitely try out pizza and steaks at this place.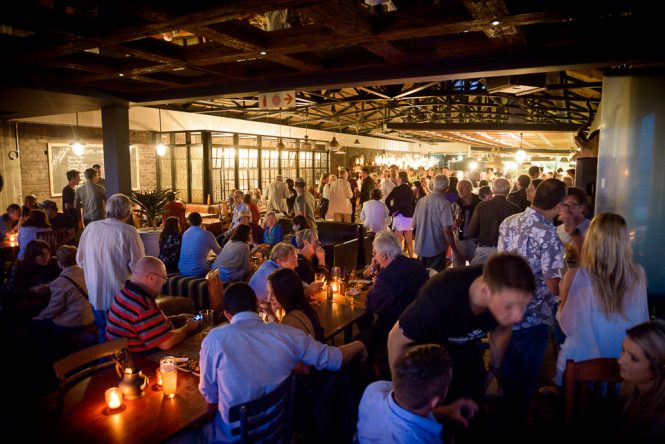 Known for: Beach View
Address: Sidmouth Rd, Muizenberg, Cape Town, 7945
Operating Hours: 11am- 2am
TripAdvisor Rating: 4.0
10. Grind
Here we come again coffee lovers! Rather than a coffee joint, we chose this mobile setting because it's the brainchild of coffee genius, Ben Schempers. This very hipster-like set-up represents the polar opposite aspect of South African Nightlife where you can enjoy the best artisan coffee in Polokwane along with delicious Gourmet sandwiches.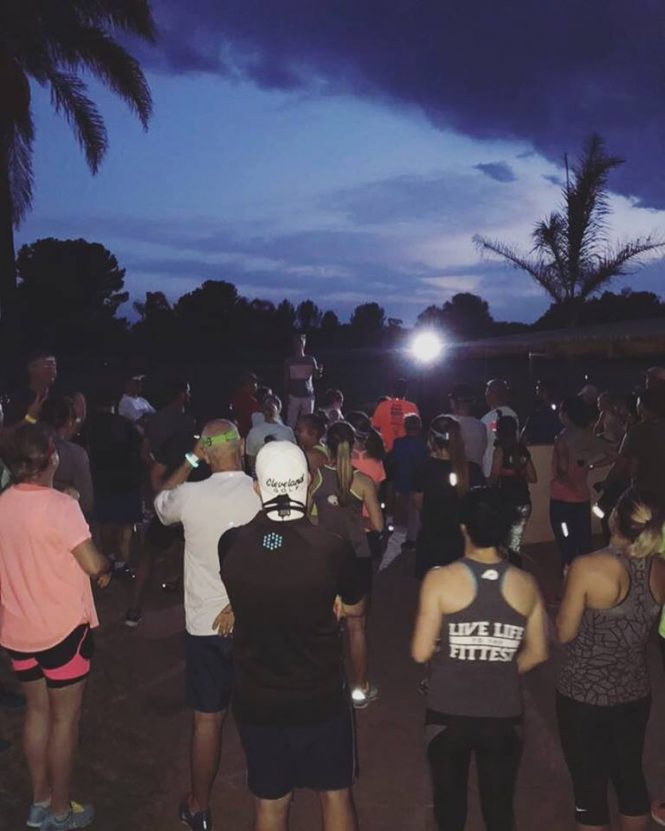 Known for: Mobile Coffee tuk-tuk with lovely coffee and food
Address: 131 Magazyn St., Polokwane Extension 4, Polokwane 0700, South Africa
Operating Hours: 7-11am & 3-7pm Mon-Fri
TripAdvisor Rating: 4.0
11. Brewers Co-op
A collaborative effort of 16 of the best craft brewers in South Africa, Brewers Co-op is a beer lover's delight. Make your South African Nightlife experience a memorable one with some of the best IPAs and ales. There's also a little something for lovers of lager and pilsner. If you follow their facebook page, you could catch up with of the master brewers and get a little insight into their art and how they get around doing it!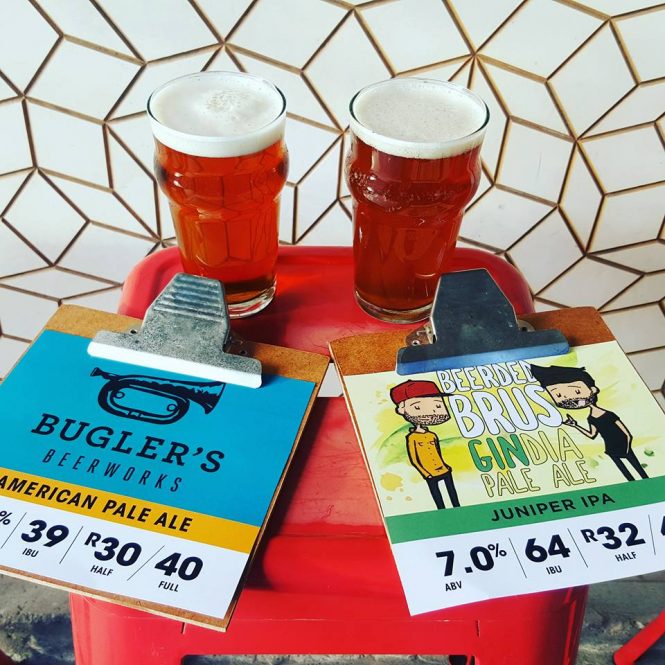 Known for:  Select craft brewers by the finest craft brewers in the business
Address: 135 Albert Rd, Woodstock, Cape Town, 7915
Operating Hours: 1-10pm Mon-Fri
TripAdvisor Rating: 5.0
Check out: South Africa Tour Packages to enjoy the wilderness of its desert safaris and and its magnificent diversity
Conclusion     
If you're an avid lover of alcohol, good food, coffee, or just being in the social circuit of the after hours, Nightlife in South Africa is more than just viable for you to enjoy. There are a variety of nightclubs, restaurants, cafés and cinemas for people to enjoy. There is also a thriving theatre scene to make your South African Nightlife enjoyable with a twist.
FAQs about the South African Nightlife
1. What is the best time to visit South Africa?     
Generally, South Africa is a year-round tourism destination because of various regional climates, and other wildlife options. For examples, if you want to go whale watching, July is the best time or if you want to enjoy the famous Cape Town summer, it is suggested to come visit between the months of November and February.
2. How's the South African Nightlife scene?       
There are nightclubs in the major towns of the country, pubs and restaurants that serve alcohol and food till late night, and there are various other kinds of things to enjoy throughout the country.