The Victory of Good Over Evil, With A Sprinkle of Colour on Top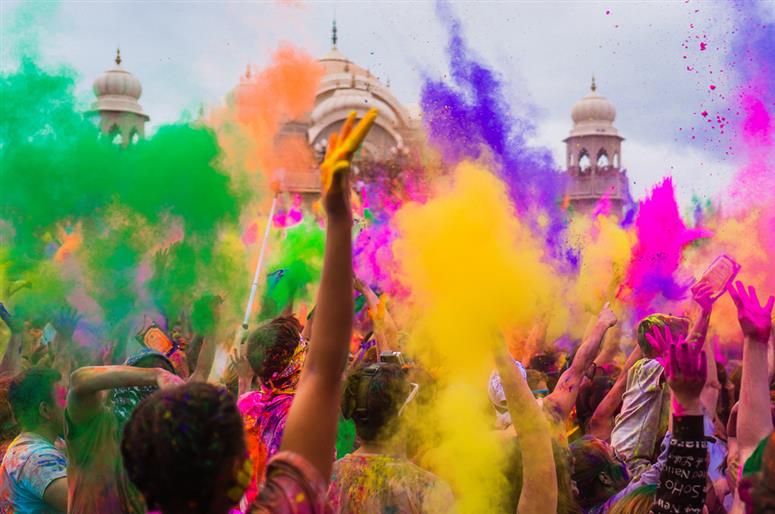 It may be obvious to say that Holi has many shades. Colours bloom everywhere – from the faces of revellers, to the streets, to the very air itself. Holi turns the world into a messy, beautiful canvas of joy, faith, community and celebration. However, if you look beyond just the colours, Holi has many deeper shades. It is celebrated a little differently all over the country, and even across the border in other countries. It is celebrated by people of different castes and creed. The youngest of the young and the oldest of the old come together to celebrate. The devout pray, the music plays, good defeats evil and millions of people band together. Is it any wonder that Holi is so beloved?
We've put together a snapshot of what Holi looks like across borders – both state and international. So, this year, if you're not celebrating with family, or you're looking to take a trip on the holiday, or you'd like to immerse yourself in the spirituality of it all, check out our guide.
The Religious Colour Palette
From the demise of evil Holika, to the powerful love between Krishna and Radha, Holi has many religious connotations. If you're looking to immerse yourself in an authentic religious celebration, why don't you check out these two spiritual cities in India?
Mathura & Vrindavan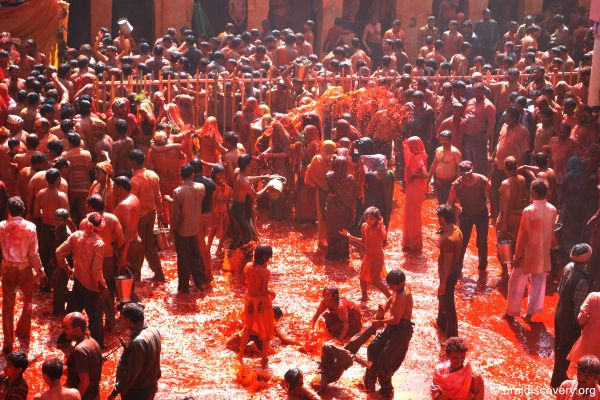 Holi is celebrated with pomp and splendour, in the historical cities of Mathura and Vrindavan. The former is Lord Krishna's birthplace, while the latter is where he spent his childhood. This six-week long celebration, that begins on the first week of Spring, symbolises the eternal love between Krishna and Radha. The Banke-Bihari temple hosts a week-long affair, filled with sweet bhajans and lively colours. Bihariji (an avatar of Krishna) is adorned in white clothing and worshipped by his devotees, priests and tourists from the world over. Gulal-Kund; a holy lake in Braj, is another site that overflows with culture and tradition. It celebrates Holi by enacting scenes from Krishna and Radha's timeless love story.
Varanasi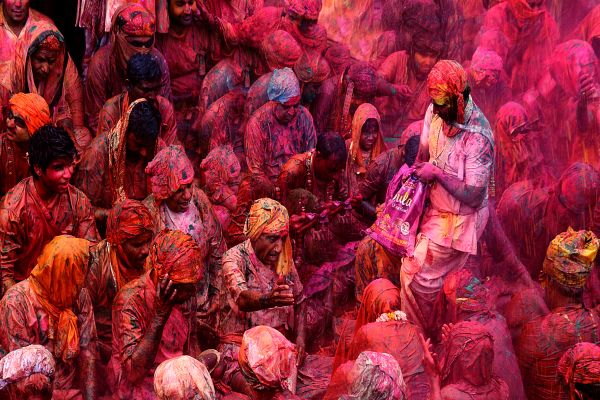 Fringed by the gentle waves of the Ganga, and blessed by Lord Shiva, Varanasi is a city that embodies spirituality and the perfect place to immerse yourself in the splendour of Holi. Nepali Temple, Kashi Vishwanath Temple and Durga Mandir are particularly sacred places to seek blessings. This auspicious occasion begins with the traditional Holika Dahan on the banks of the Ganges, which symbolises new beginnings. This is followed by a day of multi-coloured merriment at the Ghats. The people over here celebrate with a certain vivacity, unlike other cities. Sumptuous sweets such as Gujjia from Kachauri Gali, add to the celebration.
The Regional Colour Palette
In India, gods and goddesses have different names, different avatars and different legends attached to them. What is celebrated one way in the north, is celebrated differently in the south. What is standard for one state, is different for another. Take a step outside your house, and your neighbourhood celebrations and you'll notice how different each festival is, in each home, each street and each community. Now what if you were to open your eyes wider, broaden your horizons and look outside your state – how different would Holi look? Let us show you.
Join us on a little tour, as we navigate through the many hues of our country.
Shimga/Rang Panchami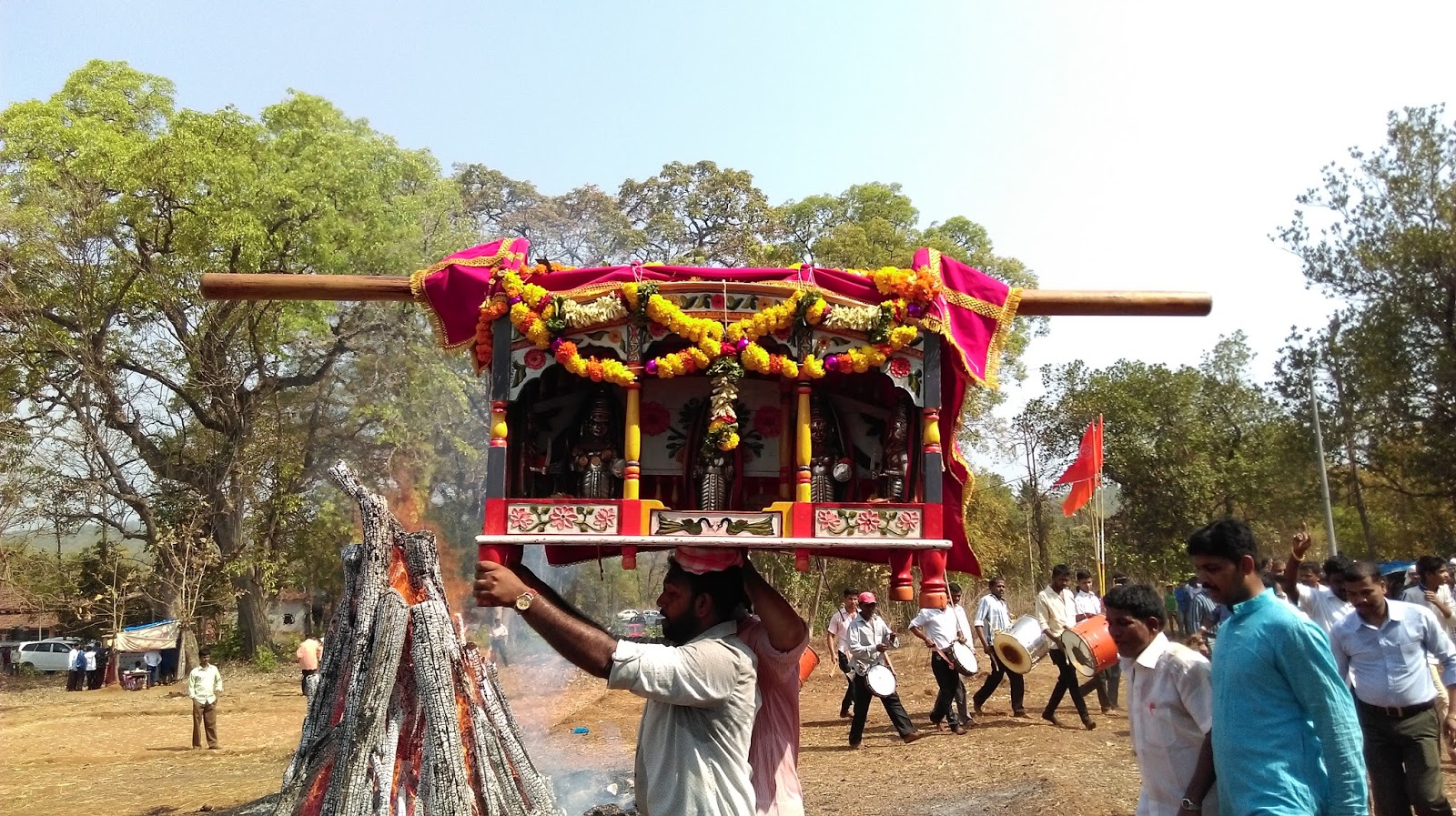 In Maharashtra, Holi is celebrated as Shimga or Rang Panchami. It is particularly popular amongst the fishermen, who use it as a means to forget all their lives hardships. The festival also has a deep religious significance and begins with the traditional Holika Dahan, that entails lighting a firewood pyre the night before the actual celebrations. The next day is the epitome of fun, an amalgamation of colours, music and laughter.
Hola Mohalla
In Punjab, Holi is celebrated as Hola Mohalla. Hola is another term for Holi, while Mahalia/ Mohalla refers to an organized army procession. This festival pays tribute to the bravery of the Sikh warriors. Nihang Sikhs participate in a range of festivities, which include a spectacular martial arts performance, dances, kirtan music and recital of poetry. The celebration concludes with a long military style parade at Takht Sri Keshgarh Sahib.
Also Read : This Holi splash colors in the hills of India
Lathmar Holi
Lathmar Holi, is a unique Bhojpuri representation of the festival of colours. Dating back to Hindu mythology, it is symbolic to when Krishna was chased away from the village of Barsana after teasing Radha during Holi celebrations. Today, it constitutes playful banter between men and women. While women are armed with cane sticks, men protect themselves with shields. The unlucky men who are caught, are made to dress like females and dance on the streets.
Yaosang
North Eastern and Hindu traditions blend together harmoniously to create Yaosang, the Manipuri celebration of Holi. Here, people engage in a mystical folk dance known as Thabal Chongba, roughly translated to 'moonlight move'. History suggests that the dance was originally performed under the moonlight and provided an opportunity for young girls and boys to meet. Flute, drums and cymbals created a soulful rhythm, as they joined hands and danced in a circle.
Dol Jatra/ Basant Utsav
In West Bengal, Holi is deemed as Basant Utsav roughly translated to The Spring Festival. Just follow the Yellow brick road, as women clad themselves in Yellow garments, to symbolise abundance. Shantiniketan; a small town in Bolpur depicts Bengali culture in all its richness. Recitals of Rabindranath Tagore's poetry, beautiful music and dance performances fill the streets with magic. Dol Jatra is celebrated the day after Holi, where a parade of Lord Krishna's idol takes to the streets.
Ukuli/ Manjal Kuli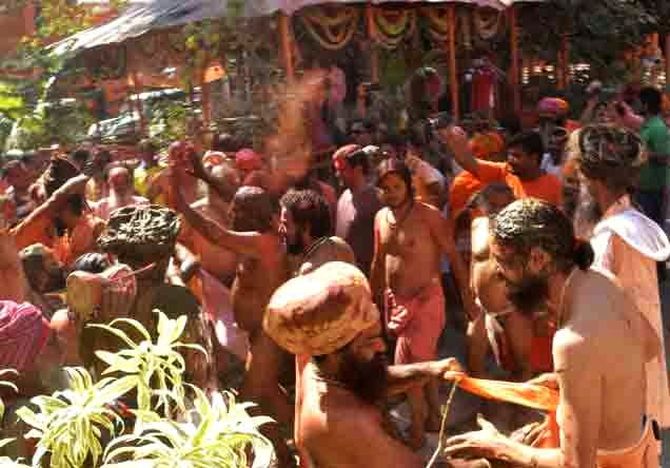 God's own country, Kerala, celebrates Holi as Manjal Kuli or Ukuli. These celebrations are confined to the traditional Konkani communities such as the Gaud Sarawat Brahmins, who seek blessings at the Gosripuram Thirumala temple.
Shigmo
Shimgo or The Spring Festival is celebrated with great gusto, in Goa. While Dhakto Shigmo is celebrated primarily by the rural class, Vhadlo Shimgo is celebrated by locals and tourists. Folk songs and dances such as Ghode Modni and Fugdi, colourfully depict the life of Goans. Traditionally, the festival began as a homecoming for the warriors who left their homes after Dussehra. But today, it has evolved into a cultural phenomenon. Colourful outfits, flags and instruments are sprinkled across the city, as individuals bridge the gap between fantasty and folk.
Also read: 11 Unique forms of Holi Celebrated in India
The International Colour Palette
Although, Holi originated in India, its popularity has bloomed to other parts of the world. A powerful religious and cultural experience, it's presence can be felt far beyond the boundaries.
Now that you're acquainted with what our country has to offer, why don't you delve a little bit deeper. Take a look at these two countries (with large, indigenous Hindu populations) which celebrate Holi with just as much splendour. Holi spreads its colours across international borders, so why shouldn't you?
Nepal
Nestled deep within the Himalayan mountains, Nepal has its own set of Holi traditions. One of them centres around a sacred wooden pole. Here, women dress themselves in lovely Saris and hold a range of symbolic objects, while dancing around the pole. The royal Durbar Square hosts the most iconic singers, while neighbouring streets transform into exquisite shades of colour, texture and sound. People of all age groups band together and share in the jubilation, creating an energy that is palpable. In particular, Kathmandu valley is simply breath-taking as it is flooded with blue, greens, yellows and reds.
Bali
Bali is synonymous with its volcanic mountains and coral reefs. But it has so much more to offer. It is home to an eclectic mix of festivals and colourful celebrations. Holi, is one such festival that the locals don't want to miss out on. You will see that Puputan Badung park in Denpasar is filled with love and laughter, as people from all walks of life, smear colour on each other's faces. Indians, Balinese and tourists participate in this celebration, whilst dancing to Hindi music with fervour and enthusiasm.
Also Read : Popular Indian festivals you cannot ignore
Bounty, Bonfires and Buckets of Colour
Holi seems to be on everyone's mind. And it's hard to ignore the anticipation brewing in the air. If you open your window, you will see a rainbow of coloured faces and hear a cacophony of sounds. It is a carnival for your senses! You will see little children filling up water balloons and old men savouring sweet treats.
But, beyond your world, lies a bigger world. More importantly, a whole new perspective of Holi. Holi has different textures that change according to the place it is being celebrated in. From regional states in India, to international places, Holi is both celebrated and revered equally.
So, this Holi, if you're looking for something different, consider one of the beautiful places or traditions we have listed above. So, grab your colours, pack your bags and get ready to celebrate!