25 Amazing Things To Do In Greece Before You Die
Greece, apart from its natural beauty, has always invoked the fancy in us to get soaked in to its mythical ancient history. However, there is more to Greece than just its history. Apart from its ancient archaeological structures, there's a plethora of picturesque islands and beaches, that make Greece one of the best European destinations among tourists – there are just so many things to do in Greece, you can't get enough of. If I sat down to write it all about the places to visit in Greece, or of the beautiful islands in Greece, this document will end up amongst the longest, I guess ?. Therefore, I have tried to cut it down short as per a tourist's general preference during any trip in different categories – Nightlife, Restaurants, Shopping, Activities, Feature Attractions. So, let's begin.
List of things to do in Greece
1. Heraklion Archaeological Museum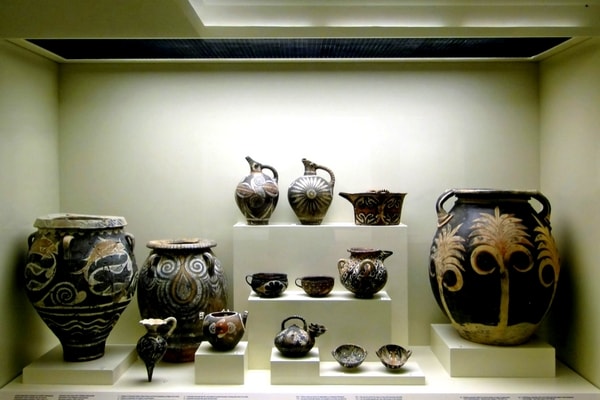 One of the largest and the most significant museums in Greece is the Heraklion Archaeological Museum. This contemporary museum boasts of an unmatched collection of Greek history. The displays in the museum are organised in chronological and thematic order, described in English, thereby facilitating you with a deep understanding of the rich Greek history. This is certainly one of the best places to visit in Greece and you just cannot miss it.
2. Ancient Olympia – One of the recommended things to do in Greece
The birthplace of Olympics, therefore a must-visit amongst places in Greece. The games took place here for every four years at least for 1000 years, until Emperor Theodosius I abolished them in the year 393 AD. However, for the modern Olympic games the flame is still lit in this location. The Olympic flame is still lit here for the modern Games.
3. Palace of Knossos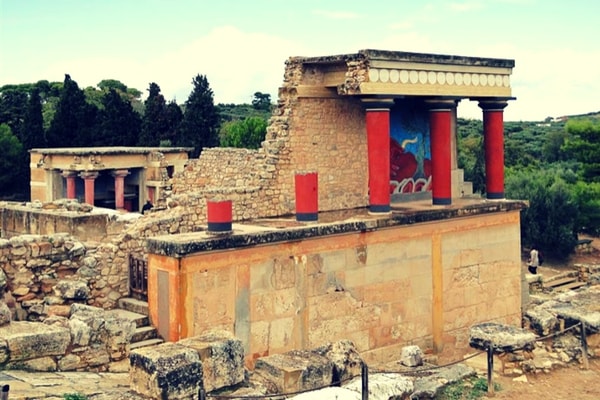 The Palace of Knossos is the Crete region's most popular attraction among tourists. The setting itself is quite reminiscent of the ancient history, and the ruins and re-builds quite impressive that are a composition of a sprawling palace, courtyards, private apartments, baths, and more.
4. Ancient Delos
The Ancient Delos is well known for the story of Leto, and her twins Apollo and Artemis. It was when she was trying to find respite from the pursuit of a vengeful Hera, until she found sanctuary in Delos, where she gave birth to the above-mentioned twins. With its ruins still intact, courtesy the UNESCO World Heritage, it will make you feel that the scene occurred only during recent times.
5. Sanctuary of Apollo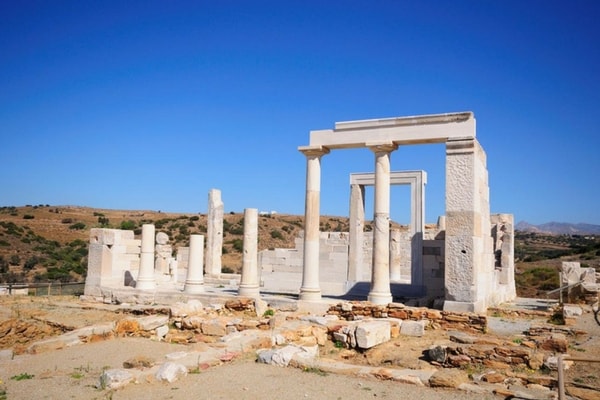 The Sanctuary of Apollo is well-regarded as the core of the Delphic oracle. Starting from the main entrance, the Sacred Way winds up to the Doric Temple of Apollo. During the ancient period, the mentioned Sacred Way was horded with treasuries and statues presented by the grateful – Athens, Sparta, Marathon, Siphnos, Thebes amongst others – not only as a mark of gratitude to Apollo, but as a display of wealth and strength of these regions.
Activities
6. Delphi Day Trip from Athens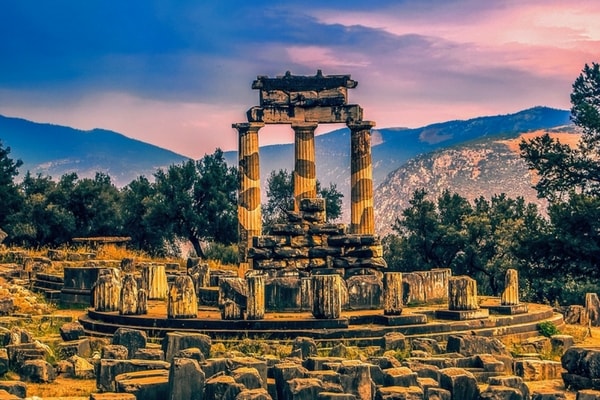 Delve in to the ancient Greek times by visiting one of the significant-most archaeological sites in Greek history – Delphi, home to the Temple of Apollo. You will learn everything about ancient Greek history and mythology as you scour through the sprawling structures, and fascinating remains. Make sure you visit the Arachova town on your way back to Athens
7. Santorini Sunset Dinner Cruise – One of the best things to do in Greece
There are many places to visit in Santorini, however this activity had to make the cut where you delve in to the experience of the location's scenery, serene beaches and hot springs. This one is a 4-hour cruise, which includes your dinner and one glass of wine. Take a dip in the Nea Kamini springs to only make your cruise an experience of a life-time. This one must be on your list of things to do in Greece.
Also read: 10 Things To Do In Santorini- A Sheer Beauty Worth Capturing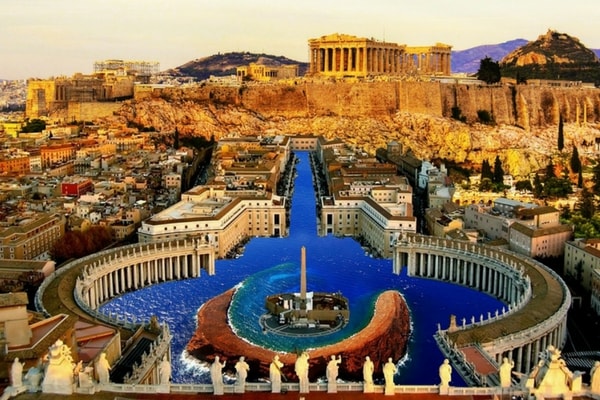 Hop-on to a city tour bus to experience the true essence of Athens, and learn of the things to do in Greece. The tour will cover all the ancient and contemporary structure that will give you an insight in to the rich heritage of Athens. There's full commentary provided to make sure you are aware of the importance of every structure that you pass by during this tour.
9. Three-island Cruise from Athens
Visit three beautiful Greek islands – Hydra, Poros and Engina – in the span of just one day on an island-hopping cruise from Athens. The cruise also includes Greek lunch and ship transfers. During the cruise, while you enjoy the sightseeing, you can also indulge in activities like swimming, shopping and even take a trip to the Temple of Aphaia at your own expense. This one should be on your list of things to do in Greece.
10. Athens Small-Group Food Tour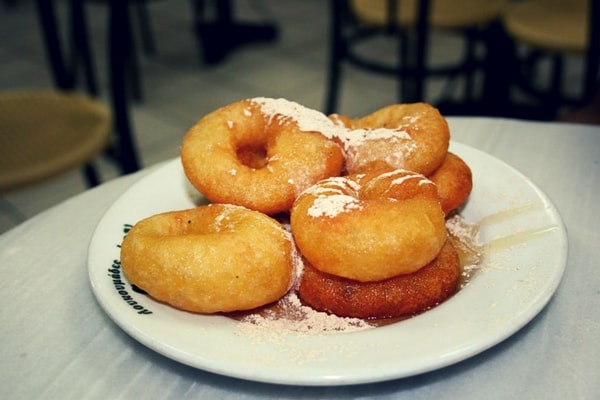 Time to indulge in some traditional Greek delicacies. While you are this tour, you will be strolling along the historic lanes of Athens, and at the same time you'll enjoy some amazing variety of traditional Greek cuisines like the 'loukoumades', traditional 'bougatsa,' 'pastourma,' rusks and olives. In addition to the mouth-watering savouries, you'll also get a chance to find some Greek herbs and spices. As the title suggests, this tour comprises patrons in limited numbers to ensure they all get personal attention from the tour guide. Are you drooling yet?
Shopping
11. Sweet 'n' Spicy Bahar
This amazing spice store, will fascinate you with its perfect aromatic ambience. The place is run by an ever smiling Greek-Canadian-Lebanese woman always enthusiastically making her own mix of Greek and international spices.
12. From Thessaloniki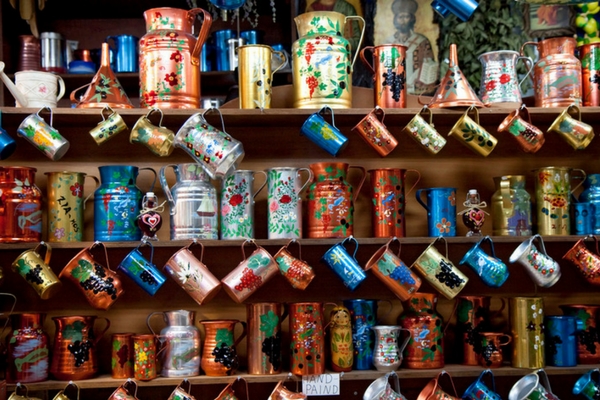 You will find the most novel and pretty souvenirs in this little shop run by two creative women. All the souvenirs found here are locally manufactured, and have a long durability.
13. Galerie Versakis
You will find some unusual antiques to browse through, and the collection is just too good to miss.
14. Skopelos Sandals – One of the best things to do in Greece for footwear lovers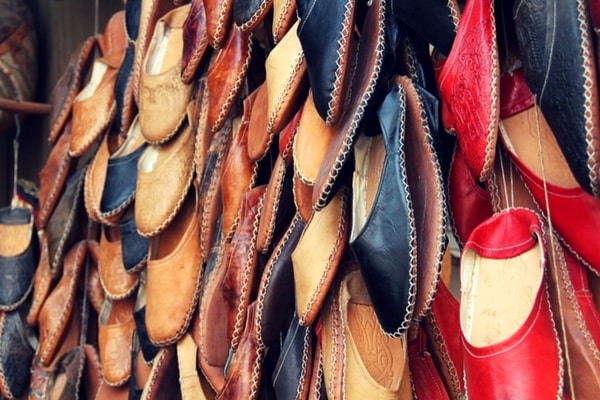 If you are looking to buy some amazing handmade leather sandals and belts, make sure to visit this place. You can buy these at very reasonable prices. Just a handy tip – the leather will stretch as you use them. So make sure you wear them right after the purchase, thus in case they get stretched, you can come back to get them readjusted.
15. Kori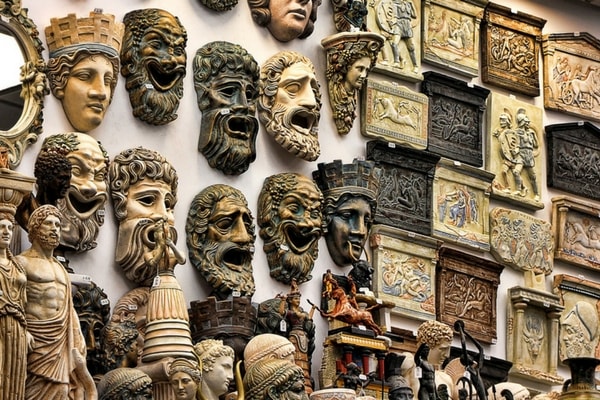 This magnificent boutique celebrates the work of emerging artists for their amazing craft work like handmade jewellery, bags, colourful busts of Gods, philosophers, evil eye bracelets and much more. This is the best spot for you to buy gifts at affordable prices for your loved ones back home.
Restaurants
16. Betty's
Overlooking the harbour underneath, Betty's offers a plethora of mouth-watering delicacies like mousakas, baked fish, lamb souvlaki and small cheese pie. They also offer some super breakfast specials.
17. Hippy's Restaurant Café
This one is a family open air bar and cafe, that wreaks of array of savouries, relaxing ambience, feel like home atmosphere and a warm hospitality.
18. To Paradosiakon
This place is an experience for those with a sweet-tooth. There are some must try yummy homemade confectionaries and ice-creams to try – especially the yoghurt cake with ice cream and mastika.
19. Prosilio
Prosilio is gourmet dinner-only restaurant, backed by its boutique interiors and romantic courtyard. The service is very warm and if you are foodie then this spot will offer you some lip-smacking Greek cuisines you just can't resist. Elate your dining experience with some local wine here.
20. Dimitris O Karaflas
The sign says 'O Karaflas', but everyone knows this hilltop eyrie as 'Bald Dimitri's', after its owner. Bouzouki music washes over their terrace, where diners feast on an array of sea-urchin spaghetti, hearty island sausages, octopus carpaccio, steamed mussels, pork with green apples and plums, and substantial helpings of calamari.
Nightlife
21. Molly's Bar
This British-run bar is located on the harbour waterfront. Many international and local patrons frequent Molly's to experience a nice peaceful time. As you enjoy your meal and drink, the balcony offers a perfect view of the sunset.
22. Raxati Café
This friendly bar and coffee house is free-spirited and offers a very candidly rugged ambience to give you a perfect feel to enjoy a chat with your peers as you nibble on to some snacks, and sip on to some cocktails.
23. Café-Bar Rififi
Located beside a bank, this bar is known for its snacks, draught beer and coffee. The name Rififi is a courtesy of the bank next door with which it shares its interior wall. Rififi is a nickname for bank robber in Greek – a good light hearted point to make for the servers to break the ice with their patrons.
24. Parasol
The day begins with some made to order breakfasts and cappuccinos, which as the day progresses make way for lunch, fresh juices, noodles and handmade pizzas.
25. Café Rakomelo
Come to Café Rakomelo, to enjoy the Greek coffee made the old-fashioned way, and even better is the amazing galaktoboureko. A must-visit to quench your sweet senses.
Also Read: 10 Most Amazing Places To Visit In Greece
This one is just an indicative list and there's an array of things to do in Greece than meets the eye. However, if this list has been intriguing enough for you, then please do share your comments if you would like to visit Greece. There are many ready and customised Europe holiday packages available to suit your travel requirements.
Summary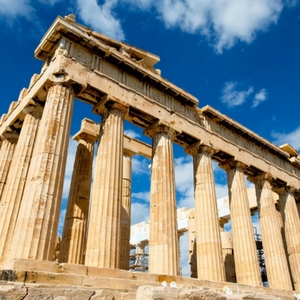 Article Name
25 Amazing Things To Do in Greece Before You Die - Thomas Cook
Description
Nightlife, restaurants, shopping, activities, feature attractions - there are just so many things to do in Greece, you can't get enough of.
Author Name
Publisher Name
Publisher Logo