How to apply for Visa – Things To Keep in Mind For a Successful Visa Application – Thomas Cook
Well, if all of us were given free rein to travel all around the world; we'd all run helter-skelter, wouldn't we? But things are not so simple and convenient. Maybe you just got your new passport which has fresh, blank pages that are itching to get stamped. And you are all ready to get your tickets for that long-waiting Euro trip. But there is that one road-block; the dreaded 'V' word that all travellers worry about.The infamous visa application process, which is the biggest hurdle that you have to cross with a cool head in order to go globetrotting.
But what if we told you that applying for a visa is not such a difficult task as it is usually made out to be. If you're organized and meticulous, if you do the necessary homework and research and if you're confident enough, your visa application process can be a cakewalk. So read on to find out how you can ensure that your visa application is not rejected.
Tips for a Successful Visa Application
1. Do your research on Procedure for Applying Visa
The first step to your way into a foreign country is to go online and read everything you can about the visa application process for that particular country. There are different types of visas, and it is essential that you apply for a visa that applies to you. There are student visas, tourist visas, short term and long term visas and much more depending on the country you're going to. Make sure you apply for the correct visa, because if you don't, then all your planning and organizing would be wasted when your visa is rejected because of a silly mistake. If you're confused about the type of visa that you'd require, feel free to contact the embassy of the country you're travelling to. They'd be happy to help you.
2. Organize your documents required for visa
The next step is to find out what documents you need and gather them up well in advance and long before you fill the visa application form. The most important document that you'd need is, of course, your passport. It is vital that your passport is not about to expire soon and has a validity of about 6 months to a year left on it. The following tips regarding your documents will help you make sure that you leave no stone unturned while applying for a visa.
Make sure your passport is not about to expire soon.
Do not skip on any document thinking you can submit it later. Embassy officials do not take this lightly. Make sure you have each and every required document.
Never ever try to submit documents that are not authentic or doctored. There is a chance you might be banned from entering the country if you do so. In case there are errors in your document, if your name or address has spelling or typographical errors, then be sure to get them corrected before you apply for the visa.
Give ample proofs if they're available to you. It is always better to give as much evidence as you can. Even if they ask for one proof, if you give them two or three, then your document strength will be reinforced.
Make sure you follow minor instructions carefully. If they require a photograph with a white background and all you have is blue, then get out there and get yourself photographed again. The devil lies in the details. It is up to you to ensure that you do not give them any reason to reject your visa. Some embassies require a particular envelope, or they want you to staple your photo and not paste it. Following all these small instructions will definitely ensure a hassle-free visa approval.
3. Filling your Online Visa Application Form
After making sure you have gathered up and organised all the required documents, the next step is to fill in that visa form. It is important to read very carefully how the form is to be filled. If you're applying for an online visa, guides will be available to you with detailed instructions. The following tips will also help:
Be patient and meticulous while filling out a visa form. Read all entries carefully and understand exactly what you're being asked. If any entry confuses you, you can contact the embassy for clarification.
Do not skip on any details. Make sure you fill out each and every entry that is applicable to you.
Be forthcoming and honest while filling out the form. If asked about any previous criminal records, it is best to be truthful. Your application will be a reject, if you didn't mention it, even if the criminal offence was a long time ago.
Suggested Read: Travelling Abroad? Here Is What You Need To Know About Your Visa Type
4. Ace your interview
Let's face it; a visa interview is always an associate with the jangling of nerves. But that is entirely unnecessary. If you've got nothing to hide, are truthful and most importantly, appear confident in your interview, then there is every chance that your interview will be a success. Of course, you also need the backing of strong and valid documents. Not all countries ask for an interview. Sometimes, your visa directly gets a grant if your document proofs are excellent. Here are some tips to ensure your interview is bang on!
Be calm and confident.
Dress appropriately to make a good first impression.
Answer all questions in a clear, understandable voice.
Keep your answers short and precise. Provide only the information asked of you. An excess of information, trying to gain sympathy, or stating opinions instead of facts is a strict no-no.
5. Purpose of your visit
Coming to the main area, let's have a look at what the embassy official's in-charge of granting your visa, investigate. It is the purpose of your visit. This directly relates to the type visa you're applying for. For e.g. If you're applying for a tourist visa, you can mention why you choose that particular country for tourism. It is always better to go into specifics in this case. Mention any music or sporting events happening in the country during your visit so that your purpose of the visit is justified.
Similarly for student or education visas, stating the obvious purpose is a no-brainer. But tread carefully here. If you are applying for a student visa, make sure you do not mention anything about your plans or ambitions to work in the same country.You shall convince the embassy officials that you will return to your country after your education. The same is true for tourist visas. Appreciating the country's education system or complimenting it during tourist visa application hints of an ulterior motive.
Suggested Read: Top 11 International Destinations That Offer Visa On Arrival
6. Proof that you would not be overstaying
This is something the embassies take very seriously. If the embassy gets even the slightest hint of your overstaying , your visa application is in for reject. The best way to convince them is by producing return flight tickets as well as proofs that signify that you have strong ties to your home country that will ensure that you come back. This can be a proof of employment or a proof of business that assures the embassy to take care of your responsibilities; you will have to return to your home country.
7. Have sufficient funds
The consulate also has to make sure that you can fully support yourself financially when you're visiting their country. The actual funds required differ from country to country. But at the very least, it is necessary that you have sufficient funds to cover all the expenses of your trip. This will require your bank statements. If you produce your hotel bookings and return flight tickets, then the embassy will be more readily convinced since these two areas take up a significant chunk of the expenses.
Being meticulous is the key here. You should be able to read the fine print to know exactly what the consulate wants and forget the habit of 'glossing over' the instructions. If you do that and follow our guide, your visa application is bound to be approved, whether it is the powerful Schengen Visa, a UK visa, or the very difficult to acquire US visa. Forget all about your worries and stop thinking of the visa process as an obstacle. Here's wishing your visa is an approve, and bon voyage!
Summary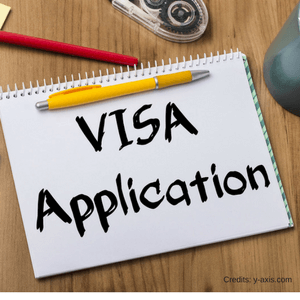 Article Name
How to apply for Visa - Things To Keep in Mind For a Successful Visa Application - Thomas Cook
Description
How to Get a Visa - The vital part before you fly abroad is your visa process. Know more on how to apply for visa online, requirements & documents for a successful visa application – Thomas Cook Blogs.
Author Name
Publisher Name
Publisher Logo