Top 10 Things To Do In Colombo
A trip to Sri Lanka means a trip to the land of beautiful beaches, amazing architecture, a rich cultural scene and one of the best cuisines of the world. For us Indians, Sri Lanka is literally a stone's throw away from the southern coast and one of the easiest countries to get into. When you land at Bandaranaike International Airport, the best way to begin your Sri Lanka holidays is to explore the beautiful port city of Colombo, which is Sri Lanka's largest city as well as its capital. Colombo is rife with majestic colonial buildings, museums, shopping streets, sea facing hotels and a lot more. Let us help you explore this great city with this list of the top ten things to do in Colombo.
1. Visit the National Museum
The National Museum is the largest museum in all of Sri Lanka. One look at this pristine white structure in enough to make your jaw drop. Built during the colonial era, the building that houses the National Museum is at the forefront of colonial architecture in Colombo. And once you go inside you'll be treated to a plethora of information about Sri Lanka's rich history, artifacts dating back to the royal era and Sri Lankan customs and traditions.
2. Enjoy lunch at the Dutch Hospital Precinct
Lunch in a hospital? Of course not! We surely have no intention of having our dear readers admitted. The Dutch Hospital building is the oldest building in Colombo. Built by the Dutch, the building was used as a hospital back in the late 1600s. But since then, the building has been remodeled and restored as a heritage mall with shops, cafes, and restaurants, making it one of the hottest places to visit in Colombo. Sip on a beer at an open cafe or gorge on delicious seafood at the Ministry of Crab. This hospital is one where you'll be willing to go.
3. Taste Sri Lanka's trademark dessert – the Watalappan
This bowl of chocolatey, custardy goodness is sure to make your sweet tooth go ga ga. Made with quintessential Sri Lankan ingredients like coconut milk, indigenous jaggery, cinnamon, eggs and some dry fruits like cashew nuts and almonds thrown in for crunch, the Watalappan is one delicious dessert and the perfect way to end a Sri Lankan meal. Watalappan is available almost anywhere in Colombo, but make sure you go for the homemade kind. Relishing on this delicious dessert is hands down one of the best things to do in Colombo.
4. Stay in a sea facing hotel
When you arrive in Colombo, there is nothing more relaxing than a lazy stay at one of the many sea facing hotels in Colombo. Some of the best hotels along the coast are the Galle Face Hotel, the Cinnamon Grand, and the Taj Samudra. Reserve your first day to simply enjoy the scintillating view from your window as you call in for some delicious food via room service. Once you're rested, you can also go on a walk along the beautiful promenade listening to the sound of crashing waves.
5) Go shopping
Colombo offers you the best opportunities for shopping. There are a ton of outlets and shopping arenas in Colombo that are ideal for the shopaholic in you and a major attraction for Colombo tourism. Right from fashion boutiques that offer great collections of trinkets, artifacts, and gifts indigenous to Sri Lanka, you'll get it all.For all the shopaholics this should be a must in things to do in Colombo list. The best place to start would be the Dutch Hospital Precinct area, which houses some excellent fashion stores and shops. Visit the popular shop Odel or House of Fashion to satisfy the shopper in you.
Suggested Read: Everything You Need To Know About Sri Lanka
6) Go on a culture trail – One Of The Most Recommended Things To Do In Colombo
Sri Lanka is pretty well known for its rich history and culture that dates back to the Dutch as well as the British colonial era. If you're a history buff, then visiting these historic sites is a must not just because of their significance in Sri Lankan history, but also to take a look at these marvelous buildings and take lots of photographs. Visit the innumerable churches along the Colombo coastline or visit the National Museum. Among the other museums is the Dutch Museum and the Independence Memorial Museum. It is a must in your things to do in Colombo list.
7) Visit Gangaramaya Temple
What is a visit to Sri Lanka without a look at one of its most famous temples? The Gangaramaya Temple, situated in the heart of Colombo is a popular temple complex that includes a library as well as a museum within its walls. Being a Buddhist Temple, you will find plenty of different Buddha statues in all sizes, colours, and designs. There is also an array of amazing artifacts on display that are actually gifts from devotees over the years. These include ivory tusks, statues, and other valuable items. A visit to this place completes your list of things to do in Colombo.
8) Beira Lake
After a tired day of sightseeing and exploring Colombo, head over to Beira Lake, a water body not very far from the Gangaramaya Temple. This lake is the perfect place to relax for a bit and really look at your surroundings. The Seema Malaka Shrine is located bang in the middle of the lake on a small island. You'll find paddle boats here for rent, and you can take one out to the lake and enjoy the calm, green waters, which can be one of the most relaxing things to do in Colombo.
Also Read: Travel to Sri Lanka – 'The Pearl of the Indian Ocean'
9) Galle Face Green
After a long day of shopping and sightseeing, spend the perfect evening in Galle Face Green, a long stretch of lawn on the Colombo coastline right next to the beach. It is like the Indian equivalent of Juhu Chowpatty. You can simply lie down on the cool grass and look at the sea. Or better still, try some excellent Sri Lankan street food as this area is lined with many food vendors. It is an excellent place for a short picnic and offers an amazing view of the setting sun.
10) Road trip from Colombo to Galle
Even as you leave Colombo for Galle, its beauty simply doesn't let you leave. The amazing road journey from Colombo to Galle offers scenic views since the road runs along the Sri Lankan coast. The entire length is lined with some amazing beach resorts. You're likely to be tempted to simply stop for a night or two at some of these beaches and resorts like Bentota and Hikkaduwa. Also, a fine spot is the Kosgoda Sea Turtle Conservatory on the way to Galle.
A stay in Colombo is one of the most integral parts of Sri Lanka tourism. The capital offers a variety of things to do and places to see. The rich culture of this country is so well encapsulated in a city that is a perfect mix of the old and the modern. So make the most of your Colombo tour and get ready to cross off each and every one of the best things to do in Colombo on this list.
Summary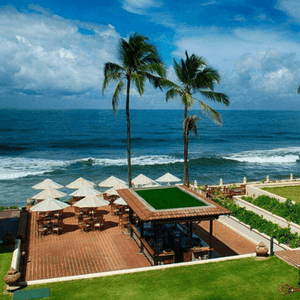 Article Name
Top 10 Things To Do in Colombo - Thomas Cook India Travel Blog
Description
Let's explore the great city which is home to colonial buildings and a lot more, with this list of the top ten things to do in Colombo.
Author Name
Publisher Name
Publisher Logo