Top Tourist Places in Dharamshala
Himachal Pradesh is a beautiful destination that is always on the top of the bucket list of every traveler. The encompassing Himalayas, beautiful valleys and meandering rivers make this state of India simply enchanting.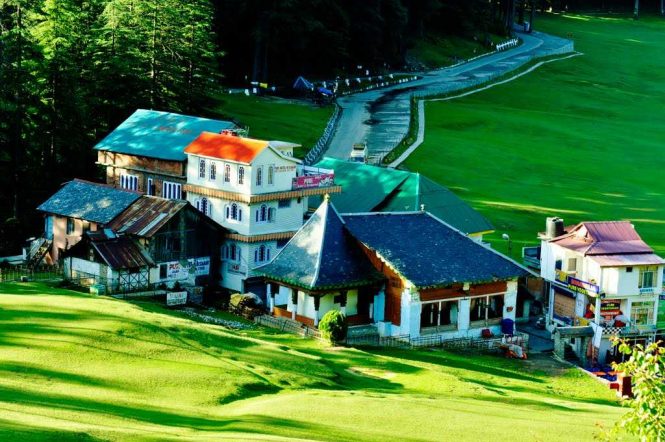 Among the best tourist places to visit in Himachal Pradesh, the name of Dharamshala always comes on the top. This beautiful hamlet of Kangra Valley is bedecked with many gorgeous tea gardens, colorful monasteries, splendid trekking spots, and ancient temples. Anyone who wishes to find a break from the hectic city life should plan a vacation to Dharamshala. Time spent here guarantees rejuvenation and revival of spirits.
Here are a few of the best tourist places in Dharamshala:
Mcleod Ganj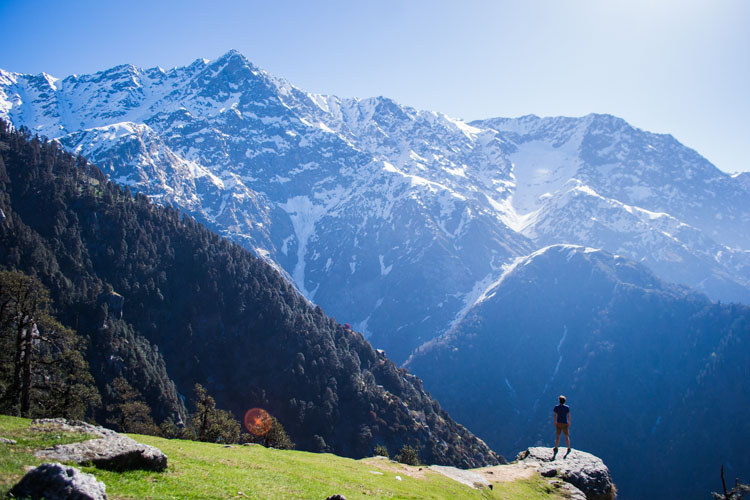 Upper Dharamshala is home to the Tibetan community who fled from their country and settled here. Apart from being one of the most beautiful tourist attractions in Dharamshala, Mcleod Ganj also acts as headquarters of the Tibetan Government in exile. Backpackers from all around the world who wish to spend a few days learning meditation, yoga and music frequent this place.
Suggested Read : This Weekend, Travel to Mcleod Ganj
Bhagsu Waterfall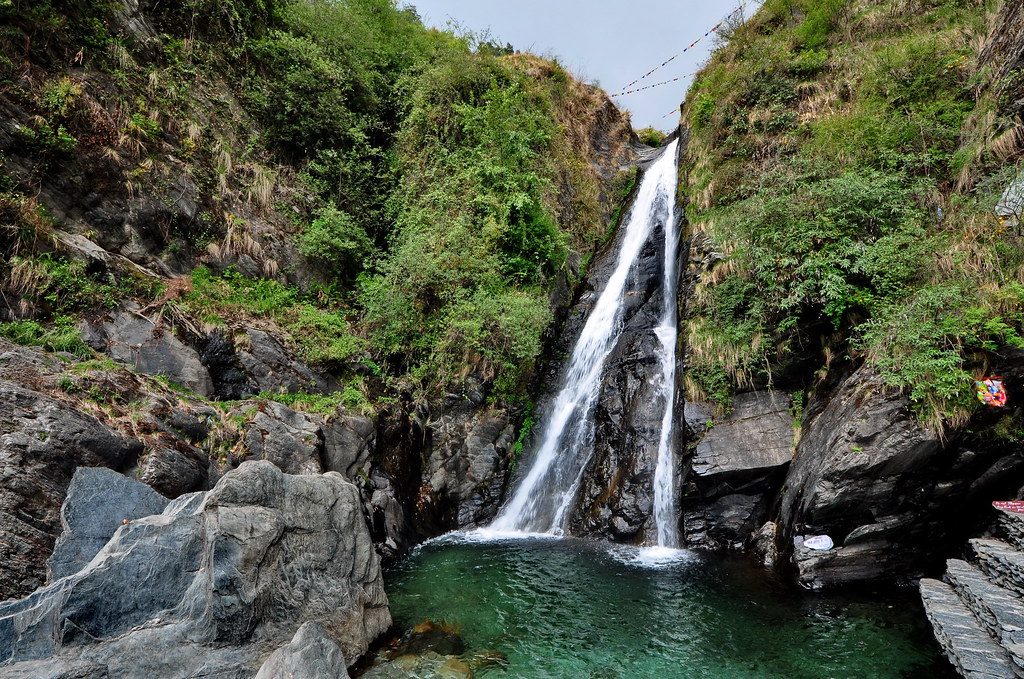 Bhagsu Waterfall is a roaring cascade that comes all the way from the glaciers of Dhauldhars towards Dharamshala. This waterfall is located in Bhagsu Nag, 3 km from Mcleod Ganj and 10 km from Dharamshala. This location is also revere for a temple, which pilgrims visit during their trip to Dharamshala hoping that their wishes will come true. Bhagsu Waterfall can only be approached by a flight of stairs. The top of the waterfall offers majestic views of the surrounding areas.
Dharamshala Cricket Stadium, One of the popular tourist Places in Dharamshala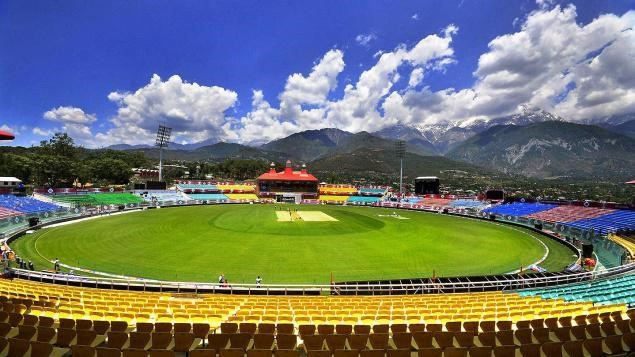 This stadium counted as one of the most beautiful stadiums in the world and one of the popular tourist places in Dharamshala. The seating area overlooks the mighty Dhauldhar ranges. During winters, it is a treat to watch a match of cricket while enjoying the snow covered hills in the vicinity. The stadium also offers recreational activities like gully cricket for the visitors. It is open between 8 AM to 6 PM and the ticket is 20rs per person
Kangra Fort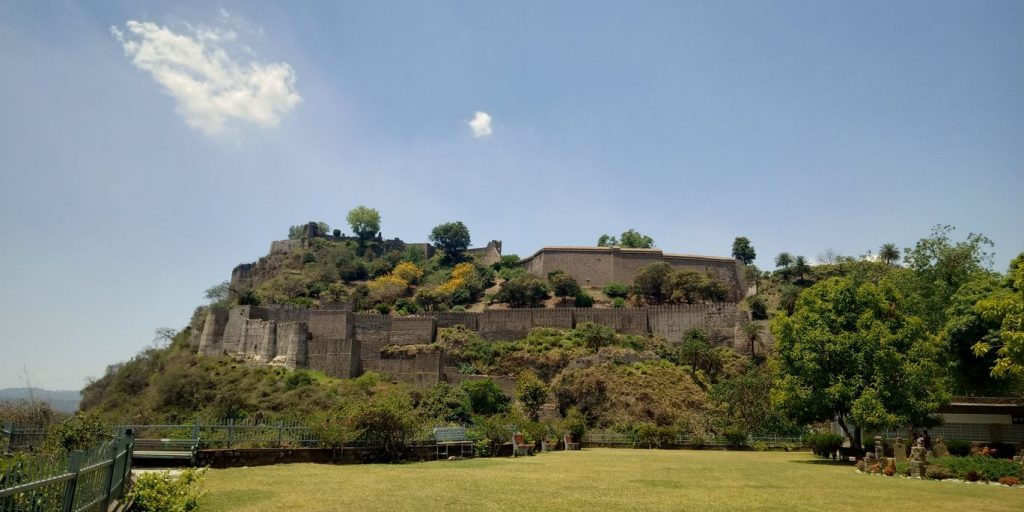 Kangra Fort is one of the famous tourist places in Dharamshala and known as an engineering marvel. Kangra Fort occupies a long strip of land with high rampart that looks incredibly majestic. The walls of the fort cover a circuit of about four kilometers and overlook the Himalayan Mountains. Kangra Fort is the oldest known fort of India. Raja Susarma Chandra constructed it in the year 3500. Jahangir Gate, Ahani and Amiri Darwaza, Andheri Darwaza, Darsani Darwaza, Lakshminarayan Temple, Shish Mahal, Polygonal Watch, Kapoor Sagar Tank are a few of the important places to visit inside the fort.
Tsuglagkhang Complex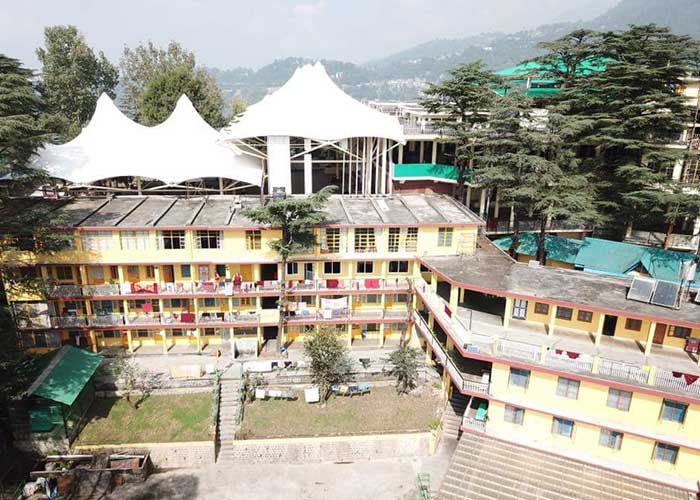 Tsuglagkhang Complex is an important tourist spot in Dharamshala. It constructed when His Holiness Dalai Lama visited Dharamshala in the year 1959. The complex is worth visiting as it acts as Dalai Lama's home and a school for Tibetan students who learn about their culture and history. One can also catch public sessions of Dalai Lama on certain days.
Namgyal Monastery
Namgyal Monastery is an important tourist places in Dharmashala. It is promoted as a place of learning and preservation of Tibetan Culture. It is home to almost 200 monks, the atmosphere of the entire complex is very surreal and enchanting. Nestled amidst hills, the views from the premises are very pretty and breathe taking. Namgyal Monastery is famous because of the Tibetan style architecture that increases its beauty tenfold.
Pong Dam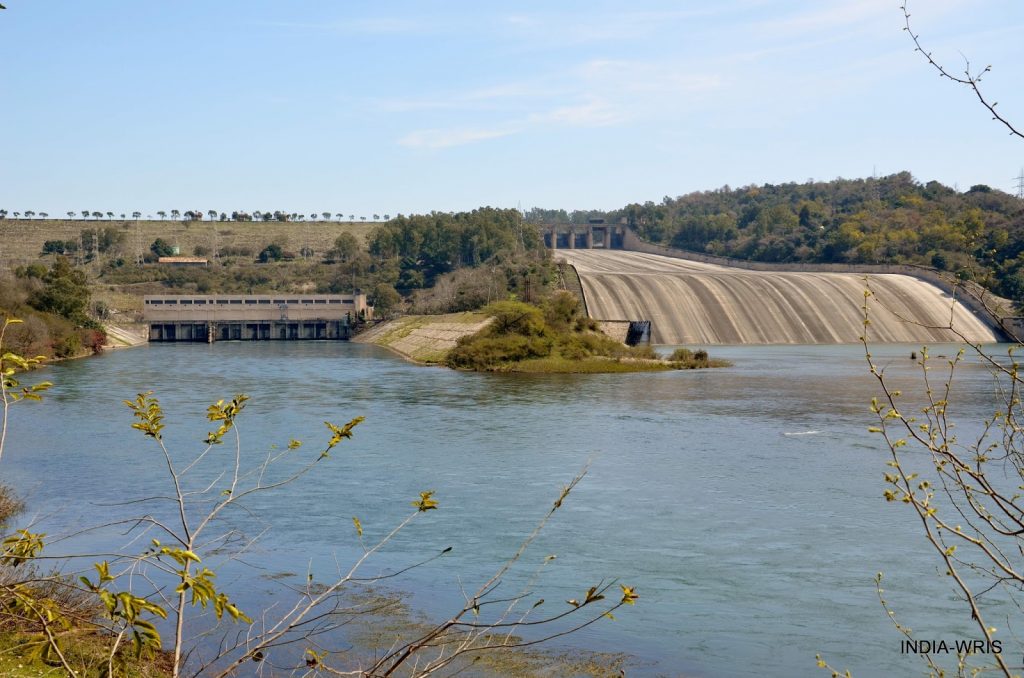 Pong Dam is one of the biggest water bodies in Himachal Pradesh and is a famous camping site. During summers, when the water released in the river, the place's atmosphere becomes magical. The views of sunset and sunrise are too beautiful to be described in words. The dam is also a popular bird-watching destination and plays host for many migratory birds who come here all the way from Russia and many other countries.
Triund Top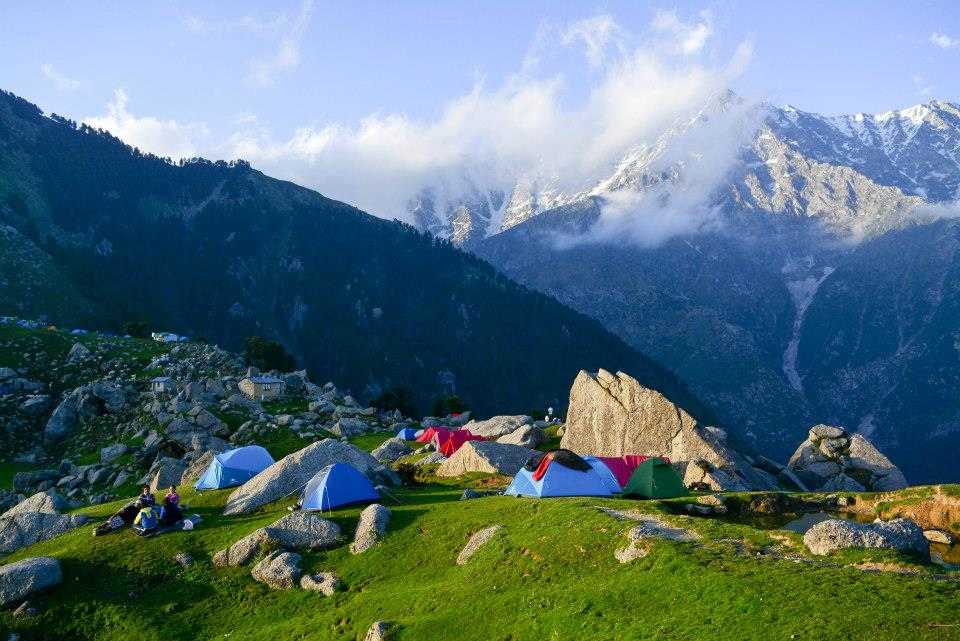 Triund hill is one of the lovely, scenic tourist places to visit near Dharamshala. Adventure enthusiasts can also visit Triund Hill by a 7 km trek. Triund is famous for the lovely views of Dhauldhar Hills and Kangra Valley. If you are fine with the idea of spending a night in a tent while gazing upon a starlit sky then this is the place where you should be. Triund is an eco-sensitive zone and one must make sure that they are not leaving any kind of plastic waste on the top while returning.
Gyuto Monastery
Guyto Monastery is the residence of Karmapa who is the Head of the Kagyu Tibetan Buddhism. This monastery is famed because of its research on Buddhist Philosophy, Tantric rituals, and Tantric meditation. The monastery complex beautifully designed keeping Tibetan style in mind. The overall color scheme is extremely mesmerizing. Anyone who wishes to find a break from the usual touristy crowd of Dharamshala should visit this monastery.
How to visit Dharamshala
Dharamshala is accessible by road from Delhi, Chandigarh and other tourist destinations of Himachal Pradesh. Buses from all these locations ply to Dharamshala on a daily basis. Dharamshala is 12 hours from Delhi, 8 hours from Chandigarh and 5 hours from Manali. One can also hire a car to reach here and then use the same for local sightseeing.
Nearest airport from Dharamshala is in Gaggal but it has limited connectivity from other domestic airports. Delhi, Chandigarh and Amritsar are closest airports from Dharamshala and one can continue their journey by car or bus.
Kangra railhead is a narrow gauge route known for the heritage toy train that runs from Pathankot. This is a slow but beautiful way to travel to Dharamshala if one wants to use trains as a medium of their journey.