10 Most Exciting Waterparks in Delhi
Summers – the sun's blazing over the city and it is simply too hot to step out with family and friends. To escape this scorching heat, you decide to stay put in your air-conditioned room and binge-watch your favourite series.
Delhi's summers might be brutal but aren't summers for fun? Summer is the time to bask in the glorious heat of the sun while sipping on a chilled piña colada, and honestly, every summer deserves to have a story worth sharing. So, get out of your bed, pack your bathing suit, put on some sunscreen and visit the most exciting waterparks in Delhi to beat the heat with a splash.
1. Adventure Island
Adventure Island is really for the adventurous, hence, this park definitely lives up to its name. Located on the grounds of Metro Walk Mall, the park houses over 25 thrilling rides that will knock up your adrenaline, get your hearts pumping and leave you wanting more. Adventure Island, being the most popular amusement park in Delhi is the go-to park for those of you who simply cannot decide between a water or theme park.
Situated in Delhi's famous Rohini district, one can also indulge in some finger licking good food and engage in recreational activities while at the park. For a price as low as 650 rupees, this park is a must visit to escape Delhi's busy city life and enjoy with your family. Every evening, the park lights up with various shows, dance performances and some great music.
Address: Opposite Rithala Metro Station, Sector-10, Rohini, New Delhi-110085
Tickets: Children: Rs. 550; Adults: Rs. 650; Senior Citizens: Rs. 350
2. Splash – The Water Park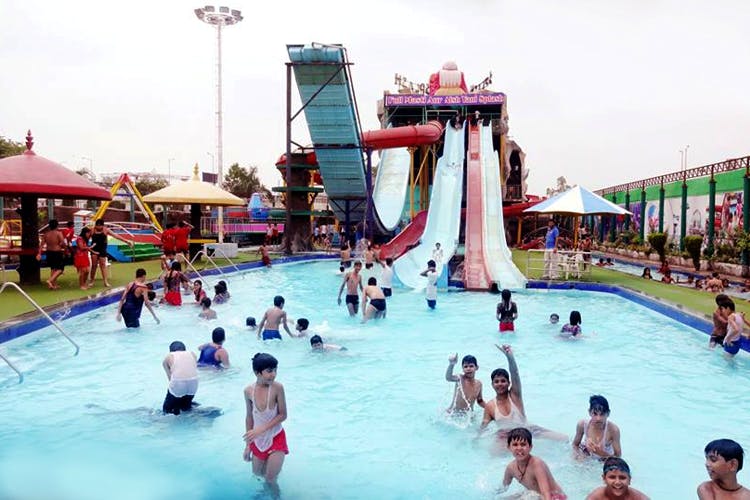 Another great combination of water and amusement rides, Splash is a park that welcomes people of all ages to enjoy some good entertainment and experience thrill. Some of the park's most famous rides include the Cyclone Family Slide, Mushroom Fall and one of everyone's most favourite, Multilane Slide on which you and your friends can slide down a huge slope while racing to see who makes the biggest splash when landing in the pool below.
Address: Main GT Karnal Road near Palla Moad, Alipur, Delhi – 110036
Tickets: Rs. 800
Recommended Read : 11 Hill Stations Near Delhi – Your Next Weekend Getaway
3. Worlds of Wonder, Amongst Best Waterparks in Delhi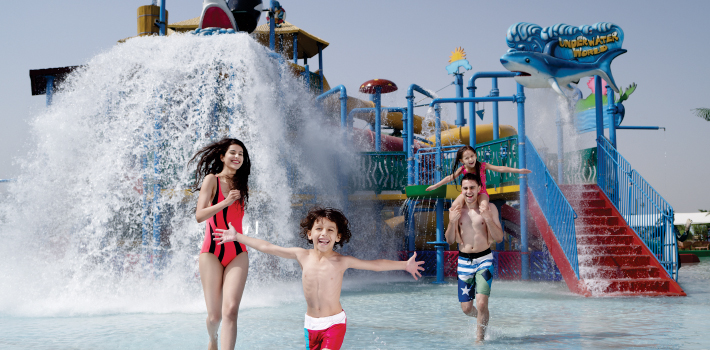 Located in Noida, Worlds of Wonder offers its visitors jam-packed entertainment with its fun array of crazy rides and other fun activities. The park is divided into two different parts: The Roadshow and La Fiesta, both, equally exciting and magnificent. For those who want to celebrate an occasion with a twist, Worlds of Wonder is your best bet to organize group parties or large family weekend getaways. Once you enter the park, you will forget your age after sitting on all the amusing rides that await you!
We bet sitting on all these rides must have left you famished. Don't worry, the park has everything from McDonald's to Dhaba style food.
Address: The Great India Place Mall, Sector-38 A, Entry from Gate No. 11 Adjacent, near, Maharaja Agrasen Marg, Noida, Uttar Pradesh 201301
Tickets: Children: Rs. 450; Adults: Rs. 690; Senior citizens: Rs. 200
4. AapnoGhar Amusement & Water Park Resort
Located conveniently on Delhi-Jaipur Expressway, AapnoGhar Amusement & Water Park first opened its doors to visitors in 1994. This is the one-stop destination in Delhi for people to reconnect with nature while staying in a huge 9-acre lush green property amidst the sound of birds. A cherry on top of the cake, the enormous property is home to one of Delhi's most popular waterparks where people of all ages can spiral down super tan slides and other rides.
The park does true justice to its name, Ghar means "home" and at the park you can enjoy some really good home style food. From sarson ka saag to bajre ki roti, eating all this yummy food will give you major nostalgia of your childhood.
Address: Sector 77, Gurugram, Haryana 122004
Tickets: Amusement Park: Rs. 400; Water Park: Rs. 750; Combined Entry – Rs. 950
Must Read : Weekend Getaways from Delhi
5. Fun N Food Village
Home to 21 amusement rides, several landscape gardens and a 400 feet long lazy river, Fun N Food Village is among the oldest parks in Delhi. Even after all those years, the people of Delhi love visiting the park to enjoy some quality family time, away from the city's hustle bustle. Ask someone who's been here, one could spend an entire day just repeatedly floating around the long lazy river! The park located in Old Delhi-Gurgaon road also offers a variety of hotels that are worth checking out if you plan to stay close to the park.
Address: Old Delhi Gurgaon Rd, Kapas Hera, New Delhi, Delhi 110097
Tickets: Couples: Rs. 1200; Adults: Rs. 700; Kids: Rs 400
6. Just Chill Water Park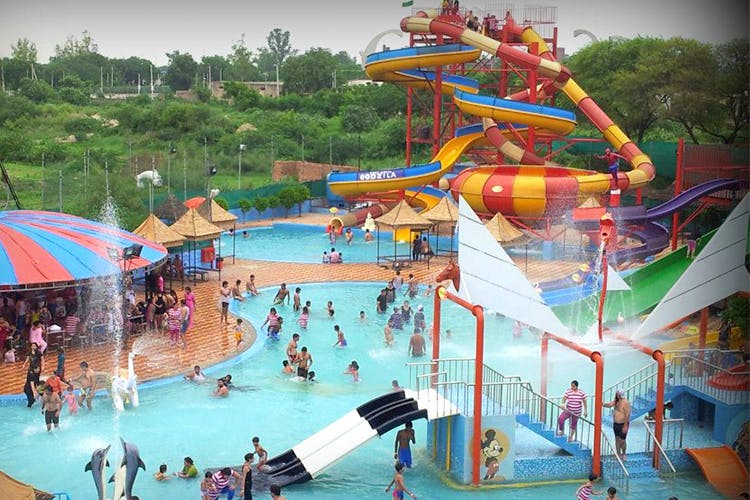 One of the newest additions to Delhi's long list of amusement and water parks, Just Chill is a park that opens its gates to several visitors every day. Apart from the most thrilling rides, such as Rainbow Godzilla and Katrina Twist, the park also has some super cool activities like no other park. You can get dirty in a playful mud ground, get lost in a mirror maze or dance to the tunes of a live DJ at the park.
Address: Main, GT Karnal Rd, Near GTB Memorial, Singhola, New Delhi, Delhi 110040
Tickets: Rs. 900
7. Drizzling Land, One of the Best Waterparks in Delhi
From a revolving tower, wave pool and a disc coaster, Drizzling Land, located on Delhi-Meerut road is an ideal spot to enjoy in water. One can spend a whole day here revisiting the same rides many times or being afloat at the wave pool.
Address: 8 KM Mile Stone, Delhi-Meerut Highway, Duhai, Ghaziabad, Uttar Pradesh 201003
Tickets: Children: Rs. 450; Adults: Rs. 550
8. Jurasik Park Inn, Sonipat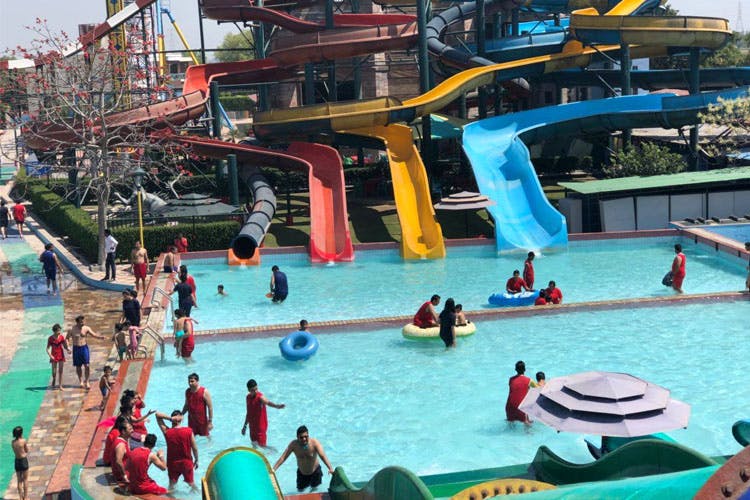 From a little kid to an adult, who doesn't love the thought of our extinct dinosaur friends? The park, named after the infamous move "Jurassic Park", is a place for true entertainment in grand style. The park is enormous, from a lazy pool to a 70-feet high waterfall, there are numerous rides that offer an amazing experience like no other. Each ride, different from the other, offers the perfect thrills and adrenaline rush. The park has also been recommended as one of Delhi's cleanest and well maintained establishments in Delhi. What are you waiting for? The dinosaurs are calling your name!
If the amusement park and water park wasn't enough for you, head straight to the Adventure Zone where you can participate in various activities like rock climbing, riffle shooting and bridge crossing.
Address: Jurasik Park Inn, G.T. – Karnal Road, National Highway 1, Near Omaxe City, New Delhi
Tickets: Children: Rs. 450; Adults: Rs. 550
9. Wet N Wild, Must Visit Waterparks in Delhi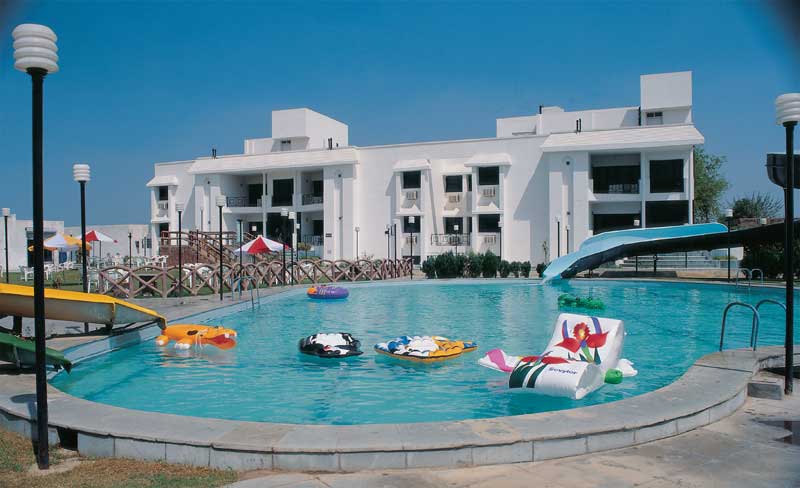 Established over 20 years ago, Wet N Wild, is not just Delhi's but one of India's oldest Water Parks that promises its visitors a totally refreshing experience. Huge slides, pools and a beautiful resort make Wet N Wild a great place to spend the weekend with your dearest.
Address: 45-Milestone, Sector 78, Naurangpur, N.H.-8, Jaipur Highway, Gurgaon (Haryana)-122004
Tickets: Adults: Rs. 500; Children: Rs. 400
10. Ffunmax, Faridabad, Must Visit Waterparks in Delhi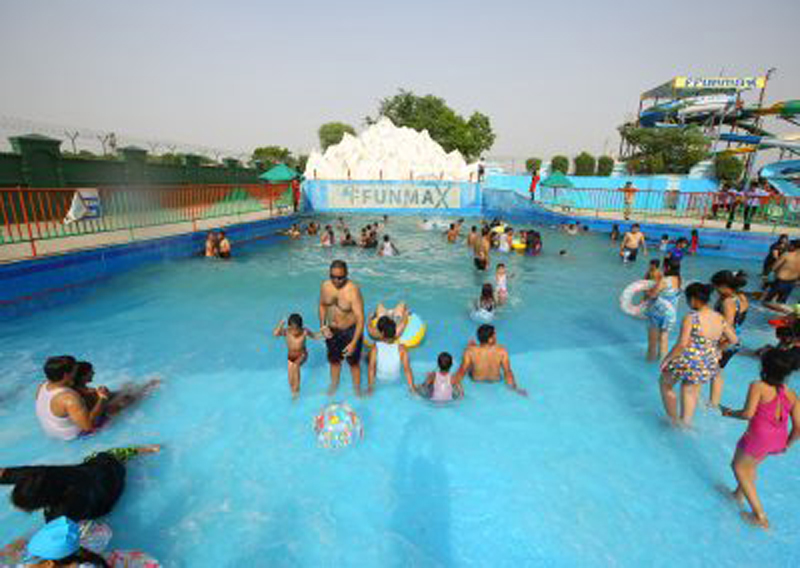 Offering quality rides at super affordable prices, Ffunmax is a great place to beat the heat. The park which is located in Faridabad consists of a party lawn where you can party with your friends all day. Spread over a huge area, the park encompasses all rides from a wave pool to various slides such as Sun N Moon, Frisbee and Break Dance. Trust us, the rides are as funky as their names are!
Address: 42 Milestone, Main Mathura Road, Behind Royal Villa Banquet Hall, Village Sikri, Faridabad, Haryana 121004
Tickets: Adults: Rs. 600; Child: Rs.500; Couples: Rs.1149
Don't you feel like taking a dip in the water right now. We hope our list of the 10 Most Exciting Waterparks in Delhi will help you rethink the way you want to spend this summer. Head to these waterparks in Delhi, create several memories and remember to capture them all. Here's to a super happy, splashful summer!
Suggested Read : Adrenaline Pumping Places in India