Budget Hotels in Lansdowne Uttarakhand for the Shoestring Traveller
Irony can be beautiful sometimes. Take for example the pristine hill station of Lansdowne in Uttarakhand – a small yet elegant destination tucked away from the maps of tourists. Despite being a relatively silent location, the noise that emanates thoughts its viewpoints, peaks, vibes, and mountain ranges is phenomenal and you wouldn't believe if we told you that Lansdowne has been a very popular hill station since the time of the British yet is still unspoilt and pure. It is conveniently connected by roads leading to popular Indian cities and is still remote in its own ways. Beautiful irony yet again right?
Located at an altitude of over 1,700m above sea level, the exquisite hill station rests on the Gharwal region of the state. The place is beautifully nestled between oak gardens and pine forests that offer spectacular views of the Himalayas and caress you with frosty temperatures. Now if that has excited you and you are looking for hotels in Lansdowne Uttarakhand read on!
Here we will cover the best budget hotels in Lansdowne Uttarakhand for those of you on a shoestring budget. Note that there are tons of hotels and accommodations you can find in Lansdowne and most of them pass off as decent hotels. However, if you are really looking for comfort and luxury, we recommend you stay at resorts or boutique hotels. If it is nature and minimalistic travel that you have an eye for, our recommendation should do more than justice to your accommodation needs at this cosy hill station.
Hotels in Lansdowne Uttarakhand
1. The Oak Grove Homestay – The One Homestay you will Love!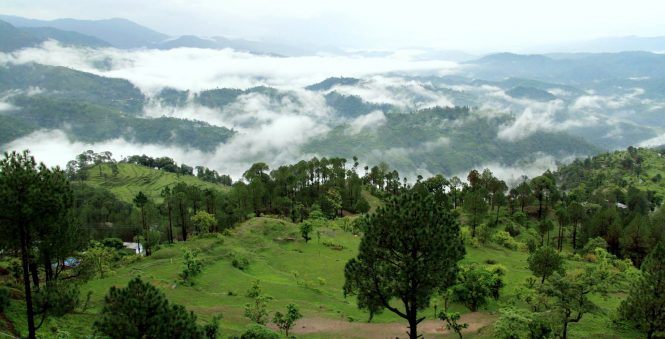 Nothing like staying in homestays when in the mountains! The hospitality of the locals, the food and the relaxed policies all work together on making our small break from work all the more special. If you are in pursuit of one such homestay, the one we would recommend is The Oak Grove homestay located in Jaiharikal is one if the high ranking options on our list of hotels in Lansdowne Uttarakhand. The major attraction of the homestay is that the place is a 60-year-old property owned and run by retired Colonel Bikram Rawat and his spouse Neelam. The homestay boasts of courteous and hospitable staff and their efforts to arrange things and take care of your needs. The homestay has all the amenities and facilities to make your stay comfortable for as long as you are on the property.
Besides, the staff also help you out with arranging cabs and any activity that you intend to indulge in like picnics, hikes or road trips. Situated at just 6km from Lansdowne, the place is near major tourist attractions. You can find three classes of room here – family rooms, double-bed rooms, and honeymoon cottages. Another major reason you should stay here is the home-cooked food you are served with on every meal. With a fixed vegetarian menu, you can order non-vegetarian dishes by paying extra. Note that credit cards or debit cards are not accepted here and that only a few rooms have television services. But do you even need it?
Distance from Airport: 4 Hours from Dehradun airport
Trip Advisor rating: 4.5/5
Approx. Cost: INR 2000 per night
Location: Oak Grove Inn, Jaiharikhal, Lansdowne, Pauri Garhwal, Uttarakhand
It is one of the best accommodations you will find for its price.
2. Vinayak Resort – For Backpackers and Travelers Alike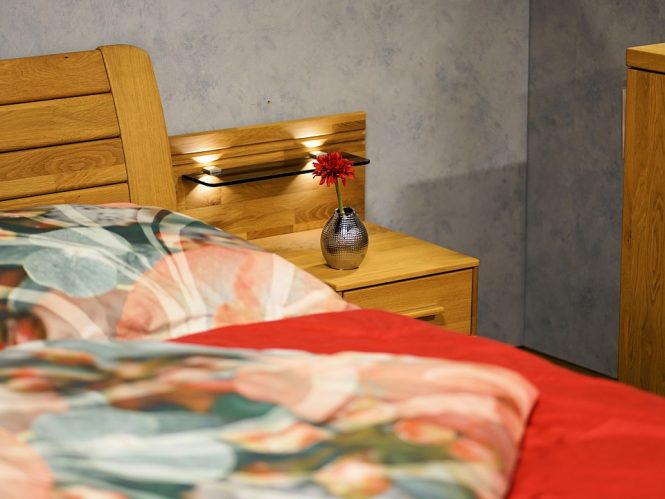 One of the other convenient budget hotels in Lansdowne is the Vinayak resort. Located on the hill station's outskirts, the hotel offers you room with good views at affordable prices. More than tourists, you will connect with the resort better if you are a traveller or someone who has stayed in backpacker hostels. The resort offers you six different types of rooms and all allied services and facilities to make your stay comfortable to the optimum. The hotel follows strict check-in check-out policies, where the standard time for check-in is 12 noon.
If you stay beyond your check-out time, you are likely to incur a half-day charge. Though a little away from the major attractions, it still offers convenient modes of connectivity to the places of interest. The staff can also help you out with car rentals or connect you to adventure operators for any activities you would like to indulge in. The landmark you might want to look for when you reach Deriyakhal is the petrol pump, from where you can spot the accommodation.
Distance from Airport: 4 Hours from Dehradun airport
Approx. Cost: INR  1,800 per night
Location: Vinayak Resorts, Deriyakhal, Lansdowne, District: Pauri Garhwal, Uttarakhand, India
For the prices, the facilities and the location are huge advantages to travellers.
3. ShantiRaj Hill View Resort – Perfect for Retreats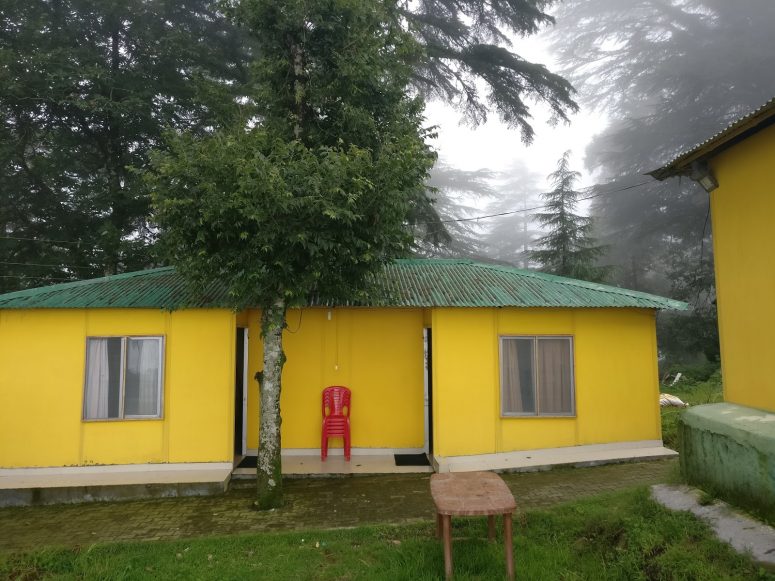 If the primary motive of your break or getaway is to retreat into nature and experience solitude, we recommend you make a booking at the ShantiRaj Hill View Resort. Doing complete justice to its name, the hotel offers one of the best views of the Himalayan ranges and peace of mind. It is conveniently nestled between pine forests to ensure you are away from all the sights and sounds of civilization and yet get the feel of being in a happening place. Perfect for families and groups of friends, the resort is located at around 3 km from Gandhi Chowk.
One of the best aspects of the resort is that it offers you two types of accommodations to choose from – a standard room or waterproof tents to enjoy a camping experience. There are also private cottages available for visitors and you can also find private lawns in front of each cottage for blissful moments of solitude. Every room offers you a television, attached restrooms, cold water and hot water facilities. You can also dine at the in-house multi-cuisine restaurant that serves both vegetarian and non-vegetarian dishes to its travellers. The magical view of the Himalayas, the private lawn and a hot cup of tea are all that you need to spring back to life and wave out!
Distance from Airport: Approximately 2 Hours from Dehradun airport
Approx. Cost: INR 2200 per night
Trip Advisor Rating: 3.5/5
Location: Dhura Rd, Pauri Garhwal, Lansdowne, India
Very close to the airport and other sources of transportation, making it a convenient option in our list of hotels in Lansdowne Uttarakhand.
4. Lansdowne Villa – Perfect Location, very Hospitable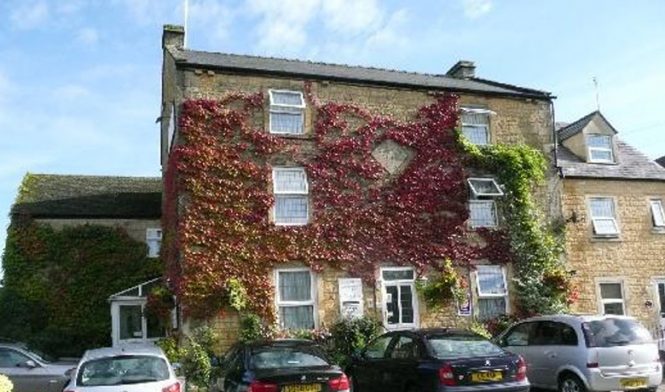 The location of the Lansdowne Villa is the major selling point of the property. Located in the heart of Gandhi Chowk, the villa is easily connected to all major tourist attractions, markets and restaurants. So even if you are running late for a tourist attraction, you can still find cabs and transportation from the hotel. The villa is a perfect accommodation avenue for families and backpackers, where you can find well maintained and clean rooms with colour televisions and hot water facilities. A refrigerator and a kitchen are shared by two rooms for you to store things and cook if you need. Though there is no in-house restaurant, the location of the property compensates for the lack of it. You can find some of the best restaurants in Lansdowne at distances you can cover on foot or get them delivered to your room with the door delivery facilities.
The speciality of the property is the tree house that offers you surreal views of the market and the city. It is the perfect spot to unwind to a cold evening with a coffee or tea and conversations. You can choose between deluxe rooms and family rooms and have your stay confirmed. If you intend to travel with your family there are the best hotels in Lansdowne Uttarakhand at the heart of the city!
Distance from Airport: Approximately 3 Hours from Dehradun airport
Approx. Cost: INR 2800 per night
Location: Gandhi Chowk, Sadar Bazar Lansdowne, India
Right at the heart of the town, the views and the connectivity it offers to the places of interests are phenomenal.
5. Lans View- Idyllic Location at Economical Prices
Another one of the strategically located hotels in Landsdowne Uttarakhand. Located at Gandhi Chowk, the accommodation is very close to some major tourist attractions like the Kaleshwar Temple, St. John Church and others. From the hotel, you can catch awesome views of the surrounding valleys, markets and mountain peaks. The property offers you five deluxe rooms equipped with all the basic facilities you need for a comfortable stay.
There is no in-house restaurant in Lans View but its proximity to the restaurants in the market makes up for the lack. No matter if you are travelling with a group of friends, with your spouse or with your family, your stay will be convenient and pleasant at the Lans View hotel. To be on the safer side, have enough cash with you during check-out or walk-in reservation as the property might not accept debit or credit cards.
Distance from Airport: Approximately 3 Hours from Dehradun airport
Approx. Cost: INR 4000 per night
Location: Gandhi Chowk, Sadar Bazar Lansdowne, India
If it is a family get-together, this is the only property you should look for!
FAQ's
1. How to Reach Lansdowne?
There are three modes of transportation available for you to reach Lansdowne – flights, trains and buses. If you are taking a flight, we recommend flying till Dehradun (Jolly Grant Airport) which is the closest. Situated approximately 30km from Gandhi Chowk, the Jolly Grant airport will be the convenient airport for you to reach Lansdowne. The nearest railway station for you will be the Kotdwar station, which is approximately 2 hours from Lansdowne. From the railway station, you can either choose government buses, shared taxis or private cabs to reach the hill station. Buses are also available from New Delhi (Kashmiri Gate) and you can reach Lansdowne after an overnight journey. Depending upon which of the hotels in Lansdowne Uttarakhand, you can select the means of local transport.
2. What are the major Attractions in Lansdowne?
Lansdowne is a congruence of both tourist attractions and religious sites. You can find places of interests like the Bhulla Lake, Bhim Pakora, Kanvashram, Tip N Top and more and find places of worship like the Tarkeshwar Mahadev temple, St. John's Church and others. For offbeat experiences, the place offers a jungle safari and the Darwan Singh Regimental Museum. There are also many budget hotels in Lansdowne Uttarakhand located near the attractions.
3. What are some of the Activities I can indulge in when in Lansdowne?
Nestled in a beautiful place, there are plenty of ways to connect with nature in Lansdowne. There are several sites for camping in this hill station and options to go for jungle safaris as well. Want to explore the pine forests? You can go for a nature walk or short hiking trails to get close to nature. The Bhulla lake is a popular destination for boat rides and you can also grab your binoculars and go for bird spotting. The place records the incoming of several migratory birds and other indigenous species of flora and fauna. So a nature trail will introduce you to the Gharwal side of the Himalayas.
4. Are there enough ATMs in Lansdowne?
There are plenty of ATMs in Lansdowne but most of them are concentrated around the main market region or Gandhi Chowk. So we recommend you take enough cash with you before you set out for your day's schedule to save yourself from any hassles on financial transactions. Some of the ATMs you can find include those of HDFC, State Bank of Hyderabad, State Bank of India, Punjab National Bank, and more.
5. Which is the best time to visit Lansdowne?
Despite being a hill station, the place is a year-round destination. The only exception to this statement is the monsoon season, where the weather becomes volatile. So we recommend you plan your trips on times other than monsoons to enjoy an uninterrupted vacation. Also, make sure to book your hotels in Lansdowne Uttarakhand in advance to get the best offers!
If you have ever been on a trek in Uttarakhand like that of Roopkund, you know how majestic the Gharwal region is. Away from the clichés of Himachal Pradesh, Darjeeling, Kashmir and others, this cosy piece of landmass rest silently amidst mountain peaks, offering travellers solace and comfort all through the year. There have been innumerable souls who were lost in their lives but managed to find roads and ways to experience the purpose of life in this pristine place. There have been groups of friends who arrived with zero expectations from the place and yet had tons of stories to share with the world before leaving. So what are you waiting for? Pack your bags and book your hotels in Lansdowne Uttarakhand now!