10 Reasons to Indulge in Madness of La Tomatina Festival in Spain
If you think of La Tomatina Festival, what's the first thing that comes to your mind? Zindagi Milegi Na Dobara? That was one of those movies filled with multiple travel goals. Among the number of activities that the movie showcased, it was the La Tomatina festival, whose vibe and craze made many add Spain in their travel bucket list. Our Spain tour packages are the best way to indulge in this tomato fight madness.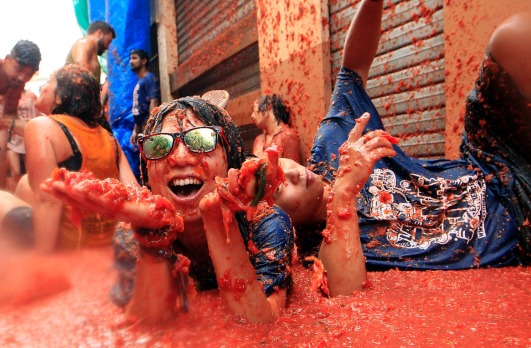 During the last week of August, the small Valencian town Buñol is visited by millions of people to do something which is counted among the best things to do in Spain. Hordes of visitors come here to join the crazy locals and throw over-ripe tomatoes at each other in this state-sanctioned food fight.
What is so special about La Tomatina; and what makes the festival a must-attend? Here are a few reasons that will help you decide if travelling all the way to Spain to attend this festival is worth it or not.
1. A chance to attend one of the biggest cultural galas in the world
La Tomatina festival comes with a chance to show you the festive side of Spain. This festival is combined with massive parades, fireworks and even a glorious Paella cooking contest. This is your chance to experience the best of Spain at one place.
The date for La Tomatina festival this year is 28th August 2019.
Festival Fact File

Buñol's population of 9,000
Approximately 20,000 people come to attend the tomato fight
The festival begins at 11 AM
Plaza del Pueblo is the town centre where the festival is organized
The ticket price for the festival is €10 to keep the event less crowded
2. La Tomatina Festival is a photographer's delight
The crazy, dancing crowd throwing tomatoes at each other gives you an amazing chance to come up with some nice photographs. So, if photography is your passion then you'll love attending this festival. Nothing gives you better shots than hundreds of people covered in red tomatoes.
Places to see in Bunol

San Luis Park
Cueva Turche
Masonic Cemetery
Parque Fluvial
Circuit Ricardo Tormo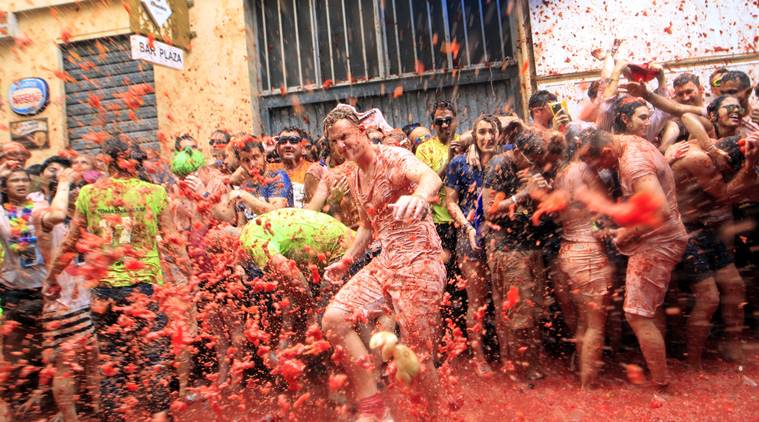 3. Why attend the knock-off when you can witness the real deal?
In the past, multiple countries have tried creating a knock-off of the festival. While most of them failed, a few met with harsh criticism for the sheer wastage of food and were banned by the authorities.
La Tomatina, one the other hand, is sanctioned by the country as Spain has huge tomato cultivation. This festival finds a creative way to utilize the excess amount of vegetables. The unique appeal of La Tomatina makes Valencia and Bunol amongst some popular tourist places in Spain.
4. La Tomatina festival is a chance to enjoy the traditional Spanish cuisine
Spain's rich food culture has given a number of dishes to the world. In fact, Spain Tourism organizes multiple food tours just to familiarize visitors with their food culture. Tomatoes are the primary ingredient of the majority of their food preparations. It is used in salads, sliced on French bread or simply consumed like an apple.
This festival will offer you a chance to try tostadas con tomate, Basque-style, mini sandwiches called pinxtos, fried potato with spicy tomato sauce known as Spanish bravas. This list is just a summary of the huge array of cuisines offered at La Tomatina festival.
What to eat during La Tomatina?

Paella
Arròs al forn (baked rice)
Arròs a banda (rice and fish)
Fideuà
Mona de Pascua
Bunyols (fritters)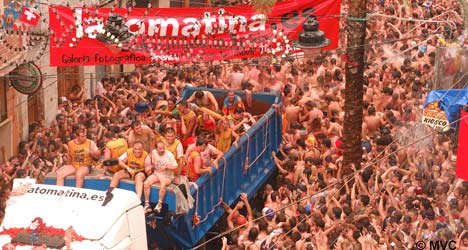 5. Visit the home of special tomatoes grown for La Tomatina Festival
You can spare some time off and visit Extremadura, the home of Tomatoes grown especially for tomato fight. The tomatoes in La Tomatina include the poor variety grown especially for the fight during this festival. These tomatoes are not good for eating and hence the only purpose they serve is to get crushed.
Extremadura is a beautiful destination bestowed with natural charms of the Spanish countryside. It is a perfect place for birdwatchers, history buffs, nature lovers. Exploring the tomato farms of this region is counted among the best things to do in Spain.
Attractions and activities in Extremadura

Visit Basílica de Santa Eulalia
Alcazaba Árabe
Tour of Mérida
Medieval city of Cáceres
Zafra
Castle of Trujillo
Attend WOMAD festival
Country tour of La Dehesa
Wine Tastings in Ribera del Guadiana
Gourmet Cheese and Iberian Ham Tastings tours
How to reach Extremadura
Best way to reach Extremadura is to continue your journey from Madrid. Other routes are also available from Lisbon and Barcelona.
Plane: Iberia (Air Nostrum) operates flights from Madrid to Badajoz. The further journey is possible using public transport or private car
Train: You can take a morning train from the Atocha Train Station, Madrid and get down at Cáceres, Mérida or Badajo
Bus: Avanzabus operates regular buses from Estación Sur de Autobuses. These buses go to many destinations in Extremadura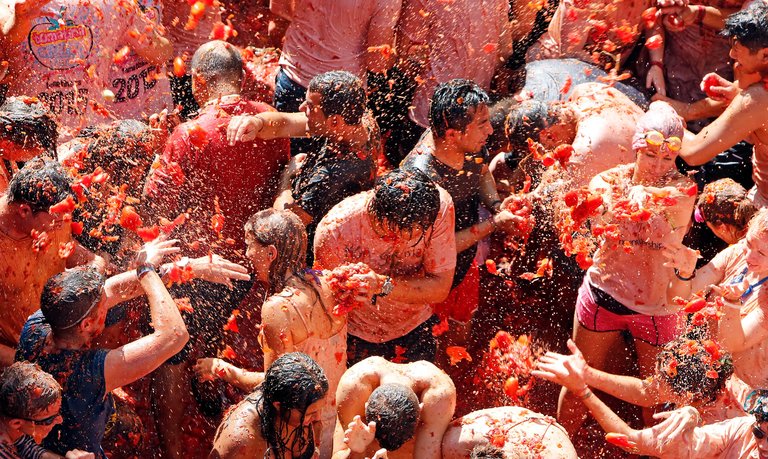 6. A chance to attend awesome La Tomatina after party
The La Tomatina after party is headlined by some of the best DJs and musicians of the world. After the festival, when everyone cleans up, they return to these venues to finish that dance hangover that they are left with at the festival venue. These venues also offer great food and drink perfect to end your festival experience.
7. Explore Buñol's rich history
The host city is itself bestowed with a rich history. The Castillo de Buñol is one of the popular Spain attractions which was constructed in the 13th century and has seen the rise and fall of multiple empires.
This castle sits majestically on a small hill between the Borrunes ravine and the Buñol River's moat formation and is famous for its breath-taking architecture. During the festival, the castle hosts a number of musical concerts.
8. Visit Valencia – The City of Science and Culture
In the list of places to visit in Spain, Valencia is a traveller's paradise. While coming to Buñol, you will be stopping at Valencia. Exploring this city is like wandering into a futuristic place. Valencia is known for its hi-tech travel destinations like Oceanogràfic which is Europe's largest aquarium, the Príncipe Felipe Science Museum, which often hosts avant-garde, exhibits the majestic and one of its kind Palau de Les Arts Reina Sofía Opera House along with many other innovative attractions.
Best places to see in Valencia

City of arts and sciences
La Lonja de la Seda
Valencian Cathedral
El Miguelete
Casco Histórico
Barrio del Carmen
Central market
What to eat in Valencia

Canalla with spicy morcilla sausage
Valencian Horchata
Esgarraet (Red pepper and cured cod salad made with garlic and olive oil)
Meloso
Clochinas
Tortilla Española
Other festivals in Valencia

Parade of the Three Kings
Feast Day of Saint Vicente the Martyr
February Carnaval
Las Fallas of Saint José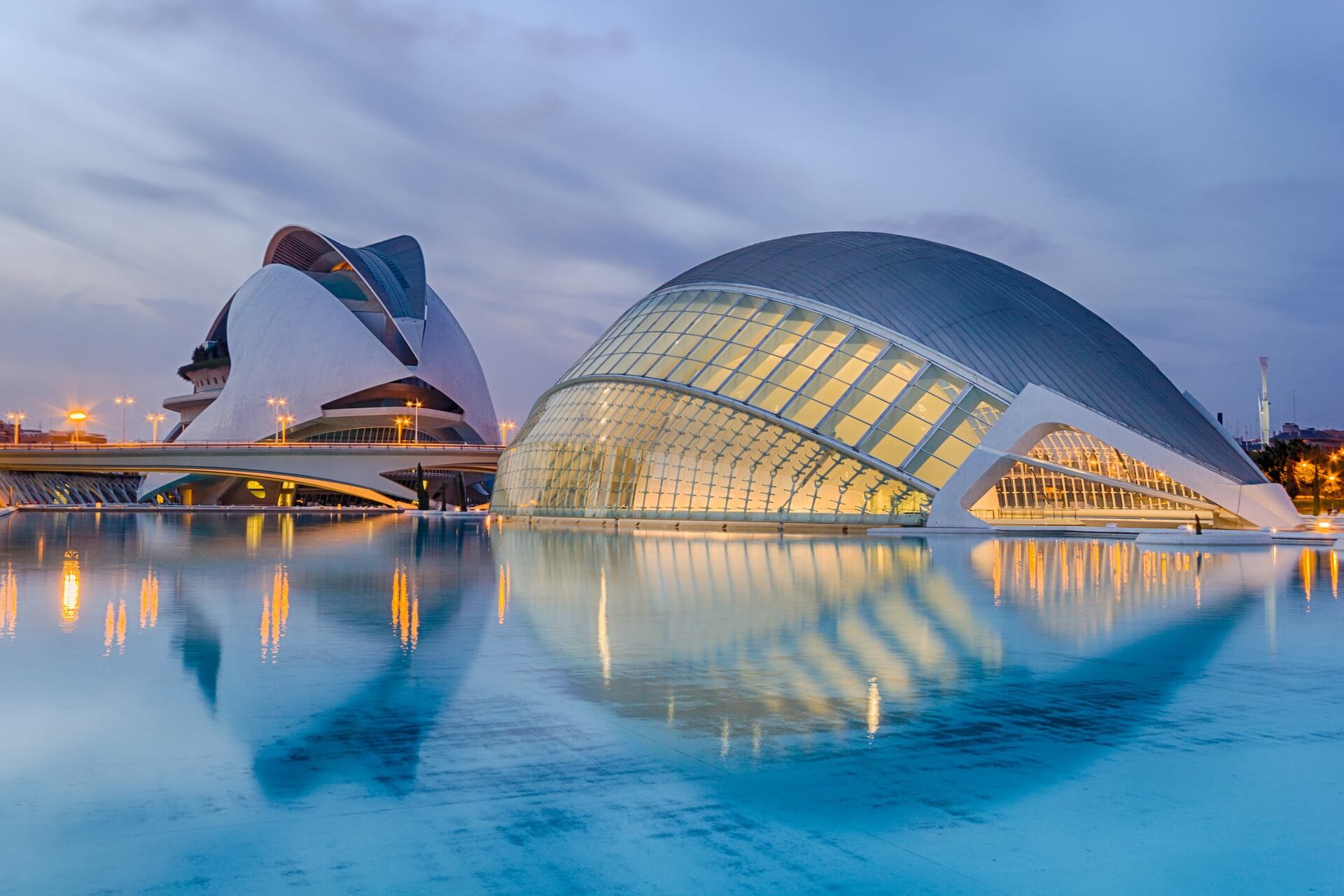 9. There is no harm in basking in the glory of white sandy beaches
Taking out some time from La Tomatina, you can head to the beautiful Playa de El Saler Beach. The crystal clear blue waters with absolutely clean beaches prove to be a blessing for fans of Vitamin Sea. The beach is located inside a beautiful national park and it stretches to an area of 2.6 km.
How to reach: Regular buses from Valencia are available for Playa de El Saler. The Yellow Buses are costlier but faster compared to #25 city bus.
10. Perfect shopping destination
Shopping is one of the essential things to do in Valencia. Best Shopping destinations like Chic Market, Madame Mim, Lladro and Bodegas Baviera are crowd favorites for their unique offerings.
Rules for La Tomatina

Fireworks are banned
You should not carry glassware
Tearing t-shirts are not allowed
Tomatoes must be crushed before throwing so that they don't hurt anybody.
Festival stops with the 2nd banger
Important tips for a better festival experience

Cheap sports shoes are recommended. Flip Flops will injure your feet
Wear old clothes that you can throw afterward
Goggles and handkerchiefs are a must carry
Bring a waterproof camera if you plant to take pictures
With so much to experience, it is impossible to miss La Tomatina. Come August, make sure that you have your leaves approved and tickets for Spain booked. You can also book the Spain – Portugal La Tomatina festival package from Thomas Cook. This unique trip is designed to take you across some of the most gorgeous destinations in Europe including Lisbon, Seville, Granada, Madrid, and finally to Valencia for the grand finale.
Exploring Spain is a unique experience. Every destination has something wonderful to offer. Your traveling soul will find something memorable that will remain etched in your heart for a long time.
Summary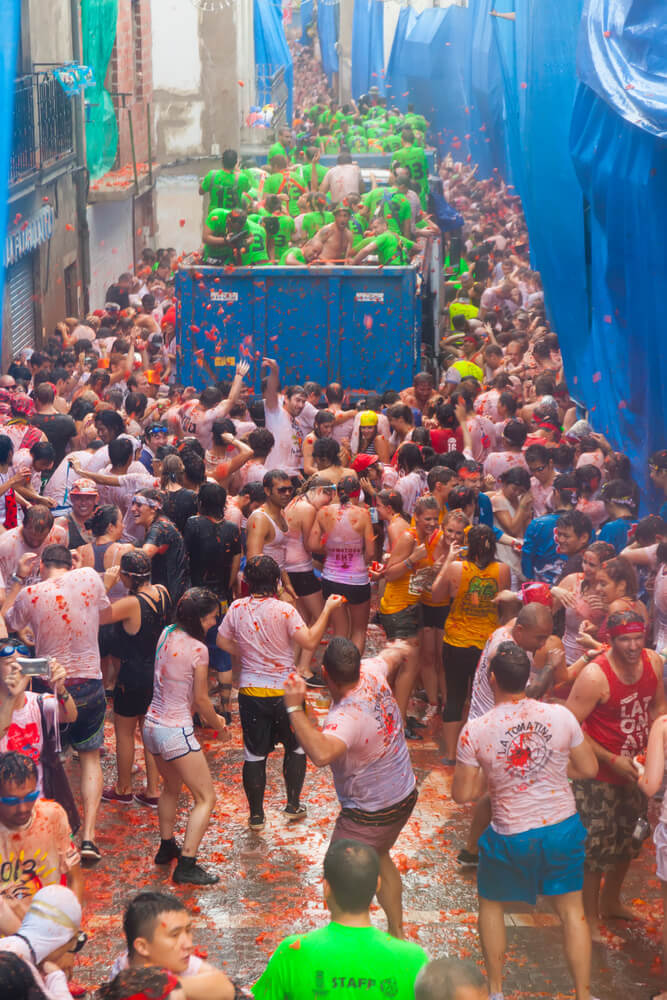 Article Name
Fun and Madness of La Tomatina Festival in Spain - Thomas Cook India
Description
If you want to experience fun and fiesta at its best, try arranging your trip to Spain during the season of La Tomatina!
Author Name