Guide to God's Journey: The Amarnath Yatra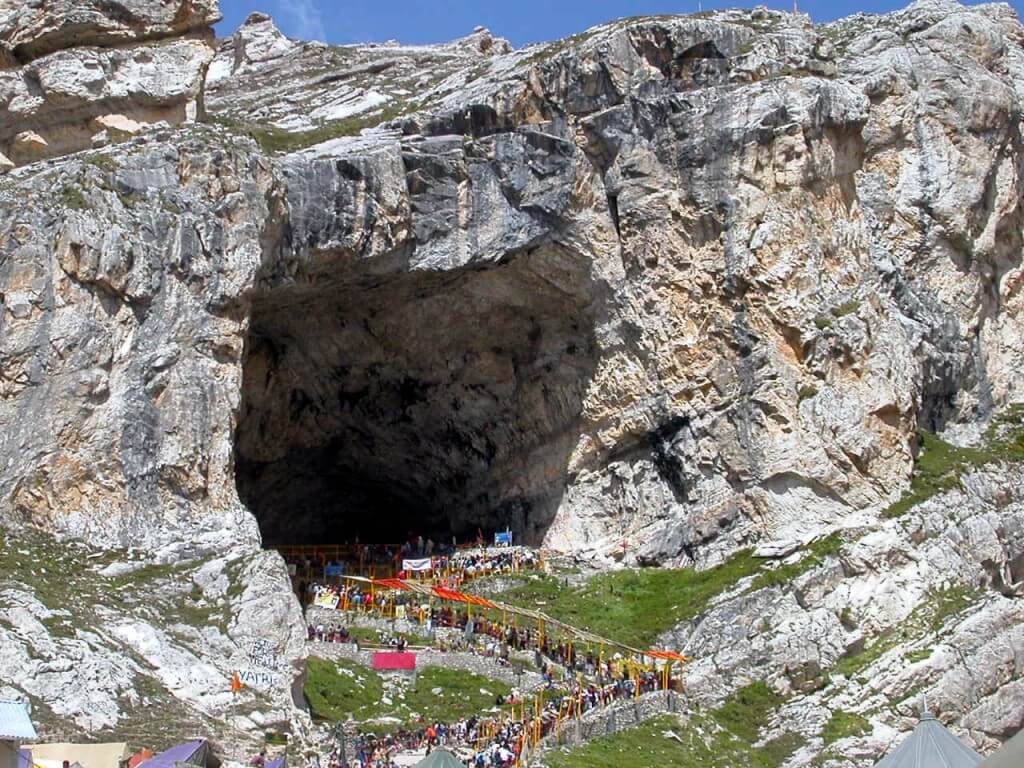 Legend has it, that the Goddess Parvati once turned to Lord Shiva asking him when he started wearing the bead of heads (known as Mund Mala). Shiva responded, "whenever you are born". To this Parvati wondered why she experienced the cyclical nature of life, death and rebirth. What was the secret? Shiva told her that it was the secret of the Amar Katha (the story of immortality). When Parvati implored Lord Shiva to share this story, he decided to whisper the story to her in a sacred and secret ground – the Amarnath cave. Thus, began an arduous journey to the cave – fit to test the gods.
Today, mere mortals trace this journey to the cave, as Lord Shiva decried that those who reach the cave, are worthy of moksha (a transcendent state where a soul is released from the cycle of rebirth).
The Amarnath Yatra is not just a journey within oneself to explore the concept of life. It is also a test of one's faith, one's strength and one's body.
As you seek to undertake the journey that challenged Lord Shiva and Parvati, we thought you could use some guiding points for this trek. Let's get started on the journey of life.
Stairway to Heaven – Routes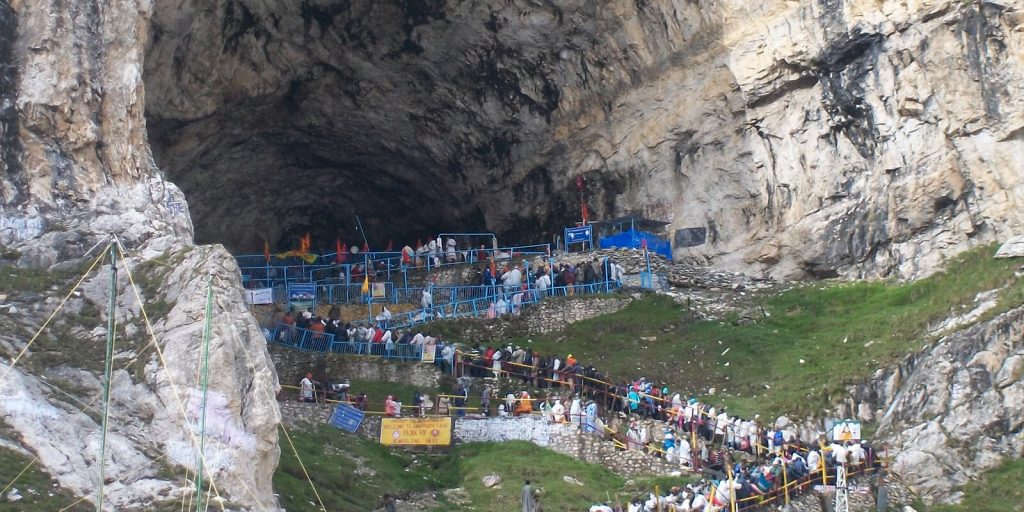 There are 2 routes to reach the sacred Amarnath cave. One from Pahalgam and another from Baltal.
Pahalgam – You can approach Pahalgam from two points – from Jammu (315 kms away) or Srinagar (96 kms away), via bus, taxi or car. From Pahalgam, devotees will either walk or drive to Chandanwari (16 kms away). From there, devotees will climb to Pissu Top and then follow a steep incline to reach Sheshnag lake. A steep 4.6 km climb leads to Panchtarni – the last camp before the holy cave. 6 precious kilometres away is the Amarnath cave.
Baltal – From Jammu, devotees will traverse a length of 400 kilometres to Baltal. From there, they can either travel via ponies or on foot to reach the cave. This route is shorter, but slightly more perilous. The path is narrow and steep and is a feat of endurance.
Finally, a third route is available. Although the previous two routes offered the comfort of the car, the precision of the pony and firm grip of the footstep, the third route is via the skies. Devotees can complete the journey in a day by taking a helicopter from Pahalgam to Panchtarni.
Amarnath Awaits – Dates
If 2019 is the year to put your faith to test, then luckily, the Amarnath Yatra is just around the corner. The dates of the yatra are decided and released by the Amarnath Shrine Board. This year, pilgrims will take the first steps of the yatra on 2nd July. The last day to visit the holy shrine will be 15th August. For those who cannot join the yatra this year, the cycle begins again next year.
Amarnath Yatra – Trekking and Training – Health and Fitness
Rocky roads, high altitudes, rain slicked paths, sheets of sleet and thick drifts of snow – the Amarnath Yatra puts its pilgrims to the test. This is a test of both faith and physique – both of which are deeply intertwined on this journey. In this way, the yatra almost becomes symbolic of life itself.
The body is your greatest instrument on this yatra. It needs to be fit and so preparation is key. You need to start preparing at least 2 months in advance. Learning breathing techniques to cope with the high altitudes is key. Next is building the stamina necessary for a trek like this. Establishing a steady sleep cycle, healthy eating habits and drinking lots of water will increase your body's stamina and strength before the trek.
Do note, that if you suffer from any kind of lung disease, high blood pressure or heart problems, you will need to check with your doctor before embarking on the pilgrimage. Since 2014, it is mandatory to obtain a medical certificate
On the trek, do not overexert yourself. Walk slowly and steadily. While the trail is mostly flat, there are some areas where you will need to climb. Follow the advice of your guide and proceed with caution.
Part of the Pack – What to Carry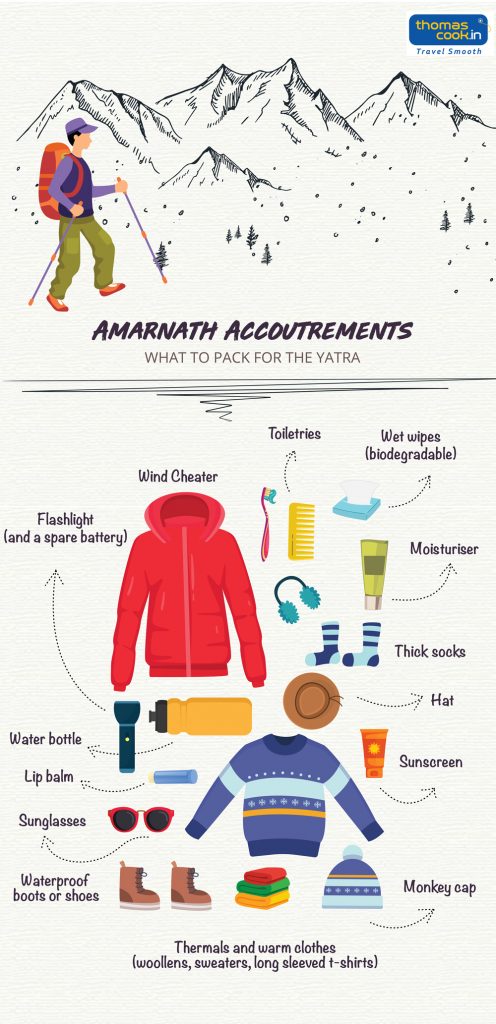 This trek, with extreme temperatures and landscapes, demands comfort and protection. When you're packing for the trek, make sure you include:
Thermals and warm clothes (woollens, sweaters, long sleeved t-shirts)
Toiletries
Raincoat
Wind Cheater
Thick socks
Monkey cap
Sturdy waterproof boots or shoes
First-aid kit
Water bottle
Sunscreen, sunglasses and a hat
Lip balm and moisturiser
Flashlight (and a spare battery)
Wet wipes (biodegradable)
(Feel free to add to this list, based on your specific requirements).
Do's and Don'ts – Amarnath Yatra
Even in a landscape as remote and wild as this, there are rules to follow. Below, we've listed behaviours – both welcome and unwelcome – for you to follow:
Do:
Train before undertaking the trek. Also, carry your medical certificate.
Carry light eatables like biscuits, dry fruits, tinned food and water
Make sure the guides handling your ponies are officially registered and carry proof of their registration
Carry your own personal medical kit – in case your doctor has prescribed medication for you
Research the rates for porters, ponies, accommodations, tips etc in advance.
Don't:
Try to avoid traditional clothing like saris and dhotis. Stick to salwars and pants for mobility and comfort on the trek.
Do not carry or partake of alcohol during the trek. It is strictly prohibited.
Do not overstrain on the trek. Walk slowly and steadily.
Do not overtake other devotees or break from the group and wander off on your own. Follow your guide's instructions.
Suggested Read : Amarnath Yatra: A Journey Embellished with Mythology
Although the trek is daunting, do remember that you're following in the footsteps of immortals. So, it's natural to need the help of travel experts. At Thomas Cook, we've got a centuries worth experience in guiding travellers to their destinations – Amarnath is no different. You can check out our exclusive Amarnath packages, here , and choose the one that suits you best.
So, put your most faithful foot forward. You're about to take the spiritual journey of a lifetime.