10 Curated Spots to Help You Book the Best Honeymoon Resorts in India
| SI.No. | Honeymoon Resorts in India | Approx cost per night | Distance from Domestic Airport | Trip Advisor rating |
| --- | --- | --- | --- | --- |
| 1 | Oberoi Udaivilas in Udaipur Rajasthan | INR 37,600 | 26.5 km from the Udaipur Airport | 5/5 |
| 2 | Park Hyatt Resort and Spa, Goa | INR 13,000 | 14.6km from Goa Airport | 5/5 |
| 3 | Butt's Clermont Houseboats in Srinagar, Kashmir | INR 17,000 | 27 km from Srinagar Airport | 5/5 |
| 4 | The Khyber Himalayan Resort and Spa in Gulmarg | INR 19,000 | 60kms from Srinagar Airport | 4.5/5 |
| 5 | Barefoot at Havelock | INR 11,500 | 68 km  from the Port Blair Airport | 5/5 |
| 6 | Ri Kynjai Serenity by the Lake in Shillong | INR 10,500 | 16.4 km from the Shillong Airport | 5/5 |
| 7 | The Windflower Resort & Spa in Coorg | INR 13,500 | 276 km from Bangalore Airport | 5/5 |
| 8 | The Oberoi Vanyavilas in Ranthambore, Rajasthan | INR 37,000 | 147 km from Jaipur Airport | 5/5 |
| 9 | Marari Beach Resort in Alappuzha, Kerala | INR 9,000 | 73.6 km from Cochin Airport | 5/5 |
| 10 | Thengal Manor – Jorhat, Assam | INR 5,500 | 337 km from Guwahati Airport | 4/5 |
Weddings in India mean long hours of rituals and days of celebrations. Planning a honeymoon can be quite confusing. Right from the location, to the honeymoon resorts in India, to what to eat and a whole lot of other shenanigans to make the experience a memorable one can be quite daunting. Your Honeymoon is the only time when the newly-weds find some time for themselves after the long rituals and wedding functions. To make this time memorable for couples, there are many romantic resorts which offer a perfect mix of beautiful settings, utmost comfort and privacy.
From heading to a romantic or spa retreat to pampering your loved one with a candlelight dinner under the stars to staying in a tree house, these luxury honeymoon resorts in India have a lot to offer you. All you got to do is choose. If you are looking planning your honeymoon head off to any of these romantic resorts and honeymoon destinations and you are sure to have the time of your life.
The Best Honeymoon Resorts in India
1. Oberoi Udaivilas in Udaipur Rajasthan – Live in Royalty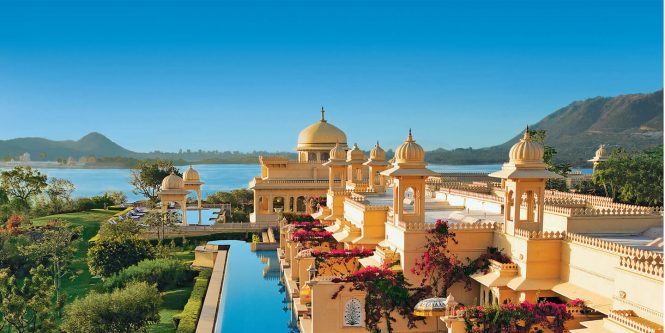 Known as the Venice of the East, Udaipur is home to many romantic retreats but none of them can beat the charm and panache that the Oberoi Udaivilas has to offer. This lake resort is perfect in every way. Standing proud and strong on a 200- year old hunting ground, this property showcases the heritage and culture of Rajasthan and very gracefully merges it with luxury. We highly recommend a private lakeside dinner, under an ornate dome. It will be a memory that can never be forgotten. Every little detail is taken care of. The Rajasthani hospitality and its colours are seen evidently here. This is the place to experience unparalleled luxury, a luxury fit for the kings.
Distance from Domestic Airport: 26.5 km from the Udaipur Airport
Trip Advisor rating: 5/5
Approx cost: INR 37,600 upwards per night
Location: Haridasji Ki Magri, Mulla Talai, Udaipur
2. Park Hyatt Resort and Spa, Goa – Bask in Sun and Sand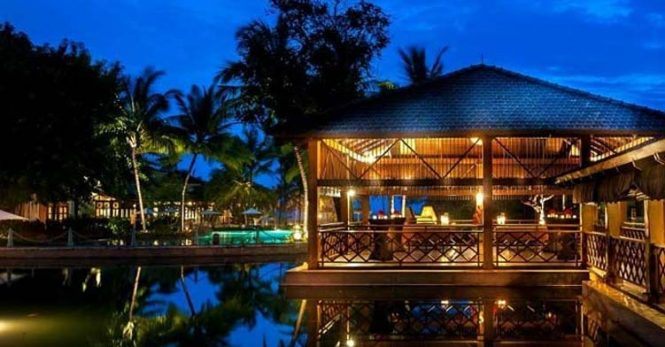 The Park Hyatt Resort and Spa is a replica of an Indo Portuguese township. Spread over 45 acres of waterways, lagoons and landscaped gardens, this is one of the top honeymoon resorts in India. The cottages are styled in an Indo Portuguese style ensuring each room has a view of the pool or the lagoon or the garden or the sea. With some lip-smacking delicacies and cuisines and a wide options of fine dining restaurants, The Park Hyatt is the place to indulge in with your love by your side. While at this property don't miss out on the Yoga programme, horticulture tour and water sports are among the best of them. Goa is all about the sun and sand, the Park Hyatt accentuates this experience with its hospitality, food and luxury.
Distance from Domestic Airport: 14.6km from Goa Airport
Trip Advisor rating: 5/5
Approx cost: INR 13,000 upwards per night
Location: Arossim Beach, Cansaulim, Goa 403712
Check our best Goa tour packages to indulge in the carefree spirit of Goa.
 3. Butt's Clermont Houseboats in Srinagar, Kashmir – Heaven on Earth
Docked at the secluded western corner of the fascinating Dal Lake, Butt's Clermont's Houseboats are a wonder. Overlooking the snow-capped mountains and providing luxury and comfort, they are undoubtedly the best among houseboat romantic resorts. What adds to its beauty is the fact that is right next to the Mughal garden, built by Emperor Akbar. The wooden houseboats add their own signature-carving of Srinagar's artistry. Delicious local cuisine, exhibiting the rich heritage of Kashmir is also served here. All the houseboats have a big hall with dining area and TV. There is a cosy sit-out area where you can chat over a steaming cup of Kawha and simply enjoy the scenery. Don't forget to taste the authentic Kashmiri cuisine which is well known worldwide.
Distance from Domestic Airport: 27 km from Srinagar Airport
Trip Advisor rating: 5/5
Approx cost: INR 17,000 onwards per night
Location: Hazratbal Rd, Naseem Bagh, Srinagar, 190006
4. The Khyber Himalayan Resort and Spa in Gulmarg, Kashmir – Romancing in the Coniferous Forests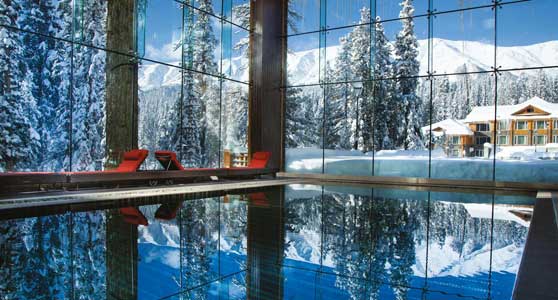 The Khyber Himalayan Resort and Spa is one of the most popular romantic retreats in India. This 7 acre, the majestic property sits snugly amidst the conifer trees and is at a height of 8,825 feet. Pamper yourself and your partner to the luxurious spa, or simply try skiing or just take a walk in the woods. The Khyber Himalayan Resort & Spa allows the guests to indulge in various activities like skiing and trekking. This place looks even better in the winters when it snows and the whole place is covered by snow.
Distance from Domestic Airport: 60kms from Srinagar Airport
Trip Advisor Rating: 4.5/5
Approx cost: INR 19,000 upwards per night
Location: Hotel Khyber Rd, Forest Block, Jammu and Kashmir 193403
5. Barefoot at Havelock – Amid Clear Skies & Clearer Waters
Pristine turquoise waters, blue skies and the tropical forest surround Barefoot at Havelock. Situated on Beach No.7, Barefoot at Havelock is an experience of a lifetime. This resort is not just a resort, but an experience in itself. Once you are at the resort, you will not want to go anywhere else. Simply walk hand in hand on the beach or dive in the waters and see the marine wonders or simply sit under the stars and enjoy some quality time with your loved one.
Distance from Domestic Airport: 68 km  from the Port Blair Airport
Trip Advisor rating: 5/5
Approx cost: INR 11,500 upwards per night
Location: Beach N0. 7, Radhanagar Village, Havelock Island, Andaman Islands, Andaman and Nicobar Islands 744211
Our Andaman holiday packages are the best way to explore the paradise islands of Andaman.
6. Ri Kynjai Serenity by the Lake in Shillong, Meghalaya – Romance in the Abode of Clouds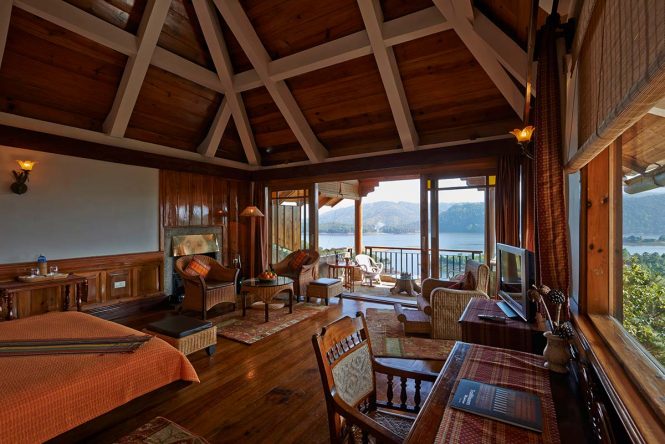 Romance amidst the clouds at the Ri Kynjai Serenity and experience the hospitality of the North East. Located in Shillong, this resort has some stunning settings. Pamper your taste buds to some authentic Khasi cuisine and rejuvenate yourself at the spa. Take a trek in the hills or simply sit by the lakeside and soak into the beauty of nature. While in Meghalaya, take some time out to go see the living bridges, the crystal clear Umngot River in Dawki. Meghalaya is also home to some extremely gorgeous waterfalls. If you both are nature lovers then Meghalaya is the perfect honeymoon destination for you.
Distance from Domestic Airport: 16.4 km from the Shillong Airport
Trip Advisor rating:5/5
Approx cost: INR 10,500 upwards per night
Location: Umniuh Khwan, UCC Road, Ri Bhoi District, Meghalaya
 7. The Windflower Resort & Spa in Coorg, Tamil Nadu – Coffee and Serendipity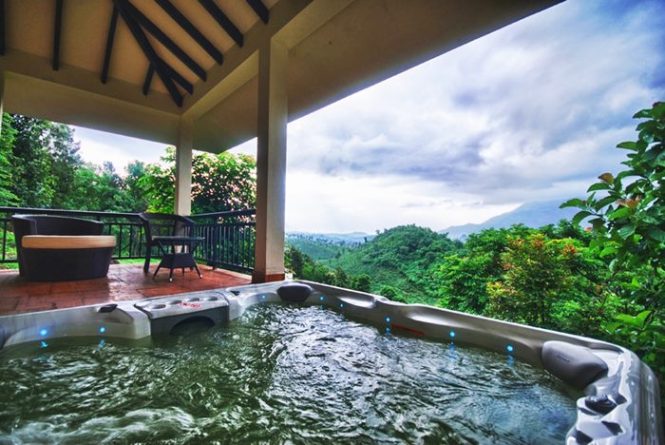 Windflower Coorg is situated amid an exuberant coffee estate and spread across an area of 25 acres. It is complete with a glistening lake, private waterfalls, an outdoor infinity pool, and a refreshing spa. The scenic views of the rich verdant green hills further make it one of the best honeymoon resorts in India. Don't miss out on the Candlelight Dinner Package that features a four-course meal. While in Coorg, do take a trip to the spice gardens and a walk in the coffee plantations. Relish on some local food and hear tales of bravery from the locals.
Distance from Domestic Airport: 276 km from Bangalore Airport
Trip Advisor rating: 5/5
Approx cost: INR 13,500 upwards per night
Location: Survey No. 201/P1, Kedakal Village, Suntikoppa Hobli, Somwarpet Taluk, Kodagu District, Mercara, Karnataka 571237
8. The Oberoi Vanyavilas in Ranthambore, Rajasthan – Love in the Dessert
If you and your partner are wildlife enthusiasts, there can be no better destination than the Oberoi Vanyavilas Resort in Ranthambore. Located barely 10 minutes away from the Ranthambore Tiger Reserve, this place is heaven for everyone who appreciates wildlife. Their Observation Deck overlooks the bordering woods and the watering hole where many animals and birds can be spotted. Don't miss the Wildlife safari, art walks, private Yoga sessions, camel cart rides, star gazing, and a romantic a dinner by the lake while you are at the property.
Distance from Domestic Airport: 147 km from Jaipur Airport
Trip Advisor rating: 5/5
Approx cost: INR 37,000 upwards per night
Location: Sawai Madhopur, Ranthambhore, Rajasthan 322001
 9. Marari Beach Resort in Alappuzha, Kerala – God's own Gardens
Planning a tropical escapade with your partner? Look no further than the Marari Beach Resort. Located in Alappuzha, it features tropical-themed cottages that come with a minibar, a sitting area, and a terrace. The cottages are surrounded by a lot of palm trees.  Now simply relax by the pool, go out for a lovely ride aboard Kettuvallam (traditional Kerala houseboats), and enjoy couple massages. If you are a nature enthusiast don't miss the backwaters of Kerala. Also, do not miss the in-house restaurant at the Marari Beach Resort which is renowned for serving delicious regional and seafood dishes. Appams and vegetable or chicken stew is a favourite breakfast.
Distance from Domestic Airport: 73.6 km from Cochin Airport
Trip Advisor rating: 5/5
Approx cost: INR 9,000 upwards per night
Location: Marari Beach, S.L. Puram, Mararikulam P.O., Alleppey, Kerala 688549
10. Thengal Manor – Jorhat, Assam – Brewing Romance over Tea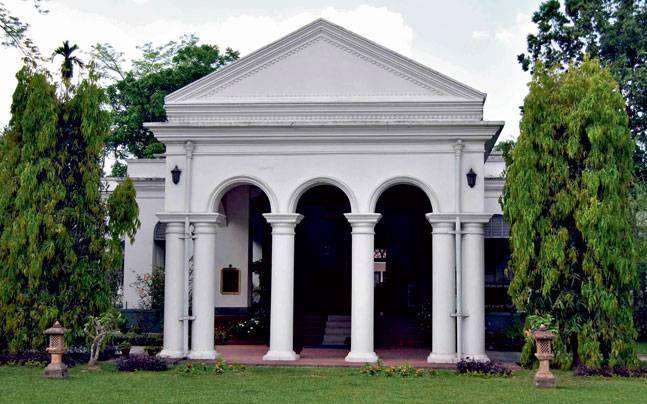 Jorhat is a village in Assam and is not known to many. The Thengal Manor is a beautiful heritage tea estate bungalow which is located at Jalukonibari, about 15kms from Jorhat. It offers a palatial stay complete with an immaculate lawn, a classical portico and period furniture. This resort brings back memories of the colonial era which have remained untouched by the passage of time. Built over 100 years ago, it used to be the residence of the Tea factory Assistant Manager. It now is a cosy place with 7 rooms, which are designed with modern amenities. This place is especially recommended for couples looking forward to a staying at a plantation bungalow.
Distance from Domestic Airport: 337 km from Guwahati Airport
Trip Advisor rating:4/5
Approx cost: INR 5,500 upwards per night
Location: Jalukanibari, Jorhat, Assam 785630
India is truly blessed with wide and varied geographical differences. And therefore we have resorts that cater to every mood. From peace and spirituality to adventure, from nature to the golden sun and sand, there are romantic resorts that offer utmost privacy, great hospitality and top class luxury.  Destinations like Goa, Andaman and Nicobar islands have been some top honeymoon destinations.
While the list of destinations and resorts gets bigger, we made our recommendation list of honeymoon resorts that offer privacy, comfort and luxury.
Here are some Frequently Asked Questions about the Popular Honeymoon Resorts in India
How do we finalise on the honeymoon resort destination?
Depending on your interests and level of comfort choose a location. If you are looking to relax find romantic getaways that allow relaxation if you both are adventure freaks, you could choose a destination on those lines.
How many days prior should a honeymoon resort be booked?
For domestic destinations, a booking done 45-60 days in advance is always beneficial. This will ensure that you have all the bookings in place.
Are the prices of honeymoon resorts in India subject to change?
Yes. Resort prices are subject to change. The pricing depends on the management.
Will honeymoon resorts in India have activities?
Most resorts have or arrange for activities. However, you are also free to explore the city on your own.
Do honeymoon resorts offer activities like water sports?
Most resorts near the coast would have water sports or water-related activities to keep their guests entertained.
Are the honeymoon resorts in India pet-friendly?
Not all hotels are pet-friendly and you will need to check with the resort authorities before making a bookingh