Ladakh – The Biker's Everest
Imagine yourself surrounded by the spectacular and jagged mountains of the cold deserts of Ladakh. The entire journey is in your hands. You control your path. It is you, your bike and the jaw-dropping splendour of Ladakh. As you leave behind the noisy, deafening sounds of the city, making your way through the twists and turns in the 'Land of High Passes,' you will experience real adventure. No two points will have the same view; every turn you make will reveal gorgeous vistas. The likes of which cannot be found anywhere else in the world. It will prove to be the experience of a lifetime as you test your limits on a truly inspiring journey.
The Must Visit Places in Ladakh
The ride through the most sought-after destination, for every bike-lover and a traveller, promises you the chance to witness some amazing sights. The roads to Leh-Ladakh are open only from May to October, so plan your next trip accordingly.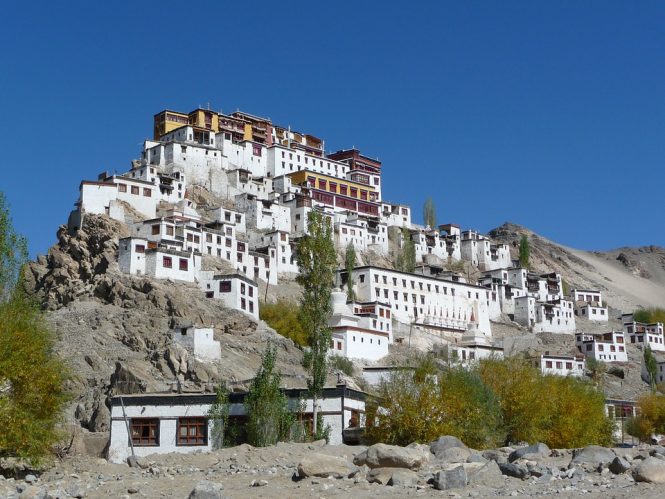 Spiritual Sanctuaries: Also known as 'Little Tibet,' the presence of Buddhist monasteries in Ladakh will give you a chance to find some peace on your thrilling adventures. Don't miss out on seeing first-hand the Cham Dance which is performed in all the Buddhist monasteries according to the calendar it follows. It is seen during the celebration of one of the major festivals of Ladakh – Gustor. A beautiful example of how our faiths bring together people is the Gurudwara Pathar Sahib. Built to commemorate the visit of Guru Nanak Dev to Leh, it is a beautiful monument located 12000 ft. above sea level.
Nature's Spectacles: The things that will truly test your endurance and leave you in awe are things that you would not be able to conjure in your imagination. When drive through Khardung La Pass, which is the highest motorable pass in the world, you will be humbled by the greatness of nature. The confluence of the powerfully gushing Zanskar and Indus Rivers leaves everyone in awe. Another landmark of this beautiful paradise on earth is the Pangong Lake. Nestled amongst the high reaching mountains are the turquoise blue waters of this salt water lake. And when you feel like experimenting, there is always the Magnetic Hill. A local mystery, it is called so because all vehicles do not go downhill on the slope all thanks to its supposed magnetic properties.
Be prepared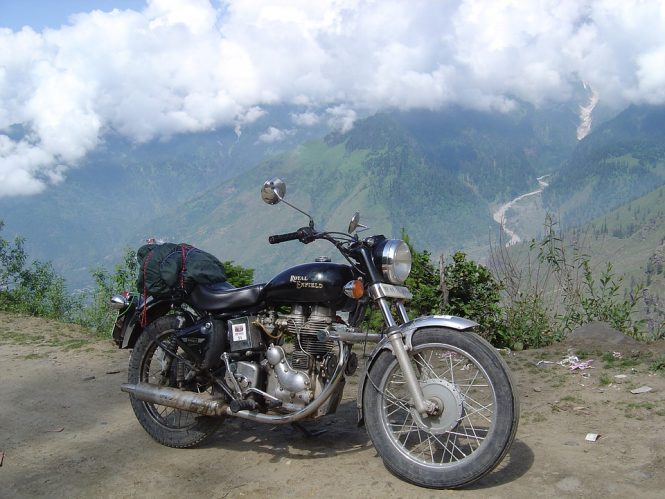 Adventurous as your journey will prove to be, you do not want any surprises. And when planning a road trip to this haven which almost reaches the skies, it is best to prepare yourself. Physically and mentally. Here is a list of all the essentials you will need.
Riding Gear & Accessories – Your bike is your best friend here, and you need to prepare it to weather the long journey ahead. The bike must be well-maintained, and suitable on off-roads. Along with that, you will need riding gloves, riding pants or knee guards, and riding boots. It would be also be safe to carry tools along with some spare parts, which include a clutch wire, throttle wire, engine oil, puncture kit, air pump, and an extra pair of brakes. And don't forget to carry a helmet!
Clothing – The temperatures will certainly not be kind as you reach altitudes that go higher than 17000 ft above sea level. So pack accordingly. You will need woollen socks, thermal liners, woollen scarfs, a woollen sweater, a riding jacket, sturdy shoes, and a woollen cap – pack layers which can easily be worn or discarded according to the varying temperature.
Documentation – Some of the locations you will want to visit may require an inner line permit, and being so close to the borders, it is best to equip yourself with all the correct papers. Keep your inner line permit, ID proof, RC book, passport size photos, bike insurance, and driving license at hand.
Medical Aid – Being at such high altitudes is not easy for any human body, and if you are not used to being in the mountains, you may be more prone to falling ill. Keep yourself prepared with the following: Diamox tablet (for AMS), a first aid kit, a pain relief spray, and a portable oxygen mask. And of course, if you have any prescribed medications, make sure you carry those too. Be sure to visit your doctor before the trip for a complete list of medicines.
Additionally, you may need these items too – a pocket-knife, a torch, a jerry can, power banks.
Also Read : 10 secrets you didn't know about Ladakh
Ladakh : Health & Safety Precautions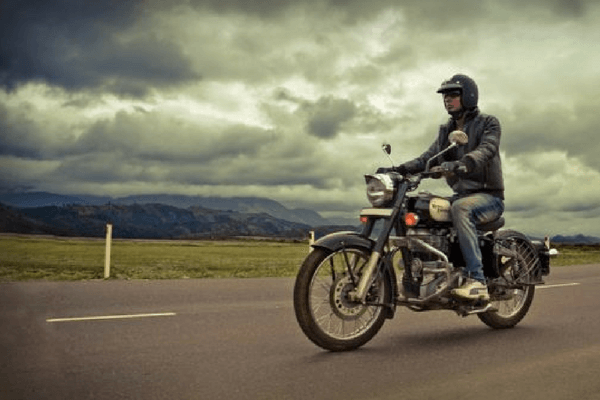 Riding to the highest plateau of the country is no easy task. So keep these few things in mind as you plan your trip to 'The Land of the Mystic Lamas.'
Your excitement and adrenaline may push you to go all out, but it would be best to take it easy. Your body needs time to get acclimatized to the drastic altitude changes. And depending on your fitness levels, you may be prone to Altitude Mountain Sickness (AMS). So keep yourself prepared.
Keep yourself hydrated. Even though cold, it is still a desert. So drink 3-4 litres of water a day to prevent your body from feeling dry.
Anybody who wishes to make this journey is free to fulfil their heart's desire, though people with any health issues (blood pressure, heart problems, asthma), should consult a doctor.
You need not be a fitness guru ride to Ladakh, but it would be preferable if you work on your endurance before the trip. Try to go jogging a month in advance, and practice riding a motorcycle for long distances on mountainous terrain, if possible.
Keeping cash on hand will prove to be a safe bet rather than depending on ATMs.
Keep a physical map handy as poor connectivity issues may inhibit the use of using Google maps.
Be well rested before your ride as the roads require intense concentration.
Recommended Read : 5 Things to Look Out For In Ladakh
Ladakh : Dos & Don'ts
Get to know the locals. The people are very friendly, and if you have any trouble, they will do their best to help you. Be respectful of their beliefs and traditions.
Do not photograph locals without their permission; the older ones are superstitious about cameras.
Do not ride in the dark as the terrains are not to be underestimated.
Follow the army's instructions. Do not enter restricted places.
Be respectful of the splendour of nature and therefore, do not litter.
Do not drink and drive.
The most important thing to keep in mind for your travels is to be calm, patient, and determined. And you will experience a journey that will be impossible to forget! The thrill of the ride, the presence of the far-reaching Himalayas, will etch an image that will forever stay in your memories. Have the best experience of your life by booking a holiday package with Thomas Cook. We have years of experience to back us, which will help us fulfill all your requirements. All you have to do is make the most of it!