Romantic Restaurants in Pune that will Make You Fall in Love This Valentine's Day
Being a romantic at heart can be tough and challenging at times. If that's not your territory, things can get tricky and difficult to woo our crush and realize our dreams of getting hitched with them. Thankfully, however, there are some places that are okay with people like us being less romantic. With their ambiance, set up and feel, such restaurants make us feel comfortable the way we are and still make an impact on our partners when it comes to romance and love. Be it your first date or the date that could turn things for the better for you, we have carefully handpicked a few Romantic Restaurants in Pune that are perfect for the Valentine's Day. Before we go for that, let us give you two tips which will help you woo your someone special!
Speech
A romantic speech is all about reflecting your thoughts on how you feel about him or her. You don't have to necessarily use big words or write in fancy English or even Hindi Shayaris. A simple phrase on how you wake up only to spend time with him or her can make all the difference. Be genuine in what you say and don' try to exaggerate because that would pass off as cheesy. Thank him or her for being there and slip in the thought of the very same fact to be permanent. Slow down while you talk and look directly into the eyes. You don't have to switch to a base voice or fake accents. Speak in a language that is comfortable for the both of you.
Gift
Gifting is a clichéd process but you can make a difference in when you give it. Like most other people, you can either give it as soon as he or she walks in or sustain the surprise and give it to them in the midst of the conversation or after ordering food. You can also get it fetched by the waiter for an out-of-the-blue moment and give it to your lover. Be it a bouquet of fragrant flower, a chocolate box or whatever strikes your mind to be special, timing will set your approach apart.
These restaurants already have the vibes of romance flowing and all you have to do is keep up with it.
Romantic Restaurants in Pune
1. Paasha: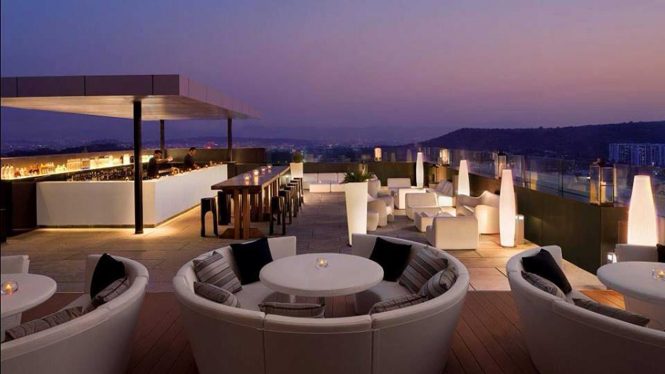 Talk about a romantic evening and the first restaurant to strike is Paasha. The best aspect about this restaurant is that it offers two distinct vibes of romance – an open, rooftop lounge that connects you with the city's skyline, gushing winds and the limitless sky and a classy décor with proper sit-down experience of a fine-dine. Regardless of what your taste is, the restaurant goes an extra mile to make your date more special wits ambiance, friendly staff, interiors and food options.
Reserve Your Table at 020 66832356
Approximate Price for Two: INR 2,500
2. Atmosphere 6:
Well-lit and illuminated walls and ceilings are fine but talk about illuminated floors! Atmosphere 6, with an upper-deck setting, offers you a sophisticated set up with color changing floors and a star-lit sky with frequenting airplanes overhead. With an excellent view of the city from the top and an electrifying ambiance, your partner is sure to get surprised with the place and simply fall in love with the evening (and you). The place is also renowned for its food and cocktail selections like pina colada, kebabs, chicken selections, and desserts. And yes, their music is absorbing too!
Reserve Your Table at 020 30189649
Approximate Price for Two: INR 1,800
3. Frangipani:
It happens that sometimes, all you need is just the time out from everything fancy and quality time with the simpler yet elegant things in life. Frangipani is a restaurant that blends the best of both worlds. Simple and cosy seating, comfortable cushions, idyllic decors and perfectly illuminated decors, the place offers everything you need to sink into conversations with your lover and get into a world that has just the two of you. If this is your kind of romance, Frangipani will definitely blow your mind. Great food and great conversations mark the significance of Frangipani!
Reserve Your Table at +91 9822497178
Approximate Price for Two: INR 1,350
4. Addah:
Yet another Romantic Restaurants in Pune that has all the magical ingredients for a romantic Valentine's Day date – rooftop, poolside tables, soft mood lightings, breathtaking views, star-lit sky, romantic music and great food and wine selection. Perfect for an evening date, the hues of the sky simply set the mood for the conversations you have in mind. The spacing between tables gives you privacy and space for yourself to open up with your lover and avoid intrusions. If you are less romantic, this place will compromise for the lack of it offer you an evening you will cherish for a lifetime.
Reserve Your Table at +91 9503000023
Approximate Price for Two: INR 2,200
5. Shisha Jazz Café:
There can be perhaps no other romantic genre of music than jazz! The mild saxophone playing in the background with complementing piano notes and soft percussion, the music can turn anyone into a romantic. With Shisha Jazz Café offering the best of food and ambiance with jazz music, this is the perfect place for you to go on a romantic date with your partner in Pune. The décor is classy with private dining options, seating in a garden, simple yet panache furnishing and pure music. Here, it is all about you two, jazz and romance. If you have a taste in music, forget rooftop romantic restaurants in Pune and head here.
Reserve Your Table at 020 26880050
Approximate Price for Two: INR 2,000
6. Dario's: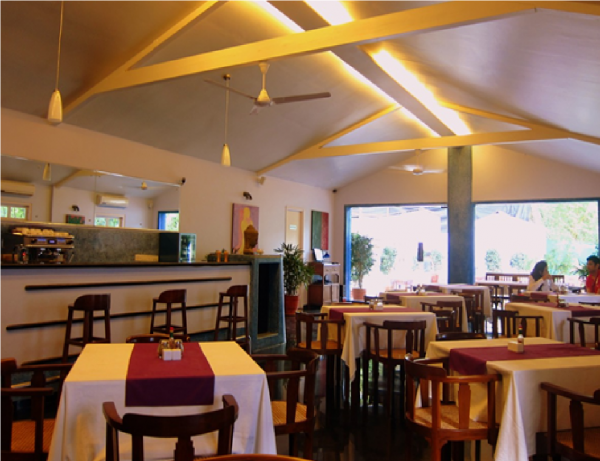 If jazz is a romantic music genre, Italian is a romantic cuisine. With cheese filled delicacies, choice of different bread and dips and the inevitable list of wine selections from a myriad of valleys in Italy, your evening can't get any more special at the restaurant that talks everything of Italy! At Dario's, romance is in the air and food. With its classy and casual décor that offers a peaceful environment and equally classy service, your Valentine's Day evening is in safe hands at the Dario's. Ask for the perfect food and wine pairing and you will surely not regret it!
Reserve Your Table at 020 26053597
Approximate Price for Two: INR 1,500
7. The Flying Saucer Sky Bar:
Pink is a romantic color and psychologically, pink helps in becoming romantic when you are in a setting surrounded by the hues of this color. At the Flying Saucer Sky Bar, this is exactly the décor. With shades of pink occupying the cushions, chairs, walls, and lights, romance is in the air even before you walk in. And when the food is served, you know why we recommended romantic restaurants in Pune for your big evening. Located on a rooftop with ample space for yourself and comfortable seating, The Flying Saucer Sky Bar takes care of your most awaited evening and makes it more special. Head here if you want your relationship status to change overnight!
Reserve Your Table at 020 30162026
Approximate Price for Two: INR 1,500
So these were our top recommendations on the most romantic restaurants in Pune. We know you've been waiting for the moment for quite some time and our recommendations will only help in your relationship goals. From Instag-worthy decors and ambiance to soul-stirring food options, it's going to be one memorable evening this Valentine's Day. Here's wishing you the best!