The month of December is that time of the year when the air takes on a sweet, smoky fragrance that is the hallmark of winter. The skies are clear, there is a chill in the air and the dropping temperature gives a much needed respite from October heat. And December is also the time of twinkling festivities. There is Christmas, where homes and cities are lit up with a dazzling array of lights; which then gives way to the new year, where skies are lit up with frolicking fireworks. Why stay home when the entire world is out celebrating? December may be the most popular month for travelling the world. So let us bring to you the 10 best places to visit in December.
1. Goa, India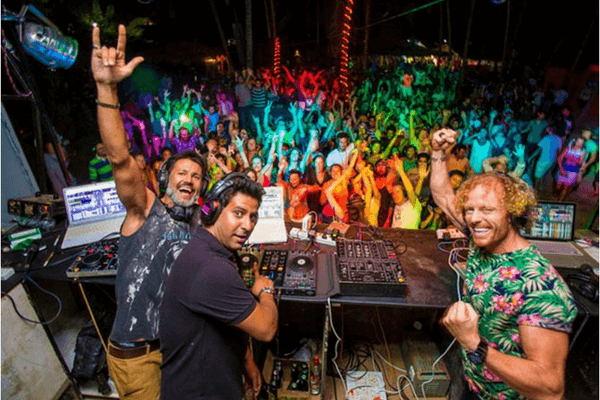 The party-hub of India, Goa may be one of the best places for December holidays in the world. There is no denying the beauty of a beach filled region with a perfect wintery climate to go with it. December holidays in Goa are so popular that you're likely to find the place full of tourists from India as well as the world. Goa has mostly Christian communities so that you can witness Christmas festivities as well as new year celebrations. It makes Goa one of the best places to visit in December. Come December, relax on sandy beaches or dance till morning to EDM music.
Highlights: Parties at Tito's, Mambo's; Silent Noise party; Anjuna Beach; Baga Beach; Palolem Beach
2. Paris, France
We'll say it right away. There is absolutely no place in the world like Paris during Christmas. When you see the Eiffel Tower all dressed up in Christmas lights, you simply cannot take your eyes off. And the glorious Champs Elysees, all decorated in lights of different hues is simply a marvelous sight. It's the air of the place. There is something infectious in it that mesmerizes you.
Highlights: Eiffel Tower, Champs Elysees, Notre Dame Cathedral, Louvre Museum
3. Rio de Janeiro, Brazil
The only other city to rival Paris during December, Rio de Janeiro is an extremely popular tourist attraction during Christmas and hands down, one of the best places to visit in December. What else can you expect from a city which houses the famous Christ The Redeemer statue? This Christmas, go see the towering structure in its full glory and take in the atmospheric magic at Rio. Witness the largest floating Christmas tree on Rodrigo De Freitas Lagoon and party at the yearly new year bash at Copacabana beach.
Highlights: Christ the Redeemer, Rodrigo De Freitas, Copacabana Beach
4. Kerala, India
If calm and serene mornings are what you want this December, then skip the usual 'happening' places and hop over to Kerala holidays, the picturesque 'Land of coconuts' that is also 'God's own country.' Take a houseboat ride along the famed backwaters or simply enjoy the delicious, seafood-rich cuisine. You also won't miss the Christmas festivities since Kerala has quite a large Christian population
Highlights: Alappuzha beach, Kochi Harbour, Kovalam Beach
5. Himachal Pradesh, India
The mountainous state of Himachal Pradesh is absolutely one of the best places to visit in winter in India. And the sole reason is the magical, awe-inspiring snowfall that you get to witness. Travel in December might be cumbersome due to heavy snowfall and blocked roads, but it's worth it. Himachal Pradesh tourism has such a diverse collection of cities and towns, all with their unique qualities that you can easily spend the entire month there. Visit Kullu or Manali to play around in the snow, Dharamshala to see Tibetan Monasteries; and coming new year, head over to Kasol for some great rave parties.
Highlights: Manali, Shimla, Kasol, Dharamsala
6. Malaysia
One of the best sights this new year's eve can be the spectacular fireworks amidst the famed Petronas Towers in Malaysia. December is one of the hottest months for tourism in Malaysia, and that's because it is one of the best places to visit in December. Go for a wildlife quest in the Taman Negara rainforest, hike over the Cameron Highlands or simply relax in luxurious Langkawi. Witness Christmas festivities and stay on for the New Year because New Year's Eve in Malaysia is something else entirely.
Highlights: Taman Negara, Petronas Towers, Langkawi, Batu Caves
Suggested Read: A Small Travel Guide To Make The Most Of Malaysia
7. Macau, Among most recommended places to visit in December
If you want to pamper yourself, indulge in the best parties and the best cuisine, and splurge in ultra-luxurious casinos this December, then head over to Macau – the Vegas of the East. This autonomous state on the coast of China has over 30 world-class casinos and hotels where you can enjoy Christmas as well as the New Year. Witness the fantastic new year bashes and marvel at the spectacular fireworks over the Nam Van Lake.
Highlights: Venetian Macau Casino, Senado Square, Macau Tower
8. Singapore
One of Asia's most well-developed nations; Singapore is an excellent destination to be in this December. One of the main highlights of Singapore is the excellent array of lights that are part of the Christmas festivities. But that is not all, head over to Marina Bay for one of the most spectacular display of fireworks in the world. What's more, you can even get a shot of adrenaline by partaking in some thrilling rides at the Universal Studios amusement Park. It's one of the best places to visit in December.
Highlights: Sentosa, Universal Studios, Gardens by the Bay, Marina Bay
9. London, England – One Of The Best Placed To Visit in December
Quite possibly the best place to be during Christmas, London is adorned with pretty lights almost everywhere during Christmas week. And the place is packed with so many things to do and different tourist attractions during December that you'd be likely to miss a few unless you stay for the entire month. There's Hyde Park's Winter Wonderland, where you can go ice skating with your family; then you've Warner Brother's Studio, where you can visit Hogwart's Castle in all its glory; there's open-air ice skating beneath the Tower of London, and much more. During Christmas and New Year, London is nothing less than a paradise for tourists.
Highlights: Winter Wonderland at Hyde Park, Warner Brother's Studio, Magical Lantern Festival
10. Dubai, United Arab Emirates
Dubai is one of the best places to visit in December, mainly for two reasons. The first is that it has some of the best malls, resorts, hotels, and restaurants in the world. But the second reason is particularly the highlight of Dubai. That is the famous Dubai Shopping Festival, which begins in late December and goes on for a month. The festival is quite literally a shopaholic's dream. Apart from that, witness the sky-scraping Burj Khalifa or the Burj Al Arab Hotel; and shop till you drop at the sprawling Dubai Mall.
Highlights: Dubai Shopping Festival (27th Dec 2017 to 28th Feb 2018), Burj Khalifa, Burj al Arab, Dubai Mall, Ferrari World
Suggested Read: 10 Things To Do In Dubai Shopping Festival Apart From Shopping
It looks like you have a full and satisfying list of places to visit in December this year. So why wait? Choose from any of the diverse places on this list that you fancy. Choose one or choose many, you're bound to enjoy every second of your vacation to these amazing destinations. December is a month of enjoyment and festivities, so make sure you have the best time of your life.
Summary
Article Name
Places to visit in December - Thomas Cook India Travel Blog
Description
December may be the most popular month for travelling the world. So let us bring to you the 10 best places to visit in December.
Author Name
Publisher Name
Publisher Logo