The Most Haunted Places in India that will leave You with an Eerie Feeling
| Sl. No. | Haunted Places in India | Location | Summary |
| --- | --- | --- | --- |
| 1 | Bhangarh Fort | Rajasthan | At Your Own Risk |
| 2 | Dumas Beach | Surat | The Beaches Have Eyes |
| 3 | Tunnel No 33 | Shimla | A Friendly Ghost |
| 4 | Shaniwarwada Fort | Pune | Save Me, Uncle! |
| 5 | Sanjay Van | New Delhi | About the Lady and White Sari |
| 6 | South Park Cemetery | Kolkata | Old and Spooky |
| 7 | Agrasen Ki Baoli | New Delhi | Evil after Sunset |
| 8 | GP Block | Meerut | Abandoned and Terrifying |
| 9 | Savoy Hotel | Mussoorie | Hotel Rooms & Spirits make a frightening Cocktail |
| 10 | Ramoji Film City | Hyderabad | No Shooting at this one! |
Finally, the day had come. You had been long waiting for this day, when your parents have finally left for a wedding and you are all alone for the weekend. It had been a much awaited 'me-time' for you and you at last decide to order pizza, login to your Netflix and binge on 'Stranger Things'. Things are going fine and you text your friends on the temporary liberty you've realized and you message them until 1 AM when they decide to sleep off. You're okay with that and continue to watch the series. It's past 1:30 and you quaintly feel sleepy and you slowly start losing the track of what you are watching. You doze off for a couple of minutes until you hear a knock on the wall. Your heart sinks and you immediately pull out from your blanket to see what happened. Using your phone's flashlight, you look for things but see nothing. Things seem to be okay until you close your eyes and exactly two minutes later, you hear the noise again. Your heart pounds to the inexplicable strange thing that is happening with you and you lose your sleep.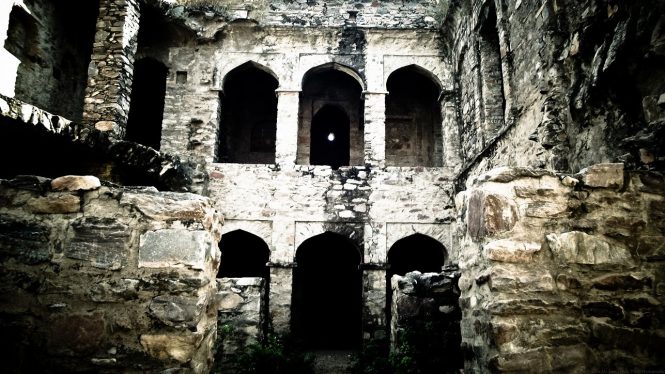 You decide to turn on the lights and try sleeping after keeping a picture of a god beside you. It's been a while since you heard anything and you realize it was just a mice or a small insect passing by. 8 minutes into your sleep, you hear the noise again but this time from a different place. You lose it and start panicking. All the horror movies you've seen flash inside your mind and all that you texted about wanting a fancy car or a phone or even a soulmate is futile and you just want to get over the night. As the night slowly unfolds, nothing paranormal progresses but the sounds keep repeating from different directions. If you feel this experience is spooky, there are adventure and thrill seekers who go out in pursuit of places that are really haunted just to experience the eeriness of the place. If you are someone who is into experiencing paranormal things, here we have the ultimate list of some of the most haunted places in India.
P.S. The intro is a true incident.
The Scariest Haunted Places in India
1. Bhangarh Fort, Rajasthan – At Your Own Risk

You might have read about the fort on news reports about haunted places in India. This is probably one of the scariest places in India that could send chills down your spine no matter how daring you are. Located in Rajasthan, the mystery and the paranormal events experienced are so popular that there is a board right in front of the fort's gate that asks tourists to stay indoors after sunset and before sunrise to avoid experiencing strange events. It's an order from the government, too! People claim that the spirits of the princess and a wizard still roam around inside the premises of the fort.
According to the folklore, a wizard fell in love with the princess and cast black magic spells on here, which lead to her death. Before his death, he cursed the fort that has resulted in its downfall and doom. Some of the televisions programs that decided to cover the place also reveal of strange experiences and awkward discomfort from the actors who decided to pay a visit to the place. The Bhangarh Fort ranks first on our list of most haunted places in India. The Bhangarh Fort is definitely not for the faint-hearted, making it one of the scariest places in India.
2. Dumas Beach, Surat – The Beaches Have Eyes

Who would ever imagine that a tranquil place like Gujarat would have its share of paranormal places? Well, it turns out that it does and this beach is one of the most omnious haunted places in India. Known as the most haunted place in Surat Dumas beach, the place is located in Surat and is renowned for its black sand. Apart from the sand, it is also known for its legends and paranormal experiences. People share that the place was once a burial ground and a place of rest for the tortured souls. If you feel this is not that scary, wait until we reveal the fact that you can hear strange voices at night but can't see anyone nearby. At night, would you be okay if you hear whispers but turn back to see nobody in the vicinity? People also share that several people who went on to explore the place have never returned. Rated as one of the scariest places in India, Dumas Beach is somewhere you don't want to visit in the nights!
3. Tunnel No 33, Shimla – A Friendly Ghost

Tunnels are always quite spooky, especially for the fact that they are lengthy, devoid of light and give you an intense claustrophobic feeling. On the way to Shimla, there are numerous tunnels through which the train passes but one particular tunnel is said to give you eerie experiences. It's the tunnel number 33 and people claim that the spirit of a British engineer – Captain Barog, who was responsible for laying out the tunnels could not meet the deadline and people could still hear his voice and whispers. Known to be one of the most haunted places in Shimla, the tunnel 33 is a nightmare for most of the travellers. However, sources reveal that he had been a friendly ghost. The only comforting thing about this is that you would be with 100 other people on the train. Imagine being stuck alone there!
4. Shaniwarwada Fort, Pune – Save Me, Uncle!

What is this bizarre connection with spirits, haunted places in India and forts? The gigantic buildings are spooky enough in the evenings! However, if you are in Pune or Maharashtra, we believe you know about the Shaniwarwada fort, where the spirit of a prince haunts the premises. When he came to power when he turned 16, he took over the throne that was ruled by his uncle on his behalf thus far. Rated as one of the haunted places in India, Legends reveal that this decision was not liked by the uncle's wife and she conspired to kill the prince. When he was about to be assassinated, the prince went running to his uncle shouting, "Kaka mala vachva," meaning 'Save me, Uncle.' You can still hear a voice or an echo during the new moon nights or Amavasya.
5. Sanjay Van, New Delhi – About the Lady and White Sari

Any movie, book or a video that wants to scare people with jump-scare tactics shows a lady wearing a white sari to create the maximum impact. The truth is, the impact is too much to handle when you experience one. If you don't believe, the incidents on Sanjay Van will convince you the hard way. Sprawling over 10km in the Qutab Institutional Area, the place is known for the haunting of a lady in white appearing at nights and retreating back to a nearby cemetery. While the cause of the haunting and the details about the lady still remain a mystery, people there generally don't recommend anxious souls to wander at night or explore the place.This one if definitely one of the scariest places in India that you dare not visit alone or at the nights!
6. South Park Cemetery, Kolkata – Old and Spooky

A cemetery doesn't have to be haunted to be scary. A simple few seconds of passing by one can give you the coldest of feelings. Set up in the year 1767, the South Park Cemetery is one of the oldest in Kolkata and also one of the most haunted in India. Before we dive into the details about the cemetery and its haunting, we would like to give you a trivia on the movie Poltergeist. The movie by Steven Spielberg is as scary in real as much as it is in the movie. If you didn't know, the movie suffered from a curse where several people from the film's cast and crew died under mysterious circumstances.
To make you understand the intensity of consequence, we shared the details because a similar fact is associated with the South Park Cemetery, where people claim that those who have visited or entered at unwelcoming times have either experienced strange and unnatural things or have died under strange occurrences of events. With the place's mystery still alive, it is indeed one of the horror places in India that you should avoid.
7. Agrasen Ki Baoli – Evil after Sunset

During the daytime, the place might seem to be an architectural marvel with an intelligently designed and constructed step well. But as the sun goes down, the place has dark secrets lurking beneath the wells. Legend has it that the well used to be filled with unique black water, which made hundreds of people jump in and commit suicide. If that is not enough for the haunting, the place also suffers from an evil spell and those who stay after the sun sets are believed to experience dark and eerie paranormal experiences making the place rank number 7 among the most haunted places in India.
8. GP Block, Meerut – Abandoned and Terrifying

Even when you are moving in a vehicle or a train, when you come across an abandoned building that has not been visited in ages, it immediately sends ripples down your spine. Imagine exploring one! The GP Block in Meerut is one such abandoned house that is terrifying at nights. With shattered window panes, broken doors, creepers and ruptured paints, the building has all that it takes to make a haunted house. What makes it paranormal is the presence of a woman in the double-storied apartment who is seen often by locals. They claim to spot her sitting on the roof of the house in red clothing. If that is not enough, people also see images or flashes of four youngsters sitting inside the house drinking alcohol under the light of just one candle. Forget after sunset, we would definitely think twice before stepping in even in broad daylight.
9. Savoy Hotel, Mussoorie – Hotel Rooms & Spirits make a frightening Cocktail

In a quaint hill station called Mussoorie, rests a hotel that is as serene as the destination. However, people have different opinions after sunset. Visitors to this hotel and guests have claimed for long that they have experienced an eerie presence in their rooms, more like that of a lady. The attendants and staff working there on night shifts even claim of hearing strange voices and noises at night and that they have also seen a lady in white walking along the corridors. It is believed that the lady was murdered and the circumstances of it are still a mystery. Nevertheless, it is scary to think that you have to share a room with a spirit that can knock you off your bed in a hill station far, far away from the comforts of your home! The Savoy Hotel ranks at number 9 in our list of most haunted places in India.
10. Ramoji Film City, Hyderabad – No Shooting at this one!

Visited by thousands of tourists, the Ramoji Film City is one of the most popular tourist destinations in South India and anyone who visits Hyderabad takes a day off to visit the place that has been home to some of the grandest movie sets. Little does everyone knows that it has a twisted past as well. Before the film city came to be what it is today, it was supposedly a war ground of the Nizam public school and before that a burial ground for robbers. When a villa was constructed by an affluent landowner on the burial ground, it soon became haunted and the owner died within a week of moving in. Legends claim that the ghosts and spirits still roam the premises and leave mysterious marks on the mirrors. Another legend also claims that the spirits tend to influence women more than men. Whatever the reason is, the story behind one of the most happening, yet haunted places in India is indeed bone-numbing.
So this our list of some of the most haunted places in India. It is more like information of sorts to know about some of the tourist places you visit and does not encourage to pack your bags and explore them. Respecting the spirits and leaving them be is safe and suggested. You can explore the places during daytime but with the guidance of the locals. Fortune, in these cases, does not favour the brave but the idealists.