Bali On A Budget – One Of The Best Destinations For Couples
Bali isn't nicknamed the 'Islands of the Gods' for nothing. Pristine beaches, a rich and diverse history and culture and mouth-watering cuisine make the mere mention of Bali evoke wanderlust. At this magically romantic getaway, couples may wander the bustling markets of Kuta, sip from coconuts at Balangan Beach, grab a cuppa at the Nasa Café nearby or dive into the underwater world that awaits them at the coast of Nusa Lembongan; there are so many things to do here in Bali on a Budget.
It's easy to let the jaw-dropping beauty of this island deceive you into thinking you'll have to spend a bomb. Worry not. When planning your Bali tour packages, you will be pleasantly surprised by your incredibly high purchasing power. In Bali, INR 1 is worth approximately IDR 209.
We've chalked up a list that will make your vacation just as romantic as it would be if you spent a fortune. Here's how couples can discover Bali on a budget.
1. Planning Your Travel To Bali
Bali is at its most affordable during January (after the New Year) to March and October to November. Bali experiences wet weather during these months. This translates to residents walking around with colourful umbrellas and ponchos and, of course, lower hotel booking rates accompanied by a plethora of offers. This is the perfect version of Bali for couples looking for an affordable holiday. Apart from the magical weather, they will also be greeted with quieter roads and fewer crowds.
2. Picking Accommodation
Luxury resorts and premium services will seem very affordable when you plan your travel to Bali on a budget. You'll find most of these ritzy hotels and villas at Seminyak and Ubud.
Why holiday in a hostel when you can snuggle up at a private villa? You can rent out a private villa for as low as IDR 150,000, which is about INR 720. Glorious cliff-side views and elegant infinity pools will seem like a steal.
3. Scouting The Landscape
If you and your partner are looking for ways to save some bucks on your Bali holidays, local transportation is the best way to do it. Taxis are the most expensive way to travel locally. Zoom around on a motorbike instead. They're fast, fun and available at a meager sum of IDR 30,000-50,000, which is just around 143 to 239 INR a day. If riding a bike is not your cup of tea, download the Blue Bird app that provides reliable cab services.
Suggested Read: 10 Most Romantic Places To Visit In Bali For Honeymoon
4. Feasting On Balinese Cuisine
Whether you eat to live or live to eat, Bali will tempt your taste buds with its sumptuous cuisine. Feast on local and street food when traveling to Bali on a budget. INR 85 will bring you a steaming plate of chicken, rice, and veggies.
Warungs—local restaurants that serve low-priced food from all over Indonesia—are the best place to treat your loved ones to the island's exquisite cuisine. Savour delectable Indonesian delicacies like Bebek Betutu, Babi Guling and sate lembat—a popular street food and Bali's take on satay. Bebek Betutu is a ceremonial dish of slow-cooked duck that needs to be ordered a day in advance. Babi Guling is Bali's famed suckling pig and is available at most warungs.
5. Historical Influences
If you and your partner are a pair of history buffs, the century-old ancient monuments at Bali will render you both speechless. Visit the Museum Negeri Propinsi Bali, Museum Le Mayeur, Neka Art Museum and Museum Puri Lukisan, to experience Balinese history and art for IDR 1,75,000 or less than INR 850. Tickets for children are priced lower which helps you keep your trip to Bali on a budget.
If the ancient temples of Bali beckon, take a trip to the Gunung Kawi in Tampaksiring, Goa Gajah in Bedulu, Puri Agung Karangasem in Amlapura and Pura Luhur Ulu Watu in Ulu Watu. You will be able to visit them all for IDR 76,000, which is less than INR 370. Monuments and artifacts at these places have been well-preserved by Bali tourism authorities.
6. Beachside Escapades
The adage, 'life's a beach' is especially true when you are in Bali. The island is blessed with miles and miles of pristine coasts, each of which is a unique destination in itself. The best part about visiting beaches is that they are free.
Unwind on the palm-fringed coasts of Kuta, Nusa Dua, and Sanur or explore the hidden shores of Uluwatu, Padang Padang, Dreamland and Bingin that are guarded by towering cliffs. Once the haunt of surfers, these beaches now welcome visitors who want to experience paradise with excellent hotels and superb facilities.
7. Visit Shopping Destinations In Bali On A Budget
Bali is a paradise for shoppers. The island is famous for low-priced textiles, handicrafts, and art that is produced locally. In most cases, some of the most premium, high-end products that are available on the island are considerably cheaper than anywhere else. So, shop till your heart's content at bargain prices while at Kuta Beachwalk, Monkey Forest Road, Mal Bali Galeria, and Discovery Shopping Mall.
It is recommended to head to Sukawati Art Market or Tegallalang 'Handicrafts Village if you are shopping for souvenirs. Gold connoisseurs must not miss a visit to the Celuk Village that is lined with galleries and workshops of gold and silversmiths. Here, you can find items such as small pendants that are available from IDR 50,000, i.e., approximately INR 240. Keep in mind that cash purchases are the norm in small shops in Bali.
Suggested Read: 12 Best Places To Visit In Bali – The Island Of Gods
8. Experience The Culture
Taste the essence of the island on your honeymoon in Bali. Bond over some exciting activities that make for fond memories. Bali has a lot to offer. Explore sites like Mt. Batur that makes for a gorgeous selfie backdrop; stroll down the village of Mas that will fascinate you with its wood artifacts; recreate scenes from the movie Eat, Pray, Love while wandering around Ubud—home to works by the region's artisans—or watch cultural performances unfold at the Ubud Palace.
9. Watersports
There's nothing as romantic as exploring the vibrant underwater world with your partner by your side while surrounded by fishes. Bali has an entire town based on scuba diving; it's called Tulamben. The star attraction for divers is the submerged 60-year-old wreck of the US cargo ship Liberty.
Sun-kissed surfing partners will find that they can afford their own teacher and rent a board for a little over INR 600. Padang is surfer's paradise. Go parasailing for just around INR 711. If you're up for a spot of snorkeling, jump on a boat to Pulau Menjangan.
10. Spa Services
There are many reasons to travel to Bali; for some, it's the relaxing spas. The affordable couple spas will leave you and your companion feeling revitalized. Bali has a massage house at every turn. A massage lasting an hour will cost you less than INR 400 and will be worth every rupee.
Bali is much more than just a holiday destination. It's a paradise, a mood; it is the Island of the Gods. Bali will blow you away with its dramatic volcanoes, court you with ethereal music, and surround you with its warm and welcoming locals that will make you feel at home. Bali is more than just a romantic getaway; it's a tropical state of mind. Bali on a budget is as fun as your imagination warned you of.
Summary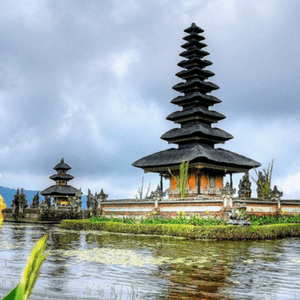 Article Name
Bali On A Budget - One Of The Best Destinations For Couples
Description
Bali the 'Islands of the Gods' has pristine beaches, a rich and diverse culture. Here is how to get the most out of Bali on a budget trip.
Publisher Name
Publisher Logo